MAJOR BEAUTY NEWS: Covergirl is Now Cruelty-Free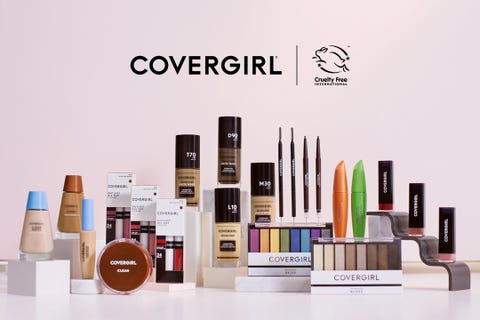 Today the beauty world took a giant ethical leap forward thanks to drugstore beauty icon Covergirl. The brand just announced that they are officially cruelty-free certified by Cruelty-Free International, meaning none of their products or ingredients are tested on animals, nor are those of the brand's suppliers. Going forward, all the products like mascara, lipsticks, and eyeshadows will carry a logo by Leaping Bunny.
"We're delighted to partner with Coty to end cruel and unnecessary animal testing for cosmetics worldwide and have been impressed with the company's passionate commitment," Michelle Thew, CEO of Cruelty Free International, said in a release. "The Leaping Bunny certification of COVERGIRL marks a new milestone in this area as the largest makeup brand to be certified cruelty free after having met our rigorous criteria. It demonstrates how it's possible to be an accessible and innovative brand without inflicting suffering on animals. We hope today's announcement encourages more cosmetics companies to do the right thing."
View this post on Instagram
Beauties we have MAJOR news: COVERGIRL does not test on animals and now we're Leaping Bunny certified by @CrueltyFreeIntl, which means we're Cruelty Free across ALL our products, EVERYWHERE we're sold! 🐰💄😊 At COVERGIRL, we believe that you shouldn't have to choose between the beauty products you ❤️ and the values you believe in. As the biggest makeup brand to achieve the Leaping Bunny certification, we're committed to getting affordable, ethical makeup into the hands of anyone who wants it. 🙌 Join us in celebrating our certification and supporting #CrueltyFreeBeauty by sharing your excitement with #COVERGIRLCrueltyFree and #COVERGIRLMADE! #linkinbio👆 * COVERGIRL is not sold in China and with our new BFFs at Cruelty Free International, we are working together to advocate for regulatory change to end animal testing globally
A post shared by COVERGIRL (@covergirl) on
Covergirl is now the largest brand to carry a cruelty-free certification, but their parent company Coty has committed to making all their brands free from animal testing by 2020. "Consumers expect brands to be leaders for positive change so today COVERGIRL is taking a stand about making cruelty free cosmetics a mainstream reality. We know we are not alone in wanting a beauty industry that is free from animal cruelty and, working with Cruelty Free International, invite others to join us in turning these conversations into action," Ukonwa Ojo, Chief Marketing Officer, Coty Consumer Beauty, said in a release.
The brand took to Instagram to assure customers that all Covergirl products that are currently sold on shelves are cruelty-free, and the brand does not sell in China, where animal testing is sometimes required by law. Head over to Leaping Bunny's website to search an extensive list of other beauty, health, and wellness brands that are also certified.
Source: Read Full Article