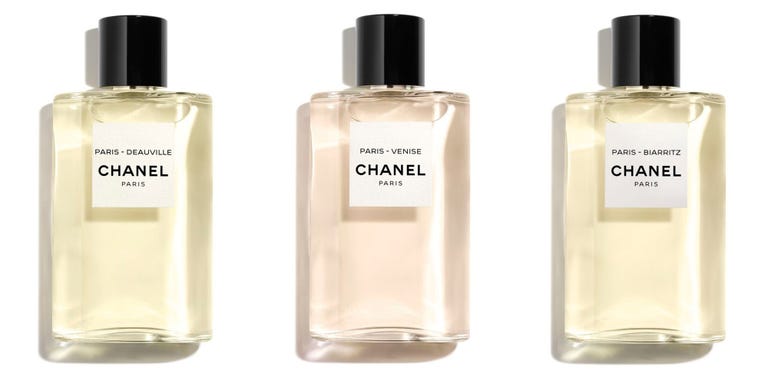 If you've ever been introduced to Chanel No. 5, then you know what Chanel fragrances smell like. They're floral. They're bold. And they're not exactly unisex. But things are shaking up at the legacy fashion and beauty house in 2018. Chanel's in-house perfumer Olivier Polge, who has been at the helm since 2015, just introduced three light, citrusy, and unexpected eau de toilettes called Lex Eaux de Chanel. Designed in a minimalist bottle inspired by a flask, with fresh notes more commonly found in cologne, the three scents don't belong to any one gender.
"This is a new sort of collection of perfumes, we call them Les Eaux because they're fresh, fluid, sparkling. My source of inspiration came from haute cologne, those combinations of fresh citrus oils," says Polge. Each scent was inspired and named after a destination vitally important to Coco Chanel's life: Venice, Biarritz, and the beach town Deauville where she opened her very first boutique in 1913. "The three cities are really important in the history of Chanel. They became a part of our identity and source of inspiration," he says.
DEAUVILLE
Our favorite scent from the collection is Deauville. It's aromatic and woody, starting of bright and citrusy but evolving into a wearable patchouli scent. "Deauville is very close to Paris, it's not only a city near the city of Paris but it's in the middle of Normandy. And this is often a destination for weekends," he says. "I had in mind the scents of what could be a weekend in the countryside. This is why I envisioned a scent that aside from those sparkling oils of orange, it has a more aromatic, green aspect with basil, leaves of orange tree, geranium, and a touch of jasmine."
SHOP
BIARRITZ
Then there's Biarritz, which is the most traditionally cologne-like of the collection (but still totally wearable by those who prefer perfume). The locale is where Chanel herself cut off all her hair and opened her first Couture house, asserting her independence in a way she never had before. Polge intended on capturing that feeling. "It's much more dynamic, more sporty, this is where we get our pictures of Chanel on the shores," he says. "It's more energetic—I think it's the freshest of the three." Polge used a mix of traditional citrus notes like grapefruit and mandarin, lily of the valley, and a synthetic molecule meant to mimic the scent of fresh air. The scents ends on the mellow notes of white musk and vetiver.
SHOP
VENISE
The most traditionally feminine scent in the line is Venise, inspired by Coco Chanel's time in Venice, Italy. It was there that Chanel first discovered her love for Byzantine and Baroque art—the influences of which can still be seen in the collections designed by Karl Lagerfeld today. Given the influences of Venice, Polge created a powdery, oriental scent. "The top note is still fresh, with orange flower neroli," he notes. "Then there is iris, which has certain violet undertones, then it gets warmer with amber accord and cedarwood." It's a fragrance for vanilla-lovers who are looking for a lighter iteration perfect for the warmer months.
SHOP
Polge likes to describe the three eau de toilettes as watery—but don't mistake that for thinking they're anything like the popular scents from the 1990s. "No natural raw material smells exactly like water," he says. "When I speak about water, I am more speaking about they are not watery, per se, but I am speaking about fluidity and freshness." The Lex Eaux scents are bright, light, and easy-to-wear. "There is something very elegant to their simplicity," he adds. That simplicity carries on to the bottles and packaging as well.
Polge knows that Deauville, Biarritz, and Venise are quite a departure from what one might expect from a Chanel scent. "We often have at Chanel scents that are quite rich. We are often working with a lot of flowers," he says. The Lex Eaux collection is nearly flowerless, which is what allowed them to take on a genderless identity, Polge adds. "But there is something also always about freshness at Chanel. When we speak about number 5, we speak about flowers and aldehydes. Many of our fragrances, like No. 19, is very green. But I felt that there was room for these types of scents."
Chanel Lex Eaux de Chanel, $130 each, chanel.com.
SHOP THE COLLECTION
Source: Read Full Article