Sephora has long been a mecca for both serious and amateur beauty lovers alike, where they not only have makeup artists that help answer questions about products, but free samples to let you play with new collections. But now they have upped the ante further. Sephora has an in-store facial now, expanding their skincare offerings into spa-like territories. But how much does the Sephora in-store facial vacuum cost? It's pretty reasonable.
While the beauty store carries skincare lines and brands, it never offered any skincare services, which is what makes this new launch so exciting. Called the PERK Hydrating Facial, this service uses a small, vacuum-like device that is designed to cleanse your pores. And to prove that it's actually taking gunk out of your skin, you can see what came out thanks to the clear jar the vacuum empties into.
This new treatment is offered in partnership with the HydraFacial Company, with the hopes of making your beauty buying trip all the more pampering.
"We are thrilled to collaborate with Sephora on the next generation of skincare," said Clint Carnell, The HydraFacial Company's CEO, in a press release. "The partnership makes on-the-go skincare treatments more accessible than ever. Clients that experience the PERK Hydrating Facial will leave Sephora with an instant glow."
Meaning now you don't have to block off a whole afternoon to get an expensive facial at a salon. You can get it for cheap and in minutes at Sephora!
It's pretty genius, but it's not exactly "free." It's only free to customers who have spent a certain dollar amount during their shopping session, but don't worry, the minimum amount to spend is pretty reasonable.
You have to spend a minimum of $75, which isn't a lot when you compare it to the prices of Sephora's products. That could equal out to one skincare serum, a couple of liquid lipsticks, or a foundation and hair product. It's like you going to the store to refill your quarterly empties and getting gifted with a free facial for going through the trouble of leaving your house.
The facial itself doesn't just involve a beauty consultant running a steaming vacuum over your face — there's more to it. It's a 30 minute treatment and involves tests, serums, and extractions.
First, a Sephora consultant measures your hydration levels by using a digital Moisture Meter that determines your skin type. The meter looks like a large digital thermometer, and you press it against your skin so the sensor can gauge how much moisture your complexion has. It runs from a scale of 0 to 99, where 40 to 70 is deemed as "normal." If you have less than 40 your facial will focus on your dryness, and if you have more than 70 it will focus on controlling oil.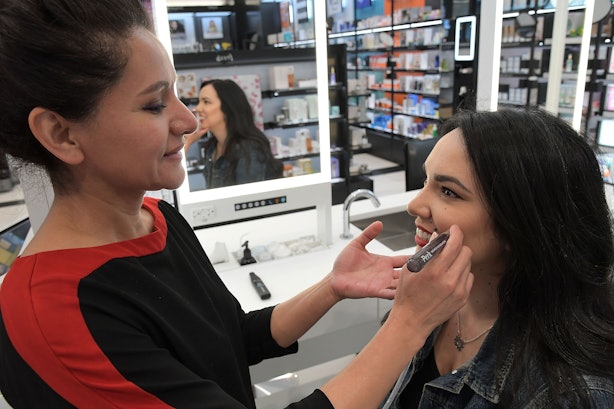 After the test is completed, a cleanser will be applied to your skin based on your reading, and your makeup and oil will be removed. Then the PERK device is used, where the handheld technology exfoliates your complexion and sucks out the impurities from your pores.
Once that is finished, the consultant applies skin-boosting serums that deliver nutrients you need for your skin to look healthy and plump, and that's followed with eye cream and moisturizer.
Once you're finished, you will look refreshed and radiant. The only downside is that right now the service is only offered at 100 stateside Sephora stores, so not every single location will let you take part in the experience. But who knows, maybe the store will roll it out to each of its branches in the near future — keep an eye out and stay tuned.
Source: Read Full Article