If you grew up taking ballet classes, you know the name Debbie Allen like you know bobby pins and pointe shoes. The verified triple threat has graced the dance, film, and TV worlds since the mid-'70s, and if you're too young to know her from Fame (both the OG and the reboot!), you've definitely seen her as Dr. Catherine Avery on Grey's Anatomy, or watched her directorial turn on Insecure. Debbie oozes confidence in everything she does, so it makes sense that Shonda Rhimes would tap her to direct the latest Dove Real Beauty Production, which encourages women of all ages to embrace self-love.
This short film was made by an all-female cast and crew, and Debbie called the experience "a love fest." But according to the director, "That doesn't mean we always had the same opinion or agreed with everyone all of the time. But at the end of the day, it gave a lot of confidence to see a female gaffer, grip, DP, best boy. That never happens."

What else gives Debbie poise? Though her background in the dance world was "born on criticism," Debbie admits she thrives off of it. "You have to be tough and be able to take criticism, and use it to make yourself better, not fall out and cry." She also learned the power of posture: "It can make you taller, and it can also make you healthy, so you're not squatting into all of your internal organs. So as my mother used to say, pull up!"
The short film stars another Grey's alum, Chelsea Harris, who mentors a teenage thespian named Caralyn. As the high schooler speaks about her battle with body confidence, she begins to feel supported by learning that it's something Chelsea has worked through, too. According to the brand, the theme is relevant, as eight in 10 girls with low self-esteem will opt out of drawing attention to themselves, whether it be through raising their hands in class or voicing their opinions.
Since the video is about celebrating self-expression, of course we had to ask Debbie about the best backstage beauty tips she learned during her time as a dancer and choreographer. "We learned how to put on those eyelashes ourselves, honey. We didn't have a makeup artist. We have to do it ourselves."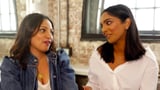 Source: Read Full Article