If all of the Pinterest boards filled with bridesmaid gift ideas and endless flicks of soon-to-be wifeys showing off their finger candy weren't major hints that wedding season is officially here, well, now you know. In honor of the "I Do" occasion, Sephora just launched a wedding season perfume sampler that'll make choosing a signature scent for the big day easier than ever.
As fun as weddings can be, they sure come with a ton of challenges. It doesn't matter if you're the bride, a member of the bridal party, or simply a guest — you've got to find the perfect outfit, nail a long-lasting makeup routine, and somehow keep all fly-aways at bay. Add finding your ideal scent onto the to-do list, and you've piled on enough stress to last a lifetime. Luckily, Sephora has anyone bearing witness to nuptials covered with their newest fragrance set.
You don't have to shell out all of your hard-earned dollars or spend hours perusing fragrance counters. Thanks to Sephora's Wedding Season Perfume Sampler, you could try a range of highly sought-after scents from the comforts of your home — and even get a free (yes, FREE!) fragrance out of the deal.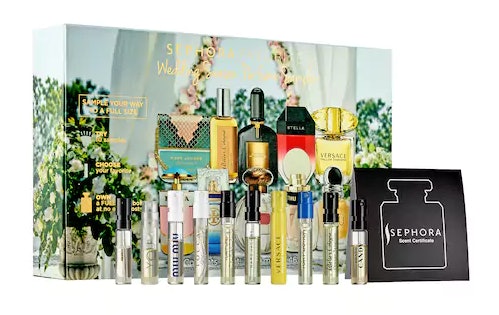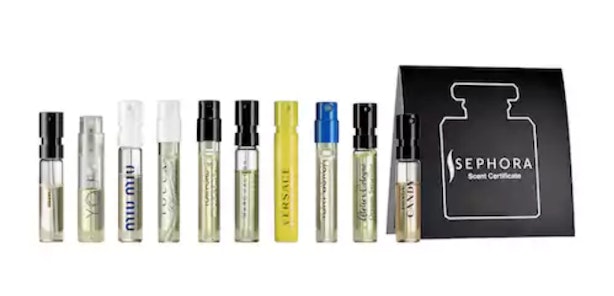 As if trying on high-end fragrances wasn't good enough, perhaps, the best part of the kit is a special voucher hiding within it. Once you've found the scent that suits your fancy, you can make a B-line for your local Sephora and pick that fragrance up free of charge.
That's right, the wedding sampler includes a coupon that lets you redeem a full-sized bottle of one of the kit's fragrances. You just can't beat snagging 10 different travel-sized sprays and a new bottle of luxury fragrance for $65. Considering, a single fragrance generally costs more than that, you're getting quite the steal by purchasing the wedding sampler.
Although the wedding fragrance kit is totally worth it for yourself, who's to say that it can't make for the perfect bridesmaid gift. Its amazing options will give your leading ladies the opportunity to find their ceremony scents, not to mention the coupon for a free fragrance will definitely have them signing your praises.
Plus, the set is truly the wedding season gift that keeps on giving. Even after you've chosen a scent for your own big day, there's nine other options that could last you all wedding season long. That means you'll have a different scent to totally own for every wedding you attend throughout spring and summer. It just doesn't get more budget-friendly and time-saving than that.
Source: Read Full Article