When Keeping Up with the Kardashians first premiered in 2007, it was Kim Kardashian that was the main draw to the show. She had previously captured some headlines due to her "friendship" with Paris Hilton and her leaked tape with Ray J and the public seemed to want to know more about her. The first season of Keeping Up with the Kardashians only forced the public to want to know even more since the entire Kardashian clan was featured in the series. The public couldn't get enough of the three gorgeous Kardashian sisters and their nuclear family, complete with their little half-siblings. Yet, things started to get even more interesting once new members started to get added to the family.
Kourtney Kardashian was the first to have children and all of it was documented in front of the reality show cameras. With Kim Kardashian starting her own brood and both Khloe and Kylie having children of their own, a brand new clan of Kardashian kids have become the highlight of the headlines for celebrity kids. The public has loved seeing these kids grow up in front of their eyes and people have become obsessed with seeing their extravagant lifestyle and couture clothing options. Rob Kardashian also added to the Kardashian clan when he had a baby with Blac Chyna but it's obvious that things are a bit different for Dream. Check out our list of the 15 photos of the Kardashian kids that prove Dream got the short end of the stick and see how different life is like for Blac Chyna's daughter.
15

North West's Fendi Handbag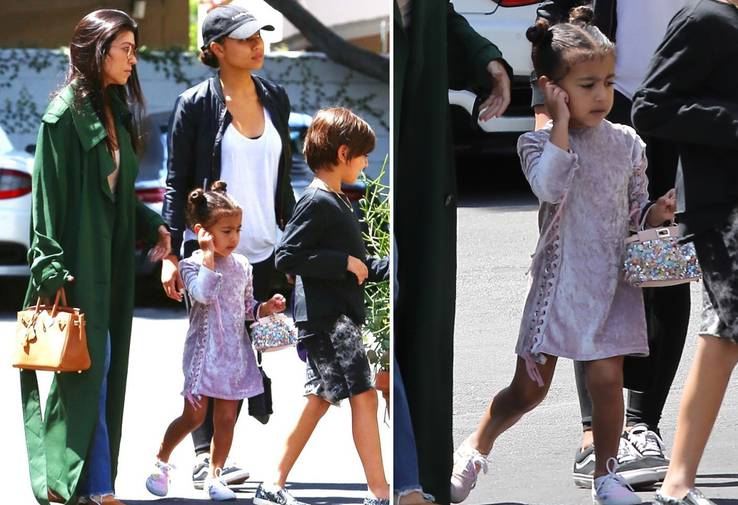 One of the biggest advantages to being in the Kardashian clan is the fact that there are so many hands to help out with childcare. Kourtney, Kim, and Khloe have some difficult times in their relationship as sisters but they've generally remained quite close over the years. They've gone into joint business ventures together, starred in spin-off series apart from Keeping Up with the Kardashians and they spend quite a bit of time together. This is something that Blac Chyna and Dream will definitely be left out of since there has been a break in Chyna's relationship with the rest of the Kardashian clan. Showing off that Kourtney has a great relationship with the other kids in the Kardashian clan, she was photographed in April 2017 with North West (Kim's daughter was 3 years old at the time).
They were seen having a post-church lunch date and North's accessory caught the eye of the world. She was wearing a velvet shift dress with some white sneakers, but the real headline with the mini handbag in the crook of her arm.
This mini Fendi handbag has a price tag of $3,450 and was thrown around like it was just something picked up at Target for her to play with while grabbing a quick bite with her aunt.
14

Matching $10,000 Dresses For Kanye's Concert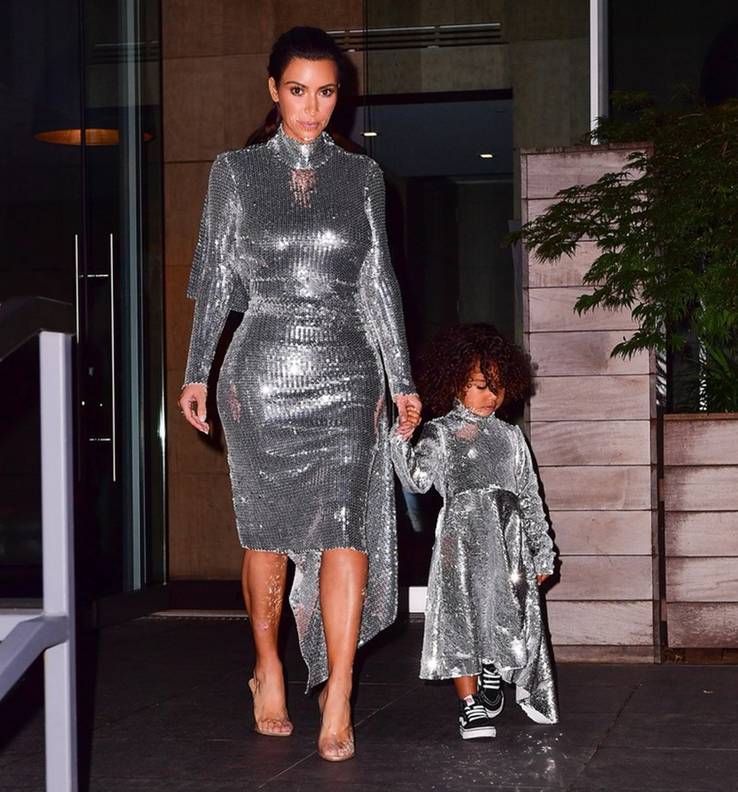 While Kanye West has received some scrutinizing criticism over some of his publicized antics over the years and his recent political comments, he's still viewed as a hugely successful and talented music artist. While some people would think of going to a Kanye West concert as a dream come true, North West went to her first Kanye West concert when she was undoubtedly too young to understand what was really going on. After Beyoncé and Blue Ivy wore matching outfits in July 2016, Kim Kardashian and North West made their own debut when North was taken to her very first Kanye West concert.
The pair were photographed wearing matching label-du-jour The Vetements' silver sequin dresses and people were awe-struck at their couture look. Neither of their dresses were something that anyone in the regular world would wear but they definitely made their mark for commemorating North's first concert. Kim paired it up with some beautiful heels and North donned a pair of comfortable sneakers, but the overall effect was the same. With the dresses being so striking in their design and glittering style, neither will undoubtedly wear them again. This seems a bit over-the-top, considering that the price tag for the gowns were a whopping $10,000 each.
13

Kylie's Gifts To North And Penelope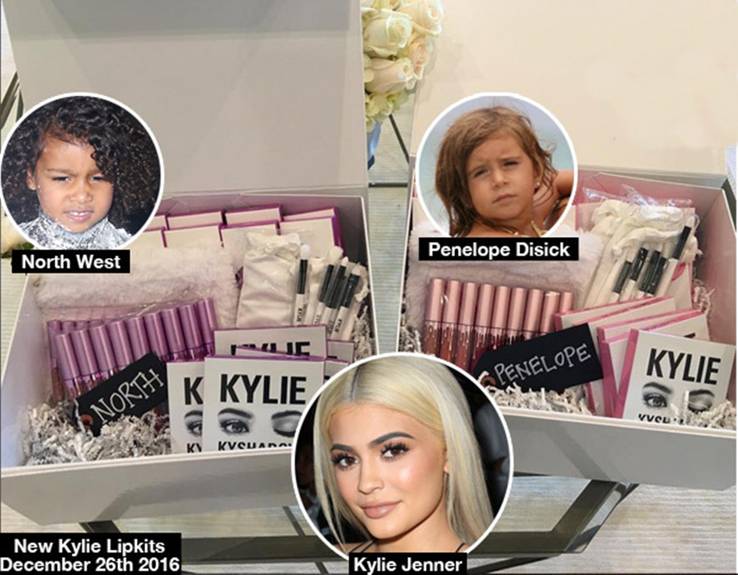 When Kylie Jenner was first introduced to the world through her appearances on Keeping Up with the Kardashians, she was just seen as one of the younger half-siblings that didn't have much of a storyline. The biggest headlines that came from her early appearances on the show just revolved around her girlish looks and the fact that she didn't have the same physical characteristics as her other siblings. She became heavily criticized for her looks as she got older and the criticisms still showed up after she went through some beauty mods.
The new headlines revolved around the drastic before-and-after pictures of Kylie and the fact that she looked completely different from her former self. Yet, that didn't seem to stop her from becoming a huge hit on social media and from launching an extremely successful makeup line. Kylie Cosmetics has turned into a huge brand with a cult following and certain products have sold out within minutes of being launched. Yet, that doesn't affect her nieces. In December 2016, Kylie created custom KyShadow Palettes for both North West and Penelope Disick. She chose Penelope's favorite color in pink for her gift and North West's favorite color in purple for her custom gift. The brand posted the photo online and captioned it, "Kylie's custom gifts to Penelope and North. A whole set in their favorite color."
12

Penelope And North And Their Fancy LA Ballet Class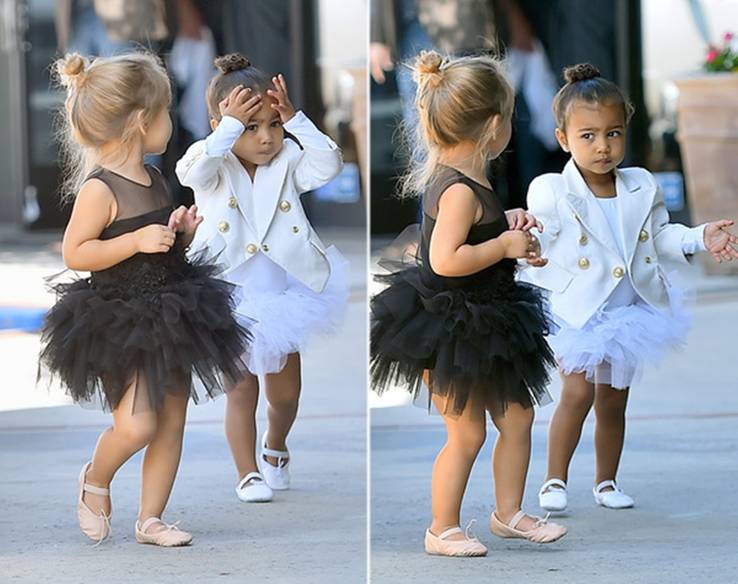 With Kim Kardashian and Kourtney Kardashian both having children around the same age and both having quite a close relationship, it shouldn't be surprising that their children spend a lot of time together. In fact, Kourtney and Kim have enrolled them in classes that they can take together. In May 2015, both Penelope Disick and North West were photographed when Kim was taking them to a Studio City ballet class in Los Angeles. They wore matching ballerina ensembles, with fluffy tutus and similar ballerina slippers. People compared their ensembles to the tutus that were shown in the big-screen film Black Swan, but it was the memes that came from the photographs that really made the headlines. People couldn't help but think that the two girls were in some sort of an argument because of the way North looked so exasperated during her conversation with Penelope. With North West being just 23 months old and Penelope being 2 years old at the time, the conversation was undoubtedly something that was soon forgotten.
Kim made comments about how these two have argued about clothing and accessories in the past.
During an interview with Harper's Bazaar, Kourtney stated, "Last night, North was over and they were fighting over shoes in Penelope's closet and they were so cute." So, perhaps they were fighting over North's hugely expensive Balmain blazer?
11

North's Fur Coat At A New York Fashion Show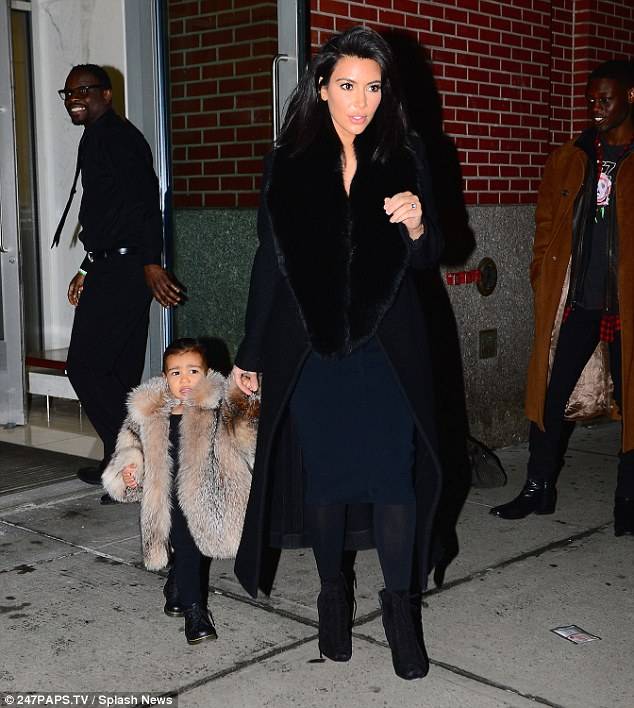 Kim Kardashian has always had a love for wearing fur and it hasn't always been received well by the public. In 2012, Kim was flour bombed on the red carpet by an animal rights activist by the name of Christina Cho. During the flour bomb attack, Cho yelled out, "Fur hag!" and it was later revealed that she had ties with PETA and won an award for her activism in 2010. Khloe Kardashian actually starred in PETA's "I'd Rather Go Naked Than Wear Fur" campaign but severed ties with the organization after her sister was attacked. She released a statement saying,
"Not only has PETA lied to the public, but they have proved that they support this kind of behavior. I've been a vocal supporter of PETA for a long time, but I have also been very vocal about anti-bullying, so this was a huge disappointment for me."
PETA released their own statement and said, "Khloe is just defending her sister, and we know she has a good heart, so we wish her well. We just wish she also had more influence on her sister." Obviously, that hasn't stopped Kim from her love of fur and it became apparent when Kim's daughter was seen in a $3,500 fur coat at a fashion show in New York.
10

North's Gifts From Huge Designers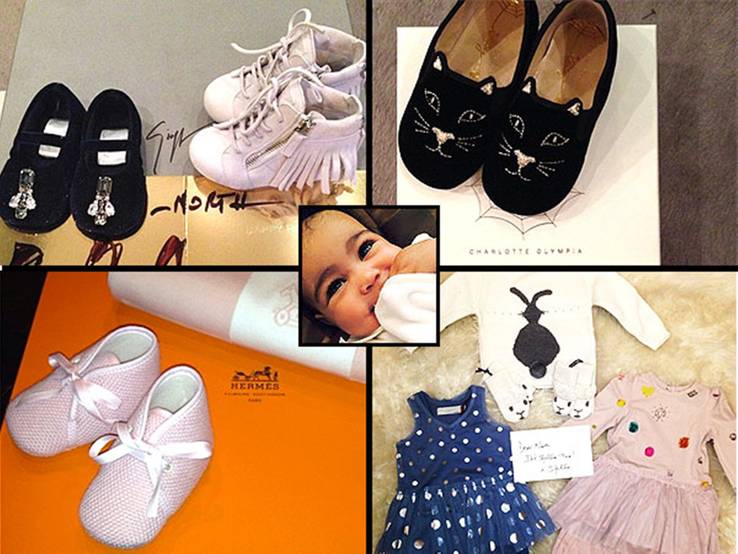 One of the most interesting things about celebrities is the fact that so many amazing products and designer items are gifted to them, free of charge. With some of these items being so expensive that regular people would have to work their tails off in order to afford them, the celebrities that seem to have an endless amount of funds get them all for free. Designers and big name brands try to get celebrities to wear and possess their products because it is seen as a publicity tactic for them. They understand that these celebrities will be photographed to death and it will help show off their products to the fans of these celebrities that look up to them and try and emulate them. This doesn't exactly seem like the fairest thing in the world, especially since these celebrities can all afford to purchase these items on their own. Yet, that's how the world of celebrities work and it doesn't seem to be restricted to the adults.
When Kim Kardashian was pregnant with her first child, it seemed like every big name designer in the world was trying to ensure that North West would wear their signature pieces.
Kim took to social media and posted photos of baby gifts from everyone from Hermes to Stella McCartney. With Blac Chyna not garnering the same sort of fan base, Dream undoubtedly won't be getting those same type of designer gifts.
9

Hobnobbing With The Elite In Fashion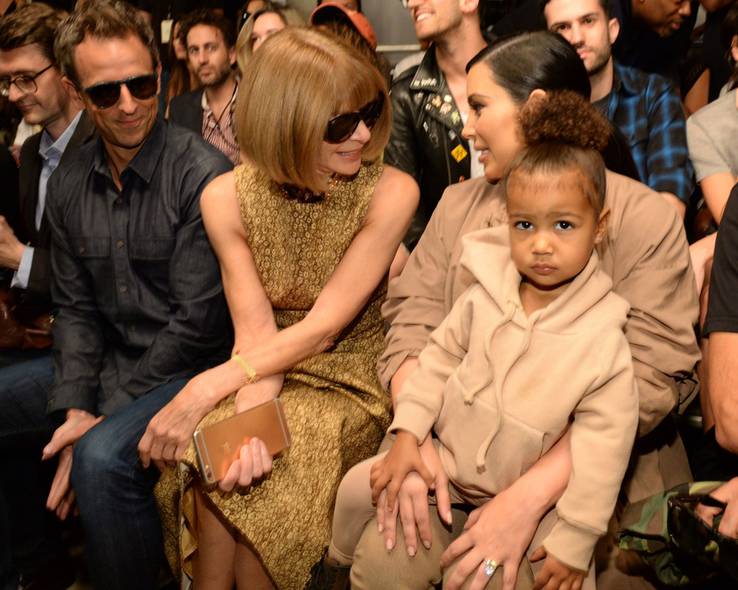 There are some people that still claim that Kim Kardashian isn't a true celebrity since she's known best for being a reality star and the infamous "leaked" tape. While she may not have a star on Hollywood's Walk of Fame, she has been able to build a vast empire and has caught the attention of some of the biggest designers from all over the world. She has become a brand, in and of itself, and has made a big name for herself in the world of fashion. She's constantly being photographed in the front seats at fashion shows all over the world and she's made quite a few contacts in the designer world. While she may not be as respected as some of the other celebrities in the entertainment industry, she's been featured in the coveted Vogue magazine and she's built an empire along with a hugely successful gaming app.
She's taking North West on the wild ride with her and has even brought her to a variety of different fashion shows in order to get photographed along with some of the biggest designer names in the world.
This particular picture shows North West on the lap of Kim Kardashian while the most respected editor-in-chief in fashion, Anna Wintour, can be seen smiling and chatting away.
Featured Today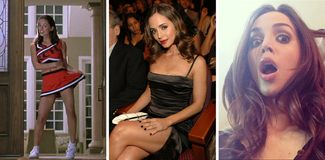 20 Photos Of Eliza Dushku (And Reasons Why She Needs A Comeback)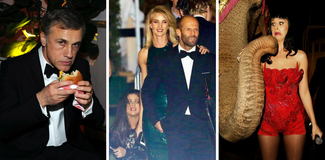 20 Most Awkward Celeb Photos Taken At Exclusive Hollywood Parties

20 Unusual Things Fans Tend To Forget About Natalie Portman

8

Only Official Pair Of Baby Yeezy Shoes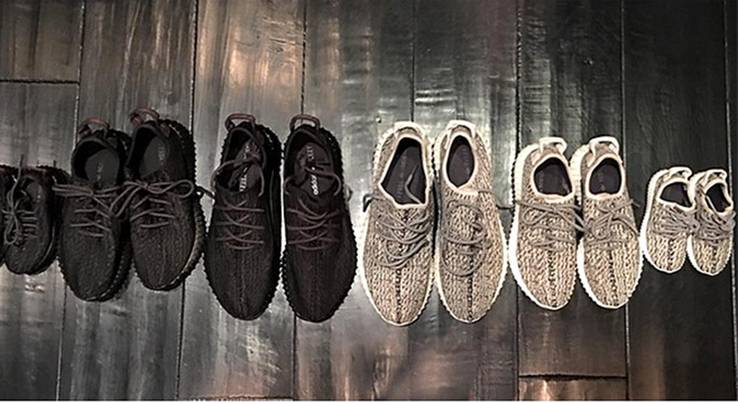 When Kanye West came out with his own fashion line, people were astounded by the immediate positive response. Other rappers had tried their hand at becoming fashion designers but not all of them turned out to be hugely successful. Nelly's Apple Bottom jeans did well for a time but eventually became seen as quite dated and no longer were sold in stores because of the decreased popularity. The same thing happened with Kimora Lee's brand, Baby Phat, which was an offshoot of Russell Simmons' Phat Farm fashion line. Jay-Z had some success with his Rocawear fashion line but none of that compared to the obsession over Kanye West's Yeezy line.
Big celebrity names have come out about their obsession over Yeezy shoes and there have even been a few celebrities that have been caught wearing fake Yeezy shoes to keep with the new trend.
Yet, this is something that North West and Saint West will never have to deal with since they have been the recipients of the first official pair of baby Yeezy shoes that were ever produced. The couple posted photos online of their matching family Yeezy shoes and the world went crazy over the tiny Yeezy shoes that went perfectly with the rest.
7

Penelope Sporting An Hermes Baby Birkin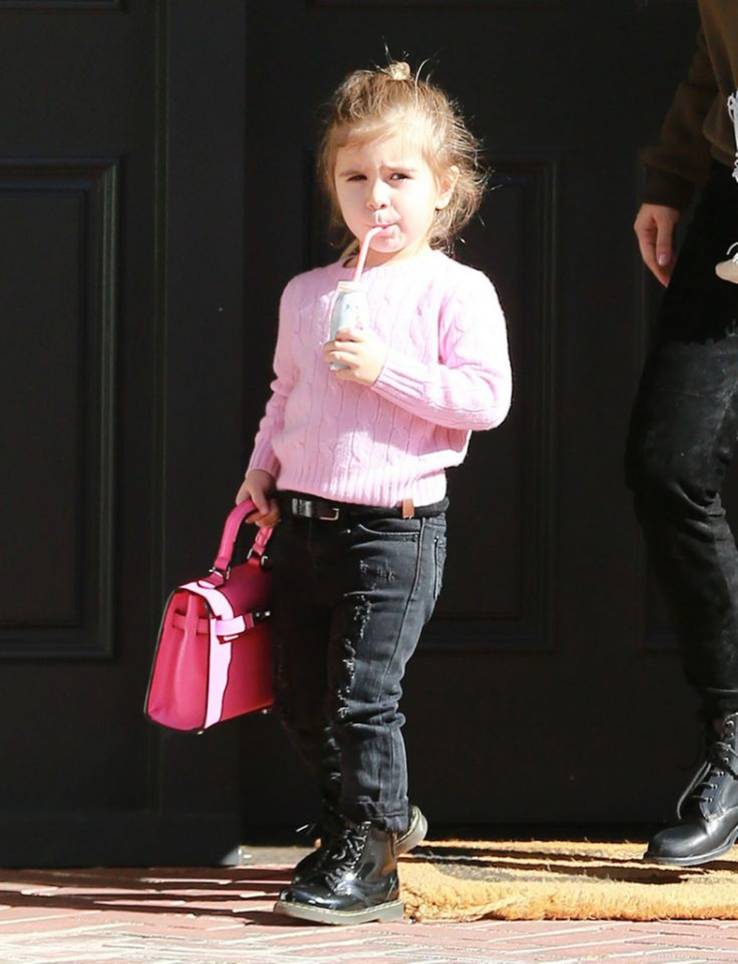 When it comes to designer handbags, Hermes seems to be at the top of the list for the elite in the world of the rich and famous. Their signature Birkin bag has an actual waiting list because there are so many people that desire the handbag and anyone that has a Birkin bag is thought of as having an amazing status in the fashion world. The Birkin bag has been featured in a number of ways over the years and even made an appearance on Sex and the City. Samantha Jones set out to buy a Birkin bag because of what the bag represented, despite it not being her style. In an effort to get around the incredibly long waiting list, she claimed that the bag was actually for her celebrity client.
The Birkin bag also made headlines during The Real Housewives of Beverly Hills when Taylor Armstrong was dealing with settling debt and her Birkin bag was being used as part of the settlement. She was publicly embarrassed when it was discovered that her luxury Hermes Birkin bag was actually a fake. Yet, this isn't something that the Kardashian clan will ever have to worry about. In fact, Penelope Disick was spotted with a $8,000 Hermes Baby Birkin bag while she sipped on a juice box.
6

Penelope's Favorite Fendi Bag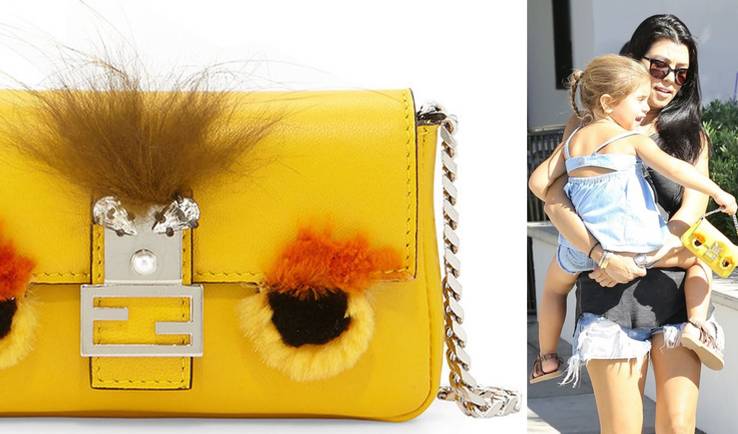 Most 5-year-olds have already started to pick out some of their favorites, whether it's their favorite thing to eat for lunch or their favorite stuffed animal to sleep with at night. Yet, Kourtney Kardashian's daughter, Penelope, has started to show that she has a favorite designer. While all of the Kardashians are known for wearing couture designs and some of the most impressive brand names, Penelope seems to have a favorite designer brand of her own. Penelope has been photographed on a number of occasions, sporting Fendi handbags. While she's been seen in everything from Gucci to Hermes, Fendi is a brand that she seemed to favor in her handbags. Fendi has actually started to make a comeback in the world of fashion in recent years and celebrities have started to don some of their older Fendi designs.
Some people are wondering whether it was Penelope's endorsement that started the new trend in fashion. In 2016, Penelope wore a $3,450 Fendi bag to go to California Community Church for Easter and people couldn't get enough of her Fendi Beaded Micro Peekaboo Bag.
Yet, the real headline came when she was seen holding the bright yellow Fendi Monster Bag on a number of occasions.
5

Baby Balenciaga Bag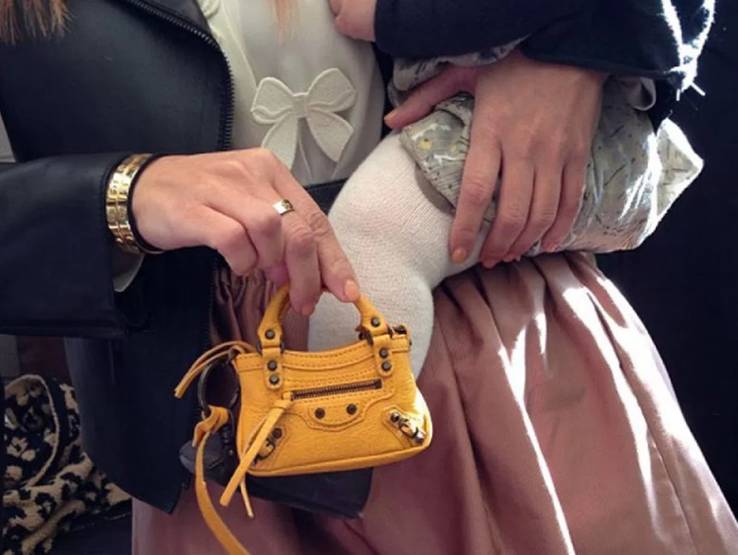 When it comes to some of the fashion accessories that the Kardashian kids have worn over the years, some people tend to just brush it off because the items aren't specific to just their kids. Some of the Fendi, Birkin, and Gucci bags look adorable when they're sported on the crook of the arm of Penelope or North West but that doesn't mean that the parents can't wear them. These small clutch bags aren't specific to children and they have been worn by other women that are looking for a small bag to go with an elegant red carpet dress or a night out at a Hollywood hotspot. These small clutch bags can also be seen as investment pieces since the kids can still sport them around as vintage pieces when they get older. Yet, there is one bag that can't be seen as anything but a major splurge for a baby.
When Penelope Disick was still just an infant, Kim Kardashian splurged on a baby Balenciaga handbag for her and it took Twitter by storm.
People couldn't get over this hugely expensive designer handbag that was for a baby that couldn't even say "Balenciaga," much less understand the significance of the designer brand.
4

Jetting Around In Private Planes
While there are some celebrities that tend to live a low-key lifestyle without spending much time traveling all over the world, the Kardashian clan definitely seem to get around. It seems like each member of the Kardashian clan has reasons to jet set around the globe. Kanye West has had to travel back and forth from Europe due to his ventures in the fashion world, Scott Disick has had to travel the world for his lucrative club appearance deals and Kendall Jenner has flown all over due to her many catwalk fashion show appearances.
The Kardashian sisters have been shown on Keeping Up with the Kardashians with episodes that feature everything from Kim flying to Austria to Khloe flying to South Africa. The Kardashian sisters have had their hand in a number of business endeavors that have required them to fly all over the world and that's including their famous significant others.
With so much of an abundance of fortune, it shouldn't be surprising that the entire Kardashian clan has been known to take private luxury planes whenever they need to travel and that means that their children are along for the ride. With Rob Kardashian and Blac Chyna being so lacking in their business endeavors, it doesn't seem like they'll be along in their own private planes anytime soon.
3

Closing Down Six Flags Magic Mountain
While there was a time when Kendall and Kylie were just seen as the half-siblings of the older Kardashian sisters, they both have since come into their own and have become hugely successful in their own right. Kendall Jenner has become known as one of the most well-recognized supermodels in the fashion world and Kylie Jenner has become a cultural phenomenon with her lip kits. When celebrating Kendall's 18th birthday, the Kardashian clan pulled out all the stops and shut down the entire 260-acre Six Flags Magic Mountain theme park in Santa Clarita, California. Kim Kardashian posted a Keek video and captioned it by saying,
"We're here for Kendall's birthday party and we rented out Magic Mountain. No one else is in the entire theme park but us and the people there to greet us."
She went on to say, "But look, no one's even working in the concession stands. And we get to drive instead of walk. This is real lazy, but this is what Kendall wanted and it is a nice surprise for her and I'm excited for her. So happy birthday Kendall." This is a stark difference from when Blac Chyna went to Six Flags Magic Mountain and she got into a huge fight with a random person, with the video going viral and causing her to lose her stroller endorsement deal.
2

Dream's Cheap Christmas Card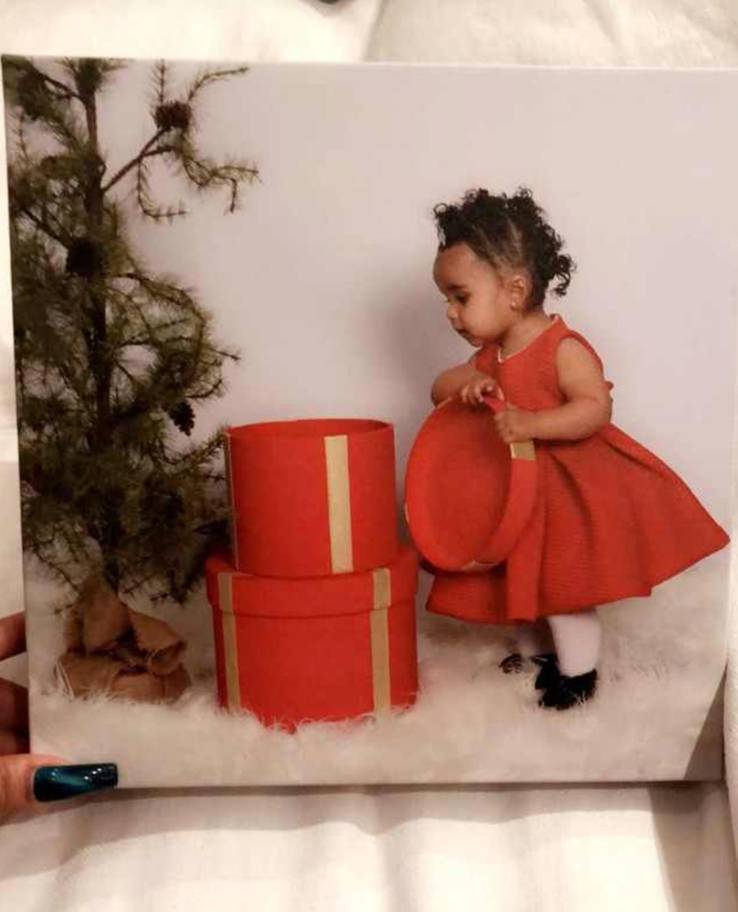 The Kardashian clan has had a huge stake in the world of fashion and it continues to grow with each new year. When Keeping Up with the Kardashians first premiered, Kim had already made a name for herself through her endeavors in being a celebrity stylist. The Kardashian clan was known for wearing all the top designer brands and the sisters even banded together to come out with their own fashion line for Sears. Kanye West has made a name for himself in fashion through his Yeezy line and Kendall Jenner has become a huge star in the modelling world. With the Kardashian clan being featured in magazines all over the world, it shouldn't be surprising that their yearly Christmas card has been worthy of gracing the pages of any high fashion magazine. They pick high-quality big name photographers, they shell out a large amount of money to create the perfect backdrop and each person wears an ensemble that is worthy of any couture catwalk show.
Yet, that doesn't seem to be the case for Dream. When Blac Chyna shared the Christmas card photos of Dream and King Cairo online, people couldn't help but notice how cheap the entire thing looked.
From her grainy images that showed she was sharing a picture that she was actually holding in her hand to the generic backdrop that looked like something from a J. C. Penny portrait package, it's definitely looking like Dream's getting the short end of the stick.
1

Sharing Cranky Photos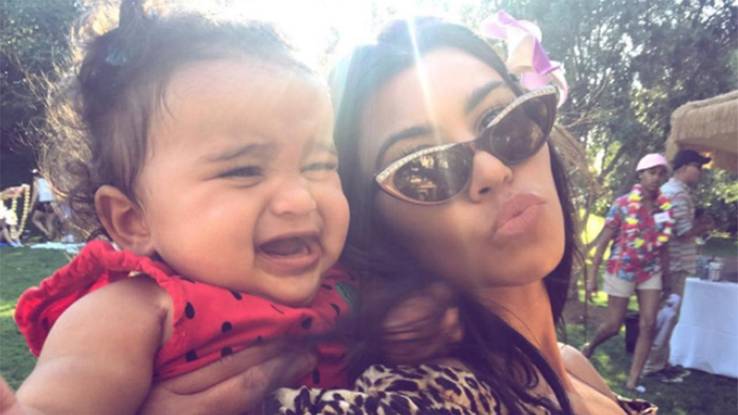 When the Kardashian clan was first starting to have kids of their own, it was Kourtney that started it all off. She let cameras document her pregnancies and births and her children have been featured on Keeping Up with the Kardashians with each new season. Yet, it seems like her kids have always been portrayed in a positive light. With their mom, Kris, being an executive producer for the reality series, it's understandable that Kourtney's children are almost always portrayed as perfectly behaved and extremely happy. The same can be said for their social media posts since Kim and Kourtney have posted a number of photos online and their children always look perfectly dressed and beautiful. They wear designer labels and couture outfits, they attend coveted invite-only events, and they constantly appear like the elite in the world of celebrity kids. Yet, that same courtesy doesn't seem to be extended for Dream.
This particular photo showed Kourtney Kardashian posting a selfie of her and Dream together and Dream is in the middle of a major fit. She captioned it by saying, "She's not into selfies yet," but the photo says far more than that.
A great example is when Kim Kardashian famously cropped out her daughter, North, from a selfie she posted because it didn't show North in the best light. Yet, it's alright for Dream to be shown in a full meltdown?
References: Teen Vogue, Hollywood Unlocked, Hollywood Life, Harper's Bazaar, NY Daily News, The Daily Mail, People, Celebuzz, Life & Style, Mirror, Cosmopolitan
Source: Read Full Article