It is nice to see our favorite stars taking care of their bodies. Or perhaps they work out for vanity's sake. Either way, when we catch a pic of a celeb sweating it out, we are impressed. It takes willpower and stamina to exercise regularly, and stars have to work just as hard as the average person does to keep their body in check. Sure, many celebs have personal trainers and home gyms, but they have to put in the time if they want to see results.
But not all celebs look super cool when they lift, stretch, box, or jog. Just because they are famous doesn't mean they don't have fitness flaws. Sometimes, celebs look downright awkward when they are working out, especially when they are caught off guard. Kind of makes you feel better about those silly poses you do in front of the mirror at the gym.
Whether the paparazzi caught these stars mid-workout or someone else took a candid shot when they weren't posing to perfection, these 20 celebs are getting in shape and looking goofy at the same time. You may be a fan or think they are overrated, but it is always fun to take a sec to see what the rich and famous do to keep their bodies from over-bloating.
Which pic is your fave awkward mess? Or, do you think they look decent enough, as long as they are trying their hardest? Heck, summer's almost here, so these folks want to look hot in their swimsuits as they chill poolside just like the rest of us.
20

Mariah Carey – The Diva Workout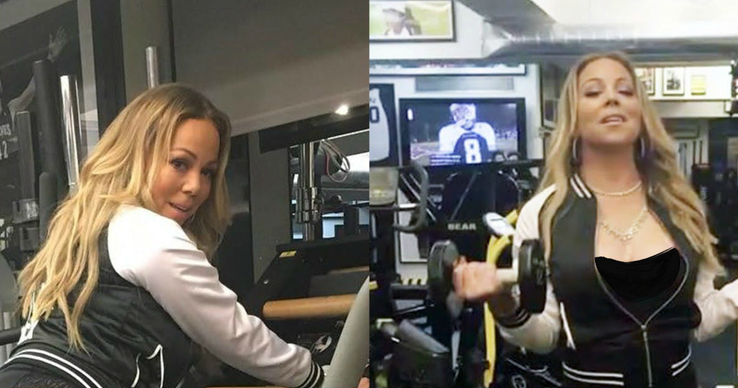 Always in full-diva mode, singer and sometimes reality star, Mariah Carey makes her less-than-strenuous workouts look more like a pre-planned photo shoot. Is she really even breaking a sweat? Not a drop as far as we can tell. Looks like Mariah's main goal is to look great in her skimpy gym outfit rather than working on her biceps. Are you even supposed to wear all that jewelry to a gym? Seems like an accident waiting to happen. Get one earring stuck in a machine and there goes an earlobe! But Mariah will do anything for attention — she will even hit the gym to cause a sensation or at least a stir. But she loves being noticed, if not for her lame exercise routine then for how she pretends to care about working out at all.
Mariah is a diva whether she is on stage or at the local Powerhouse Gym. She probably had someone wipe down all the equipment before she would dare even touch it. Hey, there is always plastic surgery if Mariah can no longer fit into her skimpy stage costumes. Who needs a treadmill anyway?
19

Kim Kardashian West – Beach Bends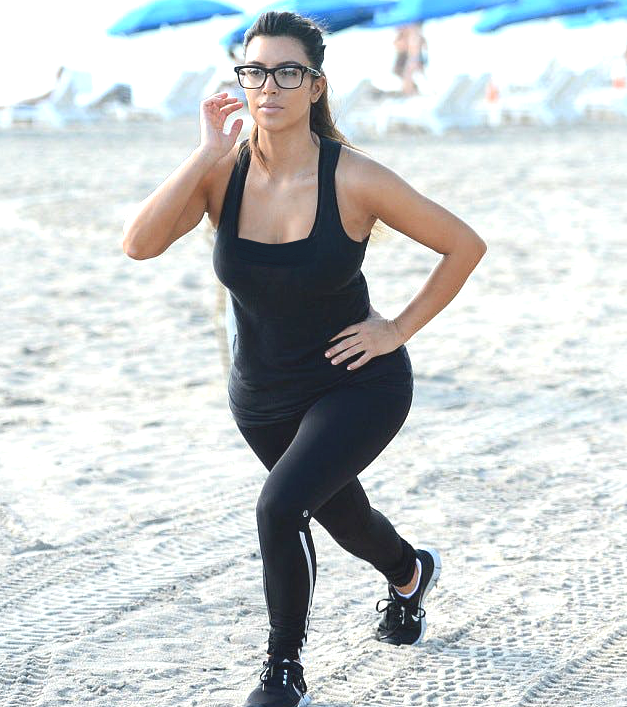 What is more shocking? Reality princess Kim Kardashian West doing lunges on the sand in a Lycra outfit, or the fact that she is wearing glasses? By the way, you don't have to choose, as both are not very Kim-like. This (sort of) workout look is an odd one, especially for a glam gal like Kim. We know she works darn hard to stay in tip top shape, but this bland beach routine seems rather awkward and suspiciously staged. Is our girl Kim really doing anything even remotely strenuous, or is she only trying to be caught on camera proving she has blasted away the baby weight the all-natural way? As if we don't know the entire Kar-Jen family has their plastic surgeon on speed dial. And who knew Kim wears glasses? This is a shocker.
Perhaps she is showing off her studious side while she battles the bulge on the white sand beach. Even her man Kanye is steering clear of this super-strange workout situation. And he would do anything to be caught on camera. Just ask him; he'll be the first to agree. Something's fishy in this pic, and it is not coming from the ocean. Kim is Keeping Up… but with what?
18

Ellen DeGeneres – Laughable Lunge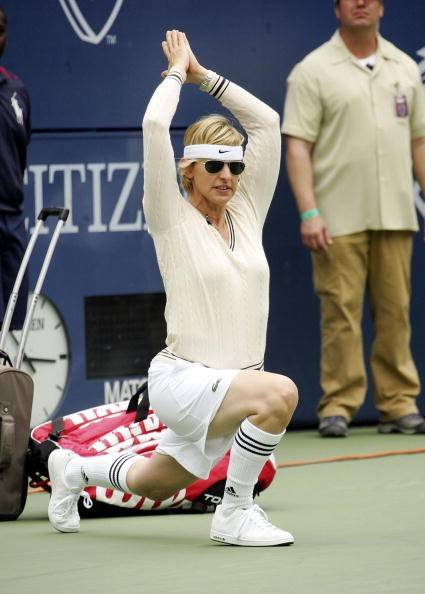 We all know Ellen DeGeneres is a super-silly, always-a-chuckle kind of chick, but this exercise photo of the TV host/comedian is over-the-top, even for her. We can't seem to tell if she is lunging like that for laughs or if this is how she really gets ready for a game of tennis. All we know is that our pal Ellen looks really awkward on the tennis court and we are laughing at her, not with her. Sorry Ellen, but it is true. Those white striped tube socks and her nerdy headband are the cherries on top of what already is a really weird look, but if anyone can get away with such obvious goofiness, it is the hilarious Ellen. She loves to do knee-slapping funny stuff to make her millions of viewers chuckle, and she has not missed a beat yet.
We do not know if she is any good at playing tennis, but at least she is on the court ready to get her heart rate up. Swing it sister!
If you are having fun, that is all that matters. We hope you change your outfit before showtime though. If not for the icky sweat factor, then for fashion's sake!
17

Fergie And Josh Duhamel – The Last Straw Stroll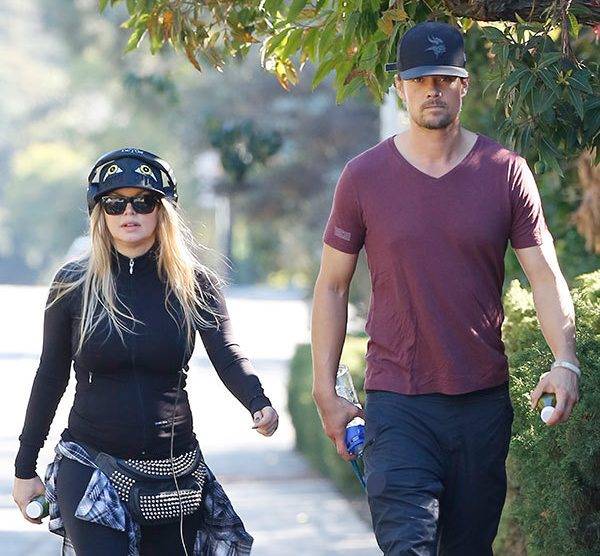 Not long ago, the super-foxy singer Fergie and her handsome actor hubby, Josh Duhamel called it quits. Fans were sad, but that is celeb life for you. So, this fitness stroll must have been one of their final walks in the park — both literally and figuratively. A walk away from the altar, so to speak. Neither of them looks particularly chipper in this pic, probably because their divorce was looming. But they still wanted to stay in great shape, so even a walk through the town in silence was better than no activity at all. Divorce means they are both back on the market, so looking fit is all part of the package they will present to their new prospects. Let's not forget, Fergie must keep her "lovely lady lumps" looking good. And Josh must maintain that hunky physique for the camera. Don't forget it adds 10 pounds.
Maybe these two are no longer feeling the romance with one another, but at least they can feel their feet pound the pavement. Soon they will surely find new walking buddies, but they will always have this awkward photo to remind them of better times. At least they were not running from each other!
16

Scott Eastwood – No Shirt, No Shoes, No Problem?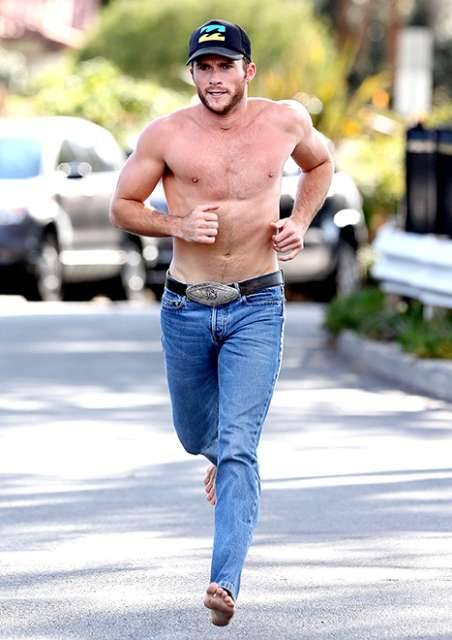 Running through the concrete streets in denim and a big-buckled belt has got to be challenging enough, let alone going at it sneaker-less and without a shirt. Actor Scott Eastwood is surely impressive, but who knew he was such a good runner that he could do it barefoot? Celebs — they're always doing things the odd way. Maybe he forgot his sneakers and was running home to retrieve them. Isn't there an assistant for that? And as for the blue jeans? Most fitness trainers would probably suggest more appropriate gym shorts or comfy sweats. Heck, even swim trunks would be a better option than stiff denim pants. But Scott is not your average fella, so maybe he is too good for a normal workout ensemble. You got to stay fresh in Hollywood, after all!
He has some big shoes to fill thanks to his famous pop Clint Eastwood, so running this way is his way of standing out — in no shoes at all! Sure, we'll go with that excuse. Let's hope he doesn't step on a piece of glass or stub his toe on the curb. Ouch! We would not want Scott to ruin any part of his perfect body, even if it is on the sole of his foot.
15

Emily Blunt – Perspiring For The Paparazzi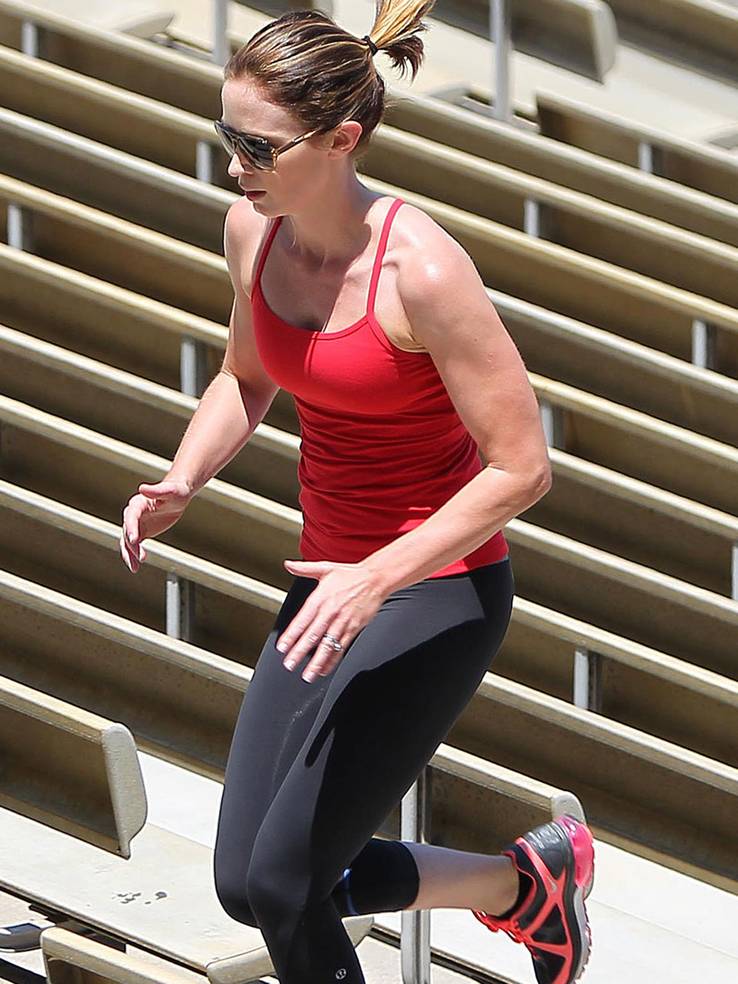 Actress Emily Blunt is one of the biggest stars in Hollywood these days, but she needs to stay in perfect shape, so she can walk the red carpets with confidence. Actresses are under a lot of pressure to look like they constantly exercise and eat a clean diet. One Twinkie too many and an actress can be replaced by the next in line. Sad, but often true.
Too bad the brunette beauty was caught by the pesky paparazzi always waiting for the less-than-perfect shot.
Sure, Emily looks like she is in great shape, but this is not the best pic of the big-screen stunner we have ever seen. She is obviously totally unaware that she is being photographed, which probably makes her wish she did her workout routine indoors instead of in public. Who needs sunshine when you can work out in a state-of-the-art home gym? But we will give it to Emily who is remaining laser-focused on her fitness. Nothing will stop this gal from working those glutes. But she should realize that those sunglasses do not mask her at all. We all know it is you Emily… especially the paparazzi ready to pounce. Is there any privacy anymore?
14

Margot Robbie – No Pain, No Grass Stain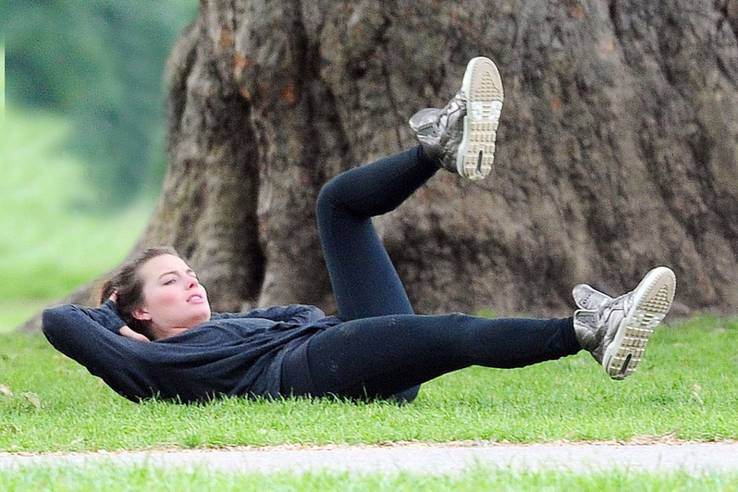 Actress Margot Robbie is arguably one of the most gorgeous women in Hollywood today, and her acting talent is off the charts. Her throngs of fans adore her every move and we can't blame them, she's hot! Margot is living the high life after all the acclaim she has received for her stellar role in I, Tonya, and her star power is shining brighter than ever before. Will she let herself go after working so hard to get in shape for all those intricate skating scenes in the film? Never! The marvelous Margot must keep at it, so she looks like a million bucks for her next role, whatever that may be. And more and more roles are sure to come her way. So, here we see the stunning star in the grass, doing leg lifts to keep those thighs and glutes at their peak.
She does not know she is being photographed, making her poses on the ground seem extra-odd. But hey, if this is what it takes to look like Margot, then sign us up for a grassroots fitness session! We don't mind grass stains and aches and pains if looking even half as good as Margot is the end result.
Featured Today
15 Unusual Household Rules Kelly Ripa Makes Her Kids And Husband Follow

Former First Lady Barbara Bush Critically Ill, Refuses Medical Treatment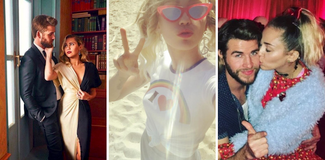 15 Ways Miley Cyrus Changed Since Getting Back With Liam

13

Ed Westwick – Little Red Riding Hood Needs A Spot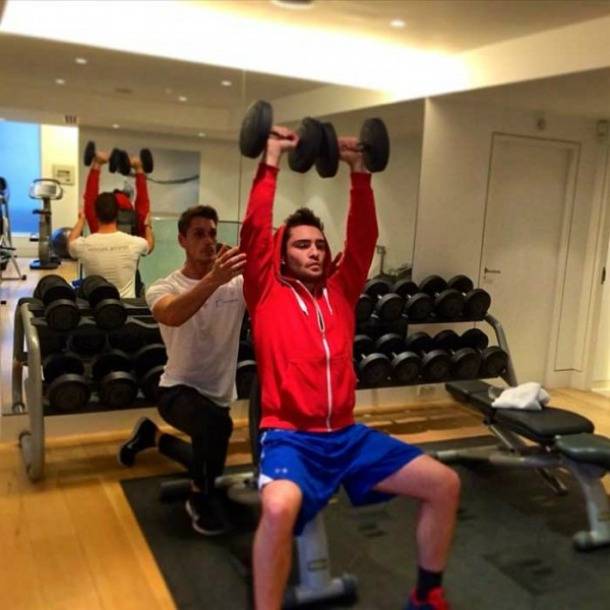 Former Gossip Girl actor, Ed Westwick, seems to need some extra assistance with his less-than-impressive weightlifting. Not that we are all bodybuilders or anything close, but it does not seem like those weights are all that heavy. Perhaps Ed needs to spend more time in the gym to build up his strength, so he can move on to a set of more substantial weights. He has good form and looks snazzy in his red sweatshirt, but we can guess that he would not want to be photographed like this. Ed may be a "stud" on TV, but here he looks like the new guy at the gym just learning the ropes.
Of course, Planet Fitness wouldn't judge him (have you seen their commercials?), but the readers of gossip rags are snickering. Maybe we think all the Hollywood heartthrobs are super-strong. So much for make believe. The next time Ed hits the gym, he had better look around for paparazzi hiding in the bushes outside. He doesn't want to be caught doing bicep curls with 5-pound dumbbells. But if the paparazzi could snap a pic of Ed with his mini-weights, that would be the gossip heard all over town. XOXO!
12

Reese Witherspoon – Down In The Dumps Over Downward Dog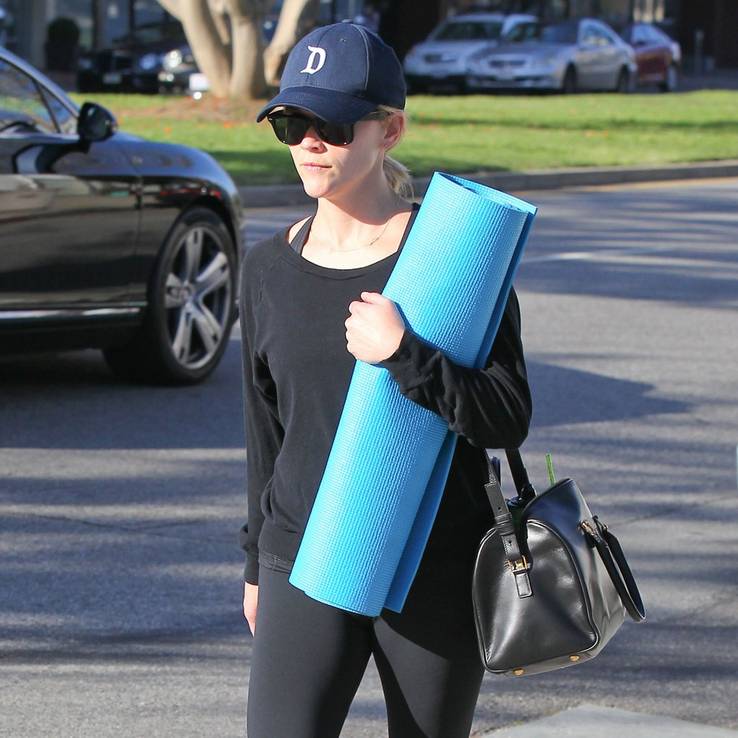 Why so sad, Reese? Is yoga a bore and a chore? Here we see the lovely and talented actress Reese Witherspoon looking kinda glum as she heads to or from her yoga class, blue mat in hand. She is avoiding the paparazzi like the plague, but they will still snap her pic whether she smiles for them or not. That is what they do, after all. It is too bad that Reese needs to walk the streets in a ball cap and dark shades to cover up, but as a celeb, it is part of the everyday. She doesn't want to be mobbed by fans. Plus, wearing all black is not exactly the most inspiring look for a zen-inducing yoga session.
Who knows what is up with Reese, but she looks nothing like the chipper chick we are used to seeing. Maybe Reese is down in the dumps or she is not feeling like exercising. It would have been better if we saw a candid shot of the actress looking happy, but yoga apparently isn't for everyone. Next time, Reese should try Pilates instead. We hear all the celebs are doing it. Surely Reese would be happy to jump on the bandwagon and join her A-list pals.
11

Christina Milian – Benched And Out Of Breath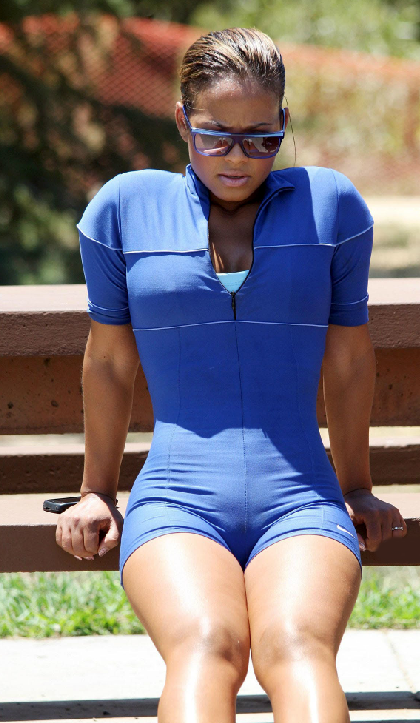 Entertainer Christina Milian seems to be taking a quick pit-stop breather from what must have been quite the strenuous workout. That's what we are guessing. But of course, the ever-present paparazzi caught the beauty while she was resting rather than while she was in full work out mode making her look lazy and tired. But we all know that Christina is full of zest and energy – the total opposite. But everyone needs to take a seat to catch their breath every so often, even a powerhouse like this brunette babe. Her fitness outfit is what catches our eye though. Bright blue and skin-tight, this look is not something you see every day, thankfully.
But when it comes to celebs, out-of-the-norm is the norm. And Christina looks great, in shape, and, as always, cool.
Not that we expect to see her in this ensemble at her next red carpet event or anything. Not only would it be wildly inappropriate, but probably all sweaty too! So, the paparazzi did their job by catching this star candidly, but she doesn't seem to give a hoot. She is likely used to their annoying ways and blows it off. They may think she looks awkward, but she isn't feeling blue about it.
10

Barack Obama – Give Us 10 More!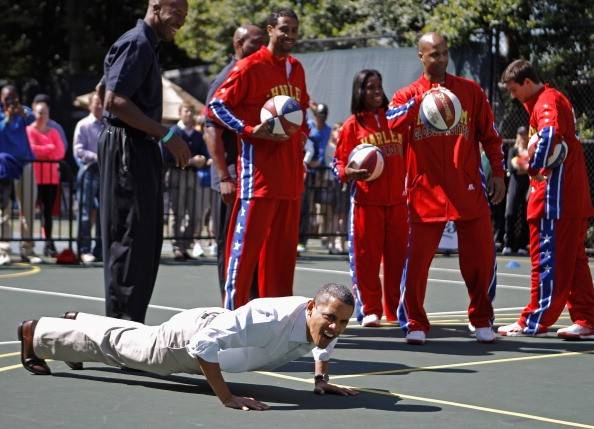 Way to go Barack Obama! The former United States President is proving that he is strong, fit, and capable of getting down and doing some push-ups. Even in front of an athletic-looking bunch of onlookers — pretty cool. Not too many politicians would risk looking foolish, but Obama is a bold and brave man as well can tell from this photo (among his other achievements, naturally). If he could handle all that time in the White House, he could surely do a bit of exercise in public. Although, the strained look on his face makes us think those push-ups are not coming easily. Maybe if he was wearing an appropriate workout outfit he would have an easier time with this activity.
Dress shoes and a collared shirt are not what most people wear during physical endurance exercises. But as awkward as this looks, could you imagine any other former official getting down and dirty like this?
Even Barack's wife Michelle is impressed, and she is the one with the supposed "great arms." Maybe she has been training her hubby for this photo-op moment! We are guessing Obama was sore the next day, but that's what you get for trying to show off. Next time, he had better be ready to do some sit-ups too!
9

Kate Middleton – Racetrack Royalty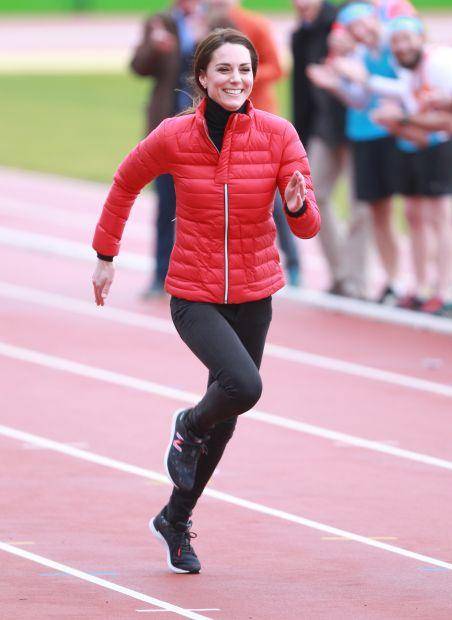 It is not every day that we see a member of the royal family doing laps around the track. But Duchess Kate Middleton seems to be full of energy and ready to race. She seems to be happy to be getting in some exercise and looks to be in stellar shape. But she probably prefers when her photo is taken when she is dressed up in a designer gown and a pair of fancy heels. The onlookers seem to be in awe of the brunette beauty, probably because they cannot believe that she is in a pair of sneakers. But do no forget, there was a time when Kate was just an "average Jane" like you and me.
Sneakers were probably her go-to footwear of choice paired with an outfit similar to the one we see here in this photo. But where are the other runners? Either Kate is far ahead of the pack or she is trailing behind. She may not win the race, but they say it is the journey that counts. And we can all agree that Kate is on quite the life's journey. Now a mom of three, this ravishing royal is running circles around the rest of us.
8

Ryan Lochte – A Fish Out Of Water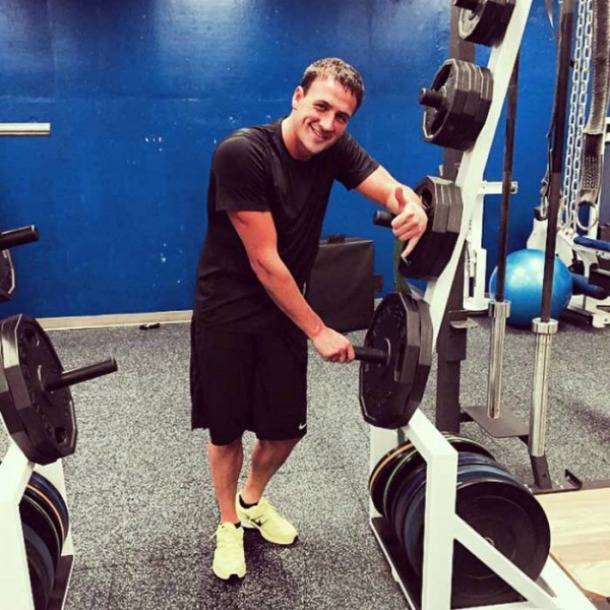 Olympic swimmer Ryan Lochte is a winner when it comes to his talents in the pool, but in the weight room, he looks more like a fool,  or a "tool." He is smiling for the camera, so we know he is aware that a member of the paparazzi or someone else is taking his pic but posing next to weights looks super-staged and really awkward. Ryan may think he looks completely cool, macho, and manly as he shows off his strength, but he does not have to try so hard. We all know that he is an excellent athlete, so why the need to be so goofy about it?
It is evident that an Olympic-level athlete such as Ryan would need to pump iron to get his muscles strong, so he can hit the water at his peak.
Apparently, the medals are not enough for Ryan to prove he's got what it takes. We would rather see him swimming laps in the pool and watch in amazement at how talented he is when it comes to swimming. Heavy lifting may be Ryan's way to stay in shape, but if that is the case, he ought to end the amateur photo shoot and get back to his next set.
7

Kourtney And Khloe Kardashian – Keeping Up with Their Workout
It is always motivating to have a partner to work out with, and Kourtney and Khloe Kardashian have plenty of family members to "spar" with. Here we see the sisters fighting it out for the sake of staying in shape as they box to build their biceps. It looks like they are staying fit while having fun, even if they do look a tad silly. They do not seem to notice that their pic is being taken, proving they are motivated for something other than fame for a change. The Kardashian sisters often show lots of skin in tight clothing and barely-there outfits, so if they want to look good, they need to take care of their bodies. Boxing is not a common workout, but it surely gets the heart rate up and tones muscles. Will Kim join her sisters for the next bout? She wouldn't want to get a bruise — that would wreck her selfies. Plus, Kanye would worry that she'd practice on him!
Perhaps the sisters should get their brother Rob to join them. He seems to be a loner these days and has packed on some extra pounds over the years. We don't care how he looks, but it is important health-wise, especially so he can keep Up with baby Dream as she gets older… and so he can run away from Blac Chyna!
6

Nina Dobrev – Snapped Mid-Stretch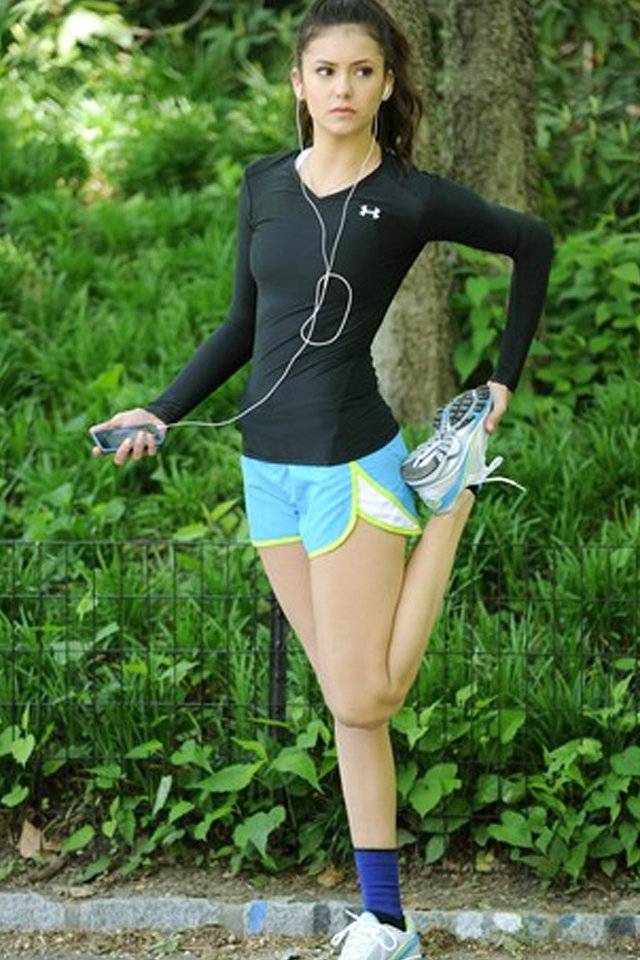 It looks like actress Nina Dobrev is getting ready for an outdoor jog. But before pounding the pavement, the brunette beauty must stretch those muscles, so she doesn't get injured. Too bad the paparazzi is waiting undercover to snap the sweetie when she least expects it.
She has a flamingo-like quality that makes this otherwise normal pic look a little funny. Nina probably does not even know her pic is being snapped, but as a celeb, she must realize that any time she goes out there is a chance that her pic will be taken.
Good thing she looks cute in her running clothing and sporty sneakers. Her stretch may be less-than-strenuous, but at least she is trying. Are you a fan of Nina's? Perhaps you have seen one of her many films including Flatliners, Let's Be Cops, The Final Girls, Too Young to Marry, Never Cry Werewolf, Chloe, Away from Her, Mookie's Law, Arena, Crash Pad, The Perks of Being a Wallflower, and My Daughter's Secret, to name a few. When an actress is on the big screen, she wants to look her best. That must explain why Nina runs. If only she could run away from the paparazzi.
5

Richard Simmons – Extra Water Weight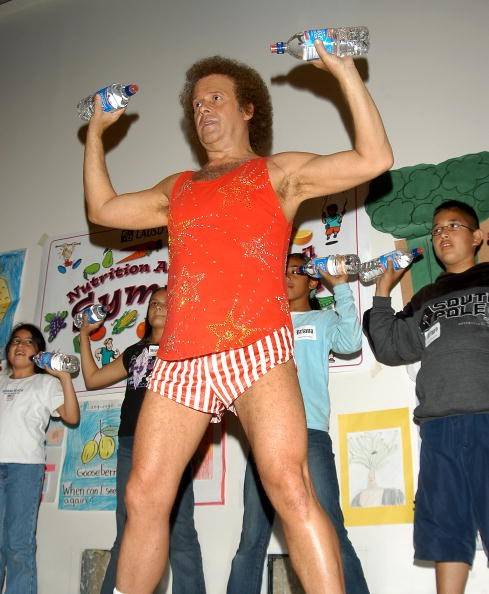 Fitness guru Richard Simmons has always been one to break the mold, but here we see the exercise fanatic looking odder than usual. Sure, he is wearing his signature super-short shorts and a body-baring tank, and who could miss that curly hair he is known for? But what is with the water bottles for weights? We do not expect for the guy to be lifting 50 pounds over his head, but two small water bottles are not too hard to pick up. We see he has some kids in the background, so he is probably teaching them the basics of staying in shape.
Perhaps it is better to lift something, even if it is a water bottle, than nothing at all. You got to start somewhere, right?
But what happens when you get thirsty? Suddenly, those "dumbbells" will be a whole lot lighter. There goes the premise of the workout, but at least your thirst will be quenched. We can't tell if Richard was aware that his pic would be taken this day, but if he did know, perhaps he would have invested in a longer pair of shorts. Do those kids really need to see so many inches of thigh? It is great to be proud of your body, but a little modesty goes a long way.
4

Snoop Dogg – Is Always Doing Something Odd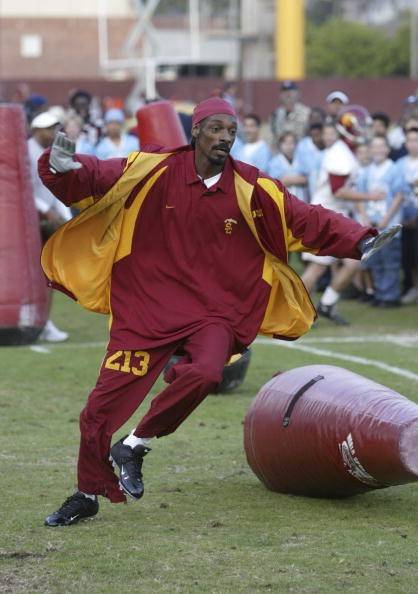 It is hard to imagine rapper Snoop Dogg doing any activity that involves too much physical effort. He's certainly no slouch, but we expect Snoop to be enjoying his "grass" at home on the recliner, not running through it. Based on Snoop's unusual getup on the field, we can safely assume that he isn't one to play sports on the regular. And although he looks like he is moving pretty fast, this activity does not seem like something Snoop is a pro at.
But luckily for the paparazzi, they caught good old Snoop in action, something most people have never seen.
Fans love Snoop for his music, not so much for his prowess on the ball field. But leave it to that sneaky Snoop to impress and shock us when we least expect it. Heck, when he came out with a gospel album we thought that was a change of course but playing ball may be the greatest "wow" moment of all. Before we know it, Snoop can hang up his microphone and lace up his sneakers instead. We know he'd have tons of fans rooting him on, even if he gets short of breath after three minutes.
3

Hailey Baldwin – Swimsuit Strength Training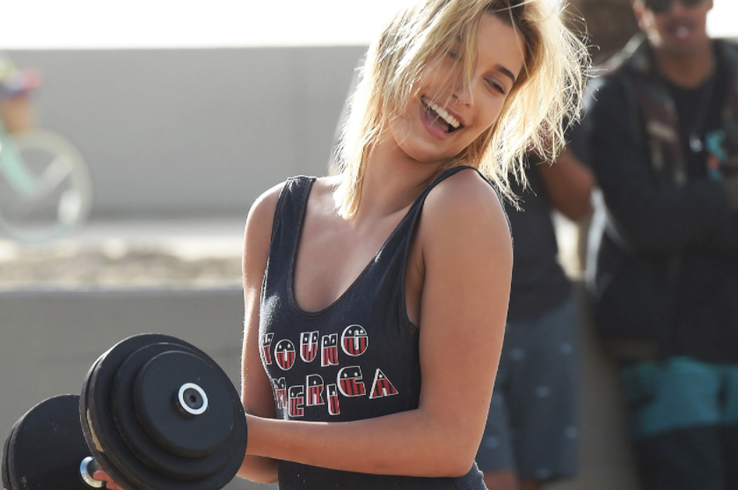 The 21-year-old Hailey Baldwin is an up-and-coming "it" girl who is proving her modelling chops only get better with each photo shoot. The blond and beachy babe is all over magazine pages and makes headlines as she hangs out with her fellow celeb friends. The paparazzi loves taking pics of the beauty, which makes sense because fans love to see her every move. She may look great in a swimsuit on the beach as she does in this photo but why is she working out when it would be far more appropriate to lounge poolside or take a dip in the ocean?
We suppose she wants to stay in tip-top shape, but wouldn't a gym be a more suitable environment for lifting? It must be super-hot on the sand and someone could accidentally trip over a barbell.
But leave it to someone from the Baldwin bunch to do something out of the norm. At least Hailey looks good doing it, as awkward as the situation may seem. The paparazzi seem to be able to find celebs anywhere, even at the beach. They must set up an umbrella and some beach towels and sunbathe until someone notable walks past. But they better watch out for Hailey as she bulks up. Then they may not want to run the risk of pissing her off!
2

Sporty Spice (A.K.A. Melanie C) — Fitness Fashion Faux Pas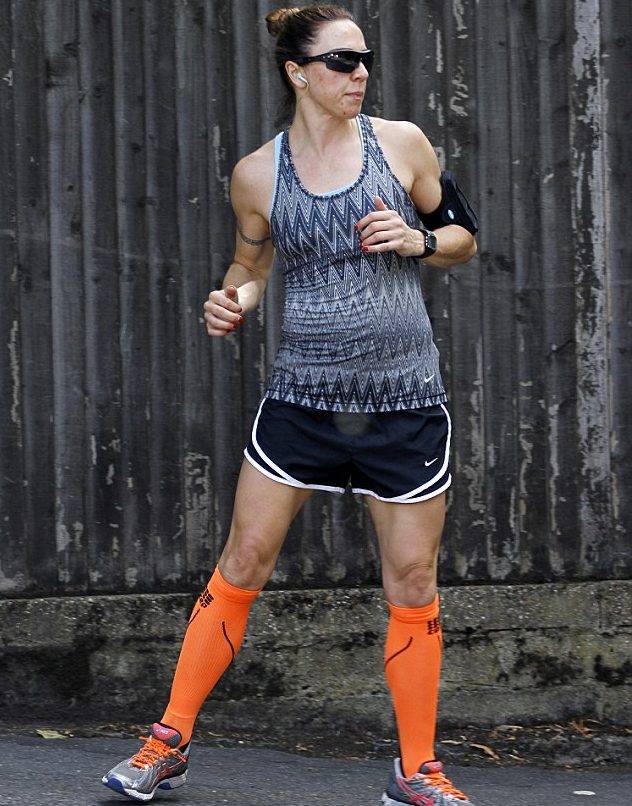 Spice Girl Melanie C, better known as "Sporty Spice" is all about fitness and staying firm. But this pic of the singer shows that although she may know a thing or two about keeping in shape, she is not nearly as savvy when it comes to style. Sure, working out is not about fashion, but there is a way to look like you did not select your outfit with a blindfold on. Melanie was definitely caught off guard by the paparazzi who captured the entertainer in a super awkward moment.
Those socks alone are cause for an outcry! We have no clue what sort of exercise regime this gal is about to embark on, but she will certainly cause heads to turn — and not necessarily in a good way.
But we must hand it to Melanie — she does look quite toned and fit despite her worrisome wardrobe woes. Perhaps her Spice Girls group-mate, Victoria Beckham can give Melanie some much-needed style tips. As a designer, she surely knows a lot about what looks good and what looks a hot mess. Anything would be better than this outfit, and from the look on her face, we are guessing even Melanie knows it. This fashion faux pas is not so spicy.
1

Renee Zellweger – Speed Walking Woman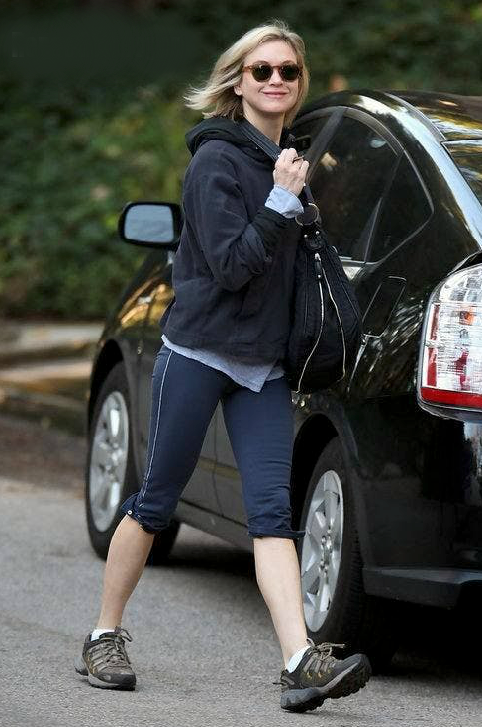 Actress Renee Zellweger always manages to stay in great shape. Even when she needs to fatten up for movie roles, she gets those extra pounds back off in no time. It must be all the speed walking she does like we see in this pic of the stunning star. The paparazzi caught the blond beauty whipping through the streets and she even managed to give them a knowing smile. She's on the move and we can tell she walks regularly; just look at those toned legs and all-over glow. But it is kinda awkward to be snapped by the paparazzi while you are just trying to go about your day. Renee must be used to the unwanted attention, but can you imagine if you were minding your own business and getting in some daily fitness and some random stranger took your photo? You'd be mortified!
So, props to Renee for handling the situation with a smile instead of a sneer.
Do you enjoy watching Renee's movies? Surely, you've seen Bridget Jones's Baby, Chicago, Jerry Maguire, Cold Mountain, Miss Potter, or Me, Myself & Irene. She was great in all those pics, and not nearly as awkward as she is in this speed walking snapshot.
Source: Read Full Article