Becoming a Hollywood superstar doesn't happen overnight. "Moonlighting as a waitress" isn't a phrase that came out of nowhere, and even multi-millionaires had to start somewhere. If you thought these stars just rolled out of bed one day and found themselves on the red carpet, think again. From flipping burgers to pulling morning shifts at Dairy Queen, some of Hollywood's most-famous faces started out in the burger joint. The Big Bang Theory's Penny may have moved to L.A. for a glittering career, but she found herself in The Cheesecake Factory. Real life is no different.
From Brad Pitt and Nicki Minaj, to Eva Longoria and Barack Obama, flipping burgers for minimum wage was once a reality. These celebs have done the early shift at McDonald's, dished up seafood at Red Lobster, and a few were even fired from their fast food gigs.
They might live in $20 million dollar mansions now, but living paycheck to paycheck is something even the most successful stars have had to experience. Mariah Carey may be worth $535 million, but $5.35 was what she was once serving. Every fast food joint in West Hollywood is employing "the next big thing." If anything, it's a giant reminder: the current "big thing" was once wiping counters and asking: "Do you want that supersized?" Forget being able to rake in $25 million for a movie. This list looks at where these stars actually started out, and you'll be amazed. Here are 20 of Hollywood's most famous faces, and why they aren't embarrassed to say they once flipped burgers to pay the bills.
21

EVA LONGORIA: SIX YEARS AT WENDY'S
She's glamorous, beautiful, and insanely rich. It wasn't always a life of luxury for Eva Longoria, though. The Desperate Housewives actress spent six years flipping burgers at Wendy's. Eva has come a long way from her humble beginnings, but she hasn't forgotten them.
She chose National Cheeseburger Day to appear on The Rachael Ray Show, where she dished out her best tips for crafting the perfect burger.
"What we learned at Wendy's was mayonnaise goes on the bun first, to seal the bun. Then you put on the ketchup," she said. "I was a burger flipper," Eva admitted, although she did say: "I loved working there."
You'd think a glittering Hollywood career would put all thoughts of the food industry behind you. Not for Eva. Not only has Eva brought out a cookbook, she's actually opened a Las Vegas restaurant. It's not uncommon for celebs to branch out into the restaurant industry, although Eva's career highlights sit firmly in acting. The former beauty pageant winner was earning $400,000 per episode on Desperate Housewives, according to The Daily Mail. She's also got a lucrative L'Oréal contract and been a spokesperson for Pepsi. Not a million miles from serving sodas at Wendy's (although definitely bringing in a lot more cash). You're in for a shock with our next celeb…
20

BRAD PITT: FRIED CHICKEN MASCOT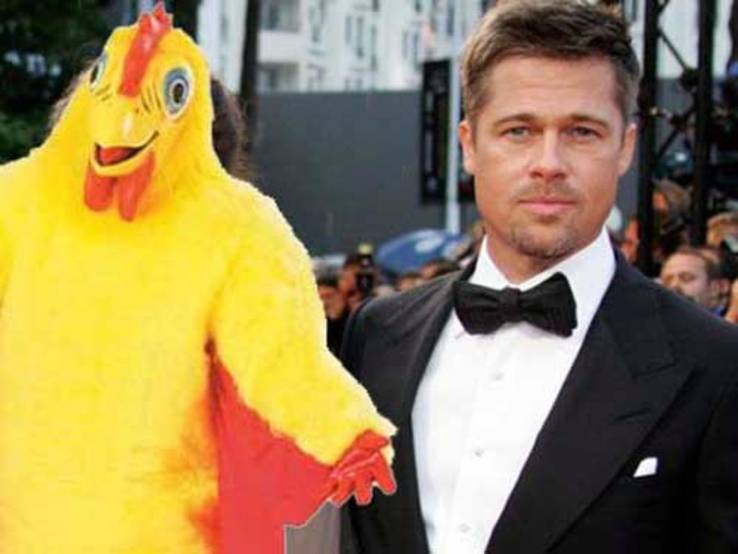 Standing outside a fried chicken joint handing out flyers is something we'd expect to see Brad Pitt do in a high-paying movie role. It's definitely not something we'd ever imagine he actually did. Believe it or not, life wasn't always easy for this Hollywood heavyweight, who dressed up in a bright yellow chicken suit after dropping out of college.
Dropping out of college and without a job, Brad wound up paying the bills by dressing up as a chicken and handing out flyers outside El Pollo Loco. Brad also earned a living moving refrigerators. To think $100 million is what People reported him offering Angelina Jolie in their divorce settlement…
Finding his feet in the acting world for Brad wasn't the glossy image you might have in your mind. Given that he landed cult movie roles like Fight Club and ended up marrying Angelina Jolie though, working at the fried chicken joint doesn't sound so bad now! Brad's career is the envy of every struggling actor out there. He's embraced some of the most challenging roles in film. Brad played a psychiatric patient in 12 Monkeys, bulked up in Troy, and went through some amazing reverse aging in The Curious Case of Benjamin Button. A career that spans over 20 years definitely earns you some fried chicken (even if that's how you started out).
19

RACHEL MCADAMS: BROKE EQUIPMENT AT MCDONALD'S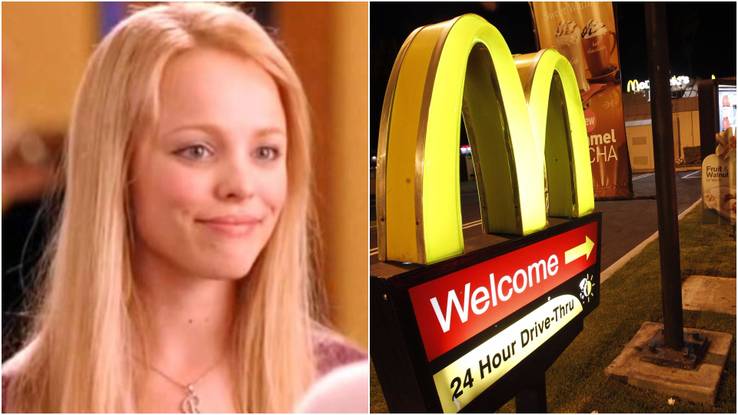 Rachel McAdams may be a household name now, but the Mean Girls actress had a gritty start. The golden arches might be tempting for those of us grabbing a sneaky Big Mac on the way to work, but working there is hard graft. Rachel spent three whole years doing shifts at McDonald's, and she was brave enough to tell US Magazine that she was not good at her job.
"I was not a great employee," she said. "I broke the orange juice machine one day." Rachel also admitted that she was always busy washing her hands when her managers were yelling, "Hey! The drive-thru's backing up!"
Rachel was 16 when she started her lowly paid job at the burger joint, although she was already directing children's theaters. Unfortunately, "it didn't pay the bills," she said. So Rachel stepped up to the plate and flipped those burgers until she got discovered. Rachel landed two major roles in one year–2004 saw her star in both The Notebook and Mean Girls. She's had quite the career since, though. You'll spot her face in 2005 movie, Wedding Crashers and 2009 movie, Sherlock Holmes. For an actress who started out flipping burgers for Happy Meals, Rachel sure has found her way.
18

JENNIFER ANISTON: ADMITTED BEING A TERRIBLE WAITRESS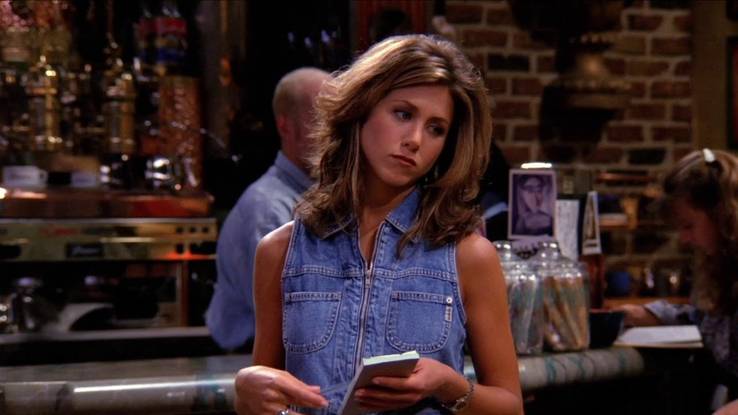 Nope, she was not just a waitress on-screen. Jennifer Aniston hit our screens in Friends in 1994. Ten seasons of the world's most famous sitcom gave her fame, fortune, plus two very good-looking husbands. In early seasons of Friends, Rachel took up waitressing at the Central Perk coffee house, although even her own friends agreed she was a terrible waitress. What you probably didn't know though, is that Jen was a waitress in real life.
"I wasn't a very good waitress," she said. "I dropped more than one Alpine burger in customers' laps, and you just do not want all of that Swiss cheese and mushroom in your pants."
The actress opened up to Marie Claire about her pre-fame days, and yes, she was waiting tables. Jennifer landed a few small-time acting gigs, but it wasn't until Friends that she started earning big bucks. FYI, if you need a reminder of what "big bucks" are, try $1 million per episode. While $1 million may sound like small potatoes in the acting world, that salary on TV wasn't matched until the cast of The Big Bang Theory were revealed to be earning that. Jen's actual movie salary is upwards of $25 million, according to Forbes. Ms Aniston is mostly cast in high-grossing romantic comedies. Still, she's shown that she can be a serious actress by playing a chronic pain sufferer in Cake. And they say you can't have your cake and eat it.
17

BARACK OBAMA: MINIMUM WAGE AT BASKIN ROBBINS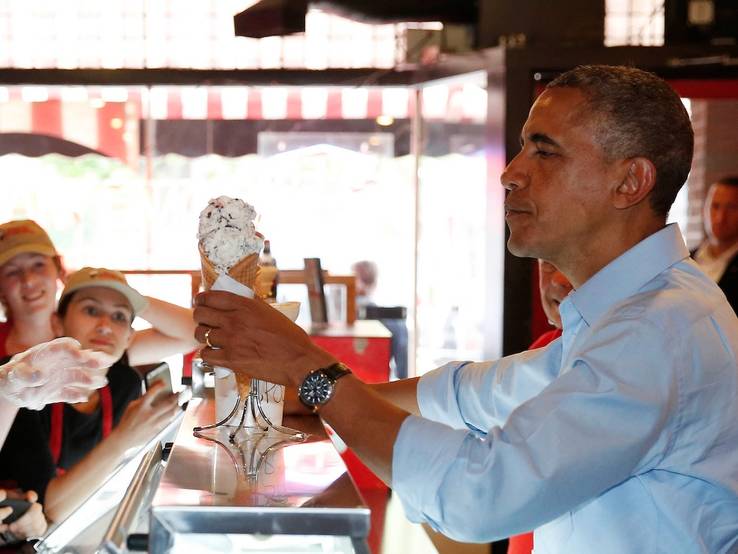 That's right. Barack Obama. Of all the people on the planet, you'd never imagine that the man who spent eight years in The White House once scooped ice cream for minimum wage. Barack spent his teen years in the Baskin Robbins cap and apron in Honolulu before going on to defy all odds. He got into Harvard University and became the first African American US President.
"Scooping ice cream is tougher than it looks. Rows and rows of rock-hard ice cream can be brutal on the wrists," Barack wrote on his LinkedIn. Barack described his days at Baskin Robbins as "not exactly glamorous."
Former President Obama wasn't just loved for his revolutionary ways. This was a President who was relatable and down-to-earth. "I'll never forget that job," he said, adding that it taught him a lot about responsibility. Barack has definitely extended the concept of responsibility to his two daughters, Sasha and Malia. Malia has followed in her father's footsteps and is now studying at Harvard University (where she probably gets a fair amount of ice ream). Despite keeping in tip-top shape, Barack never stopped loving fast food. He ate cheeseburgers throughout his campaign trail, and his favorite cheat food is a certain chili dog joint in Philadelphia. So.much.respect.
16

GWEN STEFANI: SERVED SCOOPS AT DAIRY QUEEN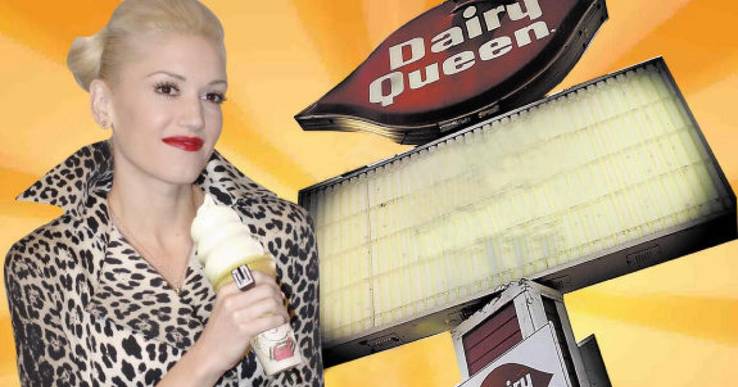 Gwen Stefani is mostly known for being a music and style queen. The singer's edgy image, punky vibes, and doll-like fashion have earned her millions. You also don't get invited to be a judge on The Voice unless you've got boss skills.
Gwen Stefani worked at Dairy Queen before she found fame. "When I started there, I fit in my outfit. When I ended there, I did not fit in my outfit," she told Us Weekly. Gwen actually came up with the idea for the No Doubt band while working at the ice cream chain. Climbing up the fame chain was always on her agenda, and this star made it.
Gwen has made no secret of her super healthy lifestyle. She's got some of the hardest abs in the industry, and this mom works hard at staying in shape. According to TMZ, Gwen's diet includes soy milk and organic vegetables, and her gruelling workouts mean a ton of high-intensity training, plus cardio and dumbbells. Of course, Gwen is put through her paces by Gunnar Peterson, who also trains Kim Kardashian and Angelina Jolie. But don't think that Gwen and her diet are "exclusive." In 2015, she gave us a throwback to her humble days with a Twitter pic of a Dairy Queen ice cream cone. Aww.
15

CHRIS PRATT: DISCOVERED AT BUBBA GUMP SHRIMP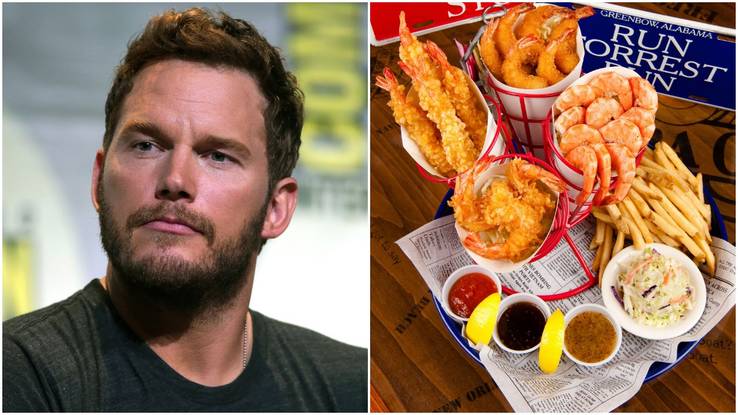 Never in a million years would you imagine that Chris Pratt was once homeless. Yup. The Guardians Of The Galaxy and Avengers star raked in $17 million in 2017, according to Forbes, but this guy started out on the street. Living out of a van and waiting tables at Bubba Gump Shrimp was how this actor began his career–literally.
Chris Pratt was living our of a van and working at Bubba Gump Shrimp when he was discovered. Chris ended up waiting on actress, Rae Dawn Chong and she immediately cast him in the movie, Cursed Part 3. Chris went onto become the highest paid actor in 2017.
It's pretty rare to be discovered while you're working in a restaurant. According to Entertainment Weekly, Chris was just 19 when he was living on the breadline. But that all changed in the blink of an eye. Chris' co-star in Cursed Part 3 has spoken out about Chris Pratt back in his Bubba Gump Shrimp days: "He was so hot, and he was like: I just came from Hawaii. I'm an artist." The rising star had studied acting at community college, but taking the traditional route wasn't for him. Chris was out for the real deal, even if it meant living in a van and serving up shrimp until "the moment" came. Good on him.
Featured Today
15 Unusual Household Rules Kelly Ripa Makes Her Kids And Husband Follow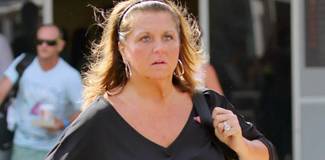 'Dance Moms' Star Abby Lee Miller Diagnosed With Non-Hodgkin's Lymphoma

Queen Elizabeth Devastated Over The Loss Of The Last Royal Corgi

14

MADONNA: FIRED FROM DUNKIN' DONUTS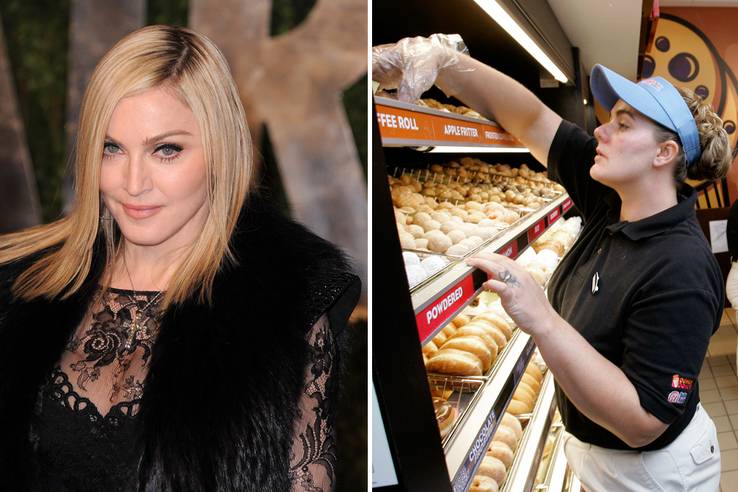 Madonna has been in the position to fire other people for quite a while now. The pop icon has $600 million to her name, and at 59, she's still going strong. Madonna was a college drop-out before moving to New York with her sights set on fame. Strapped for cash, Madonna took a job at Dunkin' Donuts in Times Square, but she wasn't the best employee according to Business Insider.
Madonna was fired from Dunkin' Donuts after just one day. Her managers kicked her out after "squirting jelly filling all over a customer." Madonna had a string of low-paid fast food jobs before hitting the punk rock scene in 1979.
Squirting donut fillings at a customer might sound funny, but it was enough to get Madonna fired before she'd even completed her first week at Dunkin' Donuts. Of course, now that she lives a super-clean and macrobiotic lifestyle, it's unlikely the singer would go anywhere near sugar-coated donuts. Madonna was one of the founders of the celeb fitness revolution. Her ripped physique caught everyone's attention, and the world wanted to know how she was doing it. According to The Daily Mail, Madonna was getting up as early as 5 a.m. to workout with celebrity trainer, Tracy Anderson. Madonna reportedly only drinks "holy" Kabbalah water and sticks to a super clean vegan diet with plenty of pulses and nuts. So, not a chocolate-dipped sprinkle in sight…
13

NICKI MINAJ: WORKED AT RED LOBSTER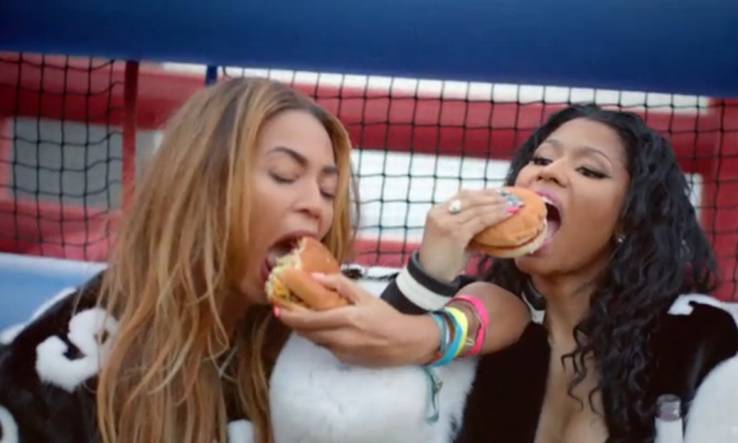 Nicki Minaj serves up cutting edge rap lyrics. She comes bubblegum-packaged in a colorful wardrobe full of neon wigs and eye-popping pinks. Prior to her music career, though, there was the Red Lobster career. And it didn't go too well. The singer and rapper spoke to GQ Magazine about her rocky start.
"We had to steal bread," Nicki said about her beginnings. Nicki drew the line at dealing with Red Lobster customers, though, and she admitted that she was fired from the restaurant. She "followed a couple who had taken her pen into the parking lot," and gave them an aggressive hand gesture. Bye-bye job.
Nicki found her fame, but it didn't come without its troubles. "Every human needs to push themselves to the point of breaking sometimes," she said in her MTV documentary. Pushing boundaries isn't a problem for this outspoken star, though. Her rap lyrics have taken a swipe at everything she disapproves of, and Nicki is more than happy to voice her opinions on social media. When she didn't list Kim K as one of her favorite people, a small feud broke out, with Kim tweeting that she was sending free samples of her new fragrance "to all the haters." Guess who was on that list. As to fast food, Nicki seems to be enjoying it in this pic with Beyonce.
12

MEGAN FOX: SERVED SMOOTHIES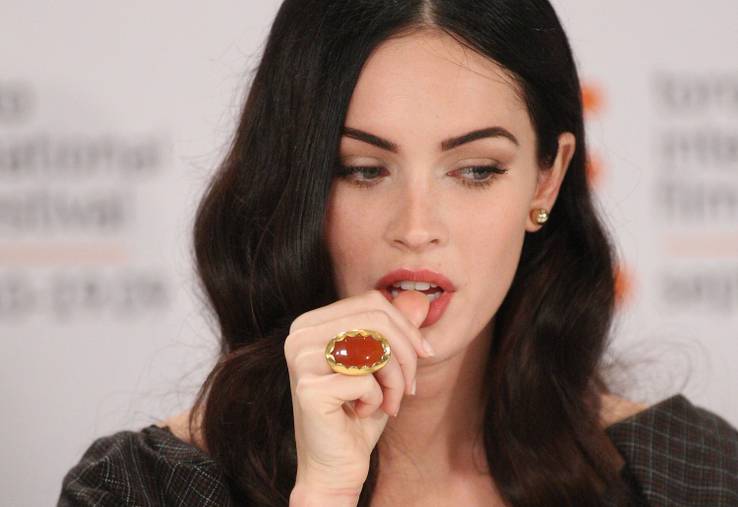 Back before Megan Fox was receiving accolades, she was serving up smoothies. The Transformers actress opened up about her past on The Ellen Show. Not only was Megan serving thirsty customers, she actually dressed up as a giant banana and stood by the highway in her fruit suit.
"I worked at a little smoothie shop in Florida," she told Ellen. "Usually on Fridays, someone had to dress up as a piece of fruit and go stand out by the highway. I was a banana. A giant banana."
It was onwards and upwards for Megan, though, as she quickly put her banana smoothie days behind her. 2007 was a huge year for Megan as she was cast in Transformers, and she's since starred in the Teenage Mutant Ninja Turtles franchise, plus Jennifer's Body. Of course, her own body has come under scrutiny, after she was photographed looking on the suspiciously enhanced side compared to her fresh-faced days.
Megan mostly spent her pre-star days behind the register at the smoothie stand. It isn't The Ellen Show without a good dose of humor, though. To give the actress a fright from the past, the producers got someone to creep up on Megan dressed in… you guessed it, a giant banana suit.
11

AMY ADAMS: WAS A WAITRESS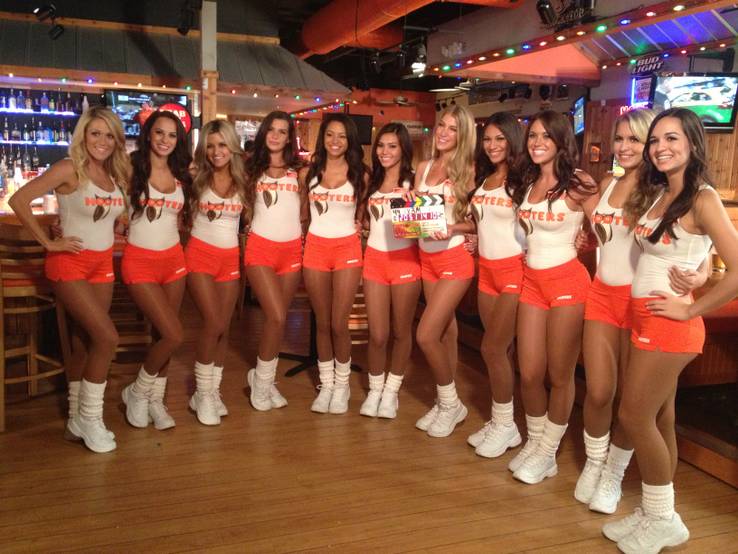 Yeah, she wears Versace gowns now, but it was tiny shorts and signature orange for Amy Adams once upon a time. The American Hustle actress opened up to Vanity Fair about her first job as a Hooters waitress, saying "it was a great way to earn money."
"The pay–$7 an hour–was double the minimum wage, a fortune at the time," Amy said. "I wore a discreet little tennis outfit." Reflecting on the experience though, she said, "I wasn't cut out to be a waitress. That was a short-lived ambition."
Amy's ambitions definitely delivered as she quickly moved from the sport's bar chain to Hollywood royalty. Amy has won a Best Actress award at the Golden Globes and now has a net worth of $35 million. Amy has starred alongside Leonardo DiCaprio in the sensational Catch Me If You Can, although she's proved she can pull action stunts like the best of them. 2016 was a Batman v Superman year for Amy. Like a good all-rounder, though, she's also starred in her fair share of rom-coms, like The Wedding Date, Drop Dead Gorgeous, and Serving Sara (with Friends star, Matthew Perry). What to say about Amy Adams? Not bad for a minimum wage start at Hooters. Sorry, "double minimum wage."
10

PINK: PIZZA HUT BEGINNINGS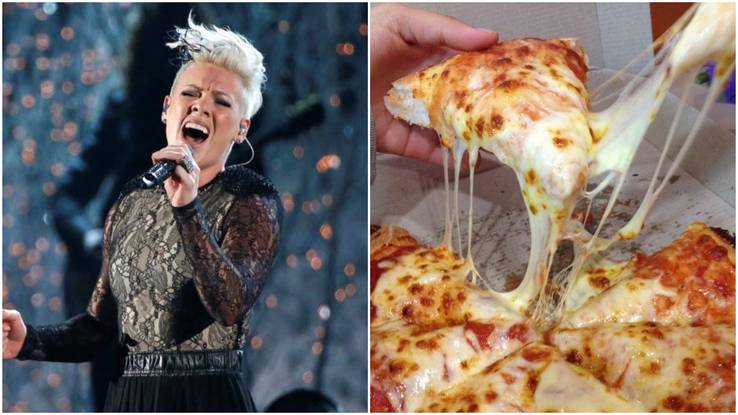 It was quite the rollercoaster of fast food restaurants for singer, Pink. Most of the celebs on this list just had one famous restaurant to their name. For Pink, though, it was a steady stream of low-paid jobs including Pizza Hut, McDonald's, and Wendy's. Pink may have lasted one year prepping pizzas, but she only held out 90 minutes at Wendy's according to Contact Music.
"I was horrible," Pink said. "I would open the restaurant and I would just sit in the bathroom and watch the tiles." Pink worked at Pizza Hut for one year, but she messed up the French Fry duty at Wendy's. They fired her after just 90 minutes.
Pink worked her way from her native Pennsylvania to Hollywood one fast food joint at a time. She openly admitted that she wasn't always in the right state of mind on the job, though. That kind of behavior might be acceptable once you're an established star (although it's still frowned on), but it for sure won't fly with your manager over at McDonald's. Pink said that she'd often spend her lunch breaks on the phone, hoping that a record deal would come through. Amazingly, her big break actually came during a lunch break. An agent was on the other end of the line and Pink had a record deal. Time to ditch the Pizza Hut apron and move to Hollywood.
9

PHARRELL: A LAZY MCDONALD'S EMPLOYEE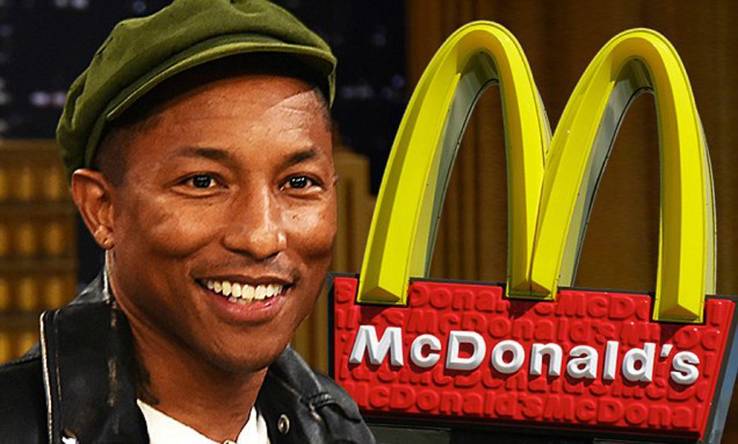 Smooth-man, Pharrell Williams may be "Happy" now, but he started out just like his movie moniker, Despicable Me 2. The singer started out mopping floors at McDonald's, but he was so distracted by the background music, he got fired. Three times. Kind of amusing, when you watch the video for "Happy". Touching, too. It's just a simple video of people from all walks of life and in all kinds of jobs dancing to the beat. You've got kids in the street, late shift workers, and moms.
"I got fired from McDonald's, three times, not just once," Pharrell told NBC. His epic music skills were getting in the way of mopping floors at the burger joint. "I was lazy." He added, "Very lazy."
With multiple Grammy Awards and an Academy Award under his belt though, it was looking good for Pharrell. His crisp vocals and effortless style even made burger chain, Arby's purchase Pharrell's signature hat for a reported $44,1000 in 2014. Pharell is now one of the most-respected music artists on the scene, and a judge on TV show, The Voice. Pharrell always stayed real, and we love him for his boyish charm, epic personality, and of course, that voice. Oh, that voice…
8

EVA MENDES: EARLY DAYS IN THE FOOD COURT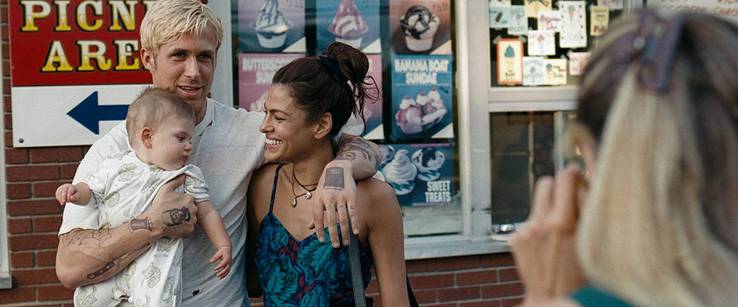 You could say Eva Mendes' movies basically reflect her past. Let's see. There's Training Day, Out Of Time, and for when she ran out of patience, 2 Fast 2 Furious. The Miami-born actress started out humbly in a Californian food court serving pizza and pasta. Speaking to The Wall Street Journal, Eva admitted that she enjoyed the job, but wasn't exactly good at it.
"I was one of those kids who couldn't wait to get my work permit," Eva said. "I worked at this pizza/pasta place in the mall. It was called Ciao. Getting the pizza part was the worst because that was called 'doing the oven.' It was super hot, like a sauna."
Eva is one of the hardest working actresses in the industry. Unlike many of the other celebs on this list, she put her all into her low-paid court food job. Eva also lucked out in love. In a Hollywood marriage that's actually lasted more than five minutes, Eva has been married to actor Ryan Gosling since 2011. Eva's popularity as an actress has become more questionable in recent years, but she's still proven her worth. That said, if Hollywood isn't too keen on casting Eva, does she run the chance of finding herself back where she started? Look out for Eva in the food court if you're dining out in California.
7

JULIA ROBERTS: SERVED ICE-CREAM TO MAKE ENDS MEET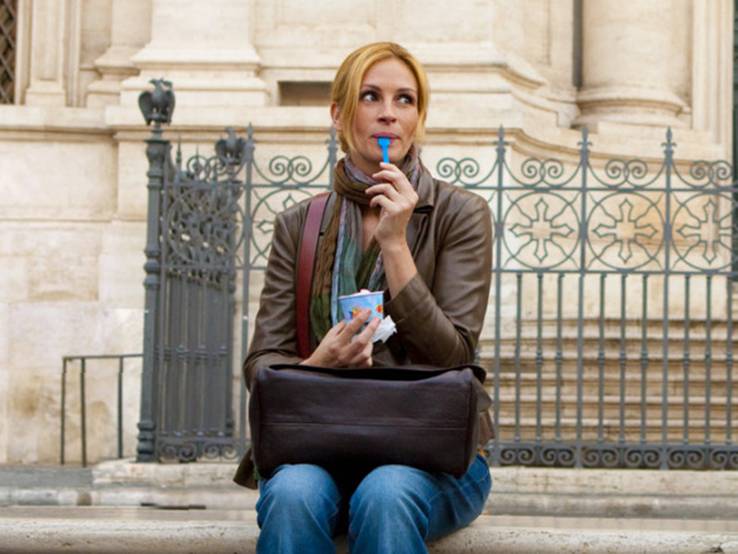 Hard to believe that one of the world's highest-paid actresses was once flat-out broke. Julia Roberts and her million-dollar smile have been earning the actress mega bucks for decades, but it wasn't always so easy for her. The Pretty Woman actress had to put her money where her mouth is and literally Eat, Pray, Love in her early days.
Julia worked as a scooper at Baskin Robbins to make ends meet. The actress served up all 31 flavors while taking acting classes before being propeled to stardom. Julia can afford fancy Italian gelato now, but she was strapped for cash in her early days.
The list of awards this actress has to her name is literally endless. Julia won an Academy Award in 2001 for Erin Brockovich. Three Golden Globes and a Screen Actors Guild Award are just a small chunk of the accolades she's won. Julia has turned heads as much for acting as she has for her beauty, though. She's the face of beauty giant, Lancome. According to The Guardian, Julia's day rate is a staggering $750,000. Ironically, she played a high-profile movie star looking to stay under the radar in British comedy, Notting Hill. With a net worth of $140 million, the Mona Lisa Smile actress now makes the Mona Lisa herself look poor. Definitely worth treating yourself to some ice cream, Julia.
6

LADY GAGA: DISHED UP IN A DINER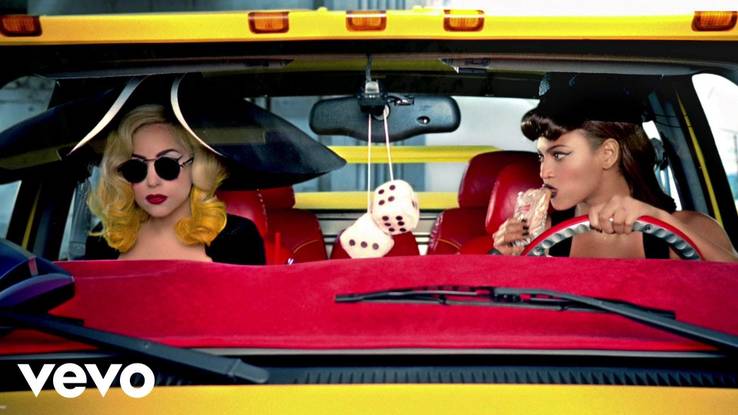 Growing up Gaga was nowhere near as glamorous as being Gaga is now. Behind the statement costumes and stand-out voice, there's a girl who grew up in a strict Catholic school, and getting her big break didn't come without a stint in a diner. Lady Gaga spoke to NY Magazine about her early days, where she pulled long shifts at a New York City diner.
Lady Gaga bought herself a Gucci purse with her first paycheck as a waitress on an Upper West Side diner. "I was so excited because all the girls at Sacred Heart School had their fancy purses, and I always had whatever," she said. "My mom and dad were not buying me a $600 purse."
Lady Gaga dreamed of fame. She told the magazine that she'd watch Sex And The City while eating Doritos. It wasn't long before the star was able to pen songs like "Beautiful, Dirty, Rich." Lady Gaga signed a $850,000 record deal with Def Jam records, and the rest is history. The great Gaga has collaborated with Beyonce, spent a lot of time on the "Telephone," and named her own album: The Fame. She did go for a brief throwback though, working as a Starbucks barista in 2017.
5

JENNIFER HUDSON: QUIT BURGER KING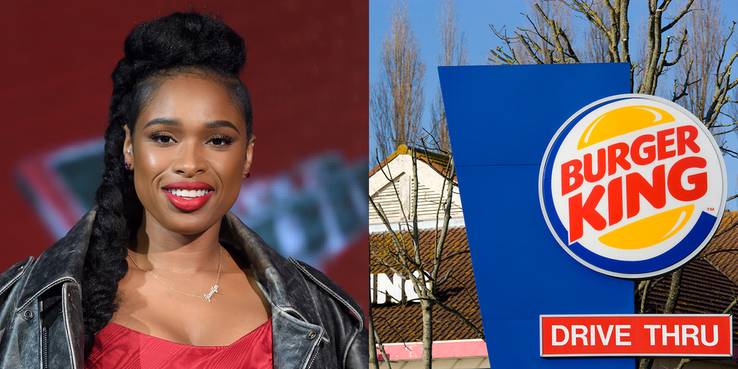 Hollywood isn't for quitters. At least, you wouldn't think so. Jennifer Hudson has an Oscar to her name, but she hasn't forgotten her humble beginnings. The Dreamgirls actress and singer was definitely dreaming of stardom in her teens, but the reality of having no cash meant she had no choice but to flip burgers. Now a judge and mentor on UK's The Voice, she paid her dues, but Jen didn't hold out.
"A long time ago, my only real job was working at Burger King," she told UK's The Voice. "I quit working there when I was like, 17. You know what? Forget this! I decided I wanted to make my living through my gifts and talents, and I feel blessed that I've been able to do that."
We might dream of quitting our jobs and becoming award-winning stars, but Jennifer actually did. Breaking down barriers, she won an Oscar as best supporting actress in 2006 for Dreamgirls. "I appreciate every award I've received," she said. "Doing what you want to do is my definition of a career." Jennifer deserves a special mention for the personal horrors she's been through. The loss of her mother and brother in a violent incident was heartbreaking for Jennifer in 2008. She has since campaigned for equality and awareness of gang violence after the rough streets of Chicago's South Side made her lose her nearest and dearest.
4

JAMES FRANCO: "MCDONALD'S WAS THERE FOR ME"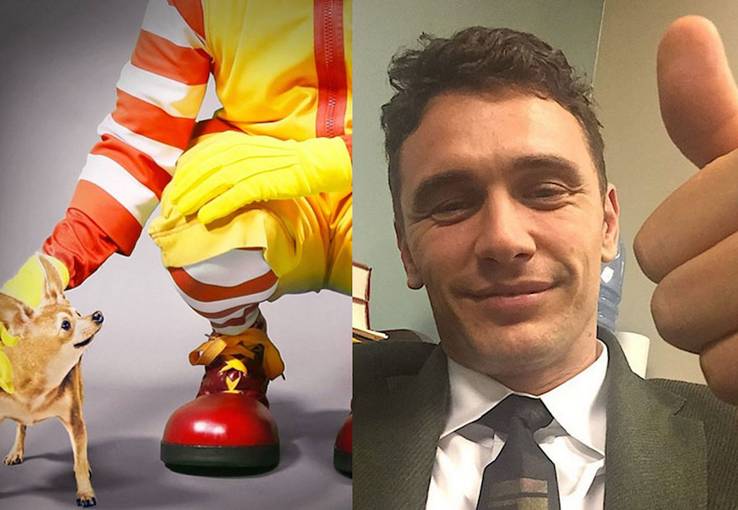 Long before James Franco was getting paid $5 million to star in Spider Man 3, this actor was all kinds of broke. The struggling star didn't have a car, so he took a job at McDonald's that was within walking distance of his home. Years later, James wrote a whole article about his days under the golden arches in The Washington Post.
"I was given the late shift drive-thru position. I started putting on fake accents with the customers to practice for scenes in acting class," he wrote. "As bad as the accents were: Brooklynese, Italian, British, Irish, Russian, Southern, people actually found them persuasive."
James was actually a vegetarian before his job at McDonald's, but he admitted that having to pay for his way in the world meant he was chowing down on cheeseburgers in no time. "I started eating cheeseburgers that were headed for the trash," he said. "I would also sneak frozen apple bars and eat them in the freezer." Straight out the freezer into the California sunshine, James went onto break box office records in the Spider Man franchise. James also won a Golden Globe in 2001 biopic, James Dean. A humble start indeed, and the great James Franco isn't embarrassed about his past.
3

MARIAH CAREY: NEW YORK WAITRESS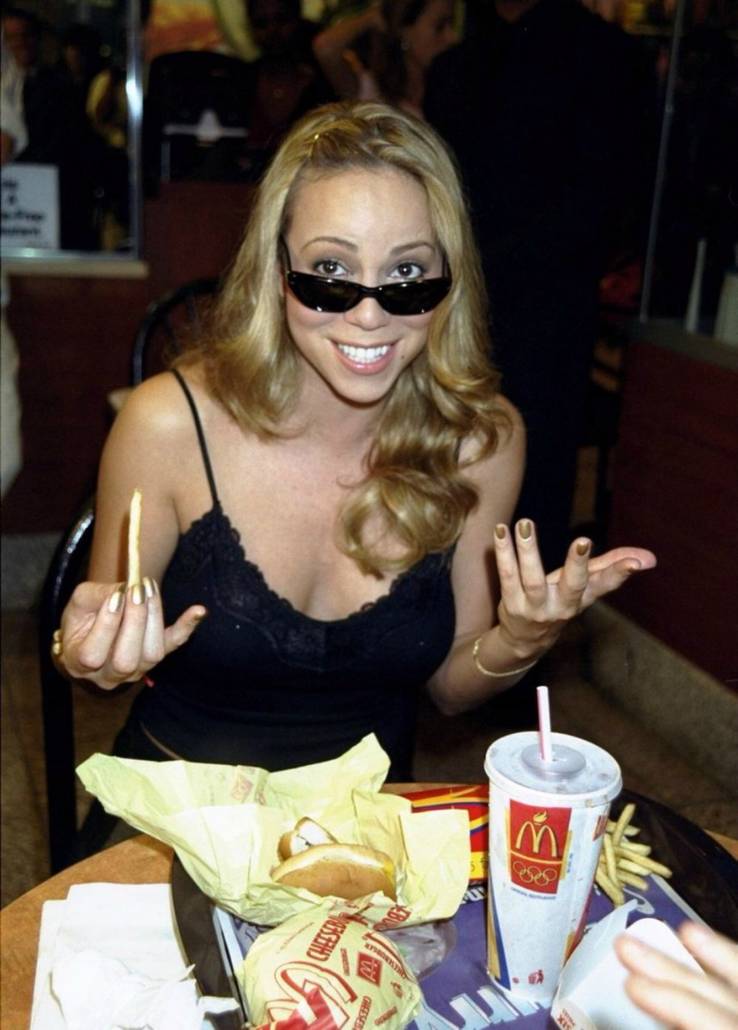 Like producers weren't going to notice Mariah Carey. The voice of an angel and a powerful whistle register are what this starlet has to thank for her staggering $535 million fortune. Mariah symbolizes extravagance these days. Her $125 million Fleur De Lys mansion is reportedly the most expensive home every purchased, according to The Daily Mail, and Mariah spends $19,000 looking good for a single appearance. But where did she start out?
"It wasn't always like this," Mariah told E! "I lived on a mattress on the floor, and I was writing my songs and being a horrible waitress." Mariah's first job was waitressing in a New York City restaurant, but she was fired for having a "bad attitude."
If Mariah has anything, it's an attitude. After her billionaire fiancé James Packer dumped her for reportedly having enough of her extortionate spending sprees, what did Mariah do? She took the $250,000 custom-made Valentino wedding gown and burned it in a music video. Yup. Mariah's twins, Moroccan and Monroe are named after the ever-famous icon, Marilyn Monroe and the "Moroccan" room in her ultra-luxurious NYC apartment. Mariah may have a reputation as a diva, but she's served her dues (one demanding New York customer at a time).
2

JAY LENO: FORMER MCDONALD'S EMPLOYEE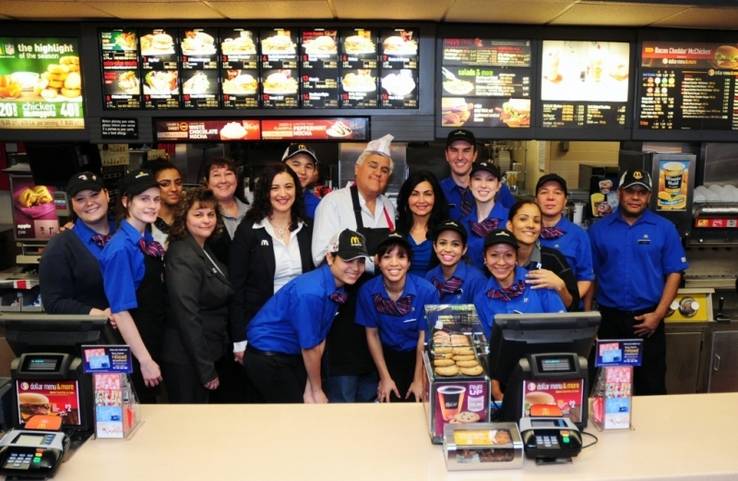 Jay Leno has spent most of his career interviewing the world's most glamorous people. The Tonight Show host has had Britney Spears, Halle Berry, and Jennifer Aniston on his interview couch, but he started out humbly in McDonald's. Jay's teens in his hometown of Andover, MA had "regular kid" written all over them. In 2014, Jay took CBS' 60 Minutes back to his hometown haunt, and the cameras went right inside the restaurant for a look at Jay's former days.
"I'm not on The Tonight Show anymore," Jay joked. "I had to come back here," he said, as he leaned through the drive-thru window. In high school, Jay actually won first prize in a comedy show routine at a McDonald's regional talent show. "It was the first time Jay made money telling jokes," his producer said.
Many decades (and many millions) later, Jay is still a McDonald's fan. He even told CNBC Make It In January that he had used coupons to purchase a Happy Meal. Regardless of how rich celebs get, something keeps drawing them back to McDonald's. Kim Kardashian leaves her Calabasas mansion in the dark for sneaky McDonald's ice cream cones. The Big Bang Theory's Kaley Cuoco has posted pics of her munching on a burger before the Emmy's. Even Katy Perry has been spotted with a boxed chicken sandwich. Okay, anyone else suddenly craving a Big Mac?
1

KELLY CLARKSON: COMEDY CLUB WAITRESS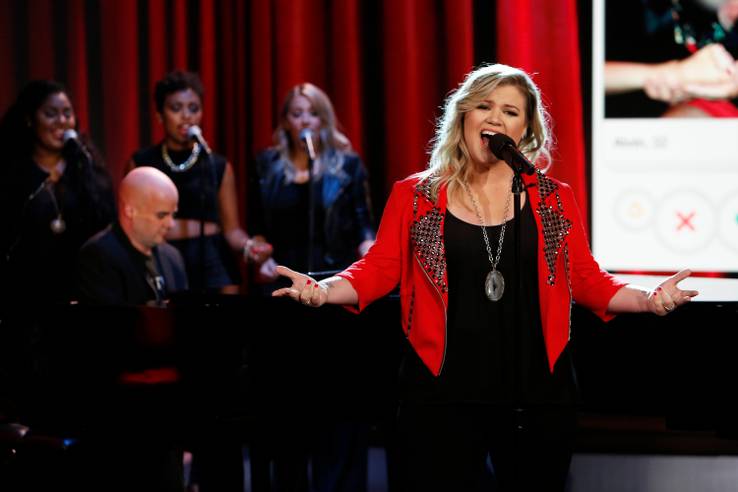 Talk about rags to riches. Kelly Clarkson is best known for being crowned the winner of American Idol in 2002, with over 15 million Americans voting her to the number one spot. Kelly Clarkson has left her modest beginnings behind her, but they haven't been forgotten. In a candid interview with Billboard, Kelly opened up about life before fame, admitting she was in "a very dark place" before American Idol.
"I was in a very dark place for a long time." Kelly grew up with her two siblings and a single mother in total poverty. "I was a poor kid," she said, but Kelly is making sure her kids grow up grateful. "My kids are obviously very privileged, but I want them to have a servant's heart." Kelly knows what being a "servant" was like, considering she worked serving tables at a Texas cocktail bar.
It was a string of nowhere jobs for Kelly before she found her calling. Kelly worked as a vacuum cleaner saleswoman and a telemarketer in Fort Worth, TX alongside moonlighting as a cocktail waitress. Coming from a small town was also challenging for Kelly. "Everybody always had something to say," she told Good Housekeeping. "You shouldn't sing secular music, you shouldn't do this or that. I learned quickly to develop a thick skin."
Kelly and every single star on this list is proof that you can pull yourself out the drive-thru and go from flipping burgers to signing million-dollar contracts. Leave us a comment on who surprised you the most (and who you think deserves the biggest props). Hit share to surprise your friends–this isn't your average celeb list.
Source: Read Full Article