Hollywood studio sets are as impressive as ever. Aside from getting attached to characters of your favorite show, you get attached to where they eat, sleep and breathe.
Can you already picture yourself as part of the wolf pack? Would you fit in perfectly as the nosy neighbor who comes over just to plop on the couch, or pop in freely for leftovers in the fridge?
Ever wonder what it would be like to live inside of your favorite television sitcom setting? From the hustle and bustle of Greenwich Village to the extravagant comfort of Beverly Hills. Its safe to say most television shows and movies make life in these fictional set-ups pretty comfortable. But if movies & TV are enough to inspire you to uproot your life to a new city, we've got your top picks covered. From the interior design accents to outdoor swimming pools, check out our sliding scaling of homes from your favorite character's chateau.
How much would it really cost to post up in Monica's apartment? Or jet out of your Beverly Hills mansion in your all-white open-top Jeep? We've picked the 25 best fictional places and we're giving you the inside scoop on what it might actually cost to call these places home.
24

Carrie Bradshaw's SATC, Upper East Side, NYC Apartment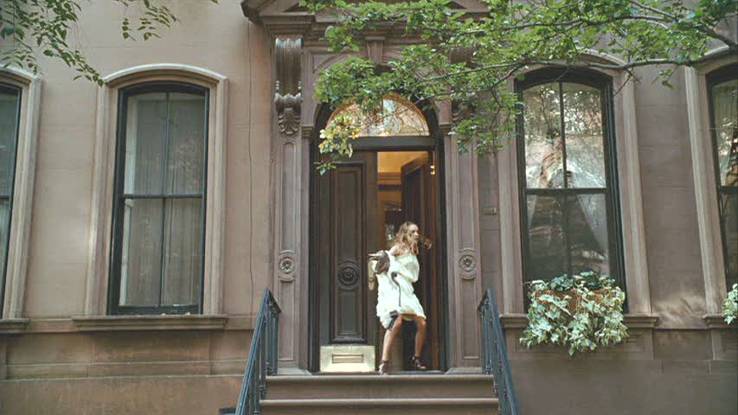 Carrie Bradshaw's iconic S*x and The City brownstone was the backdrop for countless love affairs and ridiculous fashion accessories. Although fictionally set in Manhattan's Upper East Side, this real-life brownstone sits humbly in the West Village located at 66 Perry St, New York, NY. According to Street Easy, a studio apartment in Carrie's West Village apartment started at $3,150, a month, a few years back. Carrie lived in a one bedroom, and let's not forget that extensive walk-in closet, and double entrance bathroom. An apartment similar to Bradshaw's size and Upper East Side location nowadays can cost up to $4,000 a month. Sheesh, how did she afford all of those Manolo Blahniks?
23

The Golden Girls Miami Beach House 
Another female-owned fictional real estate locale is The Golden Girls 1980's Miami retirement home. Blanche, the southern belle of the group owns a five-bedroom home which she rents out to her three elderly roommates, Rose, Dorothy, and Dorothy's mother Sophia. The women are often seen splitting a cheesecake in their kitchen or cracking jokes on the couch. The wood and floral designed beach home feature a back patio big enough to host parties and grassy front yard. Realtor.com reports, a single story 5 bedroom home in Southwest Coconut Grove today starts at $1,785,000, with an estimated $7,342 a month mortgage. This set up isn't too shabby if it includes living with the sassy Sicilian Sophia who cooks while retelling stories from the old country.
22

Chuck's Penthouse Hotel Suite in gossip girl
Blair's Gossip Girl counterpart, Chuck Bass also has a pretty sweet place to call home. Chuck's character was heir to Hotelier Bart Bass' global business fortune. During the first few seasons of the show, Chuck lived in a penthouse suite of Manhattan's Empire Hotel. While the Empire penthouse suite was only a set for the TV show, many of the show's scenes were shot at the real-life luxury "Towers" exclusive hotel in the Lotte New York Palace Hotel, home of Serena Van Der Woodsen. The Champagne Suite includes a private elevator, accessible to a 3-floor suite. Architectural Digest details a night in the Champagne Suite costs roughly $25,000 a night.
21

Miranda Hobbes' SATC Brooklyn Brownstone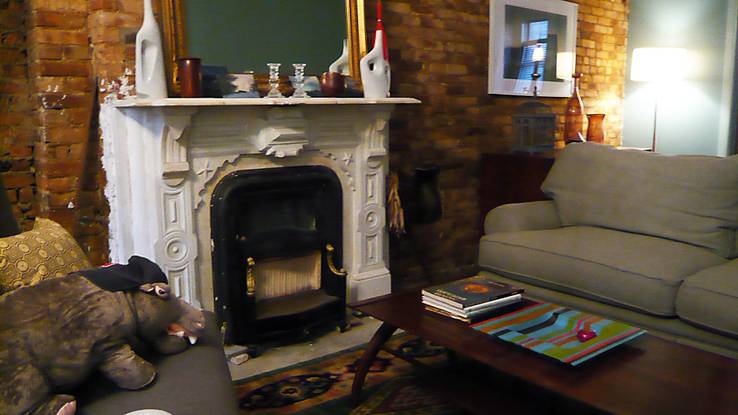 By S*x and The City's final season, Miranda, Steve and their son Brady, grow fed up with the struggles of living in such close-knit quarters in a one-bedroom Upper West Side Manhattan apartment. Much like many New Yorkers, they decide to relocate for more space and a slower pace to Brooklyn's quaint Clinton Hill neighborhood. For the price of their tiny one bedroom apartment, Miranda and Steve are able to afford an entire brownstone, which can cost anywhere between 700,000-2,000,000 to own, depending on amenities and square footage. If you're renting Miranda's place, 2 beds, 1 bath, 900 sqft. costs around $2,300 a month, a steal compared to Carrie's chateau.
20

gilmore Girls Stars Hollow, Connecticut Victorian House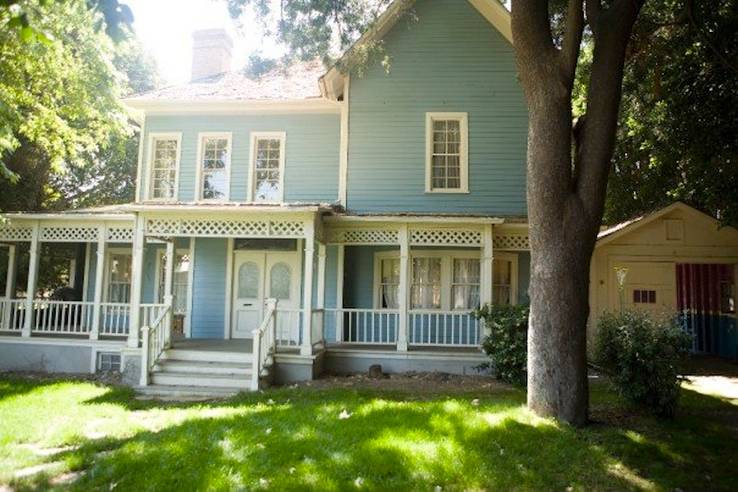 Mother daughter two-some Rory and Lorelai live in a powder blue Victorian style house in the fictional town of Stars Hollow, Connecticut. The estate includes a full porch an plenty of greenery, creating a serene feel in the close-knit suburban setting. The fictional town is based on Washington, Connecticut, just 30-minutes outside of Hartford. According to Boston.com, "The show's creator, Amy Sherman-Palladino, was inspired to set Gilmore Girls in a small New England town after a vacation to Connecticut to see Mark Twain's house, in 2005." A 19th century home similar to Lorelai's includes a total of 8 bedrooms and 3 bathrooms at 3,895 sqft. Zillow's Zestimate is roughly $249,900, not too bad, especially if you're only a few blocks from Luke's Cafe.
19

The OC's Newport Beach House
When The Cohen's invite brooding, intelligent, bad boy, Ryan, to live in their beach house after a run-in with the law, viewers get an inside look of what it's like to be an outsider in the affluent area of Newport Beach, California. The 6 bedroom, 6 bath, 6,000 sqft. "Gated Italian Villa" styled house is available for  $6.25 million, according to Hooked on Houses. The So-Cal house includes an infinity swimming pool, back patio, front driveway, and four car garage with a BMW and Range Rover. The best part of the Cohen residence is the private pool house, a perfect place for Ryan and Seth to stir up some "rich-kid" trouble.
18

90210's Brenda & Brandon's Beverly Hills House
This 1990's classic crib is colloquially known as "Casa Walsh" home to twins, Brandon and Brenda Walsh and their two parents. The Walsh family uprooted from Minnesota to the lavish neighborhood of Beverly Hills, 90210. However, the house they used to shoot the television series was actually located in Altadena, California, a suburb of Los Angeles. The Mexican-styled Hacienda House includes 4 bedrooms and 4 bathrooms and 3,327 square feet. According to Zillow, the house was built in 1928 and is worth around $1.4 million.
Featured Today
20 Most Expensive Pairs Of Jordans For Total Sneakerheads (And How Much They Cost)

25 Expensive Cars That Don't Seem Real (But They Are)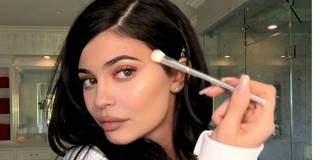 15 Of The Best Luxury Items Every Girl Needs In Her Makeup Bag (15 That Are Affordable)

17

Spider-Man's Aunt & Uncle's House in Forrest Hills Queens 
The Amazing Spiderman, known as Peter Parker is a Forrest Hills, Queens, NY native. In the comic, television shows and feature film franchise, Peter lives with his aunt and uncle in a two-story house, where he has his own bedroom upstairs, a layer to hide his secret identity as the city's superhero. According to Trulia, a single family home complete with 3 bedrooms, 2 baths and a 3,402 sqft lot size in Queens is listed at $635,000. Despite having a quaint estate outside of the busy city, Peter enjoys spending his time jumping from rooftop walk-ups in Manhattan while shooting spider webs from his wrists.
16

The Gallagher's Shameless Chicago House
The Gallagher's of Showtime's Shameless live in a dwelling house located in Chicago, Illinois. The fictional family live in a real house in Chicago at 2119 S. Homan Ave, Chicago, IL. a rougher neighborhood which is now frequented by tourists and Shameless mega-fans. According to RedFin.com, the "1,100 square foot house sits on a 3,125 square foot lot and features 1 bathroom. This property was built in 1890 and last sold for $136,000." Not too much space for all of the Gallagher's and their neighbors and guest cast members to live in, but they seem to make it work with plenty of bunk beds and couches for all of the wild generations of Gallaghers.
15

Insecure's "The Dunes" Inglewood Apartments 
HBO's Insecure is set in Inglewood, California. The show's star Issa, lives in an apartment complex known as "The Dunes" just Southwest of Los Angeles, approximately 11 miles from Downtown LA. Issa's 1 bedroom apartment features an eat-in kitchen, bathroom and living room and washing machine, filmed at the real Inglewood Dunes location. Curbed LA reports, Issa's apartment is within The Dines two-story, 52-unit complex, where a two-bedroom rents for $1,595.
The 1960's style building includes open-air internal staircases, a pool, wrap around deck and echoes the facade of old Hollywood. Issa works as a local community after-school children's program leader for underserved students, titled "We Got Y'all." Issa lives at The Dunes with her on-again-off-again boyfriend Lawerence, whether she's single navigating the LA dating scene or switching between Lawerence and Daniel, we're always rooting for Issa to win.
14

Charlotte York-Goldenblatt's SATC Park Avenue Palace
Who could forget Charlotte's 'classic six' she successfully won during her messy divorce from Dr. Trey MacDougal? In the show, Charlotte's pristine WASP palace was featured on the cover of Home and Garden. Charlotte has taken on the challenge of redecorating this massive Park Avenue apartment not only once, but twice, when she married Harry Goldenblatt. The new interior consists of soft whites and warm neutrals, a challenge for Harry at first, since he enjoys sitting on the white furniture without clothes on. If you want to own a place like Charlotte's on the Upper East Side today, Zillow's Zestimates you can purchase one for roughly $3,000,000. If you're wondering, that's a 12,000 a month mortgage, but for some, it's worth the views of Central Park.
13

Blair's Upper East Side Brownstone in gossip girl
Upper East Side mean girl Blair Waldorf lived with her fashion designer mother, Eleanor, and stepfather in this penthouse off of 5th avenue. According to Zillow, a 4-bedroom, 4.5 bathroom apartment reminiscent of Blair's regal residence off of Central Park is on the market for $22,500,000. This includes the luxurious detailing of "French gold-plated bronze hardware, heavy duty paneled doors fabricated in France and Parquet Flooring – oak, walnut, mahogany, cherry, birch wood made in Italy, Creston system, and electric shades." If you were raised in an apartment like this, I'm sure you'd be as bossy as Blair.
12

Stranger Things Hawkins, Indiana House
Netflix's Stranger Things nostalgic fictional series is set in the real town of Hawkins, Indiana, a rural suburb in middle America. The show's star Mike Wheeler disappears from his home, shocking his mother, Nancy Wheeler,  and the rest of the small town.
The exterior of the Wheeler's house is actually filmed at 2530 Piney Wood Lane in East Point, Georgia. Miles from Hawkins, Indiana, this 2.03 acre, 4 bedrooms, 2 bathroom home is off the market but Zillow's Zestimate suggests the house is worth $209,113 today. We're hoping there are no child-napping monsters in the real house.
11

Fraiser's Seattle Apartment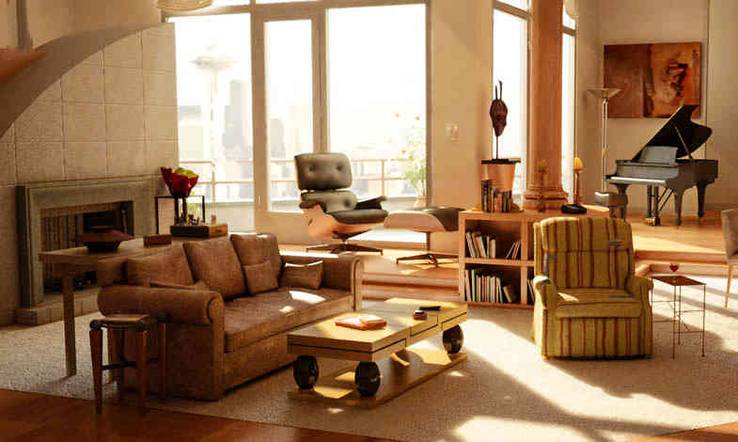 Fraiser's Seattle bachelor pad boasts impressive views of the city's skyline. From his open concept living room, complete with an Eames lounge chair and ottoman (approximately worth $5,300), baby grand piano, wrap around terrace and wood fireplace, it's safe to say quirky psychiatrist Fraiser likely paid an arm and a leg for this fictional three-bedroom. While the apartment is fake, something comparable is reportedly on the market for over $3,000,000.
10

Breakfast at Tiffany's Upper East Side, NYC Apartment
This 1960's cinematic classic film is set in Manhattan's Upper East Side, where small-town transplant Lula Mae aka Holly Golightly, enjoys a lavish New York "it-girl" lifestyle where she is faking it, until she makes it, but hey, who isn't in NYC. Holly lives in an Upper East Side 1 bedroom apartment located in a gorgeous walk-up brownstone, not too different from Carrie Bradshaw's. The exterior of Golightly's home is a multi-family house located on 71st street in Manhattan, it sold in 2015 for a whopping 7.5 million dollars. We're assuming the interior decor no longer includes Holly's half bathtub couch.
9

Cristina and Owen's Seattle Apartment in Grey's Anatomy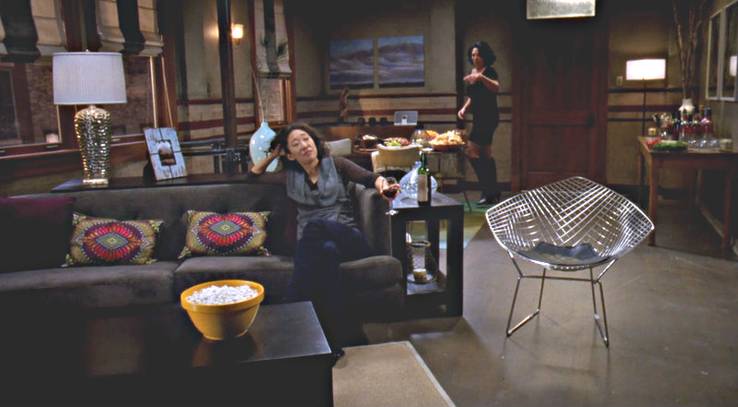 Resident cardiothoracic surgeon Cristina Yang was once married to fellow doctor Owen Hunt M.D. Together, they purchased an old firehouse and refurbished it into a multi-story apartment style condo, complete with modern, leather furnishings, oak, and wood paneling. The firehouse was a point of contention during several episodes, as both characters wanted to keep it after their messy split. According to Curbed Seattle, there are old firehouses in Seattle on the market for sale. With a little elbow grease for renovations, purchasing the converted building built in 1914, is listed at $524,888. The best part about buying an old firehouse? The fire pole is still intact!
8

Dan's Brooklyn Loft in gossip girl
Despite being Upper East Side outsiders, Dan, Jenny, and Rufus Humphrey lived a pretty okay life in Brooklyn's DUMBO. Their 3 bedroom loft is located at 455 Water Street. On Zillow, a 3-bedroom, 2 bathrooms, 1,230 sqft. apartment starts at $6,475 a month for rent. If you're interested in buying a penthouse loft in a similar building, it will cost you $5,250,000, which includes an outdoor grass patio and extensive views of Manhattan's skyline, and the Brooklyn Bridge. Let's all take a moment to giggle at the fact that these characters were getting bullied for being the "poor" kids at their prestigious Manhattan private school.
7

Seinfeld's Upper West Side Apartment 
One of the most famous TV apartments in history is Jerry Seinfeld's periwinkle apartment. His iconic blue couch and lettered fridge magnets represent a simpler time in New York City real estate. This one bedroom apartment, has enough space to host friends and all the shenanigans you can image. The open kitchen includes a breakfast bar, and separate space for dining, directly behind the couch. The Today Show reported Jerry's Upper West Side apartment, conveniently located next to his favorite bagel place, would cost somewhere around $3,400 a month, leaving us to wonder, does stand-up comedy really pay that much?
6

Cher's Clueless Beverly Hills Mansion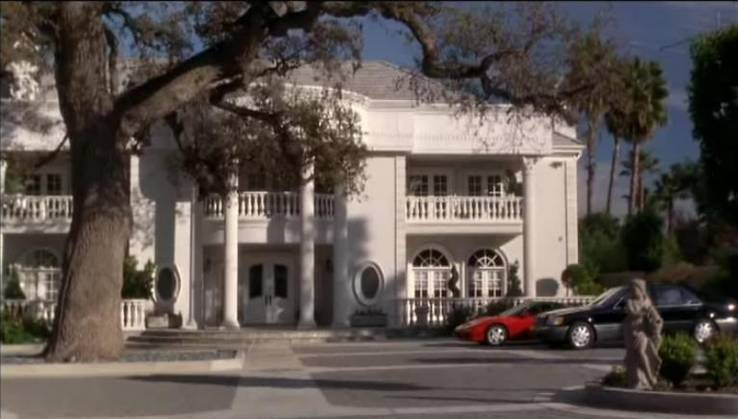 Cher Horowitz, star of the 90's cult classic Clueless lives the life of a totally Beverly Hills high school Betty. However, the exterior of the house was actually filmed in the valley, located at 5148 Louise Avenue in Encino. According to Zillow, the property includes 7 beds, 10 bathrooms, and a private swimming pool and grotto, totaling 9,441 sqft. The 2-acre property is estimated at $5,849,360 for a single family home. Dreaming of owning that gorgeous double entry stairway where Cher and Josh share a kiss at the end of the film? Unfortunately, the interior scenes were built just for the film on a Hollywood film set, but has been repurposed for several other projects including 90210 and Scary Movie 2. 
5

Samantha Jones' SATC Meatpacking Studio
Party girl Samantha is no stranger to a good time, it's no wonder she decided to move to a studio apartment in Manhattan's trendy Meatpacking club scene. Although she works as a PR executive by day, Samantha has run into some trouble with her neighbors throughout the seasons. Today, a 430 sqft. studio off of Jane Street to rent is about $3,475 a month, according to Zillow. This may seem steep considering the lack of space, but who needs extra closets when you can cross the street and be in the VIP section of NYC's most exclusive clubs?
4

Monica Gellar's Apartment in Friends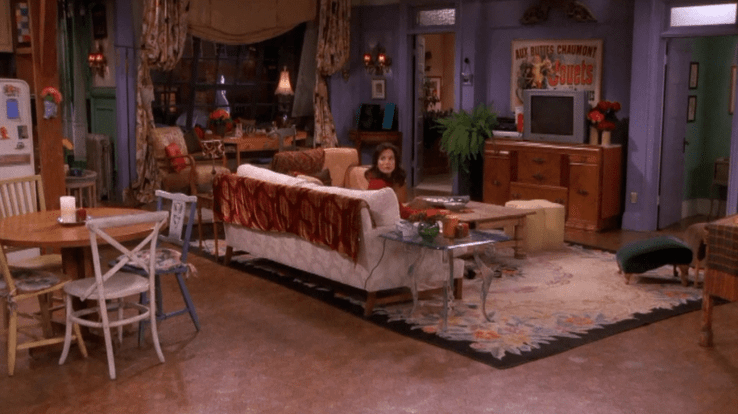 Monica Gellar's purple pantone apartment worked as the backdrop of most Friends scenes during its 10 season stretch. So many things happened in this apartment, from make-ups to break-ups, almost everyone on the planet knows what "Monica's" looks like. So much so, that several publications have looked into what it might actually cost. The New York Post reported, Monica's West Village 2 bedroom, 1 bathroom, with a terrace would cost at least $4,500 a month, which seems like a pretty good deal, considering NYC apartment rental prices today.
3

Hogwarts School of Witchcraft and Wizardry, United Kingdom
Many of us have dreamed of what it would be like to be a wizard at Hogwarts. Which house would the sorting hat leave you in? What professors would be your favorite? Who would be your roommate and would you actually be friends with Harry Potter himself? To make these fantasies a reality, you can visit The Wizarding World of Harry Potter in Orlando, Florida. However, for fun, we thought a comparable real-world equivalent to Hogwarts would be a prestigious British boarding school, like The King's School of Canterbury, where annual tuition is £35,385 which converts to $46,982 for a single student.
2

Batman's Wayne Manor, Nottingham, England
Bruce Wayne, better known as "Batman" of Gotham City resides at Wayne Manor. For the trilogy of films directed by Christopher Nolan starring Christian Bale as Batman, Batman Begins, The Dark Knight and The Dark Knight Rises, this real-life palace was used for the interior and exterior shots of Wayne Manor, a family estate Bruce inherited. In the film, Batman resides here with his butler Alfred. Beneath the grandiose palace is the hidden Bat Layer, complete with Batman's high tech toys and weaponry for saving the city. This real-life mansion is actually former Rothschild estate, "Mentmore Towers" located in Buckinghamshire, England. According to the Huffington Post, the Gothic Tudor mansion is estimated to cost $32,000,000.
1

Gatsby's West Egg Estate
F. Scott Fitzgerald's The Great Gatsby embodies the opulence of the 1920's in America. To visualize the grandeur of the times, director Baz Lurhman compiled computer-generated images of real-life mansions to construct Gatsby's lavish estate. Blogger, "Hooked on Houses" reports Gatsby's party house was inspired by New York's Oheka Castle, a historic manor on Long Island, where fictional East Egg and West Egg are intended to represent. The 443-acre plot in Cold Spring Harbor is worth $158 million dollars today.
References: HookedonHouses, Zillow, Trulia, Apartment Therapy, IAmNotAStalker, Architecture Digest, TripAdvisor
Source: Read Full Article