Lollapalooza is on its way to another epic year as millions will ascend to historic Grant Park in Chicago, IL to see a slew of talented acts from far and wide. As Lolla enters its 27th year from its inception (there was a hiatus between 1997 and 2003), the artists selected are as grand as ever including the likes of Bruno Mars, Jack White, Camila Cabello, LL Cool J, and so many more. The event itself can be overwhelming and expensive for fans , and with a city like Chicago, you want to make sure you get the most bang for your buck while also being able to affordably explore the city.
Unlike other music festivals such as Coachella or Bonnaroo, concert-goers aren't able to camp out at Grant Park, but that doesn't limit your options of things to do, places to stay, and ways to budget as this weekend of festivities placates the hearts, minds, and wallets of music lovers from all over the world. There are many different ways to gain the most out of your Lollapalooza experience, but also manage to gain the most out of Chicago, a city with a wealth of history, culture, and a night life that really is secondary to none. The talent is limitless in a city such as Chicago as it is the home of where so many amazing artists have come from in all walks of life like art, storytelling, comedy, and of course music. Lolla weekend is for the lovers of life and as you anticipate it, here are 25 ways to make the absolute most out of Lollapalooza on a budget.
24

 Map Out The Shows You Want To See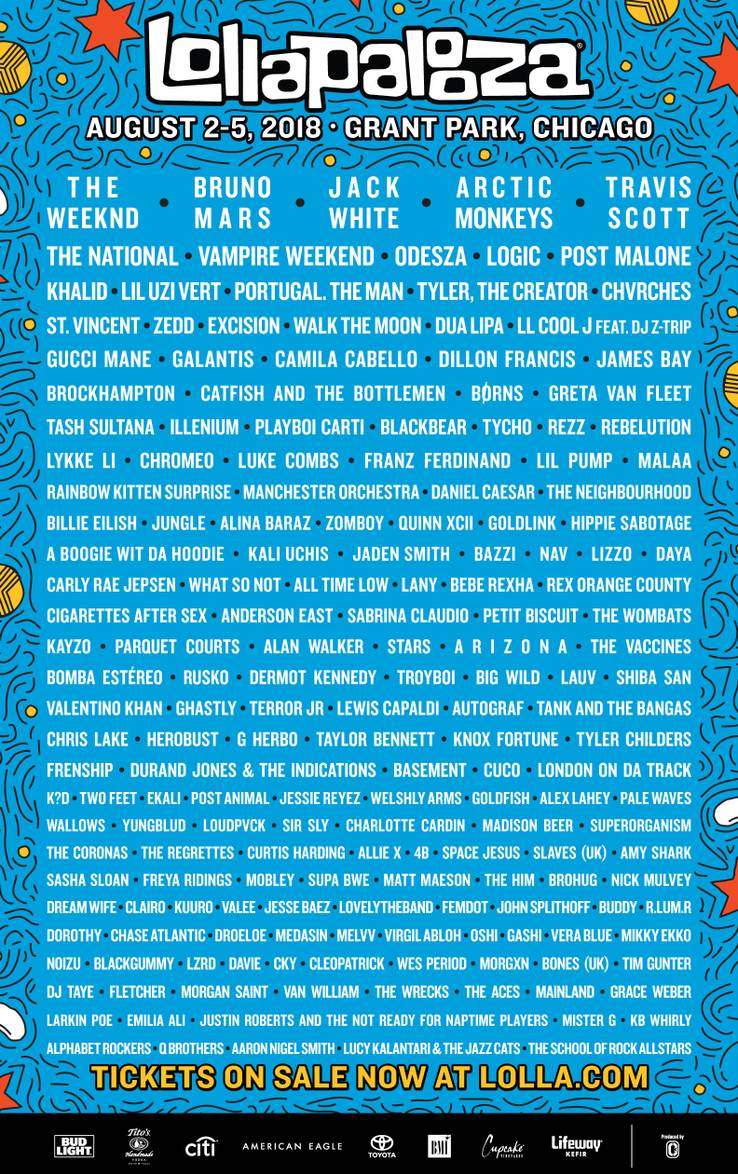 Grant Park stretches 319 acres, which is approximately the length of of 241 football fields. Because of its size and different sections, it's sometimes difficult to preplan what you want to see performance wise, especially when you begin to walk and notice that some shows overlap and are far from each other, making it difficult to split your time. The programs provided at Lolla have a schedule of every performer's time as well a visual map of the entrances, exits, and where all of the stages are. On the Lollapalooza website, there is also an interactive lineup that displays the dates and times of the performances. Typically, there will be a couple of competing headlining acts. Unfortunately for fans this year, they'll have to choose between Vampire Weekend and The Weeknd who are both performing on Saturday at 8:30 p.m., meaning, depending on your musical taste, you might find yourself in a dilemma.
23

Find the Afterparties
Something quite unique to Lolla are the aftershows. This year, the aftershows spread across 21 different venues throughout Chicago including hot spots like Lincoln Hall, Berlin, and Thalia Hall. Many of these spots will have DJ sets or will be home to exclusive performances such as Lizzo or Gucci Mane hosting Chromeo. You get to witness a rare treat, but you'll want to get there early as the space is a little bit more limited and you never know who might pop in. The venues are a little more laid back and it's more of a party atmosphere. Word of mouth is typically the best way to learn about the afterparty events, going back to Chicago's speakeasy roots. This is another good time to map out a route for yourself to get around and you can measure it by distance as well as time since most of these events are spread out a little bit past the confines of downtown Chicago. The Lincoln Park neighborhood houses most of the events and isn't too far from Lolla itself if proximity is your number-one concern.
22

Be familiar with Public Transit
Ride shares like Lyft and Uber can pile up in costs if you take them too frequently, especially with surge costs in a major city such as Chicago and during a major event like Lollapalooza. Learning how to utilize public transit to get yourself to and from the festival is cost efficient and helps you to get to the city a little more. Fortunately, all of the trains go downtown and have a relatively short walk to Grant Park. A Ventra card, which is used to get on trains and buses in the city, is only $5 and you have the option of how many days or how much money you'd like to put on it. I find it more effective to get a 3-day pass so that way you don't have to refill it.
21

DON'T wear your best outfit
Chicago has unpredictable weather and Mother Nature doesn't care it's Lollapalooza weekend. Often times, it manages to rain at least once during the festival and everyone somehow gets covered in mud due to the party atmosphere and the the grassy terrain that is Grant Park. Outside of this, Chicago summer is no joke. You'll want to wear the type of clothes that you won't mind walking, dancing, and definitely sweating it out. I'd recommend shorts and whatever shirt or top and shoes that are comfortable that you won't mind getting dirty since there are also patches of dirt and you never know who might step on what since not all of the more coordinated of dancers tend to appear at outdoor festivals. We suggest you leave your Jordans and high heels at home and toss on the Payless shoes for this weekend.
20

Watch Tomorrow's Talent Today
There is a slew of talented artists and performers in Chicago who will have shows going on throughout the week of Lollapalooza in all walks of life. Activist, poet, and musician Malcolm London has gained notoriety for his protests in Chicago but also for his work with the local kids and opening doors for them to perform at Open Mic along with Chance the Rapper. London will have a show at Lincoln Hall August 1. This is also a great time to check out some of the local talented comedians such as Joe McMahon, fresh off his Just for Laughs Montreal debut; Dale McPeek, who is a consistent favorite throughout the stand-up comedy scene, is also performing at North Bar on August 2 and The Laugh Factory on Saturday night; Dave Helem is hosting a special pop-up show this week. For a more alternative music feel, check out a DJ set from the White Mystery Band at Land and Sea on August 2. These are sure to be breakout stars that will get you laughing and toe-tapping.
19

Take a Hop-On Hop-Off Tour
If you're trying to truly explore the city, learn about the culture, and manage to get to Grant Park in an effective and viable manner, take a hop-on hop-off bus tour. There are several in the city, including Chicago Trolley and Double Decker Company, which was used in the 2005 Vince Vaughn and Jennifer Anniston film, The Break-Up. Most of these tours point out various landmarks in Chicago with informational, guided tours and also allow you to take in the sights and do the major Chicago things and hop back on the bus to continue the journey across the city. With the buses stopping downtown, you can utilize this to get to the Lolla events and most of these tours also offer multiple days which would coincide perfectly with the festival. Get some breeze in your hair on top of a bus and a Garrett popcorn before rocking out to Blackbear.
18

You can choose just one day 
Tickets are still available for the festival and it's fairly easy to get a one-day pass with general admission going for around $200 compared to the four-day passes which go for around $500. While the entire experience can be great, it can be overwhelming both financially, physically, and spatially. Finding one day you definitely want to check out is a great way to get the feel of Lolla without destroying your pockets and your feet. Linking who your favorite artist is and finding a mix of musicians you want to see that day and exploring other avenues of the park is a great way to truly benefit from the weekend. It'll also give you time to check out other local events and shows.
Featured Today
20 Booming Cities In The US That Could Become The Next New York

15 Most Underrated Cities In Europe (And 15 That Are Overcrowded And Overdone)

20 Reasons Why The Atlantis Resort In The Bahamas Should Be On Everyone's Bucket List

17

Stay Hydrated
A big one is making sure you drink plenty of water throughout Lollapalooza. There are a lot of EMT and health stations on deck in case you need it, but if you drink water before entering the gates, get a big bottle of water from the festival or bring a refillable one. Exhaustion, heat, and dehydration are things to worry about in this kind of environment, and people have passed out in the past and missed out on the festival. Stay healthy by staying hydrated. Scout out the water fountains and shady spaces, and if you can, schedule some breaks between performances to regroup and reenergize.
16

Be part of the community
Something I learned as an important aspect of saving money at Lollapalooza is making new friends. The midwestern charm and friendliness makes many open up to strangers. People tend to want to help others, especially at major festivals, even if it's something as small as sharing their water. I've also seen that making friends can gain you VIP access as well as backstage access where it feels like an entirely different experience altogether. VIP has free food, charging ports, and you may also bump into a celebrity or two. Some of the people that get VIP access are local vendors, bar owners, and just in-the-know people around town who just enjoy helping out others. Take the hospitality, pay it forward, and enjoy the experience.
15

Know What's Prohibited 
Many things are prohibited from Lolla. Some are for safety, some are for financial reasons of the event, and some are just the rules of the city. Bags are limited in size to totes, drawstring bags, and small purses. Camera equipment and video recording devices are also not allowed, due to privacy issues for others. Glass containers, coolers, food, and drinks are prohibited from the grounds. Umbrellas, chairs, tents, and inflatable furniture are restricted as well. It should go without saying but anything dangerous is not allowed as well. Surprisingly, selfie sticks are not longer allowed either. All you need are the essentials like your cell phone, external charger, and a water bottle.
14

Chow Down at Chow Town
So food can get pretty pricey at Lollapalooza depending on what you're trying to eat. With 36 different vendors and options ranging from vegan to literal hunks of meat to ice cream, you can't go wrong trying out exactly what you need. Some of the food come in smaller portions and the prices tend to be comparable. If you get more of an appetizer, then you're looking at prices that range from $6 to $12. There are plenty of food choices for you to make depending on what you're trying to spend. Bigger portions tend to be sold near the end of the night, so if you're trying to get a big meal in, then doing it later might be beneficial. Some local must-eats are Lou Malnati's deep dish pizza, Harold's chicken, Cheesie's Pub and Grub for some grand cheese sandwiches, and Billy Goat Tavern which was the inspiration behind the Jim Belushi SNL "Cheezborger-cheezborger" sketch.
13

Chicago Night Life
The Chicago nightlife rages on well after the festival ends and there are so many great bars, clubs, and neighborhoods to check out. If you're looking to dance, go to the River North area. Places such as Hubbard Inn are fun with great staff that are there to help you have the best time while enjoying music and drinks. Hubbard Inn also has multiple levels so you gain very different experiences with every passing DJ and every environment. There are also places such as the Polish-owned Snickers that give a very homely Chicago vibe with great drink specials. If you're into karaoke, travel down to Trader Todd's in Lakeview where they also have a dance floor and great food. The nightlife in Chicago is fantastic and typically lasts until 2 a.m., but if you want to stay out later, check out Old Town Ale House in Old Town and The Drop which is open til 4 a.m. Remember though, if you're heading to the festival again the nest day, you'll want to get enough sleep.
12

Other Festivals This Weekend
Lolla isn't alone in its endeavor of entertaining the millions of Chicago residents and thousands more that will ascend to enjoy the weekend. Take part in some of the other great festivals that are going on this weekend and for a much lower price. These festivals may not have the same mainstream acts, but they do still have the daytime qualities of hanging out and enjoying food and live entertainment. For movie lovers, check out the Black Harvest Film Festival in the Loop on August 4th. If you're looking for a neighborhood festival with a great value, check out Jeff Fest in Jefferson Park for only $5. This northwest neighborhood will be showcasing some of its best art and music from August 3 to August 5. And if you're closer to the lake, check out EdgeFest in Edgewater, which also serves as a fundraiser for the Edgewater Chamber of Commerce this weekend.
11

Pictures! Pictures! Pictures!
Just because you can't have professional camera equipment at the festival doesn't mean you can't take plenty of quality pictures and videos with your smartphone. As a festival goer, you can have those keepsake experiences of your favorite moments, performances, and memories right at the click of a button. There are plenty of filters and geo-tags as well to personalize the experience and you don't have to limit it to Lolla. Millennium Park is right next door and home to the infamous Cloudgate, affectionately known as "The Bean." You've seen this structure in plenty of social media selfies and you can add to it. Its stainless steel frame will have you amazed but the entire park has plenty of wonders for you to enjoy including the Crown Fountain and Pritzker Pavilion. These sights are also free to check out and you can enter them on the way to Grant Park as well if you get there early enough.
10

Free Things To Do
Speaking of free, there are so many free and amazing things to check out in Chicago outside of Lollapalooza. If you are a fan of animals and wildlife, check out the Lincoln Park Zoo, one of the two remaining free zoos in the country. This zoo houses over a thousand of different types of amazing creatures such as gorillas, elephants, and otters. At 35 acres of land, the Lincoln Park Zoo is one of the oldest institutions in the city and is only a 20-minute bus ride from downtown if you're residing near Grant Park for the festival. You can also head to the Garfield Park Conservatory which has acres of outdoor and glasshouse greenery. Both also offer plenty of fun things to do with family and events for children such as meeting a beekeeper and learning about the black and yellow friends via a bee demo.
9

The Museums 
Chicago is also home to some of the most amazing museums in the world. If you're into hip and newer pieces, check out the Museum of Contemporary Art. They have current exhibits including Endless Summer and To Dig a Hole That Collapses Again. It's important to check these out while in town as they won't be around forever, no matter how endless they may sound.
The MCA also has an amazing gift shop and food and drinks available at Marisol. If you want a more specific cultural flavor, head to the National Museum of Mexican Art where on Sunday you can do Game Night with Yollocalli Arts Ranch Youth Council. The NMMA resides in the thriving community of Pilsen and is definitely worth checking out. The DuSable Museum of African American History is also worth checking out to learn about the presence of African Americans in Chicago and beyond. Most museums also have a free day worth looking into depending on how long you plan to stay in the city.
8

Beach Life
If you really want to turn your Lolla experience into a getaway, definitely check out one of the many beaches available in Chicago. If you want to get closer to the event and also do some fun people-watching beforehand, check out the North Avenue Beach. This has a full-service beach bar along with some decent eats. You may also see a lot of cool boats and some of the many piers and harbors in the city. If you don't mind traveling a little further up the coast, check out the Hollywood Avenue Beach where you'll see a lot of frolicking and fun in the sun. Remember when you dip your toes into Lake Michigan that it may be a little bit colder than you initially think, so submerge quick and easy unless you only want to dip your toes in. All of the beaches provide a beautiful sight if you can get over the squawking seagulls.
7

Get Groupon
Groupon is housed and was founded in Chicago and typically gives great deals to its native home. Currently, you can get over 70% off 100 different items by using Groupon. The architectural boat tours can currently go for as low as $30 and they swing out from the Chicago River to beautiful Lake Michigan. You can also get deals on shows including Kiss Kiss Cabaret in Uptown. The bus tours also have amazing deals through Groupon for reduced prices with both Big Bus Chicago and Chicago Trolley and Double Decker Company going for only $30. There are also accessible deals on drinks, coffee, and food, be it locally or nationwide such as Subway. Whether you're looking to work out or relax, Groupon has something for everyone.
6

Walk Around
If you're really trying to save up but also increase your steps, walking around the vast city of Chicago is easy to do. The city is on a grid and although it may seem difficult to understand at first, once you get a handle of the neighborhoods you see how they all intertwine, especially in relation to Grant Park. Most neighborhoods are generally a 20- to 30-minute walk and with the weather being nicer around this time, why not explore by foot a little? If you want to start from The Loop and Grant Park area, you can either head lakeside south to the historic museum campus which houses the Adler Planetarium, the Shedd Aquarium, and the Field Museum. A little further west and you can check out Chinatown. South of Grant Park also houses the likes of great areas such as Bronzeville and Pilsen. If you head up north, you can hit areas like Old Town, Lincoln Park, Lincoln Square, Lakeview, and many more. Definitely worth pulling out the GPS and going wherever the road takes you.
5

Staying Safe
With that winding road in the Windy City, it's important to stay alert and safe as this is another great way to stay on top of keeping your items and your wallet. Put your more prized possessions in your front pockets and make sure not to fall asleep while using public transit as this is often times how some thieves might gain access to your stuff.
Try to surround yourself with other people and go into crowded spaces to reduce isolation that may pertain to a perpetrator seeing you as a potential victim. Also know what areas are known for crime at specific hours and avoid them. Remembering that most violent offences are interpersonal is also beneficial and as long as you don't get into any arguments or scuffles with anyone, you should be safe for the remainder of your trip. Just remember to keep your ears and eyes open to anything and everything and you should be fine (the city isn't as scary as everyone makes it seem).
4

Accommodations 
Finding a place to stay last minute can be particularly tricky, but Chicago has places for guests from outside of the city to stay. Finding people through social media with couches can also be beneficial simply by putting out feelers and seeing if you can crash somewhere. If that doesn't quite work out in your favor, check out the hotel deals that might be going on last minute. Booking online can be beneficial as some are currently going for $200 to $400 depending on where you plan to stay in relation to Grant Park. You have to keep in mind how tired you may be following a full day of Lollapalooza so you may want to go somewhere in relation to the area such as the Holiday Inn Express on Magnificent Mile or Urban Holiday Lofts by the Hancock Tower. You can also find great deals and options on Airbnb that currently has over 230 homes available for customers with prices as low as $90. Check it out to check in.
3

Theaters For A Good Deal
If you're looking for a more theatrical approach to your Chicago weekend visit during, before, or after Lolla, then you can check out one of the hundreds of theaters and shows in Chicago. The Laugh Factory on Belmont and Broadway is home to some of the greatest local acts and usually has amazing drop-ins from celebrities such as Chris Redd and Jeremy Piven. If stand-up isn't your first choice and you want to take a more improvised route, then head to The Second City where on Thursday, Saturday, and Sunday night, you can check out the fully-improvised third act at the main stage for no cost at all. The Steppenwolf Theatre also has performances throughout the day for a reduced fare and their current production of The Roommate has been garnering raving reviews. The Briar Street Theater is home to the amazing Blue Man Group and you might be able to be a part of the show or pick up a souvenir in the form of a marshmallow.
2

Shopping And Taxes
Another important thing to remember in terms of budgeting for Lolla is that the taxes are higher the closer you get to downtown so often times if you want to do extra shopping then it's better to do it further up north or down south. Many of the stores you might find along the Theatre District or The Loop you can actually find for cheaper on the Magnificent Mile or in Lincoln Park. There are also a lot of great mom-and-pop shops in areas such as Andersonville and Edgewater if you're trying to take home some artwork or just something to commemorate the trip. Wrigleyville may also have what you need in terms of sports memorabilia or custom shirts and you can't go wrong with a local tailor in Bronzeville for your fashion needs. Chicago is also where Walgreens was founded so you can find them practically on every corner. If you need to get some last-minute toiletries, definitely head there and use your Walgreens card to get whatever coupons and savings they may have.
1

Find Ways To Volunteer
Another great thing about the massive size of Lollapalooza is that they're always looking for people to help out and work the event, even until the last minute due to dropouts or high demand. You can help out with food vendors by reaching out to the specific companies and seeing if there's any way you can help prepare or distribute food. There are other companies and organizations that take this time to build followings or create outreach and finding their applications online is a step to being able to do some good work and also enjoy some great music. Typically volunteering for the festival will take up four hours of time, but before or after that timeframe is up, you are able to enjoy all of the amenities that come along with the giant music and cultural extravaganza that is Lollapalooza. Plus, this gets you free access to the festival and there's nothing cheaper than that. Help out and enjoy!
Sources: www.lollapalooza.com, www.ticketsnow.com, www.chicagotribune.com, www.garfieldconversatory.org, www.mcachicago.org, www.theatreinchicago.com,
Source: Read Full Article