What better way to cope with an ugly split than to do a complete 180? Especially when that breakup plays out for millions of fans to see, comment on, and judge. It's no surprise the pressure that comes along with Hollywood stardom has caused some of our favorite celebrity ladies to do a complete turnaround after a breakup. Whether it was switching up their hair color, or embracing a complete attitude change, we have to admit it was refreshing to see them have very humane and, well, normal responses to a public breakup, despite being in the public eye constantly. It's almost like a silent and unspoken moment of unity when a celebrity female does something drastic after a breakup.
The level of girl power can increase, as ladies around the nation and world cheer them on as they embark on a new life of being single. Even though many of the ladies moved on shortly after their breakups, it's safe to say their 180 transformation came long before they found a new guy to fill the former flame's space. We might even venture to say it was a change that was a long time coming and might have happened whether or not the female lead and her beau decided to work things out for good. Either way, we're glad to have a front row seat to all of the changes that comes along with major life moments – even the tragic ones like a heartbreaking split. Take a look at 25 female celebrities who did a 180 after calling it quits with their special someone.
25

Miley Cyrus
Miley Cyrus and Liam Hemsworth might be back together, but we would be remiss if we didn't mention her 180 after their 2013 breakup.
Cyrus did more than let loose after she and Hemsworth decided to end their engagement roughly five years ago. She cut off all of her hair but also became a celebrity that stars and fans didn't really care for.
She switched up her sound from pop to Bangerz and started twerking like her life depended on it. She was certainly no Hannah Montana anymore.  She would rock the red carpet in some eyebrow-raising getups, and let's not forget about the crazy performance she had with Robin Thicke at the 2013 MTV Video Music Awards. She rubbed up on the then-married singer as if millions weren't watching. Still, Cyrus has toned it down quite a bit and interestingly enough, managed to get Hemsworth back. Now, they are happy together, living together, and reportedly planning a wedding. It's also safe to say she has toned down her look big time and has managed to find a healthy balance between her 2013 days and her Hannah Montana look. Let's be honest, we all expected Cyrus to grow up at some point. Thankfully, she's been able to find herself after all.
24

Demi Lovato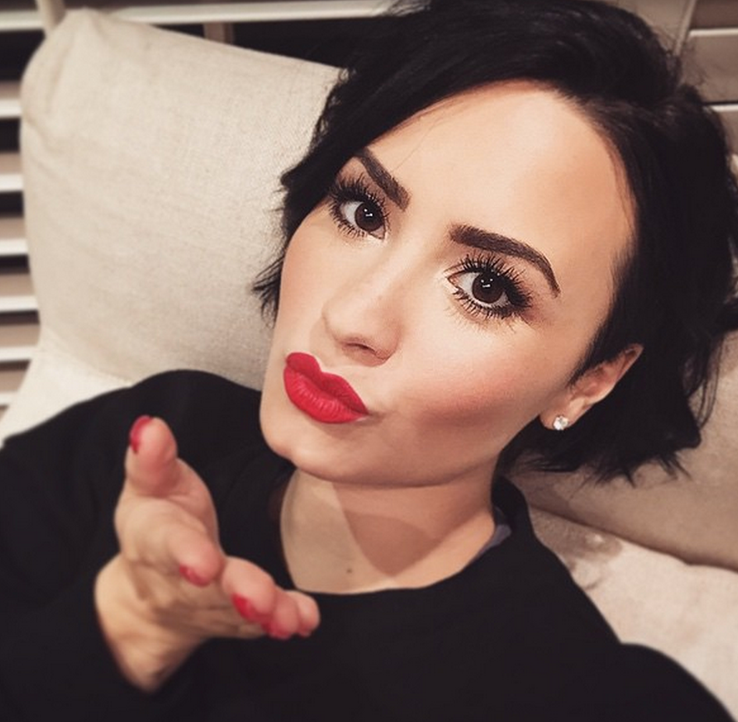 While we're still praying, there's a chance for Demi Lovato and Wilmer Valderrama to get back together, Lovato went ahead and did a 180 without giving us a moment's notice. While she was clearly a bit younger than Valderrama, it's safe to say Lovato was still channeling her inner Disney star during the stronger days of her relationship. Unfortunately for him, it wasn't until after their split that Lovato started to look like the young woman she really is.
Her short haircut and choice of going from brown to black hair also played a major part in her transformation that is on the road to being iconic.
Still, the idea that they had nothing but good things to say about one another even after their breakup shows Lovato is transforming in ways that we are certainly here for. Meanwhile, for fans wondering if they could ever get back together, it looks like there's a glimmer of hope. The two were spotted out and about together earlier this year and sparked rumors of a reconciliation. Plus, if Lovato's mother has anything to do it, they'll get back together soon than later, as she said their split broke her heart. Yes, it did for all of us. But cheers to Lovato's transformation afterward.
23

Kristen Stewart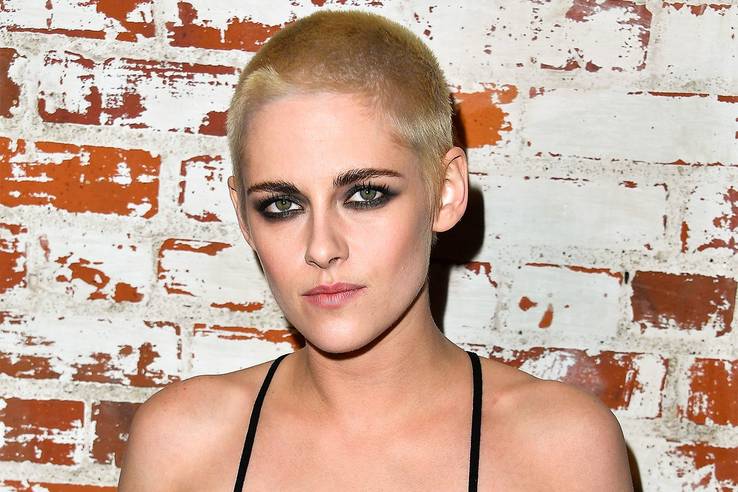 Kristen Stewart's 180 transformation following her heartbreaking split with Robert Pattinson is undeniable. They were every teenager's dream couple after they dated while starring in the Twilight saga together. Still, after they broke up (thanks to Stewart being caught making out with another guy), it might be safe to say Stewart went through some self-healing and transformed herself. After all, there are few things that are more therapeutic than a good old transformation. Stewart seemed to prove that when she traded in her long, brunette hair, for short, platinum blonde hair. And she actually saved it at one point! She literally looks like a different person. Or, at least her own twin. Either way, it's certainly a win for her.
As for the platinum color, Stewart's colorist was gracious enough to share her celebrity secrets with the general public. It turns out, Stewart's shorter haircut was a strategic one.
One thing her colorist also pointed out was that Stewart is still hanging on to her dark eyebrows. She might not be a girly girl, but even she knows it's a fashion sin to try to dye your eyebrows blonde to match your hair. We can't help but wonder what Pattinson thinks about Stewart's new 'do because it's definitely not a don't, by any means.
22

Anne Hathaway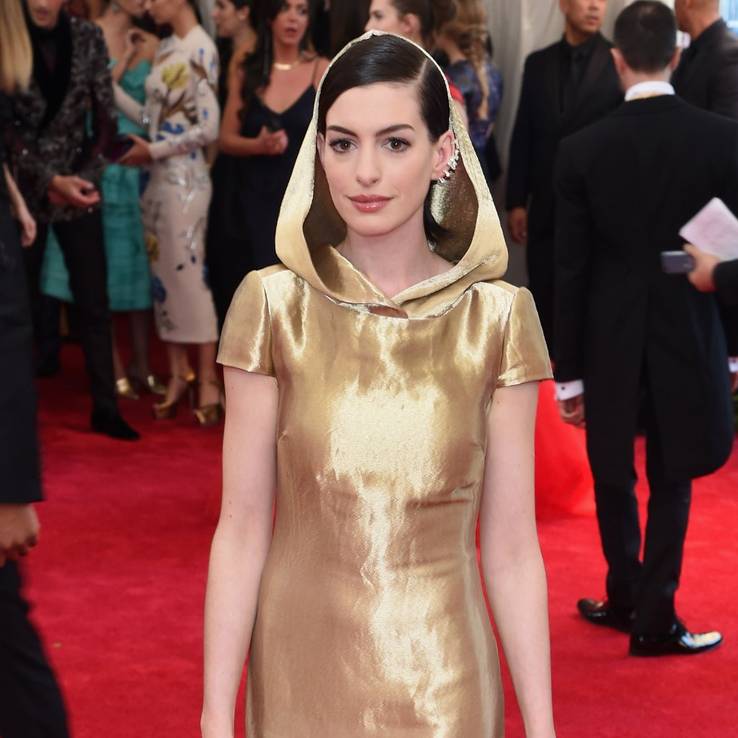 The Devil Wears Prada movie isn't the only time Anne Hathaway did a literal 180. Yes, we're familiar with her character, Andy, who looked homely, to say the least, before she started working at the fictional couture, Runway magazine in the movie. Still, by the end of it, she was rocking Chanel and actually knew how to spell Gabbana of Dolce and Gabbana.
While her transformation after her breakup with Raffaello Follieri, who turned out to be a con artist, wasn't as dramatic, it still turned heads without question. She started to embrace even more fashionable wardrobe choices and opted for couture gowns more often than not.
Plus, that super short haircut might have been shocking but it was also amazingly beautiful. While her ex was rocking an orange jumpsuit at a federal prison in Pennsylvania before he was deported back to Italy, Hathaway's transformation was getting the attention of her now husband, actor and producer, Adam Shulman. The two tied the knot in 2012, four years after her ex went to jail. Fans might remember that he was charged with 14 counts of conspiracy, money-laundering, and wire fraud. Hathaway called it quits just before he went to prison. Interestingly enough, she must have also called a new stylist because homegirl certainly upgraded her look after that split.
21

Ashlee Simpson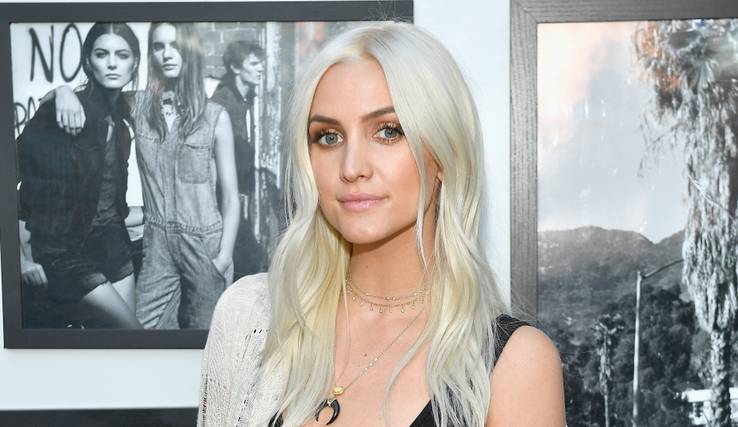 There's no question of whether Ashlee Simpson pulled a 180 on us after her breakup with Pete Wentz. Yes, it's clear she was desperate to get out of her big sister, Jessica Simpson's, shadow. But Ashlee certainly came into her own when she transformed her image after her split with Wentz. She showed fans she was all grown up when she embraced the big chop (shout out to her blonde pixie cut) and traded in her dark makeup look for a more natural image, even though she's proven she's not afraid to wear a bold lip. While she was with Wentz, Simpson pretty much matched his fly. She often wore dark eye makeup and black nail polish.
While she's now married to actor, Evan Ross, who also expresses himself through his unique clothing style, it's safe to say Ashlee has come into her own style, which is still unique, to say the least.
Even though Wentz is still in her life as they co-parent their son, Bronx, Ashlee's transformation after their breakup is undeniable. Plus, she's also mom to her and Ross's daughter, Jagger Snow, who the couple welcomed in 2015. They tied the knot in 2014. It looks like Ashlee's breakup with Wentz did her body good.
20

Sarah Hyland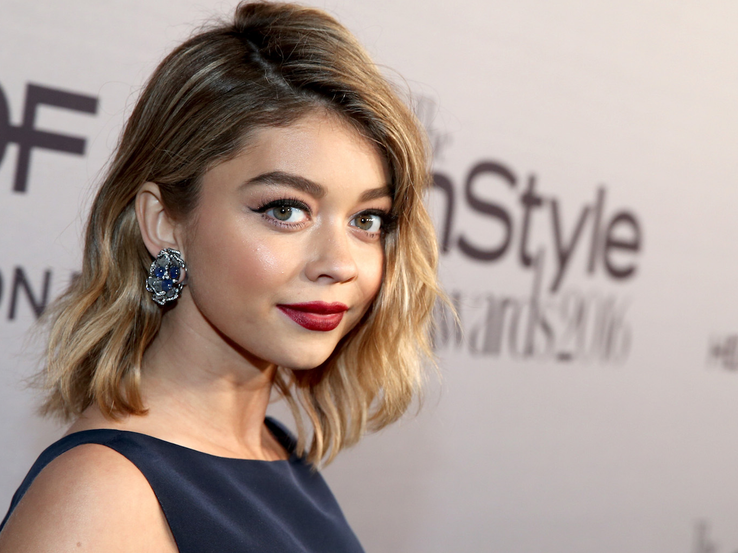 It didn't take long for Sarah Hyland to do a 180 with her look after her messy breakup with Matthew Prokop back in 2014. The co-star of ABC's hit series, Modern Family, underwent quite the image upgrade and showed Prokop exactly what he was missing with her new wardrobe and style choices.
She went from the adorable dark-haired teenager to a platinum blonde young woman in a matter of months. It also helped that Hyland was never one to shy away from making daring moves after her high-profile split.
She often completed her model behavior outfit with a white cat eye and a fluffy ponytail. Interestingly enough, it might be safe to say that Hyland was more comfortable coming into her own after her split, as she later detailed Prokop's abuse against her following their breakup. She ultimately filed a restraining order against Prokop, stating they broke up after five years because of his violent behavior. She quoted Robert Frost when she spoke of how she overcame the tough time. "The only way out is through," said Hyland during an interview. Good for her for getting out and completely reinventing herself! We know we're not the only ones who are here for her new look.
19

Lea Michele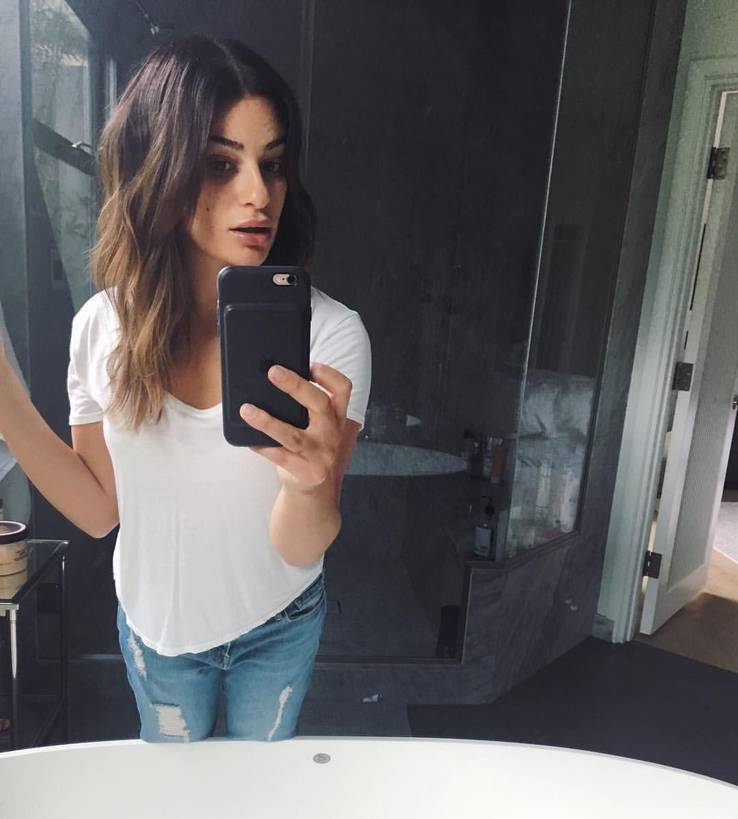 Lea Michele is another celebrity who got pretty daring after her split. Her new image made us all do a double take after she and Matthew Paetz started dating back in 2015. It should be noted this was her first serious relationship since the tragic death of her former fiancé and Glee star, Cory Monteith. For starters, kudos to Michele for getting back out there. While things between she and Paetz didn't work out for the long run, Michele certainly made up for it when she underwent a subtle transformation. While fans were used to seeing Michele with dark hair, she changed things up and started rocking sun-kissed highlights. Can you say, "love?"
While she might not have been ready to go for a dramatic look, there is no way anyone can deny this was still a huge change for Michele. Besides, when she did cut off more than a foot of her hair just in time for last year's Grammy Awards, it was hard to notice. "Lea and I wanted to keep the look feeling fresh and forward," revealed her hairstylist, John D. "We actually went for it and chopped about six inches from the ends, providing the look with a very dramatic and graphic effect at the ends." Well, dramatic is certainly the word.
Featured Today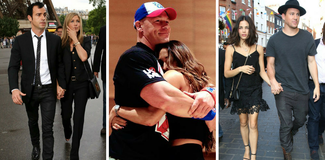 10 Celebs Who Dropped Their Partners This Year (And 10 Who Might Regret It)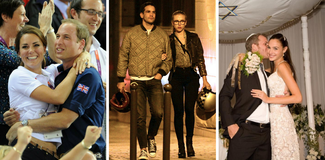 10 Hollywood Stars Who Married Non-Famous People (And 10 Who Stuck To The A-List)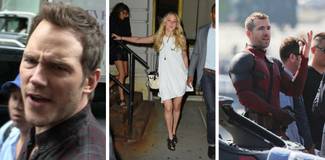 10 Actors Who Act Like The Superhero They Play (And 10 Who Don't)

18

Heidi Klum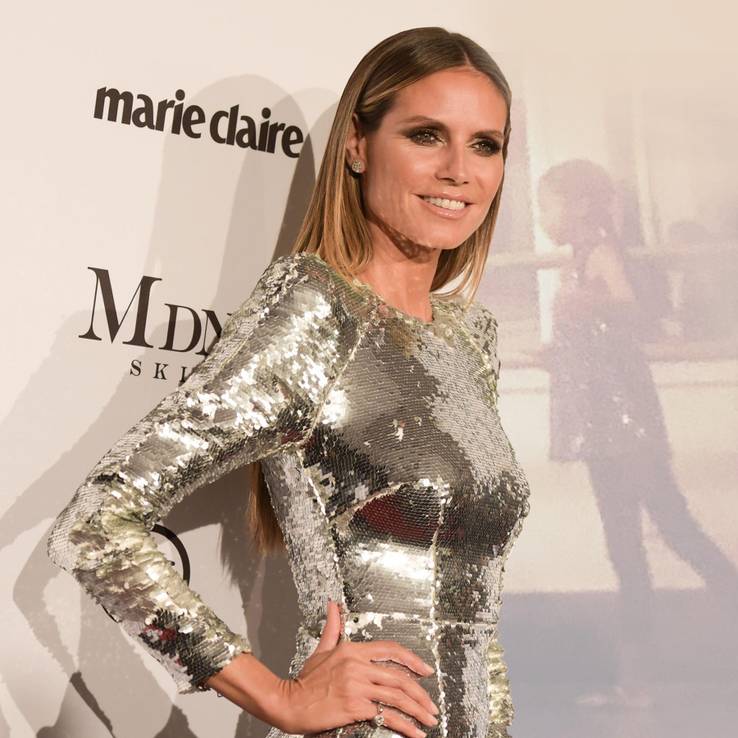 For starters, Heidi Klum's breakup with Seal in January 2012 was very shocking. The two had been married for seven years. While fans envied their union, they admitted it was far less than perfect. Still, her transformation after their split was almost just as shocking as the breakup itself. Before the split, Klum often channeled her inner Stepford wife as she supported her husband's career and endeavors. Of course, there is absolutely nothing wrong with that, if that's what floats your boat. Still, her boat went in a different direction after she broke things off with her now ex-husband. She started with growing out her hair and showing a lot more skin.
While she was already a blonde bombshell during her marriage with the singer, she took it to another level after the split.
She traded in her business casual-looking dresses that were fit for a job interview for revealing sequins and peek-a-boo pieces. Klum also moved on from Seal shortly after the divorce. She dated her bodyguard, Martin Kirsten, who Seal made it clear that he was not a fan before she dated none other than Demi Moore's ex, Vito Schnabel. Still, no matter who's attached to her, if anyone, Klum is rocking her transformation like only she can.
17

Kendra Wilkinson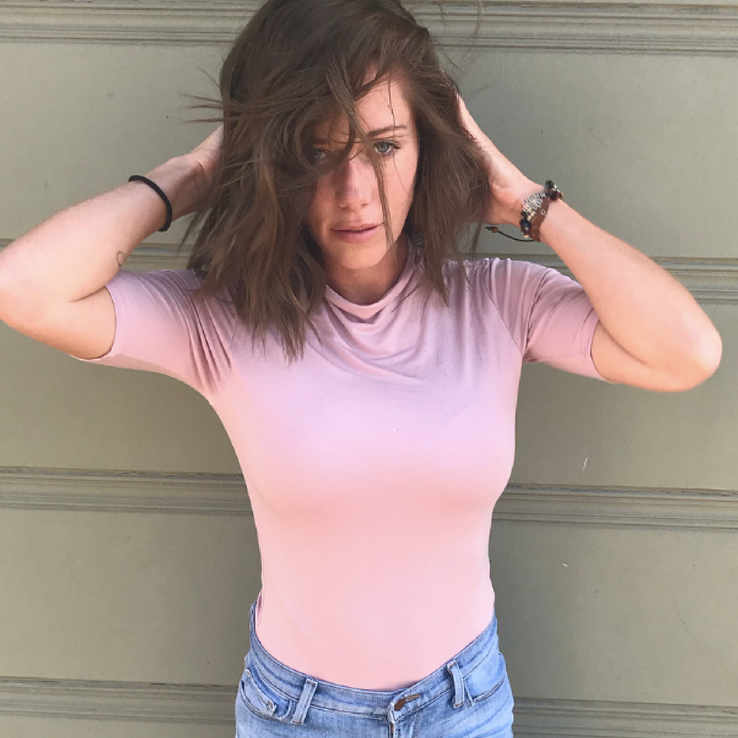 Kendra Wilkinson might have just announced her breakup from her longtime husband, former Indianapolis Colts star, Hank Baskett, but it didn't take her long to do a 180 and embrace a new level of freedom after her messy split. She took fans for a ride when she not only chopped off a good portion of her hair but went from blonde to brunette in a matter of moments. She let fans know this wasn't an impulsive action when she showed off her new look on social media. She revealed she's "been wanting to experiment" with her hair color for quite some time. But her color wasn't the only thing that changed.
While Wilkinson was known for her long, blonde hair, her darker hair is much shorter and now barely reaches her shoulders. It's safe to say she's embracing the new year, new me phrase even though it's springtime.
"Refresh button being pushed at the moment," Wilkinson added. "Time for a change. Time for a different outlook. Time to let go of the past and embrace new." We're here for it to say the least! Wilkinson filed for divorce from Baskett earlier this year. The two would have celebrated their ninth wedding anniversary next month.
16

Demi Moore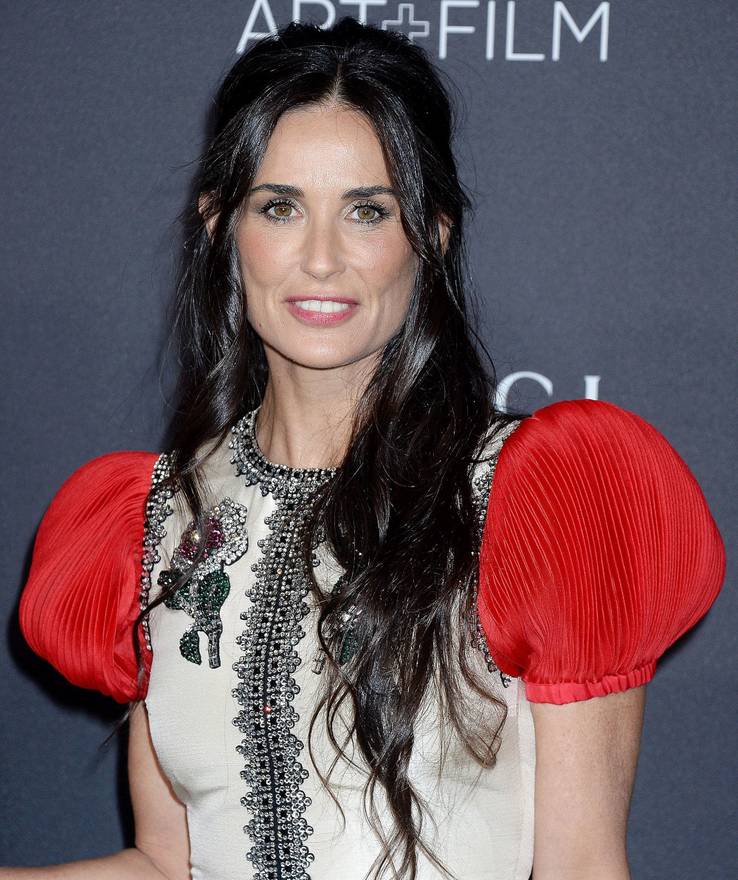 Speaking of Demi Moore, the GI Jane star did a 180 of her own after her breakup with her ex-boyfriend, actor and funny guy, Ashton Kutcher. While their age difference of 15 years sparked some attention, her transformation after their 2011 breakup also did. And we're not talking about the shaved head Moore rocked for her GI Jane film. Even though she proved she's one of few celebrities who can dominate that look, she battled Kutcher's transformation as he cut off his now iconic beard. While she hung on to her long, black middle part hair, she switched up her wardrobe after her split. It might be safe to say she was letting Kutcher know she still had it, despite being 15 years older than him.
She really came into her own style and even started rocking a half ponytail look every once in a while. The word is that they ended their relationship because of Moore's alleged substance abuse. If true, Moore certainly spoke out in more ways than one when she hit the red carpet. As for Kutcher, he underwent what seems to be an inner transformation as well. "Right after I got divorced, I went to the mountains for a week by myself," said Kutcher. "I did no food, no drink – just water and tea. I took all my computers away, my phone, my everything. I was there by myself, so there was no talking. I just had a notepad, a pen and water and tea—for a week." It looks like he and Moore had a lot of healing to do, and she did hers through her transformation.
15

Khloe Kardashian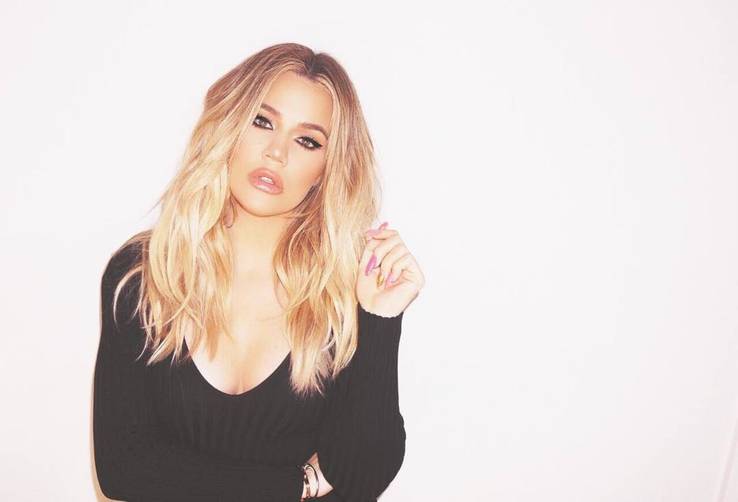 Of course, this list would not be complete without Khloe Kardashian. She is the definition of a celebrity who transformed after a breakup. Even those who don't keep up with the Kardashians know she became a completely different person after her breakup with her now ex-husband, Lamar Odom. Let's be honest, she's the one who made the term "revenge body" popular. While we're convinced Kardashian is beautiful at any size, her weight loss was the major key to her transformation. She even continues to help her fans and viewers get their revenge body on via E!'s reality series of the same name. While she shared some of her health tips such as setting small, attainable goals, to giving up one food each week, she also confessed that she had a little help in the enhancements department.
Aside from her new body, Kardashian is also one to make daring choices. From her short bob to her bleach blonde hair (we're noticing a pattern with ladies going blonde after a split) to her undeniable, signature cat nails, we all know Kardashian isn't the same girl who married Lamar Odom.
She's also coming into her own with her fashion line, Good American, that is said to fit women of all shapes and sizes. Talk about a transformation inside and out.
14

Hilary Duff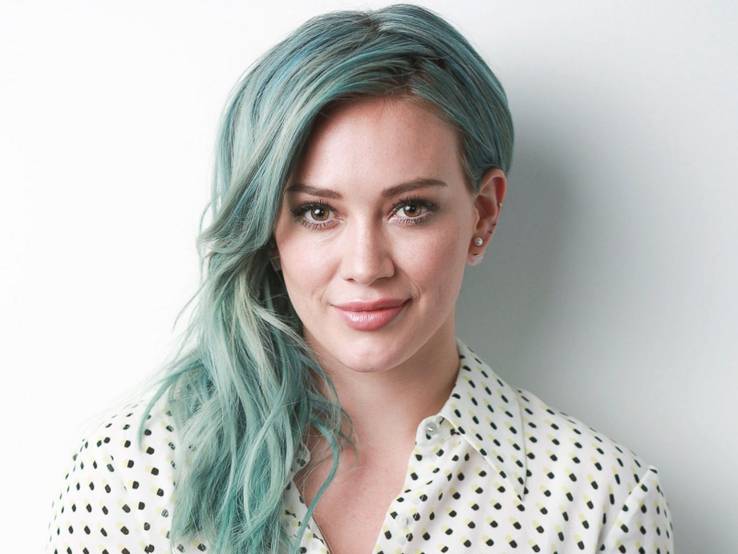 Hilary Duff's ex-husband's alleged wandering eye probably would have wandered right on over to the actress if he saw her after their split. Duff and Mike Comrie broke up after four years of marriage. It was said to be because of his wandering eye. Duff's response? Getting a toned body and posting herself in a bikini on Instagram. Apparently, her son, Luca, gave her the courage to show her followers her new body. "I was on a trip with my son, and it's been three years since I had him," said Duff. "I'm just so proud of my body and what it's done for me." Let's not forget the mermaid green hair she daringly rocked as well.
Interestingly enough, it's clear she was spending lots of time getting her body right because she ended up dating her trainer, Jason Walsh. Still, while she's been keeping her body intact, her relationship with Walsh came to an end in 2016.
As for getting back into the dating ring after her transformation, it's not clear if that will happen sooner or later. "I've never been a good dater," admitted Duff. "I meet, like, one person a year that I'm maybe attracted to… I never want to be that girl who's desperate to find a mate." In the meantime, she's keeping her new look strong.
13

Gwen Stefani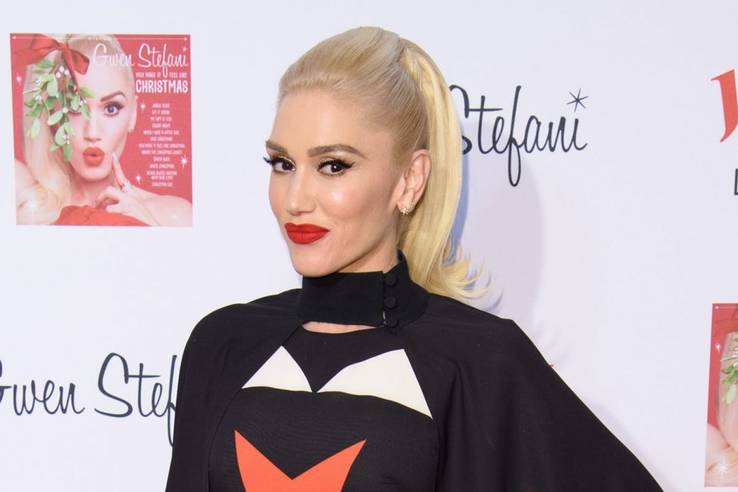 Ok, so it might be safe to say Gwen Stefani is going to be rocking the platinum blonde hair until she's old and… well, grey. Until then, it's a signature look she's had for as long as we can remember. Still, Stefani managed to switch up her look and keep her signature hair color after her shocking split with Gavin Rossdale in 2014. There's no need to mention that they broke up because he was (allegedly) caught having a scandalous affair with the nanny. It's more important to discuss how she bounced back in more ways than one following the breakup.
Other than starring in shows like NBC's, The Voice, and moving on with country heartthrob, Blake Shelton, Stefani has also given us a transformation we can't enough of. After going pink and purple during her marriage, she's opted for even more daring hairstyles (we'd be remiss if we didn't point out her hump and high ponytail look), and even paired the trendy style with bright red lipstick. We love that Stefani hasn't changed her hair color too much but instead went as far as finding even more ways to enhance and accentuate it. Looks like a transformation gone right! Plus, adding Shelton in for arm candy isn't a bad look either.
12

Ciara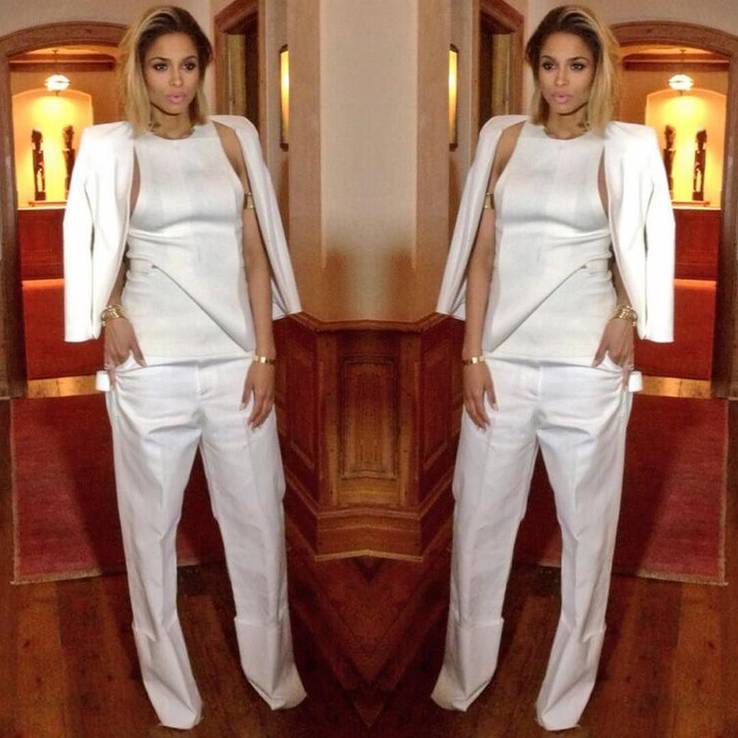 If we're honest, it's no secret that the singer and supermodel, Ciara, was pretty fly even before she started dating her now ex-fiance, rapper, Future. But it's also safe to say that she took her flyness to another level and completely transformed after their split. The two had just welcomed their son, now three-year-old, Future, when they confirmed they decided to go their separate ways instead of going down the aisle. While Ciara had pretty daring image choices during her relationship with Future (who can forget when she channeled her inner Future and rocked dreads?), her fashion went from plain Jane to high couture after their split.
While she has calmed down her hairstyles, for the most part, it's her wardrobe that really transformed. Even modeling agency, IMG Models, took notice and signed the star as one of their top clients. And they weren't the only ones. She also started dating her now-husband, Seattle Seahawks quarterback, Russell Wilson. From her maternity style when she was pregnant with her and Wilson's daughter, Sienna, to her flawless fashion at her good friend, Serena Williams's, wedding recently, any one of her 18 million followers on Instagram can glance at her page and notice that she is high fashion now more than ever before.
11

Jordin Sparks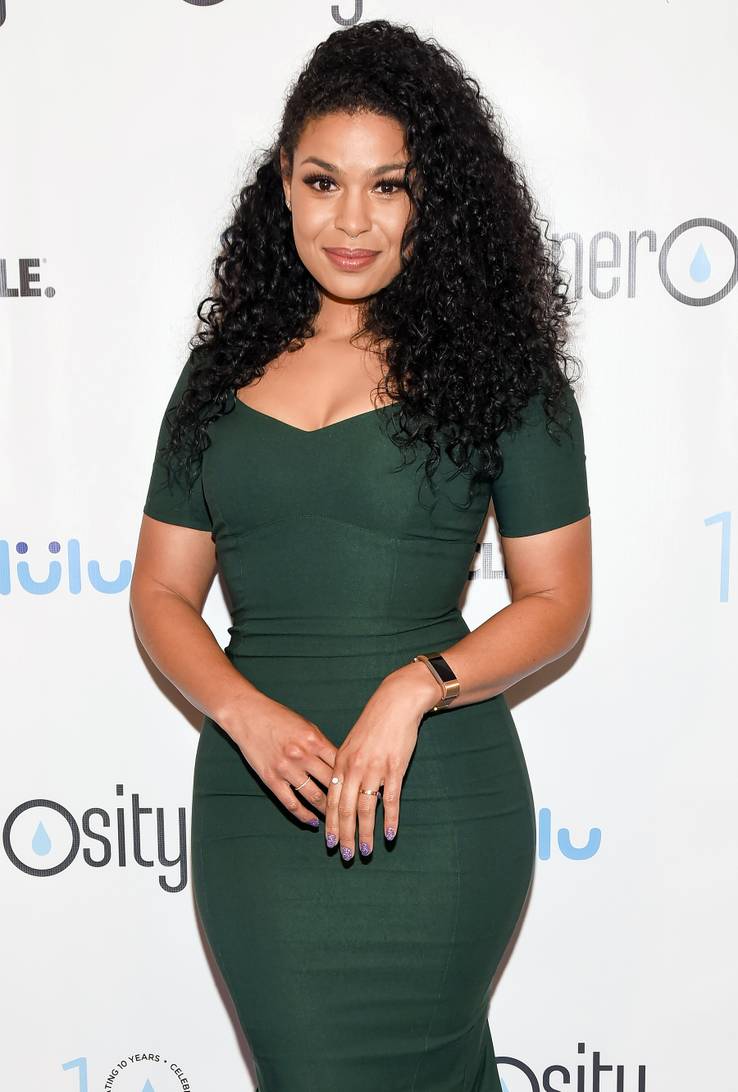 While Jordin Sparks has always embraced the girl-next-door look, she got a little daring during her once serious relationship with pop singer and bad boy, Jason Derulo. Interestingly enough, she underwent another transformation after their now not-so-shocking breakup. She actually started to embrace her good girl image once again. She rocked natural looks much more than ever, including her natural, curly hair that we thought was MIA for much for her relationship with the singer. Still, she doesn't hesitate to give fans a mean eyeliner and an extra shimmer of eyeshadow for extra special occasions while she's out and about.
Three years after their breakup, it's still not clear why the two called it quits, but Sparks' image wasn't the only thing that transformed after they went their separate ways. She spoke out like never before about their breakup on Power 105.1's The Breakfast Club and called him out for leasing the car that he purchased for her. That only turned into an ugly battle between the exes on social media. Now, Sparks is still America's Sweetheart, as she's clearly moved on with her husband, Dana Isaiah, who she secretly married last year. The two welcomed their first child earlier this year.
10

Kim Kardashian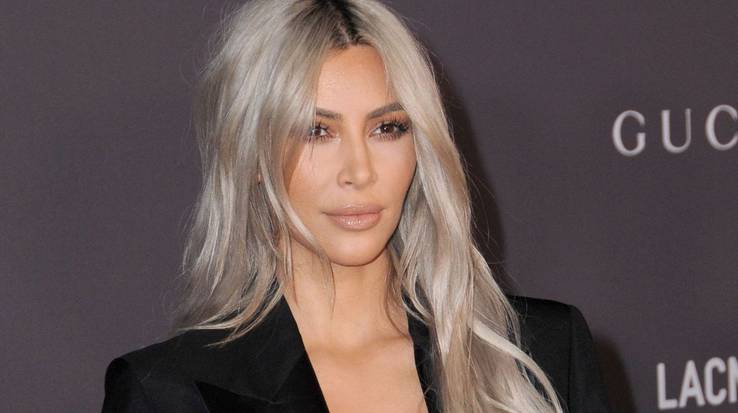 While Kim Kardashian is known for transforming her look (and she insists she doesn't wear wigs), she completely upped her image after her breakup with Reggie Bush. If we thought Kardashian was stylish before their split, she proved even more so that she is a fashionista to watch out for following her breakup with the NFL player. Not one to be upstaged, it's safe to say Kardashian's second husband, Kris Humphries also played a part in her 180, after their 72-day marriage ended with seemingly never-ending divorce proceedings. Kardashian went from the dark brown hairstyle that we were used to and embraced highlights.
She debuted her new look on social media and captioned her photo, "New hair color = new beginnings for me … You like?" It might be safe to say Kanye West definitely liked it as the two started dating just after her breakup with Humphries. Interestingly enough, while she and West are now happily married, Kardashian was said to have changed her fashion style during their dating phase. She opted for more all-black ensembles and really took her couture to a new level. Now, she pulls a 180 every day. It looks like it just took a good breakup to get it moving.
9

Emma Stone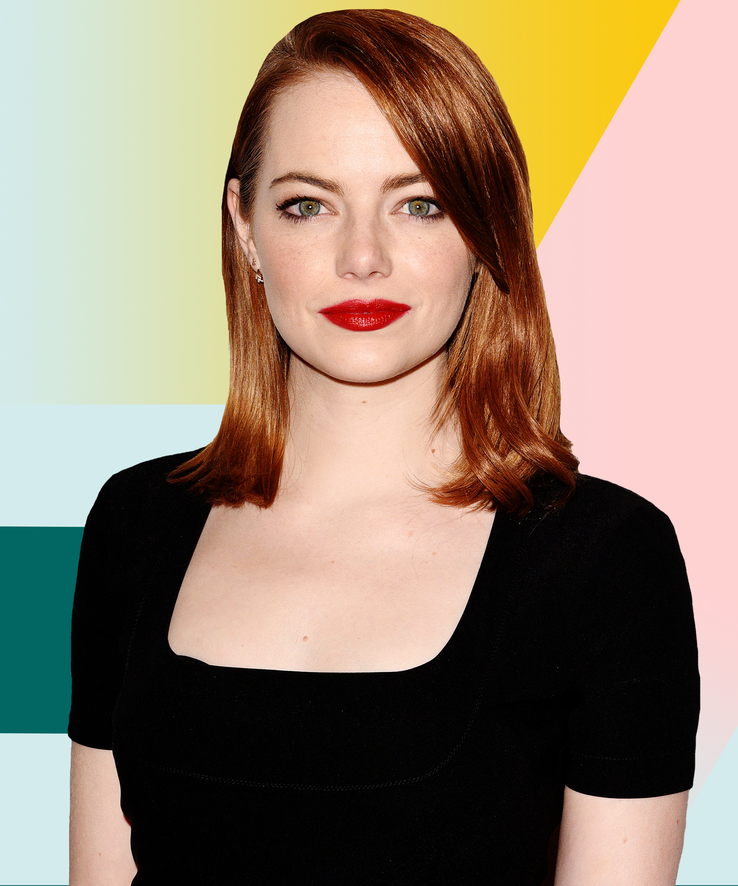 Emma Stone's breakup with Andrew Garfield after three years of dating was hard on all of us. While we might have coped by watching their characters' love story on The Amazing Spiderman, Stone switched up her image and underwent a transformation. Fans might remember she changed her hair color more than we can count. Thankfully for Stone, she was able to dominate each look, from brunette to blonde, no matter how shocking it was. In fact, her red hair served as a signature look for her as she rocked the red carpet and her hair color, with confidence. And of course, Garfield had nothing but good things to say about his ex-girlfriend following their split.
It might be safe to say he was a fan of her varying looks as well. "Don't be silly," he said last year when asked if the two would be competing for the top spot as they both had movies released around the same time. "I'm nothing but supportive and her biggest fan." As for Stone, she said her single life was "sad" just months after their split. Meanwhile, we're camping out in the long line of those hoping they get back together sooner than later.
8

Jennifer Garner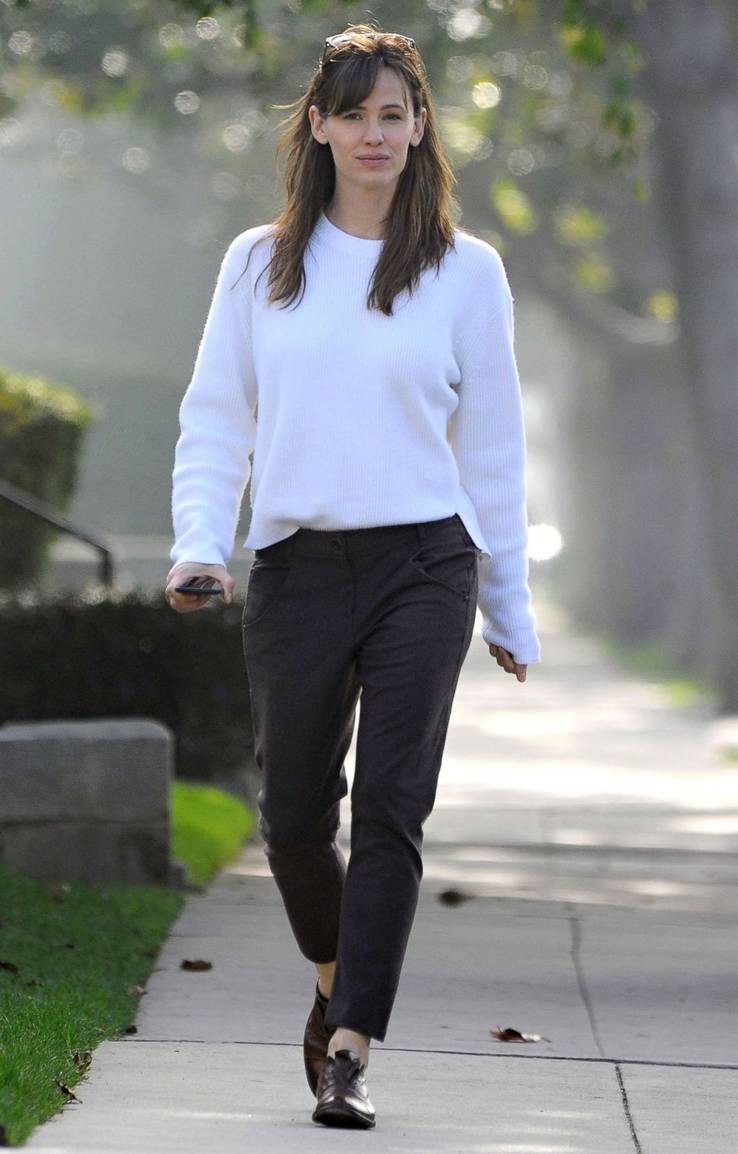 Jennifer Garner didn't hesitate to show off her new figure after she and Ben Affleck separated after their decade-long marriage back in June 2015. It looks like Garner expressed her frustrations at the gym because she certainly came back with a snatch back that we don't recall her having with Affleck. Yes, Garner has always been a thin one in our book, but her new, toned body is what earned her a spot on this list. Her secret? It's certainly not going on a diet. "
I dieted for so long in the middle of doing Alias and being a superhero, that there's something in me that can't do anything that extreme," said Garner. "I mean, believe me, there's always a point in the fitting where I feel like, 'Why didn't I just try to lose four pounds and then I could wear any dress?'" Still, just like the rest of us, Garner confessed she can hardly turn down a good slice of pizza, especially at a child's birthday party. She said she can never go to a kid party "without having a slice." Well, we know where that slice isn't going… to her hips. But hey, we definitely love her toned look.
7

Selena Gomez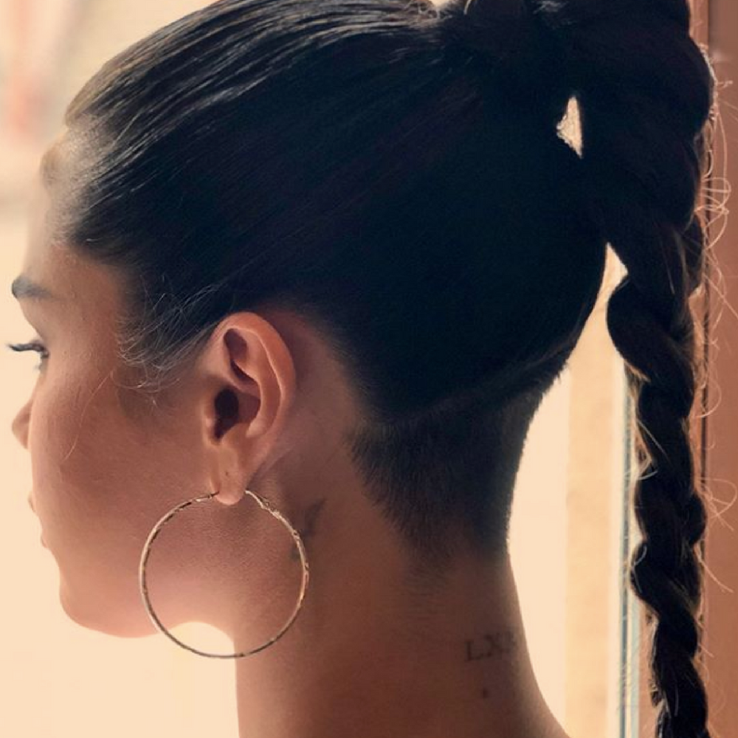 Selena Gomez has transformed her look after almost every breakup with her longtime on-again-off-again boyfriend, Justin Bieber. Most recently, she shaved the bottom part of her hair into an undercut last month. This was just weeks after she and Bieber put fans into a whirlwind. She was first dating the singer, The Weeknd, before she and Bieber were randomly spotted together. She and Bieber were then said to be rekindling their romance, as Gomez and The Weeknd broke up for good. Still, Bieber and Gomez are now said to be on a "break," and it looks like Gomez underwent a slight transformation as fans wait for Jelena to get back together.
As for what caused their latest split, rumor has it that Gomez needed a break and so did her family. "Justin and Selena decided to take a break to give her family some more time to heal and take in the idea of her and Justin being a couple again," one insider said. Another said the two needed to "cool off" after they reunion included them spending way too much time together. But considering they've been apart for weeks, their break seems to be turning into a permanent breakup. At least Gomez pulled a quick 180 for us.
6

Miranda Lambert
Let's not forget the time Miranda Lambert went platinum blonde after her divorce with Blake Shelton. The two were considered country music royalty when they actually confirmed speculation that they were going their separate ways after months of denial. Lambert addressed the split on social media when she debuted her brand-new, platinum blonde hairstyle. She wrote the caption, "What doesn't kill you makes you blonder," giving a nod to her hit song, "Platinum." 2015 was not only the year of her breakup with Shelton, and the debut of her blonde hair, but she also switched it up and experimented with pink hair after their divorce.
Instead of transforming, Shelton opened up about his divorce with Lambert just months after it was finalized. He released what he calls a "divorce record" and opened up about how his now-girlfriend, Gwen Stefani, "saved" his "life" following his heartbreaking divorce. He said Stefani even got emotional when she found out about his divorce with Lambert. It also didn't take Lambert long to move on as she started dating Anderson East before the two called it quits last month. It should also be noted the platinum blonde has definitely been working for her.
5

Kate Gosselin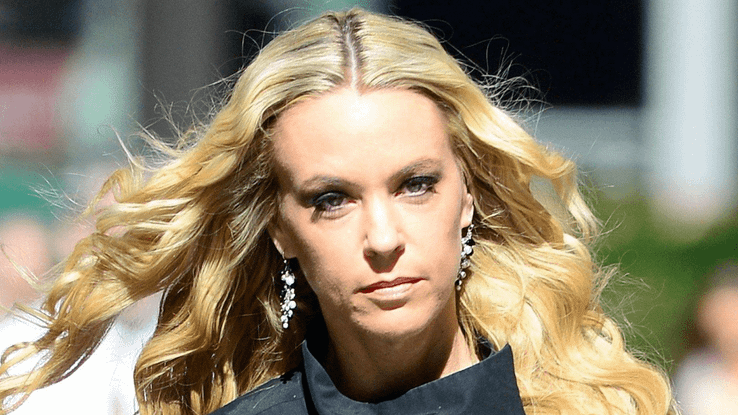 Oh, Kate. She did a 180 in more ways than one after her breakup with her ex-husband, John Gosselin. She was known as a homemaker for their eight children on their popular reality show, John & Kate Plus 8. She certainly represented the homely look like no other as an average outfit was an oversized sweater and mom jeans topped with a pixie cut. But she started to look like a different person before the ink on the divorce papers was even dry.
She ditched her mom jeans for tight skirts and dresses and added extensions to transform her pixie cut into long, wavy hair. She also kept her reality show alive for as long as she could, as she traded in John & Kate Plus 8 for the reworked title, Kate Plus 8. She went on to have a slot on ABC's, Dancing With the Stars. Still, she was also accused of forcing her children to stay in the spotlight much longer than they wanted to. Meanwhile, John's small image change of hair plugs was nothing compared to Kate's 180. And she's not done yet. Word is she's going to star in a new TLC dating series. It might be safe to say she's ready to move on from John for good.
4

Jennie Garth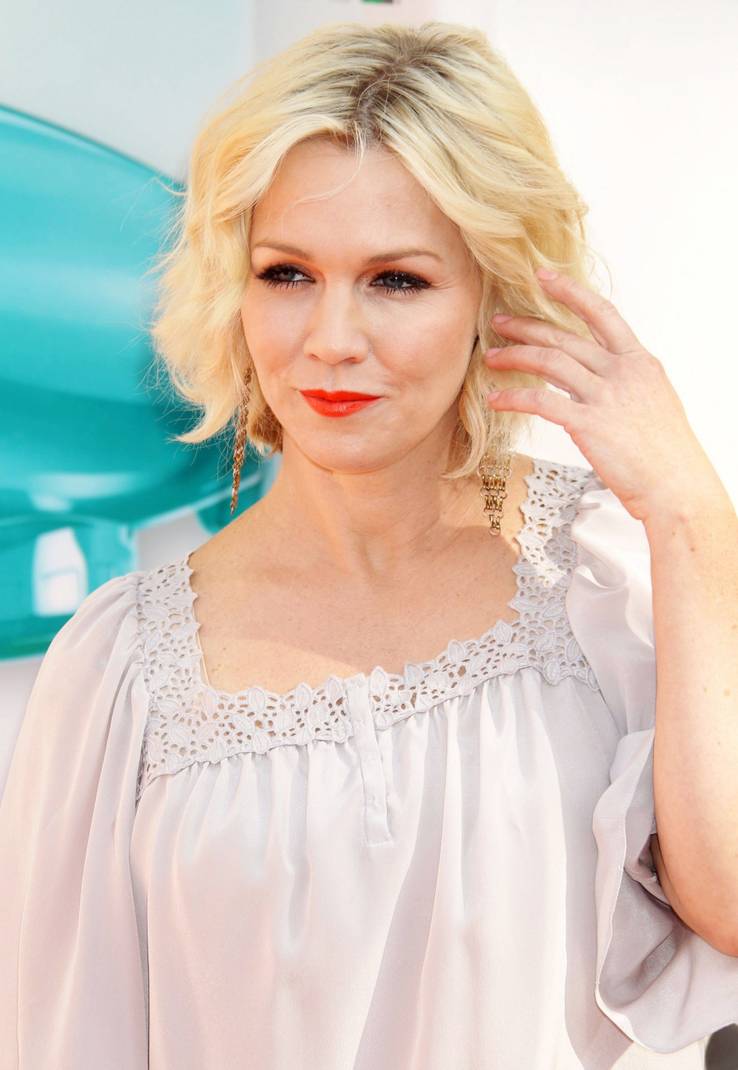 Fans couldn't deny What I Like About You actress, Jennie Garth's, major changes after her divorce from her former husband, Peter Facinelli, in March 2012. The two were married for 11 years and have three daughters together. Apparently, his success on Twilight and Nurse Jackie caused a rift in their relationship as Garth reportedly grew "resentful." While Garth has yet to confirm rumors she was jealous of her husband's success, she did say she has had a tendency to lose herself in relationships in the past. "I think in general it's important that you need to focus on you and what makes you happy and what makes you you," said Garth. "And if you lose sight of that, in any relationship you're in, it's not gonna be as successful as it could be."
Thankfully for Garth, it didn't take long for her to indulge in a bit of gym and retail therapy after the split. She ended up losing weight (20 pounds to be exact) and completely transforming her look. "I'm just taking care of myself: eating less, exercising more, drinking a lot of coconut water," Garth said about her new look. Now, she's happily married to actor David Abrams. The two tied the knot in July 2015.
3

Katy Perry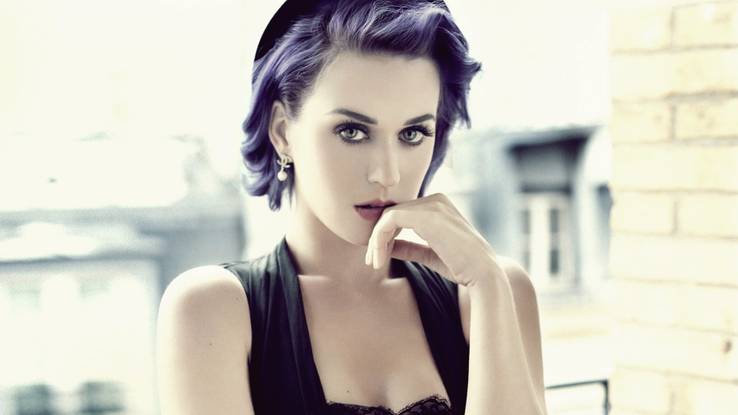 The "Roar" singer played no games when it came to her 180 after her divorce from Russell Brand. Her bounce-back game after he broke up with her via text was strong, to say the least. Fortunately, Katy Perry didn't let their conflicting schedules, as she lived her life as a rising pop star, stop her from being the boss in her life after they split. She started to play up her curves in a new way, making it clear she loved her body image just the way it was. She also experimented with multiple hair colors from blue to purple, and who can forget green? Even though she was a little daring during her brief marriage to Brand (a little pink highlight here and there), it's safe to say she was still perceived as a typical teen pop star. Still, after their split, she went for even more adventurous looks.
Even aside from her image, her confidence (and even songs) proved she was just fine without a man in her life. While she later moved on with John Mayer, she is now reportedly dating her on-again-off-again boyfriend, Orlando Bloom. Rumor has it they're even engaged. Brand is married to Laura Gallacher. The two tied the knot in August 2017.
2

Rachel McAdams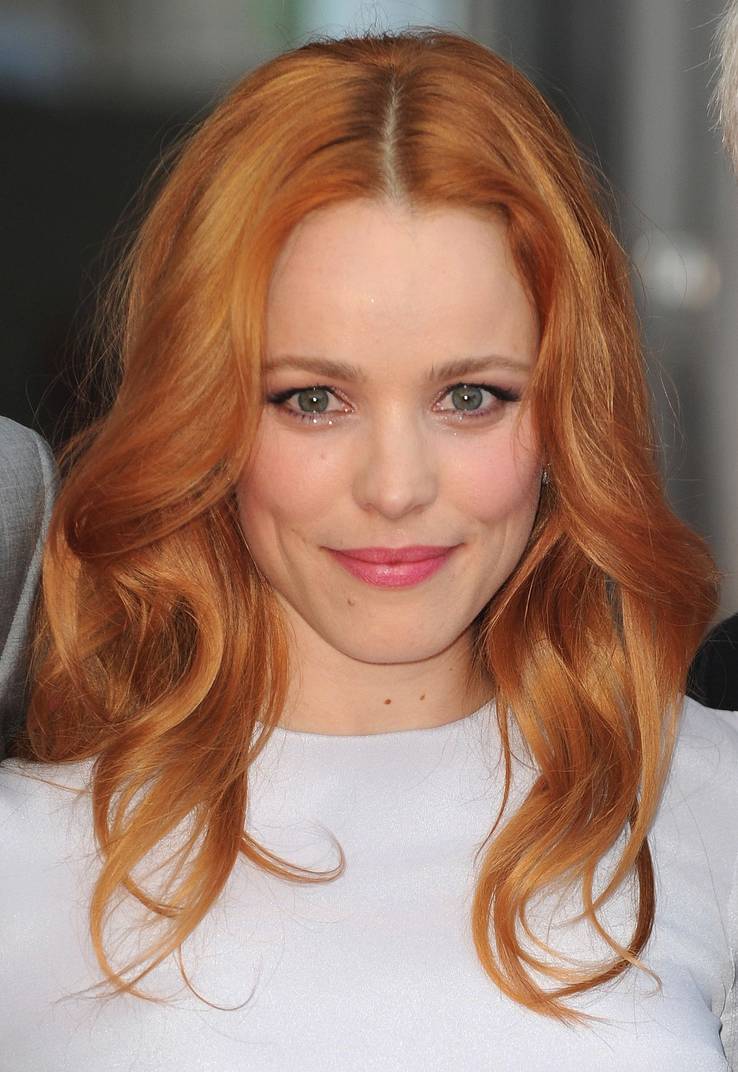 Mean Girls breakout star, Rachel McAdams, has made it a habit to do something with her hair after two major breakups. The latest was after her 2013 split from Michael Sheen. The two were introduced on the set of Woody Allen's, Midnight in Paris, comedy in 2010. They sparked a relationship after filming was complete and went public in 2011. When they broke up two years later, McAdams discovered that was the perfect time to do something with her hair. She went from Regina George blonde to a beautiful auburn color. The change certainly wasn't a subtle one, but it definitely worked for her. Plus, it was enough for her fans to realize she also changed her hair after she broke up with Josh Lucas, her boyfriend before Sheen. McAdams has never been one to shy away from a new hairstyle.
She spoke about those pink streaks she rocked years ago. "I always wanted pink hair," said McAdams. "I wanted to do my whole head, but my hairstylist, Robert, was like, 'How about we start small?'" She admitted she still wants to try blue one day. While a breakup is one of the most perfect excuses to try a new hairstyle, Rach won't be going through another split anytime soon. She and her longtime boyfriend, Jamie Linden, just welcomed a newborn son together last month.
1

Jennifer Lopez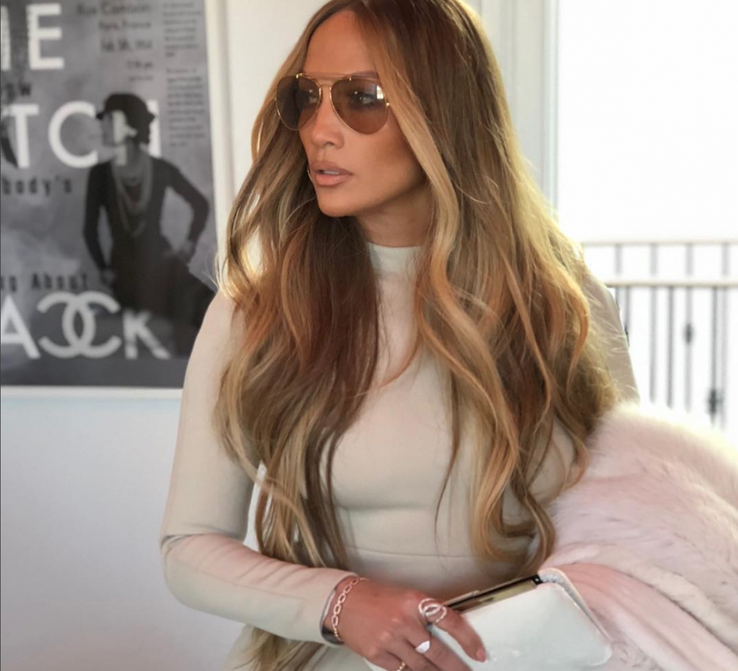 While it seems like Jenny from The Block was born with a revenge body as soon as she escaped her mother's womb, she upped the ante after her divorce from Marc Anthony. And we can't blame her. Who wouldn't want to show the king of Latin pop what he's missing? Since Jennifer Lopez's divorce from Anthony, the mother of twins somehow managed to provide an anti-aging effect on her look. She started hitting the gym with a new personal trainer and perfected her already perfect bottom. She replaced the longer dresses for more flirtatious one as she evolved even more into the J.Lo we love and admire today. She even snagged the attention of the much younger, Casper Smart, and the two dated for years.
Rapper, Drake, also announced his infatuation with her several times when Lopez seemed to be only on the cusp of her prime. Now, she's dating retired MLB star, Alex Rodriguez. And we seriously can't picture how she could get any more beautiful. Thankfully, for us, is never one to shy away from spilling beauty secrets as she credits getting enough sleep as the best tip she's learned throughout her career. Meanwhile, she and Rodriguez continue to serve up their flawless looks together as one of Hollywood's most popular power couples.
References: Glamour, US Weekly, ET Online, PEOPLE, Wonderwall, Vanity Fair, Hollywood Life, Elle, Elite Daily, The Daily Beast, InStyle
Source: Read Full Article