There are many hotels that we've seen in movies and TV shows that are actually real. For example, the movie The Shining was inspired by a haunted hotel room that Stephen King stayed in with his wife. We see cool hotels in the movies and we don't even consider the fact that they are real businesses. Depending on the hotel, they have the ability to transport us to a fantasy world or a creepy place.
On the other hand, some people have opened up hotels because they were inspired by a movie or TV show. The best part about a hotel room is that it sets the mood. For these hotels on our list, they transport us to the set of some of our favorite movies or TV shows. We love them because they remind us of our favorite TV shows or movies. Some of these hotels are so much fun, they allow their guests to feel like the characters. Now, that's pretty exciting. They offer packages that allow you to have a movie experience like nothing you have ever felt before. Check out these 25 hotels inspired by your favorite movie or TV show.
Click the button below to start this article in quick view
25

Arthouse Hotel, Liverpool
The Arthouse Hotel is a cool place for movie fans to check out because each room is inspired by an iconic classic movie. If you have ever wanted to walk down the yellow brick road, then that's the first thing you get to do when you walk through reception. If you like musicals, they have a Grease room and a Rocky Horror room. Enjoy horror more? Great, they have Hitchcock-themed rooms that are sure to give you the heebie-jeebies.
24

Hotel Seven, Paris 
If you are a fan of James Bond, then you are going to love the Secret Agent Suite they offer. It's going to cost you $398 a night to book it, but it's worth every penny. It has a futuristic style that is mixed in with vintage furniture that we love from the old Bond movies. Probably the best part of the room is that it comes with a full bar so that you can mix up a martini for the evening. Shaken, not stirred.
23

Sheraton Hotel, Sao Paulo
For all those Trekkies out there, we have a Star-Trek-themed room. Unfortunately, the Sheraton only did the room as part of a promotion for Star Trek Into Darkness and the room was only available for a month in 2013. But it definitely was a cool place to let our your inner geek. As you can see, the room was decked out with LED lights, galaxy linens, and Star Trek emblems everywhere.
22

Poseidon Undersea Resorts, Fiji
If movies like Poseidon and 20,000 Leagues Under the Sea fascinated you, then you are going to love this resort. The idea is to put you underwater so that you can experience what it was like. Expect to pay $15,000 for the experience, but considering you get to go in a Triton submarine and travel down to the hotel, it would be a once-in-a-lifetime experience.
21

The Curtis Hotel, Denver
If you are a fan of island living or more specifically Jimmy Buffet, then Colorado is the place you need to go. You will definitely feel like you are on vacation in this room and the light colors of the room will give you that beach-like vibe without going outside. There are hand-painted murals and ocean-blue tiles on the floor. The "it's five o'clock somewhere," quote on the wall will remind you to get your vacation drink on.
20

Roxbury Motel, The Wizard Of Oz 
This cool room can be found in upstate New York and it was clearly inspired by the Wizard of Oz. We love the fact that the yellow brick road is so prominent in the room. You will even find a curled-up witch at the end of the bed, so watch out. The best part of the room may be the 85-gallon bathtub that has dual shower-heads located in a giant poppy bathroom.
19

The Jane Hotel, The Royal Tenenbaums
The Jane Hotel got its inspiration from the movie The Royal Tenenbaums and the authentic vintage feeling of the hotel is perfection. We can see the movie elements in the throwback furniture, the burgundy colors, and the walls covered in art. The hotel owner, Sean MacPherson, said this about his inspiration: "The building felt like a giant house to me," recalled MacPherson. "And it vaguely reminded me of the house in The Royal Tenenbaums, which got me going down that [visual] road."
Featured Today
25 Real Life Locations All LOTR Fans Should Go To

25 Things Tourists Can Only Do in Tokyo

Escape The Crowds At These 24 Remote Islands In The Pacific Ocean

18

The Roxbury, Indiana Jones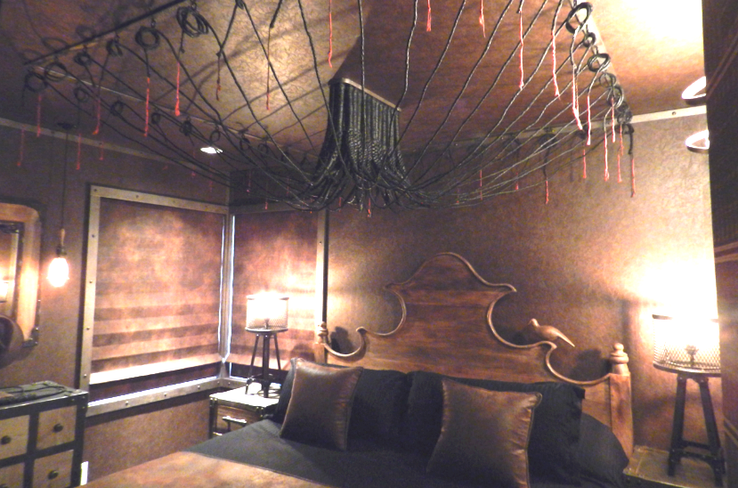 If you have a passion for archeology and eat up movies like Indiana Jones, then The Archaeologist's Digs in The Roxbury hotel is right up your alley. It's a three-bedroom suite that will have you feeling inspired to go on an adventure of your own. It has a 500-gallon saltwater aquarium in the room and the bathroom has a Cleopatra and Egyptian décor. There are even secret passageways and hidden treasures in the room. By the time you are done, you will feel like you have gone on your own dangerous journey.
17

Georgian House Hotel, Harry Potter 
For all the Harry Potter fans out there, you are going to love the Wizard Chambers in the Georgian House Hotel. A night in this hotel room is considered to be an experience taken right out of the books. The website describes the room as having been "created to transport you to a totally different world!" In the room, you will find cauldrons, four-poster beds, and potion bottles, everything that you would expect to find at Hogwarts.
16

The Curtis Hotel, Talladega Nights: The Ballad of Ricky Bobby  
If you loved the movie, Talladega Nights, then this is the room for you. The Curtis Hotel is on fire with their themed rooms because they drop in another world. This is the hotel room for all those Ricky Bobby fans out there. You will find plenty of NASCAR memorabilia and souvenirs in the room. The whole room is decorated in red, white, and blue and you will probably like the cheese-fountain decor in the room.
15

The Bowery Hotel, The Grand Budapest Hotel 
Sean MacPherson took his movie inspirations one step further when he opened up The Bowery Hotel. He loved the look of the hotel in the movie The Grand Budapest Hotel, so much so that he wanted the same for his hotels. "I just like this quality where things are ten percent off," says Sean MacPherson. "The point where things are believable, but there's a heightened believability." He even copied the front desk uniforms to give it that authentic feel.
14

Palms Casino Resort, Barbie
If you were a fan of the hundreds of Barbie movies growing up, then you might like the Hot Pink Suite. It's definitely the kind of room that would make you feel like a princess. One thing is for sure, Barbie has class and style on point. If you want to be in this Dream House suite, it will cost you — the suite costs $3,000 a night. It is decorated in corseted chairs, a sunburst mirror made from 65 Barbie dolls, and a ton of Barbie-inspired artwork.
13

The Curtis Hotel, Star Trek
There is one hotel that you can find a Star-Trek-inspired room that you can visit anytime you want and that's in The Curtis Hotel. This hotel is less neon and more classic. Everything in the room looks like it belongs in the USS Enterprise of course and that includes life-size cutouts. You will feel like you are hanging out with the original gang from Star Trek. It's a cool room that you should try at least once in your life if you are a fan.
12

Eden Motel, Batman
For all those Batman fans who have watched each movie and even embraced Ben Affleck as the new Batman, you are sure to love this room. This room is going to make you feel like you are in a bat cave of your own. The Batman Room in Taiwan's Eden Motel has a bat TV, a bat mirror, a bat safe, and even a bat headboard. You can even see the bat signal above your bed.
11

The Shire of Montana, The Hobbit 
For all those Hobbit fans out there, you are sure to love the guesthouse that is at The Shire of Montana. As you can see, the whole look of the guesthouse took inspiration from the movie. The guesthouse is actually partially underground which is super cool. The theme is definitely whimsical and woodland. The dwelling itself has a mystical feeling to it. You won't be completely out of your element, however, because the little house has HD TV and Wi-Fi.
10

Loews Portofino Bay, Minions
How cute is this hotel room? This hotel room is meant for the kid that loves Despicable Me. The beds are definitely the best part of the room. You will be surrounded by minions in this adorable suite. There are actually two full-size missile beds in the room if you have more than one child with you. Not to worry though, you will not be expected to sleep in a missile (but you probably want to) — grownups sleep in a queen bed next door.
9

The Hotel Palomar, Beverly Hills, California
The new redesign of The Hotel Palomar included creating a look that honored the film industry. You will see black and white murals, film-themed books, Fuji film pillows, and current issues of Variety and The Hollywood Reporter not only in the hotel, but the rooms as well. In the lobby, there is a circular fireplace that looks like a camera lens. That's pretty cool! There are "sculptural light fixtures evocative of paparazzi flashing lights and a soundstage ceiling rigged with truss and pipe. The hotel's restaurant, Double Take, features cocktails inspired by cult-classic movies filmed in Los Angeles."
8

Disneyland Hotel, Sleeping Beauty 
Any person that is a fan of the Disney movies has probably wanted to be a princess at one point in their lives. This is your chance to live like royalty. Everything about this room screams fairytale. You can take a bath in a luxurious jacuzzi tub with a mosaic of Sleeping Beauty's castle above you. The suite is luxurious and extravagant and even features a marble foyer. It's definitely a room to try.
7

The Radisson, Gilligan's Island
Gilligan's Island was a classic TV show that had quite the fanbase. If you have ever wanted to know what it feels like to live on an island, then this is the room for you. You can find this interesting hotel off a Pennsylvania highway. You will definitely feel shipwrecked when you check into this themed room because it comes complete with a fishnet canopy bed, shell lamps, tropical flowers, and crates of wine. The wine alone is reason enough to get stranded in the room.
6

Nickelodeon Hotels and Resorts Punta Cana, SpongeBob SquarePants 
If you are a fan of SpongeBob SquarePants, then you should definitely check out this themed room. The room actually comes with its own private pool, but the room will cost you $3,800. The outside of the room is a pineapple and it is a two-bedroom, three-bath suite that includes a garden, patio, indoor and outdoor living area, infinity pool, and even private butlers. It sounds like a great way to start off a vacation.
5

Pacific Inn Motel, Twilight 
We are not even the least bit surprised to find out that there is a Twilight-themed room. The best part is that it's in the same town that the movie was filmed in so you could have a Twilight-themed vacation and tour the town. The color theme fits right in with the books and there are even blacked-out curtains that will keep out the sun. It will be a great way for you to honor your love of the movie.
4

Beverly Wilshire Hotel, Pretty Woman 
The Beverly Wilshire Hotel is actually offering up a Pretty Woman experience for any fans of the movie. It's going to cost $10,000 for you to do it, but you might just find it worth it. "Relive the classic romantic comedy Pretty Woman with your own fairytale experience at this luxury hotel — no over-the-knee boots required. Included in the package is a behind-the-scenes tour of Rodeo Drive with a personal wardrobe consultant and stylist, dinner for two in your suite, a couple's massage, and hand-drawn bath with aromatherapy oils. Round-trip transportation in a Mercedes sedan is included," wrote T & L.
3

Ice Hotel in Jukkasjarvi, Tron
For the fans out there that love the movie Tron, The Legacy of the River Room is going to blow your mind. Not only are you experiencing a room made of ice, which is incredible in and of itself, but you have elements of the movie all around you as well. It's shocking that they construct the rooms from scratch every year to showcase new installations. They were inspired by the futuristic nightclub scene and had electric blue lights put in through the walls of ice.
2

Wonderland House, Brighton, England
The whole hotel has the Alice in Wonderland theme to it and it looks pretty cool. You will definitely feel like you are taking a trip through the looking glass. Just check out the dining room table! It's fantastic. Every room in the hotel has a different theme to it from Flamingo Dreams to the Queen of Hearts. You even play croquet with flamingo mallets. It certainly seems like a fun experience to add to your bucket list.
1

Disneyland Hotel, Pirates of the Caribbean 
Maybe it's not a princess experience that you are after, but the life if a pirate is what you seek. The Disneyland Hotel designed a room to look like the sleeping quarters for Captain Jack Sparrow. In order to gain entrance into the room, you have to ring a doorbell that plays, "Yo Ho, Yo Ho, A Pirate's Life For Me." The room is filled with wooden beams overhead, antique rugs, hardwood floors, and a four-poster bed. The room will run you $1,086 a night.
References: mentalfloss.com, travelandleisure.com, arthousehotelliverpool.co.uk,   cntraveler.com
Source: Read Full Article