Was Andy Cohen trying to get Stephen Colbert drunk?
"Stephen may have more years in the hosting game, but my liver would beg to differ, so we're going to compare our hosting missteps," Cohen said of the Late Show host last night on Watch What Happens Live With Andy Cohen. "Stephen, I'm going throw out something a late-night host might have done. If either of us has done said thing, we take a sip of our cocktails."
From there, Cohen read a series of prompts:
• "Never have I ever asked a question that I immediately regretted."
• "Never have I ever hooked up in my dressing room."
• "Never have I ever ducked into the bathroom to avoid saying hi to a guest."
• "Never have I ever forgotten a guest's name mid-interview."
• "Never have I ever followed an audience member on social member."
• "Never have I ever had to host a show while still nursing a hangover."
• "Never have I ever passed gas while taping my show."
• "Never have I ever been high during an interview."
Watch the video to see which things Cohen and Colbert are "guilty" of doing.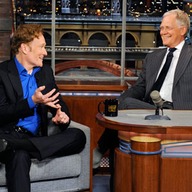 Photos
Late-Night Talk Show Hosts
In the same episode, Colbert was asked about Tiffany Haddish's realization that he's just not that into her. "She came out there and she did a body roll that just riveted me to my seat," he recalled of her appearance. "She's a very attractive young lady, but I'm very happily married."
"You have been happily married for a long time and for the duration of all of your talk shows," Cohen reminded his guest. "Have you had experiences where you've been doing your show, where you have felt like, 'Wow, if I was single, I actually feel like there could be a date here?'"
Without missing a beat, Colbert replied, "Diane Keaton."
As it turns out, Keaton wasn't the only actress to get intimate with the CBS host. "Jane Fonda got on my lap and stuck her tongue in my ear," Colbert told Cohen, "and that was kind of nice."
"Did you make out with Helen Mirren?" Cohen asked.
"I'm seeing a pattern here," Colbert laughed. "Helen Mirren came out, and without any warning, kissed me on the lips passionately, with her hand on the back of my head. Everything has been downhill from then." Colbert also said he shared a "really good kiss" with Andrew Garfield. When pressed about kissing Sally Field, he replied, "She's the Flying Nun—what do you want?"
(E! and Bravo are both members of the NBCUniversal family.)
Source: Read Full Article