Last season's trends for the aisle had a daintier touch, but this season, designers went for it–showcasing unapologetic, directional silhouettes that made a strong statement. Gone are the days of a bride only having 4 silhouettes and 5 fabrications to choose from when dressing for her wedding; these options, albeit fashion risk-taking, are bold choices without feeling close to costume.
Designers took risks this season–some more stark than others. Vera Wang showcased a collection entirely in color, opting to give brides more options than bridal white; Wes Gordon is now at the helm of Carolina Herrera, and his bride is slightly more youthful, playful and romantic than we've seen from the undeniably elegant house in seasons past. Naeem Khan went punk in his collection's styling, but showcased some key trends in the process; and up-and-coming designers like Danielle Frankel,Hermoine de Paula and the newly launched Galvan bridal range proved that you don't have to be an industry veteran to push the envelope. If you're planning a Spring or Summer 2019 wedding, take notes–these are the dress trends for next year's warm weather weddings.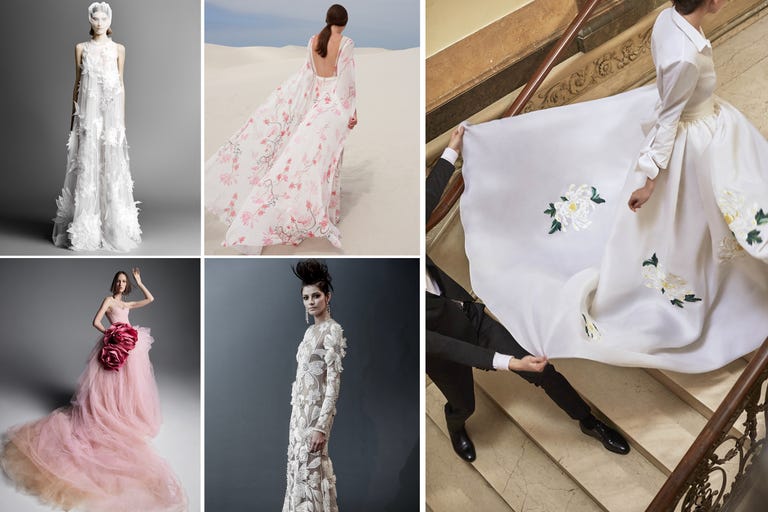 While petit fleurs dotted the dresses of seasons past, designers opted for a lusher take on florals this season. Rather than opt for an oversized bouquet, designers seem to prefer the idea of flowers taking center stage–from embroidered versions to plush appliqués. When styling this trend, keep the flora and fauna minimal elsewhere–read: skip the flower crown (in fact, skip those altogether, no matter what you wear) and opt for a petite nosegay for your clutch.
Pictured (clockwise from left): Viktor & Rolf Mariage, Hermoine de Paula, Carolina Herrera, Vera Wang Bride and Naeem Khan Spring 2019 Bridal.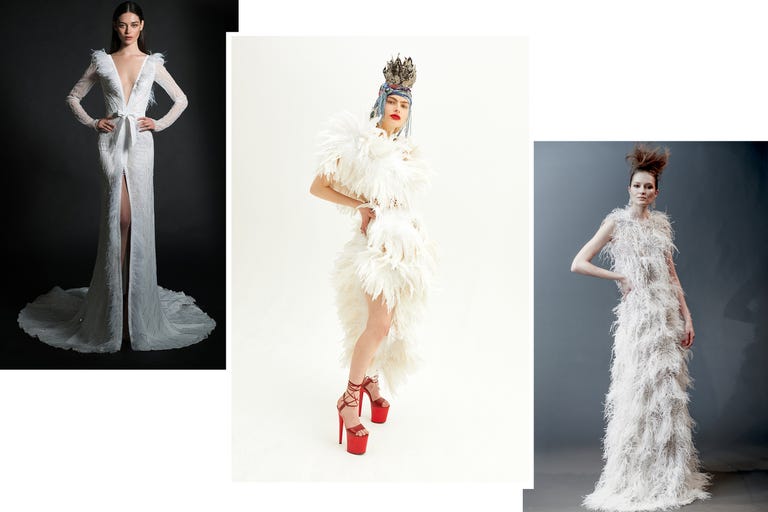 Feathers have been around the bridal world for seasons, but these posh plumes feel like a stronger statement than the frothy hints of marabou trimmings and boleros we've seen before. This season, feathers feel more sculptural and gestural, taking the place of architectural elements and all-over embroidery. Style these pieces subtly–going overboard will put you on the fast track to looking too theatrical.
Pictured (from left): Inbal Dror, Vivienne Westwood by Andreas Kronthaler and Naeem Khan Spring 2019 Bridal.
Quick changes for reception and after parties have been on our radar, but for 2019, brands seemed to consider civil ceremonies more than any other wedding-adjacent event. While after party dresses feel right for dancing and basking in the limelight, a courthouse look should feel simple, elegant and more ladylike than attention-grabbing. Whether you opt for a chic set of separates or a proper suit, designers of all aesthetics delivered their visions for making it legal. The result? Sophisticated and sweet.
Pictured (from left): Lela Rose, LEIN, Mira Zwillinger, Carolina Herrera and Elizabeth Fillmore Spring 2019 Bridal.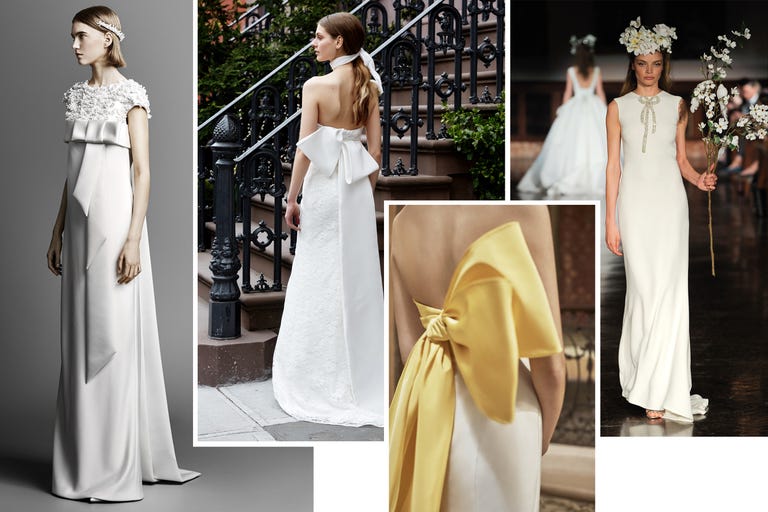 Bows? For Bridal? Groundbreaking. This trend on its own doesn't seem so shocking, but in this scale, it feels fresh and unexpected. While in the past trimmings and waistlines were adorned with this feminine touch, 2019 is calling for bolder add-ons–and for these fastenings to become focal points rather than finishings.
Pictured (from left): Viktor & Rolf, Lela Rose, Carolina Herrera and Reem Acra Spring 2019 Bridal.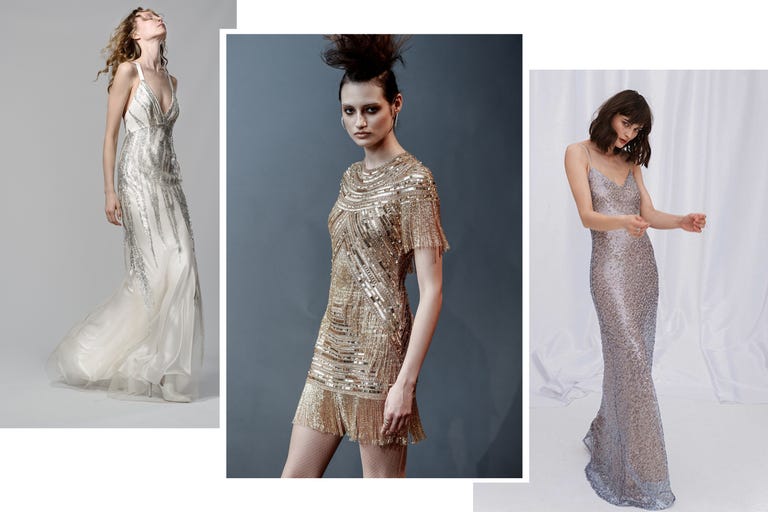 Festive occasions call for something, well, festive–and ample doses of sparkle feel spot on for the aisle, when all you're looking to do is pop champagne and dance the night away. While subtle gilding is chic, these edgier color ways are replacing pastels for the bride looking to infuse a hint of color without donning brights.
Pictured (from left): Elizabeth Fillmore, Naeem Khan and Galvan Spring 2019 Bridal.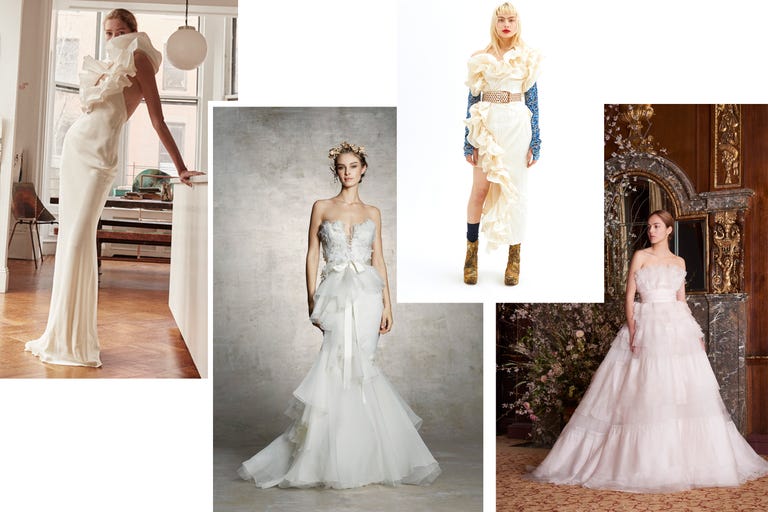 Whether you're after this look in the form of a flamenco-style silhouette, a tiered petticoat-inspired skirt, a design detail that helps eyes gradually work their way down your enviable frame or a single, standalone feature on an otherwise simple look, ruffles are going nowhere anytime soon. Seen in countless iterations in the latest collections, these super-femme layers are as versatile as they are voluminous, and allow brides to find their style within the scope of a fashion-forward trend.
Pictured (from left): LEIN, Marchesa, Vivienne Westwood by Andreas Kronthaler and Monique Lhuillier Spring 2019 Bridal.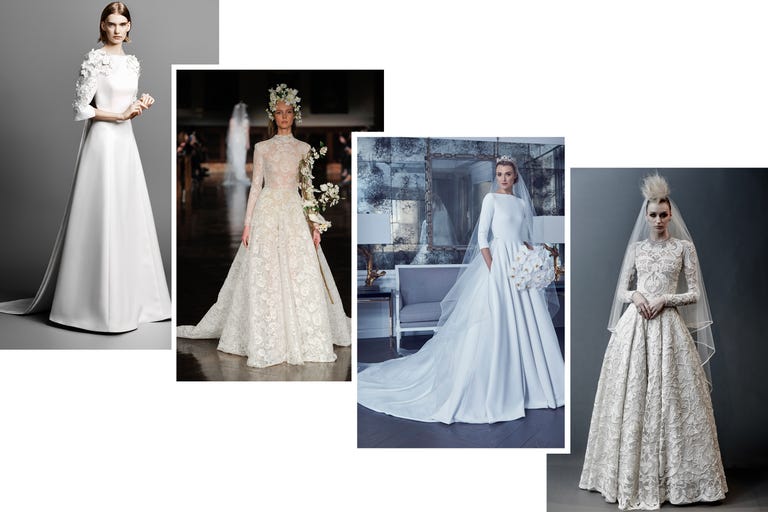 The royal wedding is on the horizon, and designers are feeling the excitement for all things regal, elegant, sophisticated and conservative-with-a-twist. While Meghan Markle's gown still remains under wraps, almost every designer offered up a traditional style that could suit the future Duchess–or you, after you swoon over whatever she wears down the aisle on May 19th.
Pictured (from left): Viktor & Rolf, Reem Acra, Romona Keveza and Naeem Khan Spring 2019 Bridal.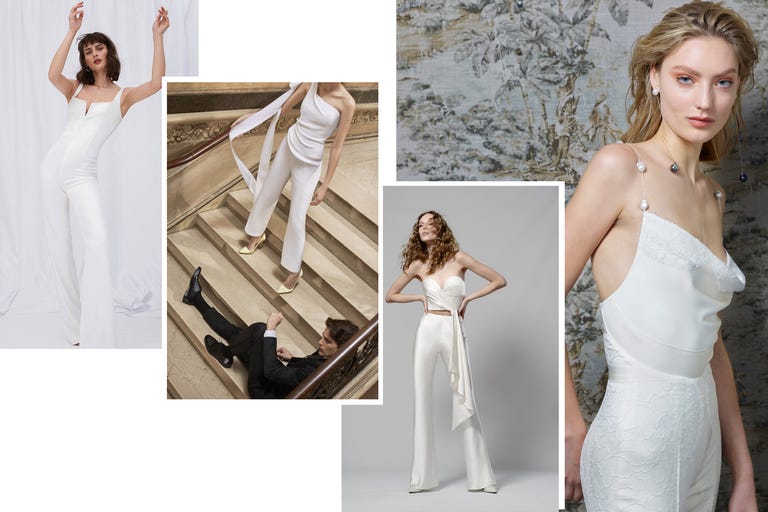 Bianca Jagger-style pantsuits still have their place, but jumpsuits have taken a more tailored, sophisticated turn this season. These pieces are no longer just sexy looks for the after party, but sharp enough for a civil ceremony, rehearsal dinner or engagement fete. Before creating an entire wedding wardrobe of dresses and gowns, consider this trend, which is just as streamlined, feminine and elegant as a sleek sheath.
Pictured (from left): Galvan, Carolina Herrera, Elizabeth Fillmore and Danielle Frankel Spring 2019 Bridal.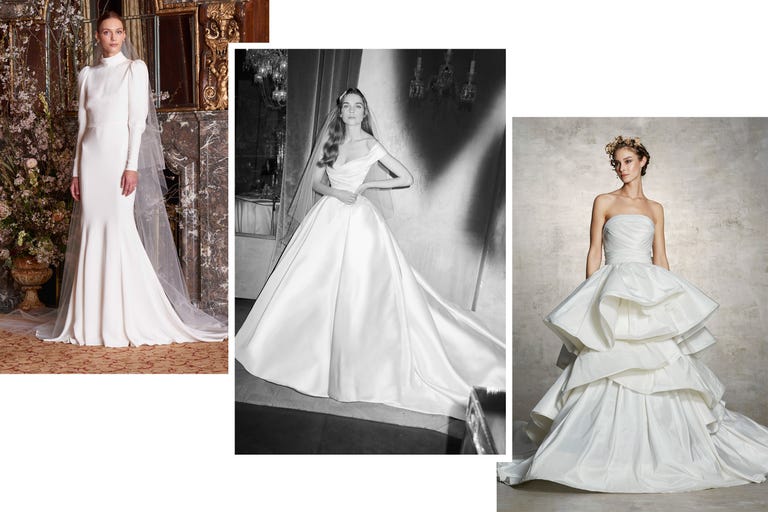 While all-over beading, loads of lace and endless appliqués have their place, this season showcased more and more completely unadorned gowns that still manage a wow factor simply based on style and silhouette. From slip dresses to super-full and layered skirts, most designers included an ode to minimalism in their collections this season, leaving brides the ability to keep things simple and sophisticated without the need for added glitz.
Pictured (from left): Monique Lhuillier, Elie Saab and Marchesa Spring 2019 Bridal.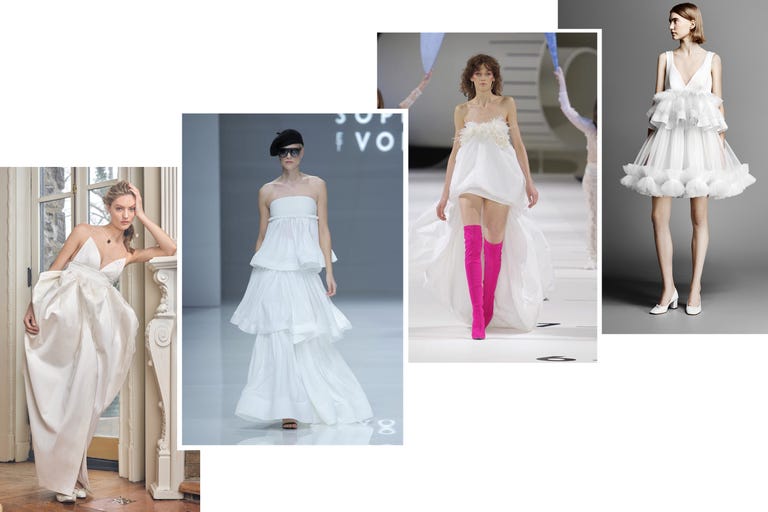 Shock and awe–turns out, gowns don't only come in waist-cinching styles. In fact, a blouse out from the empire waist is easy-to-wear, outside-the-box and a risk worth taking.
Pictured (from left): Danielle Frankel, Sophie et Viola, Yolan Cris and Viktor & Rolf Spring 2019 Bridal.
Source: Read Full Article