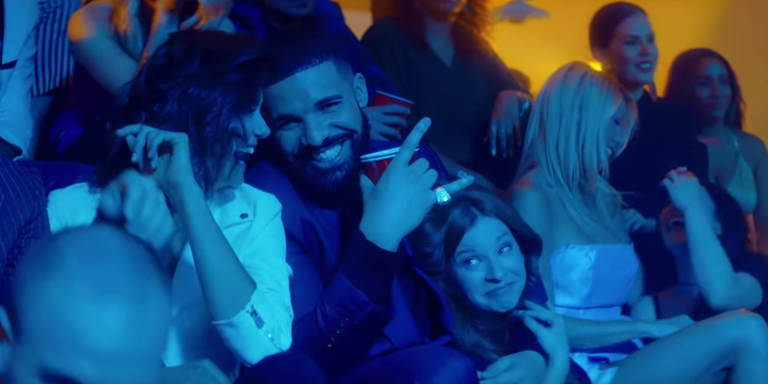 It has been a month for Drake, which was mostly due to his beef with rapper Pusha-T, but a month nonetheless. In happier news that doesn't involve what's allegedly happening with his family, Drake just announced he's releasing a new album and dropped a music video that'll give you all the nostalgic feels.
In the video for "I'm Upset," Drake's song about being upset, his former Degrassi costars join him for their high school reunion at the Degrassi Community School gym.
Degrassi alums like Nina Dobrev (Mia Jones), Jake Epstein (Craig Manning), Lauren Collins (Paige Brooks), and Shane Kippel (Gavin "Spinner" Mason) all party with Drake throughout the night and get into some crazy antics. There's also a drug deal featuring Jason Mewes and Kevin Smith (Jay and Silent Bob), a fight scene, a fire, and a ton of hooking up, puking, photo ops.
Just your regular degular reunion, I guess?
Oh yeah, and Drake's new album, Scorpion, comes out on June 29. Please, just no more diss tracks! It's tew much!
Source: Read Full Article