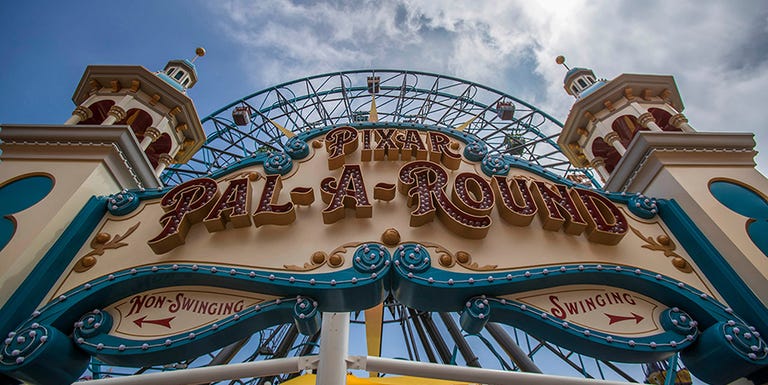 As if you needed another reason to want to visit Disney's amazing theme parks, they just one-upped themselves and added more inclusive and updated attractions.
Starting on June 30, Disney World in Orlando, Florida will open Toy Story Land, which is going to be so gigantic it'll make you feel like a toy. That's exciting in and of itself, but Disney is hitting us with a dash of inclusiveness and just announced there will be life-size Green Army characters and made sure some of them will be women. According to a Disney spokesperson, it was the right thing to do so everyone can feel included when they're in the park and going through the optional Green Army Patrol boot camp, which involves some "funny exercises."
And across the country in Anaheim, California, Disney unveiled the new Pixar Pier (previously known as Paradise Pier) in the California Adventure theme park.
Pixar Pier opened last weekend, but for those who haven't been able to make it to the West Coast just yet, this video peek into the park will get you insanely excited for your next trip to Disneyland.
The giant ferris wheel that was already in place and has moving gondolas got a Pixar update – each gondola is decorated with a Pixar character, including Russell from Up and Mr. Incredible from, duh, The Incredibles. And for a healthy dose of nostalgia, there's an A Bug's Life-themed bean bag game.
But the most noticeable difference is the Incredicoaster, which is basically the same as the California Screamin' loop ride, except it has a storyline now. For the ride, Edna Mode is supposed to be babysitting baby Jack-Jack, but he escapes so his family of superheroes has to use all of their combined powers to find him.
If games and rides aren't your thing, you can always chill out and enjoy some Pixar-themed food, liked the chicken shop inspired by the Toy Story short, Small Fry, or indulge in some churros at Señor Buzz Churros.
But, c'mon, you can't go all the way out to California Adventure and not ride the rollercoaster or ferris wheel!
Source: Read Full Article