Between 1976 and 1986, Joseph James DeAngelo committed multiple crimes including rapes, murders, and burglaries throughout Northern California. Now, years later, the man dubbed the "Golden State Killer" is finally in police custody.
Here's what we know about his life, including the one man who may have served nearly 40 years for one of DeAngelo's crimes (check out page 7).
Police arrested DeAngelo more than 30 years after his crimes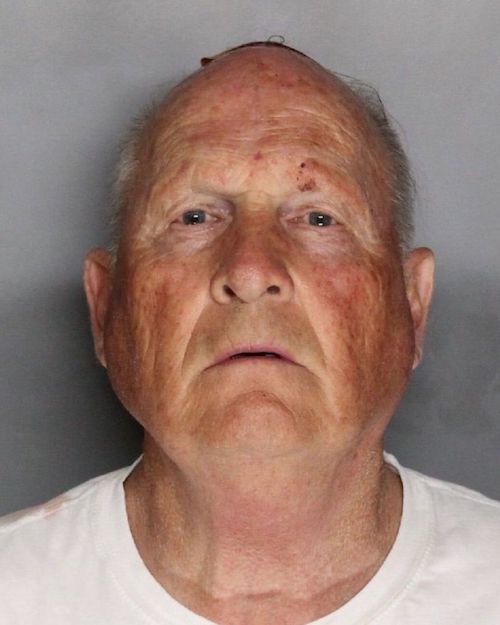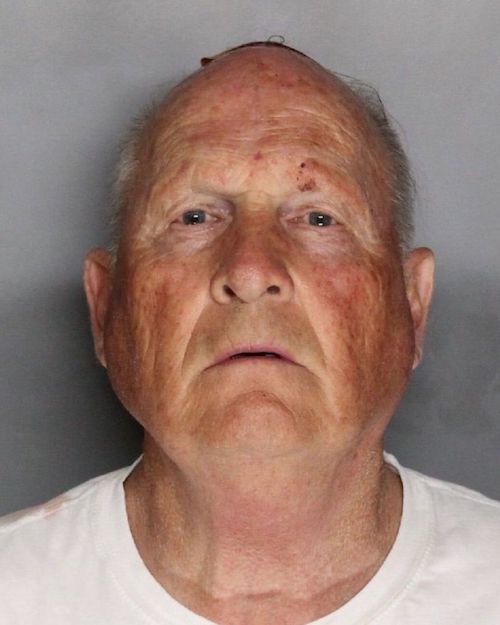 DeAngelo was arrested at his home. | Sacramento County Sheriff's Department via Getty Images
On April 24, 2018, more than 30 years after DeAngelo's crime spree had stopped, police arrested him at his home in Citrus Heights, California. DeAngelo lived in close proximity to where some of his worst crimes were committed. But he lived undisturbed for years following the rapes, burglaries, and murders. Despite his age, police used caution when approaching his home.
Next: DeAngelo was in the middle of cooking when police arrived at his home. 
DeAngelo told police he had a roast in the oven
He seemed oddly concerned about his food being in the oven. | Elijah Nouvelage/AFP/Getty Images
DeAngelo was not expecting police to arrive at his home on a sunny Tuesday. In fact, he was shocked when he realized he'd been caught. He even told the police he had a roast in the oven and couldn't leave it. The police said they'd take care of it and arrested him. ABC News reported that he was arrested without incident. According to CNN, DeAngelo had guns in his home, warranting extra caution from the police.
Next: Neighbors didn't have great things to say about him. 
Neighbors said DeAngelo was a recluse
His neighbors would have never suspected he was a wanted criminal. | Justin Sullivan/Getty Images
Those who lived near DeAngelo said they never saw much of him, and he wasn't too friendly. One woman told ABC News that she walked past the home frequently but never saw him. Another neighbor said despite the breaking news, she has always felt safe living in the area. CCN reported that he would yell at sometimes yell at the neighborhood children if he believed they were looking in his yard as they walked by. But neighbors said besides being a recluse, they wouldn't have suspected him as a killer.
Next: DeAngelo lived with his family at the time of his arrest. 
He has three daughters, and one recently moved in with him
He was living a normal life. | Justin Sullivan/Getty Images
DeAngelo had recently welcomed family members to live with him before his arrest. One neighbor told CNN that DeAngelo has at least three daughters. There was no word on the mother of his children, but the kids had all grown up and moved out, according to the neighbor. Recently, though, one daughter moved back to DeAngelo's home with her child. He was living with at least this daughter and granddaughter, but neither were home when he was arrested.
Next: His former employer never saw any sign of criminal activity. 
He worked as a mechanic at a grocery store before retiring in 2017
He had managed to reach retirement. | Justin Sullivan/Getty Images
After DeAngelo's crime spree ended, he lived a fairly normal life. Besides raising three children, he worked as a mechanic at the local grocery store, Save Mart. He retired in 2017 after 27 years on the job. Victoria Castro, a spokesperson for the grocery chain, said that none of DeAngelo's behaviors on the job would have led her to believe he was a killer. She said they were now cooperating with authorities, but they never suspected him of committing any crimes.
Next: DeAngelo's former employment contributed to his crime tactics. 
DeAngelo was a former police officer, which contributed to his tactics
DeAngelo's case has received wide media attention.  | Justin Sullivan/Getty Images
DeAngelo was a California police officer for six years, beginning in 1973. He was fired after he was accused of stealing a hammer and dog repellent. Some crimes were likely committed while he was still on the force. But police think his law enforcement career played a role in it being so hard to catch him. Police said he was smarter than the average person when it came to his tactics and techniques. He knew how to avoid getting caught.
Next: Now, the man who served time for one of DeAngelo's accused crimes is speaking out. 
Now, one man who spent 38 years in jail for one of DeAngelo's murders wants justice
His arrest led to the release of an innocent man. | Justin Sullivan/Getty Images
Craig Coley, the former boyfriend of Ronda Wicht, one of the suspected victims, was jailed for 38 years for a crime he did not commit: murdering both Wicht and her four-year-old son. Coley was released at 70 years old after new DNA evidence found he could not have committed the crime. California agreed to pay him $1.9 million, but he still wants justice for his former girlfriend and her child. "It's not something you can describe other than it's painful," Coley told The Washington Post. DeAngelo is suspected of the murder, but nothing has officially tied him to the crime scene.
Check out The Cheat Sheet on Facebook!
Source: Read Full Article