Michael Che and Colin Jost are hosting the 2018 Emmy Awards, and, though it's their first time hosting a major awards show, the Saturday Night Live head writers are certainly up to the task. Che and Jost are best known as the hosts of Weekend Update, which means that a lot of fans are going to be expecting things to get political, and that means a few jokes at the President's expense. Michael Che and Colin Jost's political jokes at the 2018 Emmys didn't come as a surprise, but what was surprising was how little they actually mentioned President Trump by name.
Leading up to the Emmy Awards, Che and Jost were noncommittal whenever they were asked about how politics would fit into the show. They joked about being political in their very first promo for the 70th Emmy Awards released in August, suggesting that they won't be as political as some might think they will be. And on Friday, Sept. 14, in an interview with the Associated Press, Jost admitted they weren't sure how the show would play out. "We don't totally know yet because we don't even know what's going to happen over the weekend politically. There might be some, and there might not," said Jost. Che added, "There's gonna be political jokes. And we're gonna come out on the wrong side of history, for sure. We're aiming toward it." And, boy, did they deliver. Granted, it doesn't seem like Che or Jost will end up "on the wrong side of history," at least not for their political jokes.
The First Emmy Awards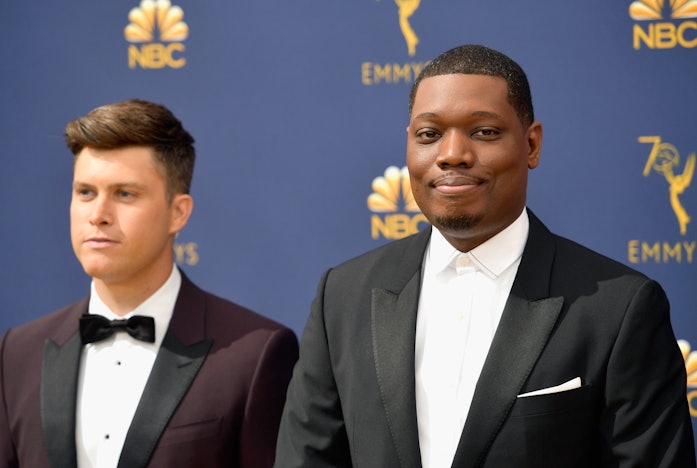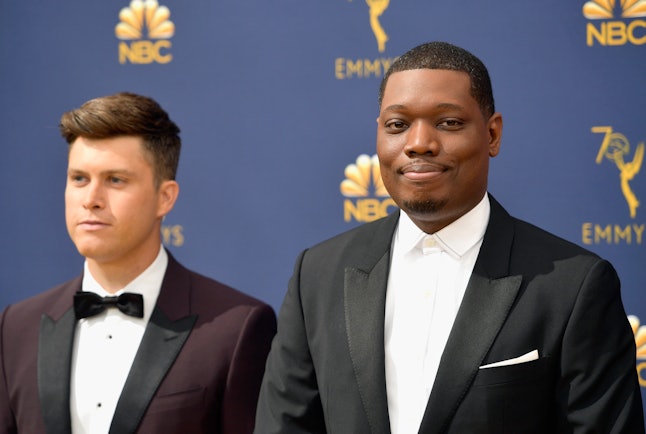 In their opening monologue, Che and Jost looked back at the first Primetime Emmy Awards, which took place in 1941. "Things were different back then," Jost lamented, citing the cheaper price of gas and houses, before adding, "And we all agreed Nazis were bad." The line was, of course, a reference to Trump's comments post-Charlottesville, in which he seemed to defend white supremacists marching in the "Unite the Right" rally.
The Apprentice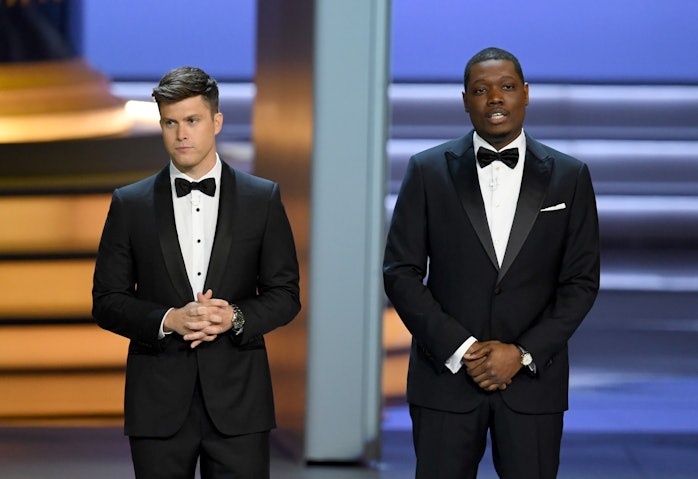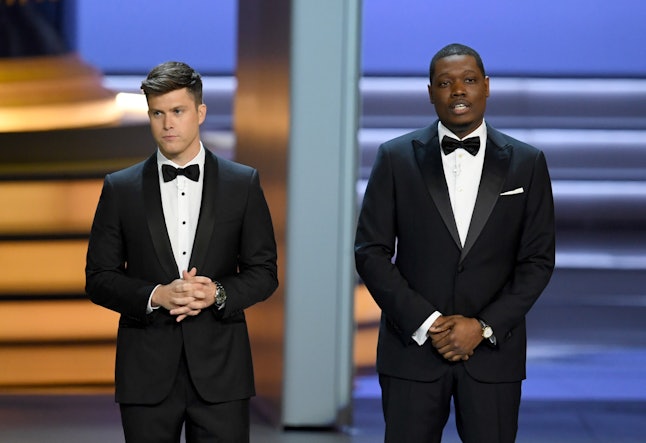 Jost and Che took a dig at Trump's reality television fame, nothing President Barack Obama and Michelle Obama's new contract with Netflix, saying, "The Obamas have their own production deal at Netflix. My dream is that the only thing they produce is a better version of The Apprentice, but has better ratings."
More to come…
Source: Read Full Article