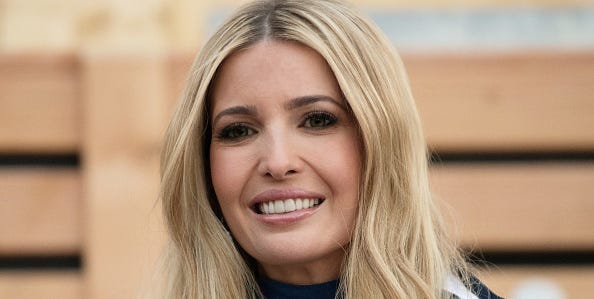 Ivanka Trump's clothing and shoe line used to be a popular choice among shoppers looking for on-trend styles, but once her dad, Donald Trump, ran for president and was elected, sales dipped as a result of campaigns to have stores drop the label. Stores like DSW, Nordstrom, and Neiman Marcus dropped items and select categories from her label or reduced accessibility to the brand around the same time. It looks like those sales never recovered because her fashion line is officially shutting down.
According to Page Six, the company's staff are being laid off and the company will close "ASAP."
However, the brand's president, Abigail Klem, said sales remained strong through the past year. In a statement, Klem said, "We've seen strong sales since the brand's inception, which continued through this year with the successful launch of our rapidly growing e-commerce business."
In July 2017, Ivanka announced she would leave the company to focus on her senior advisor role in Washington D.C. and to work alongside her dad. At the same time, she announced she'd no longer work with the Trump Organization, which controls the hundreds of businesses that Donald owns. "I will no longer be involved with the management or operations of either company," she previously said in a Facebook post from 2017.
In 2017, it was estimated that the Ivanka Trump brand was worth $100 million, and a Page Six source said, "It's just never recovered since she stepped away from the company."
A spokesperson from the fashion line stated the closure had nothing to do with performance or sales but was solely based on Ivanka's choice to remain in Washington D.C.
As reported by CNN, Ivanka released the following statement about her company's shut down:
A spokesperson also said the brand will be sold at Lord & Taylor, Dillards, Bloomingdales, and Amazon, in addition to other retailers.
Source: Read Full Article