From body slams to scissor-holds, John Cena has had his share of victories and defeats in his action-filled career. But in his personal life, the 15 time WWE champion is grappling with a different loss, namely a recent breakup with his fiance Nikki Bella.
It was saddened Cena who posted news of the split that became official. Although he provided no reason for why the engagement was called off, a tweet posted the previous week provided some clues that the relationship was on a head-on collision with a turnbuckle.
"No one is perfect, but if you happen to do something to make someone feel bad, TAKE ACCOUNTABILITY for your actions, APOLOGIZE, and ASK FORGIVENESS," wrote Cena.
The two provided a media statement on Sunday that the breakup was official, although they still had a great deal of mutual respect. They also pleaded for privacy in the wake of the split. A spokesman for the couple later confirmed the couple had gone their separate ways after six years together.
It's a sad conclusion to what was a storybook beginning for wrestling fans. Back in 2017, Cena proposed to Bella, also a WWE Superstar and former champion in her own right, in the ring at WrestleMania 33. There has been rampant speculation over what went wrong in the relationship, including one account that Bella wanted to get married and have children, a life path that apparently didn't go over well with Cena. He reportedly also wanted her to ink her signature to a 75-page contract before he would agree for her to move in with him.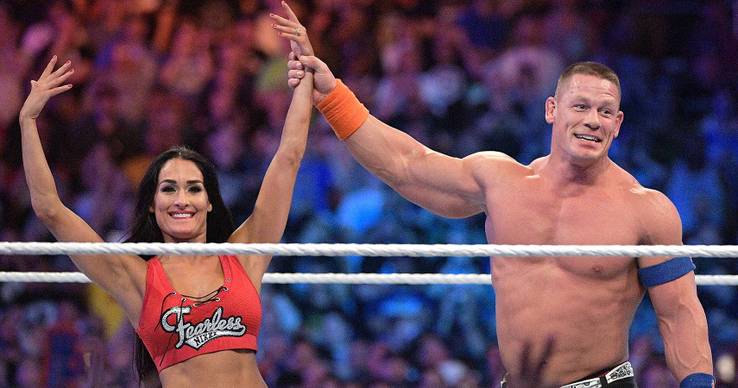 Although Cena's former better half hasn't commented on the breakup, her twin sister Brie Bella said on social media that there would always be a special place in her heart for Cena. She also claimed Nikki refuted a rumor that she wanted to kill her former husband-to-be, and wished the wrestler and actor well.
Cena is one of WWE wrestling's biggest attractions, ranked third overall in terms of personal worth at $35 million (behind Steve Austin at $45 million and The Rock at $70 million). As an actor, he also had a major role in Blockers released earlier this year and has starred in other outings including Trainwreck, The Reunion, and The Wall, while also landing the lead role in the upcoming Transformers spinoff, Bumblebee.
Success notwithstanding, friends indicate that Cena is devastated over losing his fiance. In one tweet, he quoted poet Walt Whitman as a source for his self-healing.
"Keep your face always toward the sunshine—and shadows will fall behind you," posted Cena.
Source: Read Full Article