Since becoming a household name on The Office back in 2005, actor John Krasinski has come a long way to attaining a striking physique. It's almost difficult to recall his boyish charm from the long-running sitcom these days. Given the more serious roles he's taken on since The Office ended, it's understandable that Krasinski would want to develop a more muscular figure.
Moviegoers saw hints of Krasinski developing a better-looking body during his run of The Office, when he took on a role in the sports flick Leatherheads. In a recent interview with Men's Health, Krasinksi admitted to beginning small bouts of strength training, intermixed with stints of cardio. In hindsight, this started his fitness journey to developing a stronger, sexier body.
RELATED: THE BEST CELEBRITY WORKOUTS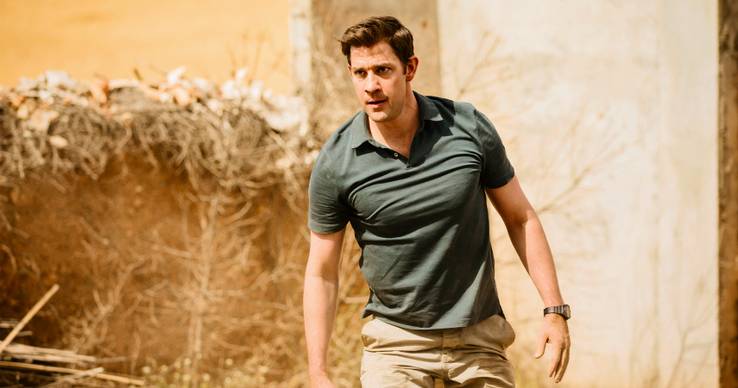 In 2015 — two years after The Office ended once and for all- Krasinski landed the role of an Air Force pilot in the romantic comedy Aloha. It was here, while preparing for this role, that Krasinski hooked up with personal trainer Jason Walsh. Walsh put the actor on a hardcore strength training routine that consisted of heavy squats, rows, pulls, and presses to get him in serious shape for a change. By the next year, Krasinski and Walsh focused on upper body training while the former prepared for the role of a Navy SEAL in 13 Hours. Metabolic circuits and core finishers helped Krasinski's abs take a stronger, more carved up shape.
More recently, Krasinski leaned out for the titular role in the upcoming Amazon-produced TV show Tom Clancy's Jack Ryan. Now working with personal trainer Simon Waterson, Krasinski trains three times a week. The idea here is to stay in shape, rather than look shredded.
To achieve a physique like Krasinksi's, Waterson suggests alternating workouts from push-and-pull days to leg days to keep things fresh. In addition, adding moves such as bicep curls or skull crushers will create definition. Keep your strength in check by doing one-rep max moves on a regular basis. All of this will not only help you lose weight but will also help gain muscle and tone up in key areas of your body.
RELATED: TRAINER DESIGNS WORKOUT TO TARGET EVERY BODY PART
Source: Read Full Article