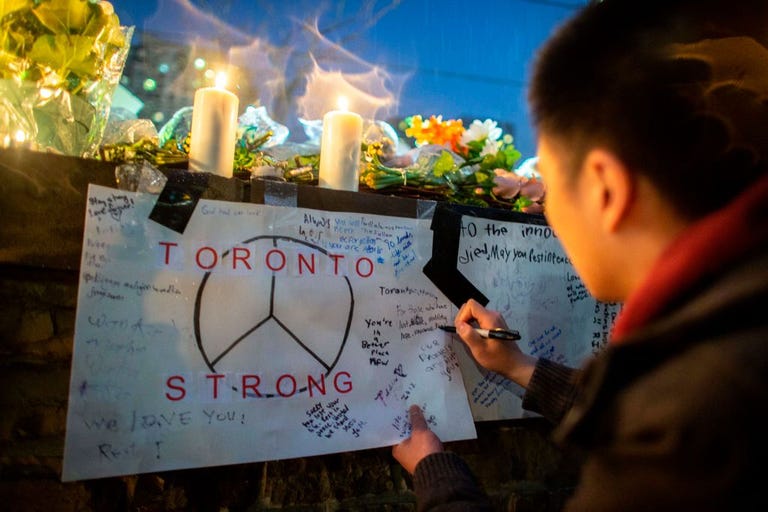 A van drove through a busy thoroughfare in Toronto on Monday, leaving 10 people dead and another 15 injured. Authorities arrested the man they say was the driver, 25-year-old Alek Minassian, and believe the attack was deliberate. The victims of the attack were mostly women.
Within hours of Minassian's arrest, a screenshot that's confirmed to be from his Facebook page began circulating online. In the post, Minassian mentions something called the "incel rebellion," and refers to Elliot Rodger, the 22-year-old man who killed six people in California in 2014, as "Supreme Gentleman Elliot Rodger."
We've just obtained this Facebook post from the accused Alek Minassian, suspected in the #yongeandfinch mass casualty. Posted early this afternoon. FYI Incel=involuntarily celibate. Elliot Rodger killed 6 ppl at UCSB in 2014 before killing himself @globalnewsto pic.twitter.com/W84xt3D85I
We Hunted the Mammoth, a website that reports on "white male rage," reported Tuesday that online forums of "incels" have already started claiming the mass killing in Toronto as their own. If the word "incel" looks familiar, it may be because Reddit began banning incel groups on its site last year, after online petitions drew attention to several subreddits that referred to Rodger as "Saint Elliot," and praised him for his killings.
Now, the misogynistic subculture that operates primarily online is garnering renewed interest in the light of the Toronto van attack and Minassian's surfaced Facebook post.
What are "incels?"
"Incel" is short for "involuntary celibates," or men who aren't having sex, against their will. The term was actually coined by a woman in Toronto in the 1990s, though she never intended for it to be adopted by male hate groups.
The Southern Poverty Law Center, which closely tracks hate crimes, says incels are a new part of the "online male supremacist ecosystem," and added "male supremacy" to its list of hate-motived ideologies earlier in 2018. Incels commonly advocate for violence (usually rape) against women.
The SPLC also reports that incels seem to have grown out of the pick-up artist movement. "To an incel, sex is a basic human right for all men," Rachel Janik writes. "So the women who deny them that right are committing a heinous — and punishable — crime."
In a nutshell, incels are the latest form of a pervasive and toxic culture of misogyny that has always existed.
What is the "incel rebellion" Minassian posted about?
That feminism is oppressive and women deserve violence are essential pillars of incel beliefs. On the various online forums where incels congregate, members often post about an "incel rebellion" or "incel revolution," which the New York Times reports to be an uprising of incel beta males to overthrow feminism in society.
In his reporting for We Hunted the Mammoth, David Futurelle found other mentions of a forthcoming incel revolution on incel forums. These attacks, all extremely disturbing, range from things like mass rapes and mass food poisoning, all targeted at women.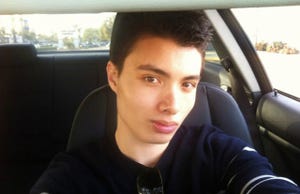 How do Elliot Rodger and Alek Minassian tie into this?
Futurelle reports that incel forums often mention "ER" or "ER-style," which is a reference to Elliot Rodger. After his killing spree in California, a manifesto written by Rodger, as well as videos he posted to Facebook, revealed a strongly held misogyny that motivated his attack. Rodger threatened punishing women who denied him sex and didn't want to be his girlfriend.
Reddit began shutting down and banning incel subreddits after an online petition drew attention to the forums praising Rodger and his attack. That same praise still lives off Reddit, on incel forums like those identified in Futurelle's reporting.
Though Minassian is still only a suspect in the Toronto attack, and while it's not yet clear whether he personally identified with the incel label, those same forums are now praising his attack in a similar way.
Follow Hannah on Twitter.
Source: Read Full Article