Key posts
What can we expect from the red carpet?
Remind me again – who's nominated for an award?
Have your say: which film do you want to win best picture?
Out-performing 'the boys': how the Oscars' best actress contenders rate this year
How do you win an Academy Award?
What's going to win best picture? Our critics rate the Oscar contenders
Meet Andrew Jackson, Australia's best hope for an Oscar this year
How will COVID affect this year's Oscars?
Live from the red carpet
Good morning, it's Melissa Singer, national fashion editor, reporting on the Oscars red carpet (in Uggs and trackies, natch). Our film expert, Karl Quinn, will be joining us closer to the ceremony kick-off at 10am but in the meantime, I will be stepping you through the chiffon bonanza.
According to the oracles, aka the hosts of E!'s red carpet broadcast, red may be a top trend tonight. Seems fitting given the dearth of red carpets over the past 12 months.
I'll also be playing Aussie designer bingo; E! host Nina Parker scores an early point in a gown by Bec Judd's favourite couturiers, J'Aton.
Check back here often for the latest arrivals and, later this morning, a gallery of all the stars.
Martin Desmond Roe (left) and Travon Free arrive at the Oscars.Credit:AP
Remembering a red carpet great
The fashion world is in mourning following the loss of designer Alber Elbaz, who died aged 59 from COVID-19, according to reports on Sunday, Australian time.
Elbaz, who revived the house of Lanvin in the 2000s, dressed many an Academy Award winner, including Meryl Streep, who accepted her 2012 Oscar in one of his designs. Other celebrity fans of his work included Nicole Kidman, Natalie Portman and Tilda Swinton.
The Met's Costume Institute paid tribute to Elbaz on Monday with a post on Instagram honouring his "dexterity and skill with which he created fashions that provided ease and inspired confidence for the wearer".
Read our full report on the passing of Alber Elbaz.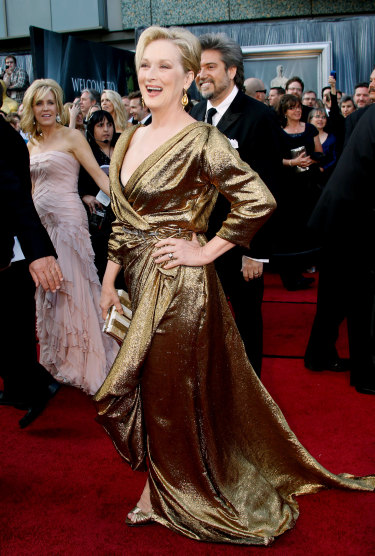 Meryl Streep in Lanvin at the 2012 Oscars.Credit:Getty
Why are the Oscars being held at a train station?
The Oscars are usually held at the iconic Dolby Theatre in Los Angeles but this year, due to COVID, the producers wanted a different vibe, something more cinematic, and have chosen the art deco Union Station, in the heart of Downtown.
Now, before you go thinking this is like staging the Logies at Melbourne's Southern Cross or Sydney's Central, Union Station has a stunning facade (take notes, state governments) and is dotted with internal gardens and an array of public art.
According to reports, the station will be business as usual during the ceremony, meaning commuters may catch a glimpse of their favourite stars as they board the Amtrak (although being a Sunday evening, there should be less passenger traffic than usual).
The Wall Street Journal reported: "On Sunday, nominees and their guests will sit together at designated tables of two to four – with no inter-table mingling allowed inside the station's grand Ticket Concourse."
Film buffs may recognise the station from movies including The Dark Knight Rises and, of course, Bladerunner.
The red carpet is rolled out at Los Angeles' Union Station for the Oscars.Credit:AP
What can we expect from the red carpet?
With the ceremony divided between Los Angeles and, well, everywhere else, there will be a red carpet of sorts for the presenters giving out awards, who include Zendaya, and nominees who could get themselves to the event under COVID protocols. Basically, this means no Zooming (so 2020!).
That said, we are sure many stars who cannot make it to LA will use social media to have their own Oscars "moment", as many have in heavily styled shoots throughout the awards season (see exhibit A, below, for one of Maria Bakalova's efforts).
While we don't know how formal some Hollywood stars will go, do not expect to see hoodies a la Jason Sudeikis at the Golden Globes. Broadcast producers Steven Soderbergh, Stacey Sher and Jesse Collins wrote to nominees last month, laying down some guidelines for the dress code: "We're aiming for a fusion of inspirational and aspirational, which in actual words means formal is totally cool if you want to go there, but casual is really not," they said.
As for whether the stars need to don masks, the answer is no. As the Oscars is considered a TV production, there is an exemption, though social distancing will be maintained on the red carpet at all times, which means this could take a while.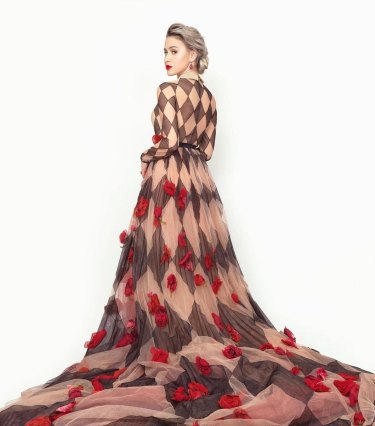 Maria Bakalova in Dior for the Screen Actors Guild Awards.Credit:Instagram
Remind me again – who's nominated for an award?
After a year in which the pandemic pulverised cinemas, the Academy Awards made history with two women nominated for best director – Chloé Zhao for Nomadland and Emerald Fennell for Promising Young Woman – and a strikingly diverse range of contenders. See all the nominations here.
Nominated for best director at the Academy Awards: Chloé Zhao for Nomadland and Emerald Fennell for Promising Young Woman.Credit:AP
Have your say: which film do you want to win best picture?
Out-performing 'the boys': how the Oscars' best actress contenders rate this year
Hollywood screenwriter Aaron Sorkin stirred up a hornet's nest seven years ago when he claimed that the winner of best actor at the Academy Awards routinely had to clear "a much higher bar" than the winner of best actress.
The creator of The West Wing who won an Oscar for The Social Network said Cate Blanchett gave a terrific performance to win for Blue Jasmine but "nothing close to the degree of difficulty for any of the five best actor nominees" that year.

This year's nominees for best actress, from left, Viola Davis in Ma Rainey's Black Bottom, Andra Day in The United States vs Billie Holiday, Vanessa Kirby in Pieces of a Woman, Frances McDormand in Nomadland and Carey Mulligan in Promising Young Woman. Credit:AP
In an email leaked by the hack on Sony Pictures, Sorkin said Jennifer Lawrence won an Oscar for Silver Linings Playbook for doing "what a professional actress is supposed to be able to do".
And while Helen Mirren and Meryl Streep could "play with the boys", Sorkin said there were not many tour-de-force roles for women. It was tough talk that now sounds strangely old-fashioned.
The five women nominated for best actress this year outperform what Sorkin called "the boys". Read more to see how we rate their performances. 
How do you win an Academy Award?
Even after recent dramas – #OscarsSoWhite controversies and the fiasco when La La Land was wrongly named best picture – an Academy Award remains the ultimate prize in the movie industry.
It's a validation of excellence that comes with more than 90 years of history, celebrity and glamour – as emotional as winning an Olympic gold medal for everyone from famous directors and actors to unknown visual effects technicians, make-up artists and the creators of animated shorts.
How do you win one of these?Credit:AP
Part of the cachet is mixing with the movie elite at a ceremony in Los Angeles every February or March (moved to April this year because of the pandemic). But Oscars are also famously hard to win. Some of the world's greatest filmmakers – Orson Welles, Alfred Hitchcock, Stanley Kubrick, Howard Hawks, Ingmar Bergman, Akira Kurosawa – have never won best director. And while it might change this year, American director Kathryn Bigelow is the only woman to have won.
To win an Oscar, you could rely on decades of dedication to your craft, hard work, smart career decisions, industry connections and plain good luck – but there are ways to boost your chances.
READ MORE
What's going to win best picture? Our critics rate the Oscar contenders
With the Academy Awards just days away, movie fans usually have a sense of what they think deserves to win best picture.
Last year, for example, the nominees were such widely-watched movies as 1917, Once Upon a Time in Hollywood, Joker, The Irishman, Ford v Ferrari, Marriage Story, Little Women, Jojo Rabbit and Parasite, which created history when it became the first foreign-language winner.
The 2021 best picture nominees (clockwise, from top left): Mank, Promising Young Woman, Minari, The Trial of the Chicago 7, Nomadland, Sound of Metal, Judas and the Black Messiah, The Father.
And if you like movies that speak to the times, they tackle some of the major issues of recent months – racial conflict, economic and social collapse in the US, the struggles of immigrants, toxic male behaviour – with a creative boldness.
The favourite to win is Chloe Zhao's Nomadland but, after a year in which nothing seemed to go as planned, an upset is definitely possible.
Ahead of the Oscars today, The Sydney Morning Herald and The Age critics Paul Byrnes, Sandra Hall and Jake Wilson have reviewed the best picture nominees – read their verdicts here.
Meet Andrew Jackson, Australia's best hope for an Oscar this year
Crashing a plane into an airport terminal, a high-speed car chase in reverse and an epic battle that had soldiers moving both forwards and backwards in time.
The audacity of Christopher Nolan's time-bending Hollywood blockbuster Tenet has made visual effects supervisor Andrew Jackson Australia's best chance at the 93rd Academy Awards today.
Visual effects supervisor Andrew Jackson on the set of Tenet.Credit:Warner Bros
Jackson's rivals for best visual effects include four Australians who worked on the Netflix sci-fi movie Love And Monsters – Genevieve Camilleri, Matt Sloan, Matt Everitt and Brian Cox.
There will also be local interest in Sacha Baron Cohen, who is living in Sydney with wife Isla Fisher and their children. He is up for best supporting actor for the 1960s courtroom drama The Trial of the Chicago 7 and best adapted screenplay for the comic sequel Borat Subsequent Moviefilm.
While not everyone was entirely sure what was happening as John David Washington confronted an apocalyptic threat in Tenet, its dazzling visual effects have made it firm favourite at an unusually low-key Oscars, reflecting the devastation the pandemic has had on the movie business and the more-than-a-thousand new cases every day still in California.
READ MORE
Most Viewed in Culture
Source: Read Full Article