From the beginning, Netflix's GLOW has turned "catfighting" stereotypes on their heads, particularly when it comes to Debbie and Ruth. Though the former best friends fall out because Ruth sleeps with Debbie's husband, the second season underlines that they were never really just squabbling over a man. Ruth and Debbie's hospital fight on GLOW brings a lot of tension to a head, and it's a raw, relatable argument that gets to the root of how female ambition affects a friendship.
Spoilers ahead for GLOW Season 2. At the end of Season 1, there was a glimmer of hope for Debbie and Ruth's friendship — after crushing their surprise match in the Gorgeous Ladies Of Wrestling pilot, they were elated. Ruth asked if Debbie wanted to grab a drink, and Debbie responded that they weren't there yet. It was a healthy acknowledgement that there was still a lot of work to be done to repair trust between them, but the "yet" implied that they would get there eventually.
However, Season 2 almost destroys Ruth and Debbie's relationship completely. Debbie sabotages Ruth's date with Russell the cameraman. They fight about how Ruth handled an encounter with the head of the network. Then Debbie breaks Ruth's ankle in the ring — which was kind of not about Ruth, but it was also a little bit about Ruth. Season 2 layers its themes well, with the storylines in the ring mirroring what the wrestlers have going on in their outside lives. Before the ankle-breaking incident, Debbie snorted some cocaine because she was angry about having just met her ex-husband Mark's new girlfriend, his secretary. But of course, since the series opened with Mark and Ruth caught in an affair, Debbie's anger all circles back to Ruth in the end.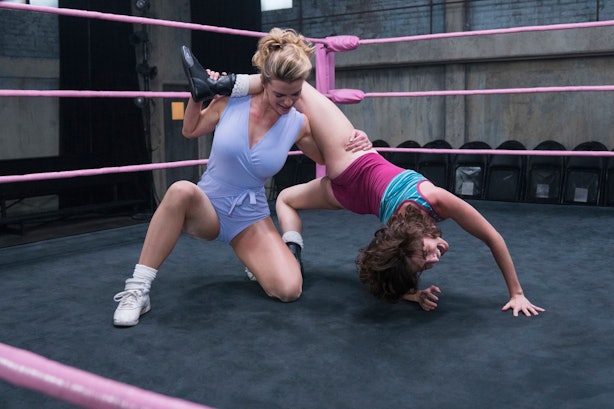 At this point in both the season and in their dynamic, it's tempting to wonder what it is about this friendship that makes it worth saving. By sleeping with her friend's husband, Ruth betrayed Debbie in a real way. Sometimes relationships are just irreparable. They're adults. Can't they just be coworkers? What keeps bringing Ruth and Debbie back to each other?
"I don't think [Debbie] and Mark had one of the great loves of the century," said actor Betty Gilpin in an interview with Vanity Fair. "But she and Ruth do. I think that both Ruth and Debbie, as actresses and young women, had to try on a million identities — if it's sexy lawyer at this audition, or if it's laughing, polite plus-one at this office Christmas party. You really have to cling to those female friends who really know your seven-year-old goofy self, because that person gets buried along the way of trying on all these different male-gaze hats. It's helpful to have someone on the way who says. 'Don't worry, I know who you are.'"
Even as they're shouting abuse at one another, you can tell that Ruth and Debbie each know who the other is. At some level, they love one another and want the other to be happy, and that all comes out in one fight in a hospital room. GLOW allows these women to be problematic in anger without judging them, and it confirms that the issue between them was never just Mark. The affair was just an inciting incident.
At the end of the episode, Debbie returns and signs Ruth's cast. In the season finale, Ruth's character Zoya takes the crown, and she and Debbie are off to Vegas with the rest of the GLOW cast. They may never be best friends again, and that's understandable, but they made important progress in Season 2. With their vulnerable fight, Ruth and Debbie gave themselves permission to stop tiptoeing around each other with their ambitions, and for two women with such big goals, that's probably a step in the right direction.
Source: Read Full Article