The following contains spoilers for Game of Thrones.
We already had plenty of feelings about Game of Thrones star Kit Harington's June 23 wedding to Rose Leslie and an even stronger reaction to former costar Richard Madden's kilt-clad appearance at the nuptials. Aside from the fact that they both looked incredible and seemed beamingly happy at the wedding, it was heartwarming to know that the former onscreen brothers remain close. But then, somebody took the joy we felt and turned it into a bittersweet feeling — and yes, we cried a little bit.
In a tweet on the wedding day, one fan pointed out an emotional connection between the men's Game of Thrones goodbye and their reunion at the wedding.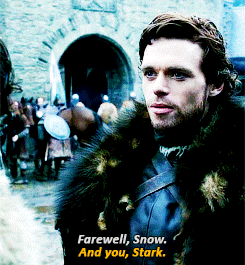 Image Source: HBO
When bidding Jon Snow farewell as he departs for the Night's Watch, Robb Stark tells him, "Next time I see you, you'll be all in black." Jon cheekily replies, "It's always been my color," and the brothers share an embrace before parting ways.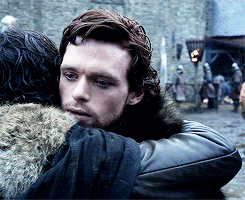 Image Source: HBO
As GOT fans are painfully aware, Robb Stark and Jon Snow never get to have a reunion, wearing black or otherwise — the eldest Stark child is brutally massacred during season three's infamous Red Wedding alongside his mom, new wife, and unborn child.
But at the wedding, where Harington wore a black morning suit to say "I do" to his now-wife, their parting words almost came true! Unlike his Night's Watch blacks, Harington's wedding suit also featured a forest green tie, cream vest, and gray striped slacks . . . but then again, Jon Snow's watch has ended.
While Robb and Jon may never reunite in the show or discover that they're not actually brothers at all, it's at least a bit heartwarming to know that Harington and Madden will have a "next time" to see one another. So let's rewrite their parting words, shall we? "Next time I see you, you'll be wearing a wedding band."
Awww! The sound of that is MUCH better.
Source: Read Full Article