Anyone who knows anything about Taylor Swift knows that 13 is her lucky number. So with exactly 13 days until her Reputation Stadium Tour kicks off in Glendale, Arizona, Taylor Swift teased the Reputation tour song list with her Instagram followers on Wednesday, April 25.
Swift was born on the 13th of December, turned 13 years old on Friday the 13th, her first album went gold in 13 weeks, and she's even scrawled the digits on her hand before many of her live performances. "Basically whenever a 13 comes up in my life, it's a good thing," she told MTV in 2009. But now she's almost making it a good thing for her Swifties.
After posting a new sneak peek of her rehearsal where she's striking a pose in a "Lovers" tee, paired with shorts and boots, the "Delicate" singer made fans' wildest dreams come true. "Hey, guys, so it's 13 days til the Reputation Stadium Tour so obviously you had to know I was going to like make a thing of that," she began in a series of Instagram stories. "I was thinking I'm so excited about the tour and I'm so excited to see you guys I was thinking maybe I'd tell you a fact about the tour once a day 'til the tour starts."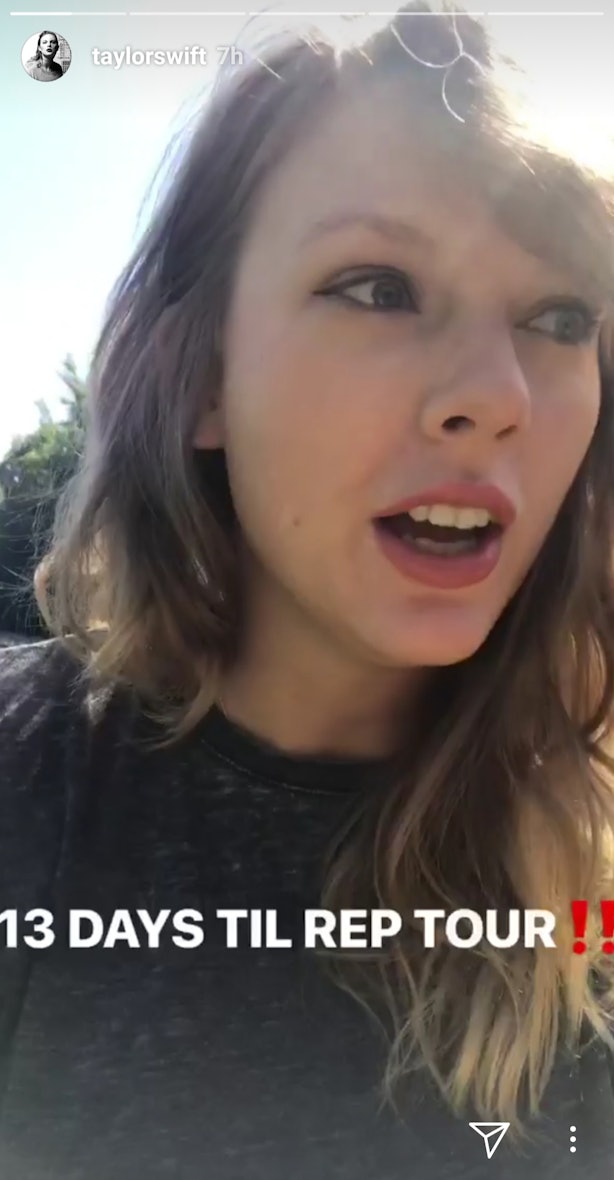 That was certainly music to our ears! Fact No. 1? Citing fans asking how many songs from previous albums she'd be playing on her international tour, she made the big reveal: "My count is 10," she said. "Really excited about playing stuff from Reputation, excited about playing stuff that is from previous albums, too."
As if we weren't already, Swift told fans to "just check back because every day I'm going to be posting something about the tour, just something that's going on, something at rehearsals … just check here and I will see you in 13 days."
The 10-time Grammy winner has already given some tiny behind-the-scenes looks on her social media accounts. The first look at the tour came in the form of a February 12 Instagram selfie where she stood by instruments and sound equipment with the caption "Repu-hearsals." That is, of course, unless you count the photo she shared her beloved cat Olivia Benson, with her leg pointed upward, under which she wrote, "We are all stretching to prep for that tour choreo."
While Swift has since posted more rehearsal shots (many of which feature her "overwhelmingly talented" dancers), we'll never really know what she'll do to wow crowds with until May 8. What we do know, however, is that she'll be joined by two female powerhouses: Camila Cabello and Charli XCX whom she announced as her opening acts on March 1.
"I've been wanting to tell you this for a really long time," the 10-time Grammy winner exclaimed in the video posted to both Twitter and Instagram. "I'm really excited. I hope you are too and I can't wait to see you. Can't wait to see them. Really excited just about the whole thing in general."
If her past tour stops at gigantic venues are any indication, fans can expect to feel close to the singer — even if they're in the nosebleeds. "The challenge with a stadium show is making those people in the very top row feel like they got an intimate, personal experience," she told Time before departing on her 1989 tour in 2015. "On the Red tour we achieved that sense of intimacy by having acoustic moments, and moments where I was telling stories about these songs. I don't like to scream at the audience, I like to talk to them."
And what would one of her shows be with some over-the-top moments? "I really like for there to be something theatrical about what we do on stage," she added in the magazine's cover story in 2015. When I was younger, I was just obsessed with Broadway shows. As much as I can show these audiences an element of that theatrical nature to a performance, I think that it allows them to escape from their lives a little bit more."
Now that we know we'll have 10 classic Taylor hits to sing along to when she hits the road, we can't wait to hear her next 12 teases. But whatever her next announcement may be, we'll need to be "Ready For It."
Source: Read Full Article