It's been alleged that Katie Holmes and Jamie Foxx started dating right after her breakup with Tom Cruise. They have been in a super secret relationship for about five years but never went public about it because it's rumored that she was not allowed to publicly date anyone for five years as part of her divorce clause. Now, it seems that we see a little more of the couple, though not as much as we would like. They still have a habit of leaving restaurants separately which we don't really understand. They are just determined to keep their relationship under wraps. It may have to do with Holmes' old relationship with Cruise. After all, Foxx and Cruise used to be friends. Or it could be because Foxx isn't ready for it. He's been a confirmed bachelor for many years and people were surprised when they got together in the first place.
"Katie and Jamie are still careful about being photographed together," a source told PEOPLE magazine. "Everyone knows they are dating, but they still want to keep it private." That seems to be the reason why they are leaving the restaurants at different times. Even though they are determined to stay out of the spotlight, we have still managed to see them together looking cozy. It must really burn Cruise to see them together since they all used to be friends. Check out these 15 photos of Katie Holmes and Jamie Foxx that have Tom Cruise popping a nerve.
15

Holmes and Foxx Laughing Together
What lady doesn't love a man who can make her laugh. This is one of the rare public moments that we have gotten to see Holmes and Foxx together this year. They seem to be branching out a little bit every day, but they also do a lot of hiding. The two attended the pre-Grammys gala together and it really looked like they were on a date. This is a cute picture of the couple looking like they know how to have a good time together. It must have been frustrating for the two of them to have to hide their relationship because of Tom Cruise. Daily Mail reported,
"For years they had insisted they were 'just friends' until recently when they were pictured holding hands in public for the first time while they strolled on the beach. It has been claimed Katie's ex-husband Tom included a clause in her 2012 divorce settlement banning her from publicly dating for five years."
We can totally understand why the two were denying their relationship previously because Holmes would have broken her divorce clause. What a messed-up world. We have to wonder how much involvement Foxx has in Suri's life as we've never seen them pictured together.
14

Dancing In The Hamptons Together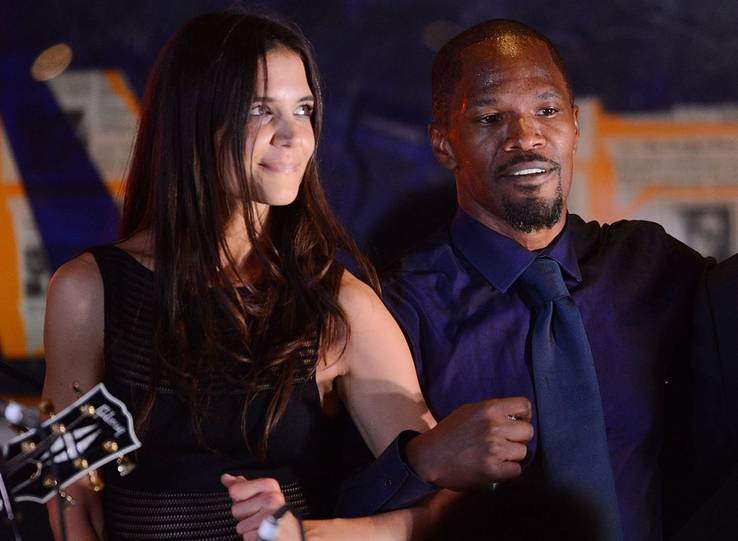 Jamie Foxx and Katie Holmes were photographed in the Hamptons dancing together in 2013. It was one of the first photos of the two of them together since her split with Cruise and it had to rumor mills descending like wolves. Cruise would likely have no enjoyed seeing this photo especially so soon after his divorce from Holmes. Cruise and Foxx starred together in the movie Collateral and remained friends after. The two would often go to football games together with Holmes tagging along. "Tom has known about Katie and Jamie's secret relationship since the beginning and it has always bothered him that they were hooking up.
While Katie and Jamie did their best to keep things a secret from the world. Tom is too well-connected and found out about them shortly after their romance began."
In this photo, the two were attending a charity event and it was said at the time that they would often spend time together. At the time Foxx denied rumors that the two were together though we all know the truth now. "[The rumors] are 100% not true," he told Entertainment Tonight. "In fact, it's quite hilarious because we simply danced at a charity event along with a lot of other people."
13

A Look of Love Between Them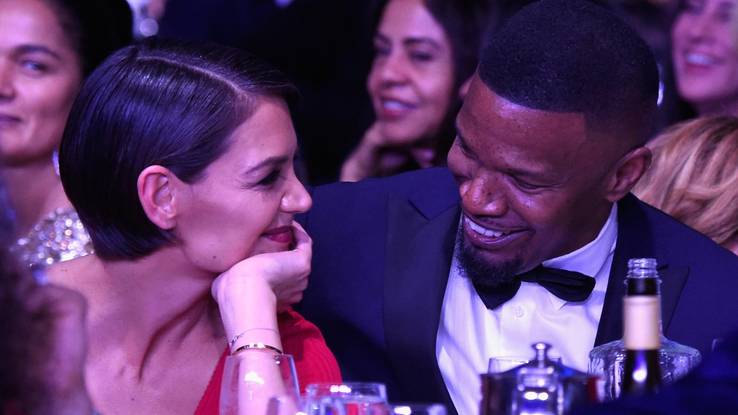 If the two have allegedly been seeing each other for the past five years, then it's likely that there are some deep feelings involved between them. It's safe to assume they are long past the honeymoon stage of a relationship. Her daughter is her number-one priority, but there is certainly nothing wrong with her bringing someone new into the picture when it's time. "Her main focus is still Suri," the insider told People magazine, "She is a very involved mom." The couple certainly looked happy together and a look like this usually means something. After what Holmes went through with Cruise, she deserves a good man in her life. Clive Davis poked fun at the two of them for not so subtly trying to avoid people talking about them sitting together.
"This lady left the room right when I was going to introduce her, she was sitting at that table right with Jamie Foxx and everyone else. If you're going to sit together, what better night than tonight,"
Davis added to laughs from the audience. There is no point in hiding the relationship now. People have been wondering about them for years, when is it going to be official for these two?
12

Connecting Long Before the Divorce
This is a photo of Holmes and Foxx at a football game and yes that is Tom Cruise in the background. It's obvious that the two were good friends long before the divorce between Holmes and Cruise. This is the kind of photo that must just burn Cruise because he probably wonders if they liked each other while he was still with Holmes. Not to mention he must be really irritated that his old friend hooked up with his ex-wife. All's fair in love and war as they say.
"Tom is shocked and upset that Katie is dating a co-star he once considered a close friend. He feels betrayed by both of them."
We're sure that Scientology has helped lick his wounds for him. This is just one of many behind the scenes photos of Holmes and Foxx connecting long before they ever became a couple. It's pretty obvious that they had fun together. "Katie signed a clause in her quickie divorce settlement that prevents her from embarrassing Tom in various ways, like talking about him or Scientology, or publicly dating another man for five years after the divorce." It's clear that Holmes and Foxx meant enough to each other to stay the course.
11

A Day Of Low-key Basketball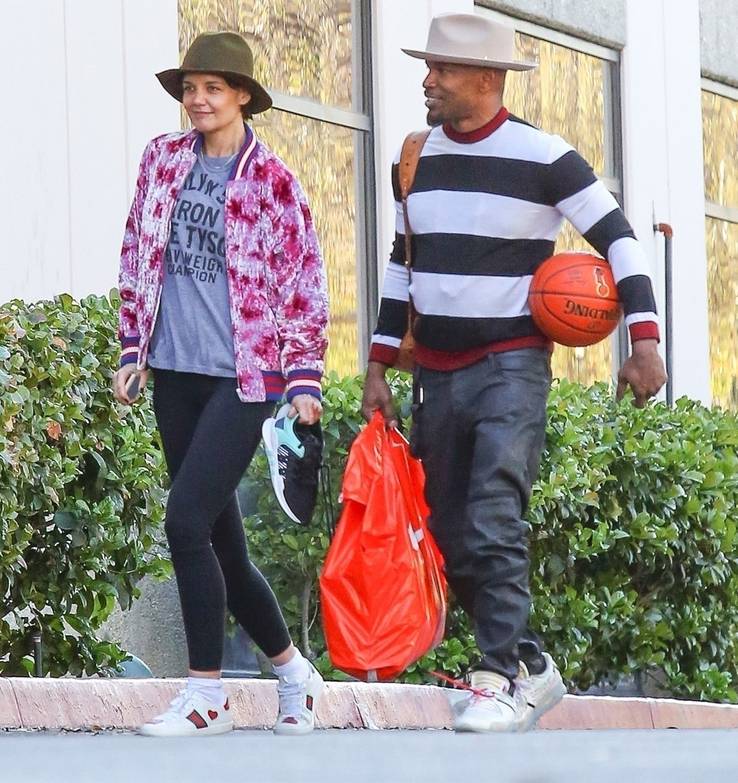 Katie Holmes has no problem getting involved in sports with her man. She could have dressed up a bit more for the event. She kind of looks like a homeless person. Jamie Foxx doesn't seem to mind, he's all smiles. The two are very comfortable with each other which is a good indication that they have been together for a while. The two were seen playing basketball together in Los Angeles where Jamie Foxx resides. They arrived at the basketball court together and left together which is certainly rare for these two. The two are adorable together and Holmes was even showing off some of her dance moves causing Foxx to laugh. They seem to have a really sweet relationship together.
"Jamie and Katie's relationship is not a secret, but they both like to keep it under the radar,"
a Foxx source told PEOPLE. "They have nothing to hide but Jamie, especially, is very low key about his life in general, and rarely talks about it. He is not one to acknowledge anything about his private life and neither does Katie." Hopefully, they will make things officially soon enough. We all love a good love story.
10

Foxx Checking Out Holmes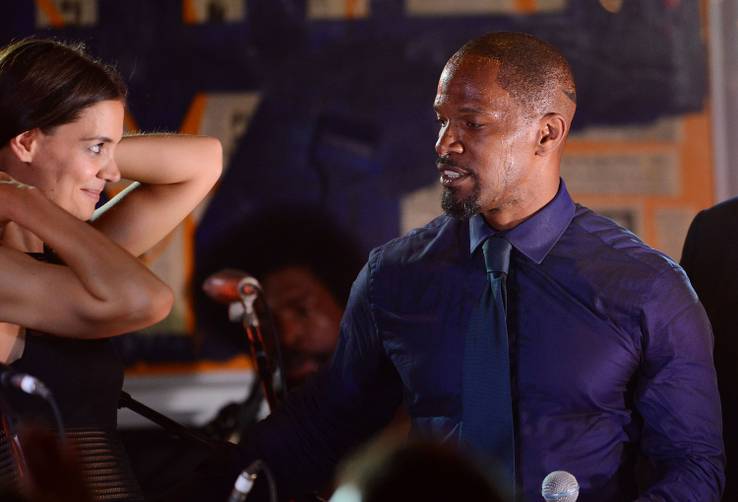 How could he not, she is always looking gorgeous? This is another photo from their night in the Hamptons in 2013 and judging by the way they are looking at each other, it's no wonder everyone assumed they were dating. And they assumed correctly. It was no wonder that they tried to keep things as lowkey as possible. Holmes was being watched for many years after the divorce. A source told Radar Online,
"She's allowed to date, but she cannot do so in a public fashion, and she's not supposed to let any boyfriend near their daughter, Suri."
It's unlikely that Tom Cruise was impressed when these photos were leaked because it looks like Foxx is checking Holmes out. Cruise would not have liked to see his ex-wife in any of these photos. They are spending more and more time together and that's all that matters. "After the beach pictures, they only spent time together at home and got extra careful," the insider told People. "But this year, they have been more social together. They often go to restaurants for dinner dates, or to hang out with friends." Only time will tell if these two lovebirds have staying power. It's been so far so good.
9

The First Time They Met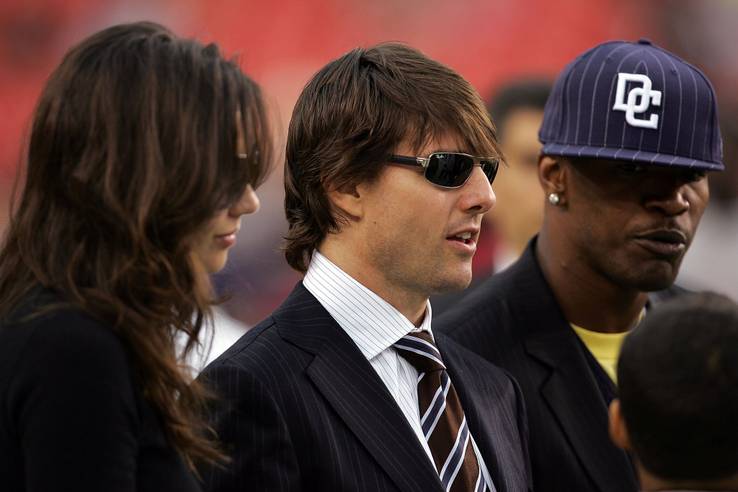 The first time that Katie Holmes and Jamie Foxx met was at the football game that Cruise brought Holmes to. The two must have maintained a friendship throughout her marriage to Tom in order for them to be connected so soon after the divorce. The two have rumored to have a decade-long friendship before they actually started dating. The best relationships truly come from two people who were friends first. "They are happy, they just don't flaunt anything," the insider told People. "Jamie will always go out of his way to stay discreet. That is his way, and it works for him. If they could stay secret forever, Jamie would be happy." But eventually, they will, right? "They don't see themselves as a couple in the traditional sense and they don't want to be labeled as a couple," the source revealed. "They don't want to have expectations placed on them about how they should be acting in public, how often they should be seen together and what they should or shouldn't mean to each other." Can they do that forever? "What Katie and Jamie have works for them because it's completely easy," the insider added. "When they can be together, they are. There are no obligations, no requirements. They aren't focused on what's next or what the future holds. They are content simply knowing that they enjoy each other's company and have a good time together."
Featured Today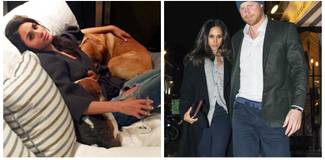 21 Signs Meghan Markle Is Already Feeling Trapped By Royal Life

20 Bizarre Things About Donald Glover Fans Choose To Ignore (But Shouldn't)

8 WWE Superstars Who Should Retire In 2018 And 7 Rookies Who Should Take Their Spots

8

Holding Hands in Malibu
Yes, that is Katie Holmes and Jamie Foxx photographed holding hands in Malibu last September. They can't really deny they are together now, so we're not sure why they insist on so much secrecy. The beach date was filled with all kinds of PDA which is definitely not like the couple. They got a lot of attention from this picture and it was almost as if they reverted back into hiding after it was posted. It is even rumored that Holmes once met Foxx at a hotel wearing a wig and a hat because she didn't want to be photographed again. Holmes had a drink in her hand and she was clearly enjoying herself at the beach. There was even a time that Foxx filmed her while she was splashing in the water. They looked like any other couple at the beach having fun together. When it comes to not discussing his relationship Foxx isn't messing around. He walked out of a live interview this year when the interviewer asked him about Katie. He was part of NBA All-Star Celebrity Game when the host asked, "I know you've prepared and I saw pictures." "Did you and Katie Holmes play basketball for Valentine's Day? Like some real 'Love and Basketball?'" Foxx is seen smiling as he took his headphones off and walked away.
7

She Attended His 50th Birthday Party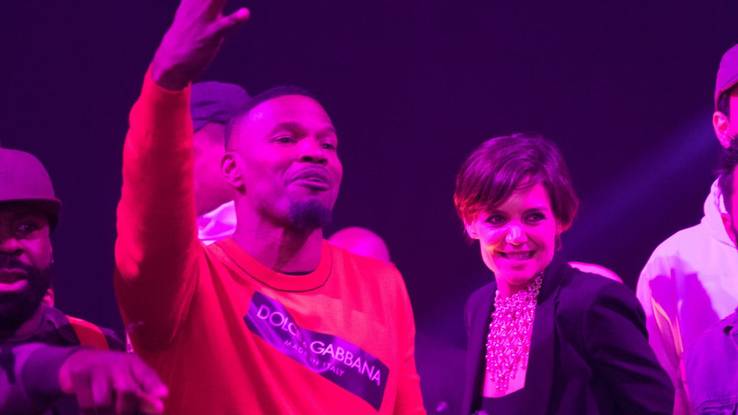 It's really hard to believe that Jamie Foxx is 50 because he doesn't look it. She was also allegedly at his 48th birthday party as well which proves they were connected long before now. Though, it's pretty likely that she has attended all of his birthday bashes in the past five years. Last year he had his birthday party at the Los Angeles' Paramount Studios where many A-list celebrities were in attendance like Leonardo DiCaprio, Tobey Maguire and Snoop Dogg. His daughters were also there as was Holmes. The two were spotted together and they weren't shy about giving each other attention. He would often touch her arm when he leaned in close to talk to her. Holmes, of course, was seen with a huge grin on her face the whole time. She would often be seen laughing and enjoying their personal chats. An eyewitness told Entertainment Tonight that the two "seemed besotted" with each other.
"Jamie kept beckoning for Katie to come up to the stage but she didn't want to,"
the eyewitness said. "They were so cute!" That's a cute story for sure and a good indication that the two have some serious chemistry.
6

He Sang to Holmes At His Birthday Bash
Swoon! Katie Holmes was spotted in the crowd with her beau not far behind her. She was seen jamming to his music while other A-listers were found in his private booth. Now that he was around his friends and family, Foxx didn't seem to mind showering Holmes with attention. An eyewitness saw Foxx singing along to a song that had to words "I love you" in it as he looked directly into Holmes' eyes. Talk about sweet. "Jamie definitely was looking and smiling at [Holmes] the majority of the night," another eyewitness told ET of the rumored couple's time together at the party. But they did make note that there was no PDA between the couple.
"Even when on stage, he would look over and point at her and then smile. She would smile back. They sat together at the table for about 30 minutes together until she left with Leo."
Leo! It's probably all part of the allure that they aren't really together. We can't imagine why these two want to keep things so private between them. The cat's out of the bag now so why not enjoy their time together when they are out in public? Maybe Holmes is still worried about getting flak from Cruise.
5

Telling Secrets to Each Other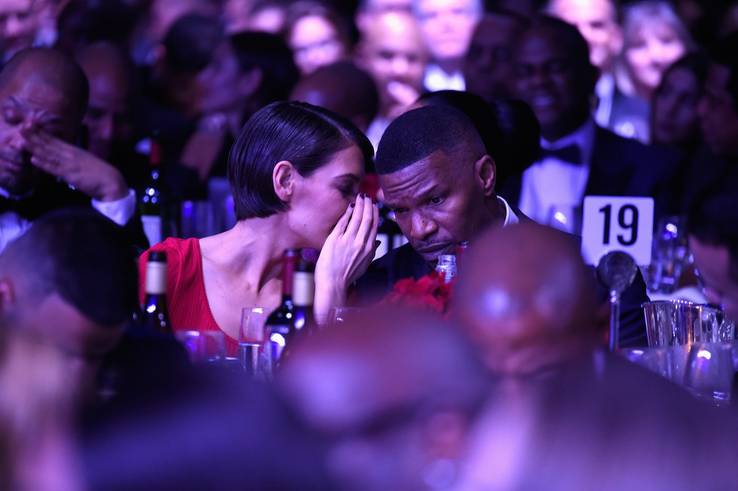 Do you think they are making plans for the end of the night together? This is another photo that proves that the two are very much together. Holmes has stated in interviews that she doesn't want her divorce with Tom Cruise to define her life.
"I don't want that moment in my life to define me, to be who I am. I don't want that to be what I'm known as. I was an actor before, an actor during and an actor now,"
Holmes told People magazine in an interview. Holmes has been embarking on the role of director lately and when it comes to the future, everything is looking bright to her. "I don't have any fear now, I don't have a lot of rules for myself, and I don't take myself that seriously," said Holmes. "I feel ready for new challenges," she added. The two couldn't look cuter in this photo and we hope that Holmes will be able to find true love at this stage in her life because she certainly hasn't had an easy time of it before. We are looking forward to seeing more cute pictures of this couple as they grow more comfortable with being in public together.
4

Frolicking In The Surf
The two have matching fedoras as they play together in the surf. This was the moment when Jamie Foxx wanted to take a video of his lady having fun in the water. They seem to be really good together and we can't wait to see how their relationship develops in the future. They were also seen sharing the beverage that she had, just like any other couple might do. Her relationship with Tom Cruise was so high profile and very public that she's probably just breathing a sigh of relief that there isn't a ton of craziness around her relationship with Foxx. "Yes, I proposed to her. It was early this morning at the Eiffel Tower, so I haven't slept at all," Cruise told reporters just hours after he popped the question. "Today is a magnificent day for me; I'm engaged to a magnificent woman." There wasn't much private about their relationship at all. We all remember his jumping on the couch incident on Oprah. "I'm in love! I'm in love," Cruise yelled, throwing his hands in the air. "I can't be cool. I can't be laid-back. It's something that has happened, and I feel I want to celebrate it. I want to celebrate her. She's a very special woman."
3

A Trip To Paris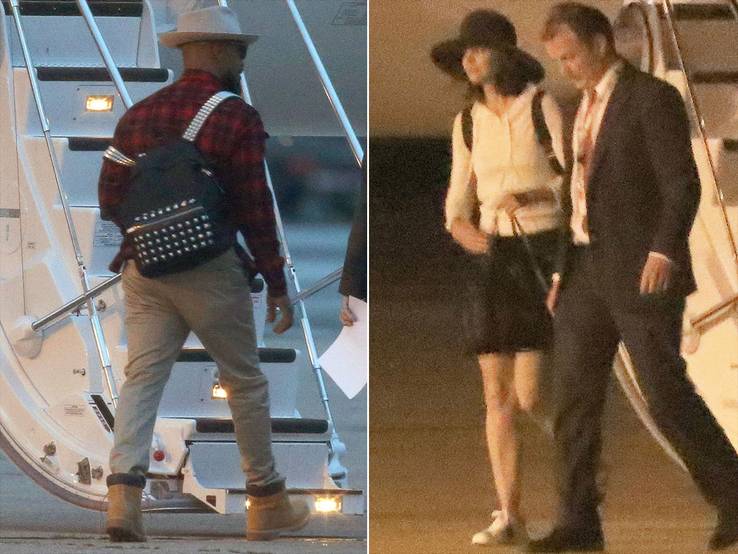 Nothing like flying on a private jet to have a romantic getaway to Paris. Foxx was there last year shooting the movie Robin Hood and Holmes went to stay with him at his hotel. The two once again kept a low profile while they were together and rarely left the hotel. It seems like the two of them are very happy together and really what more could we want? Foxx's longtime friend Claudia Jordan confirmed that he is, in fact, happy with Holmes. "He is very happy with her," she said on the Allegedly podcast.
"I like that he seems very happy."
Unfortunately for the poor girl, she must have gotten in trouble for speaking about her friend because the next day she started to backtrack her comments. "I have no knowledge of Jamie with Katie at all. I've never seen them together. He's never told me he's dating her," Jordan told Entertainment Tonight. Okay, Claudia, we get it. Wink, wink. She added, "I don't have the knowledge of this being fact. I don't. I misspoke." But one source told E! News that they are in fact a couple, not that we really need to be told at this point. "Their relationship is "not a secret among their friends."
2

Looking Friendly At The Beach Hotel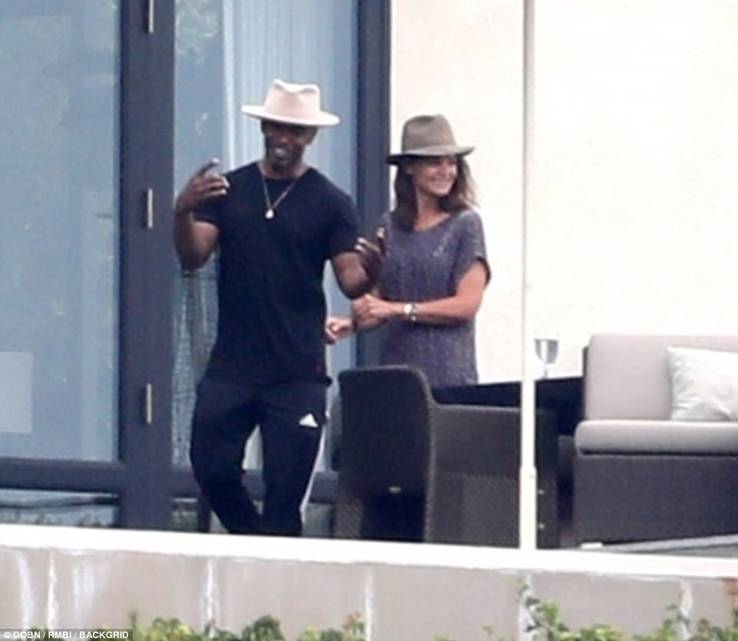 Another picture of the couple together at the beach hotel they were staying at in Malibu. Eyewitnesses said that the couple was often seen on their balcony enjoying the view and smiling nonstop together. It's pretty obvious that these two are very happy with each other. The actress lives in Manhattan, but she spends so much time at Foxx's residence that people claim that she almost lives there. A source told E! News that she spends "most of her time" at Foxx's house in Los Angeles. The couple isn't officially living together apparently, but she "always" happens to be at his house. We're sure that their friends know the real details of that arrangement. If that's the case, then it probably won't be long before they are living together. She's had enough bad press from her last relationship, so Katie is trying not to have this one "dragged through the tabloids," a source stated. There is no point in talking to their respective reps because Katie's rep will state that there is no relationship and any news of a pregnancy or engagement is "categorically untrue." While Foxx's team will state that he is "not engaged, not getting married and not having another child."
1

A Little PDA In the Hamptons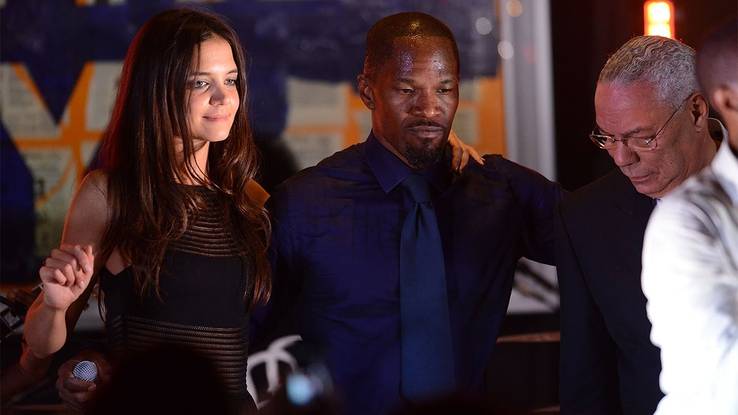 The two are close together with Holmes' arm wrapped around his shoulders. It was obvious from the beginning that these two were into each other. We have to admit, it's really hard catching these two together. When it comes to having dinner together, it seems to happen quite often, but they arrive separately and leave the restaurant separately. It's all very sneaky. They both already have children, so it's not surprising if they don't have any more but we have to wonder if Katie Holmes will get married again.
"To make it impossible to get photo evidence that they are together, they traveled in cars with tinted windows and took secret back elevators. They had it down to a science,"
a source told Us Weekly in April. The two of them really know how to play the game. It's also probably very exciting to them to trick the media around them. Plus, who needs Tom Cruise breathing down their neck. One thing is for sure, Katie seems really happy and we can't help but love the adoring gazes she will cast his way every now and then. Hopefully, the two of them are on their way to a great life together without any further drama from the past.
References: wmagazine.com, metro.co.uk, nydailynews.com, pagesix.com, vt.co,  people.com, people.com, popsugar.com, independent.co.uk, hindustantimes.com
Source: Read Full Article