Somewhere in between the age of HBO and AMC and Netflix being the marquee networks to bring about quality programming, FX Networks was doing the same thing but with a twinge more grittiness to their lineup. First came the Shield, an epic Training Day style corrupt police thriller. Even the network's comedies were a little left of center with shows like Wilfred, about a guy who has cracked under the pressures of life as trying to put himself back together again with the help of his dog, who appears to him as a giant Australian man on a dog suit.
For six seasons, FX presented one of the most intense TV shows ever. That was Sons Of Anarchy, about a fictional Motorcycle Gang and their criminal dealings and one member's yearning to get his MC on the right side of the road. While several shows have detailed the lives anti-heroes and outright villains with likable bankable charisma before and since the show, non-pay cable television hasn't exactly seen such a show just yet.
From 2008 to 2014, the show was consistently one of the highest rated shows in television history, thanks to a tightly interwoven web of storytelling and the strength of all of its lead and supporting actors. The show might be over, but fans are always clamoring for information – here are 20 Behind The Scenes Secrets From Sons Of Anarchy That Fans Should Know.
20

Creator Kurt Sutter Played Otto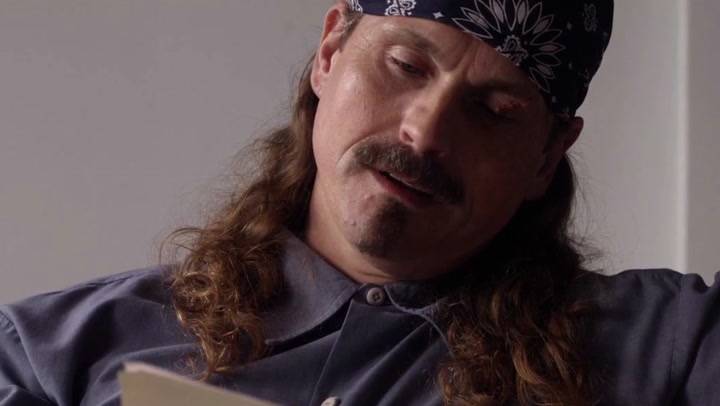 We're introduced to a slew of characters during the show's first season. Of course main stars like Clay, Jax, and Gemma. But we would also meet plenty of the shows's supporting cast, many of whom who would have major implications as the series went on. One of these seemingly background characters that would occasionally creep up is Big Otto Delaney. Serving a life sentence in prison for crimes committed on behalf of the club, Otto is actually the head of the Sons prison chapter. Otto also happened to be brutalized throughout the series, blinded by the Aryan brotherhood, and taken apart repeatedly at the whim of a corrupt agent, whose sister Otto ended.
Besides writing the show and directing every season finale, Kurt Sutter, the series' creator must have thought no actor should have to go through what Otto goes through and decided to take the role on himself. To get ready for the show, Sutter had spent time with plenty of outlaw motorcycle clubs. It's no doubt a lot of what influences just about every character was spoken about with his Sutter's MC friends, but certainly, what informed the most about Otto and the rest of the Big House Crew – it's doubtful he visited a bunch of these guys in prison.
19

Katey Sagal Is Married To Sutter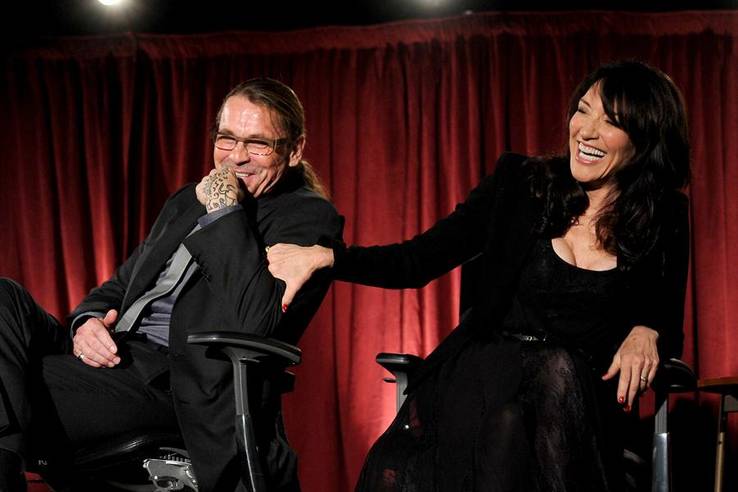 Considering the kind of woman Gemma Teller-Morrow is, Katey Sagal more or less erases any and all traces of Peggy Bundy erased within minutes of the series' debut. Gemma is the epitome of an "old lady," but she's also the Queen of the MC. She is club founder John Teller's widow and current president Clay Morrow's wife. She's also Jax's mom and seemingly does all she can for the club, although more and more, she becomes unhinged and is only out for herself, especially as it is revealed she didn't just marry Clay, she was having a relationship with the guy that would cost her husband John, his life.
Played by Katey Sagal, Gemma was the mother of all mothers, as she became more and more unhinged, even taking out her daughter-in-law for fear Tara was skipping town with her grandkids. The bat crazy biker mamma is actually married to series creator Sutter and has been for 14 years. But while he wrote a great character for his bride, it was certainly a challenging one. Sagal as a wife was none too pleased with some of what her character was put through, particularly the abuse Gemma receives at the start of season two.
18

"Season 5, Episode 8" Bought For 5000 Sandy-Afflicted Fans.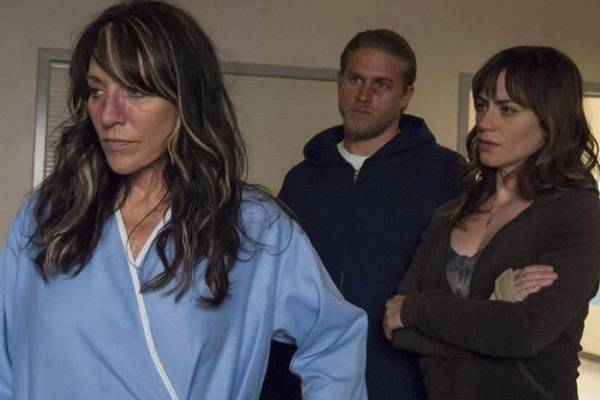 Up until 2012, hurricanes were generally thought of storms that stayed near the equator far south of the northeast coastal shorelines. Then we all met some crazy broad named Sandy. Unfortunately, plenty of coastal towns like Broad Channel, New York and the Gym-Tan-Laundry famous Jersey Shore were utterly decimated and riotously unprepared for the mass clean up. Hundreds upon thousands of people came to try and help and no one knew what to do or how to direct the assistance. But, for fans of the show – they wouldn't be missing that week's episode of Sons Of Anarchy.
Sutter, a New Jersey native purchased five thousand copies of the episode, "Ablation" for displaced residents of Hurricane Sandy to enjoy, in a goodwill gesture to help get their minds off of the destructive storm, if only for a little while. The episode features the outlandish proposal from Jax to Gemma, in which he tells her to start talking to Clay again in order to get his trust, his secrets, and earn back her place in his and his wife's heart. Realizing more than a few people probably didn't get to watch, Sutter just wanted his "peeps in New Jersey" to know that he cared about them.
17

Charlie Hunnam Discovered In A Shoe Store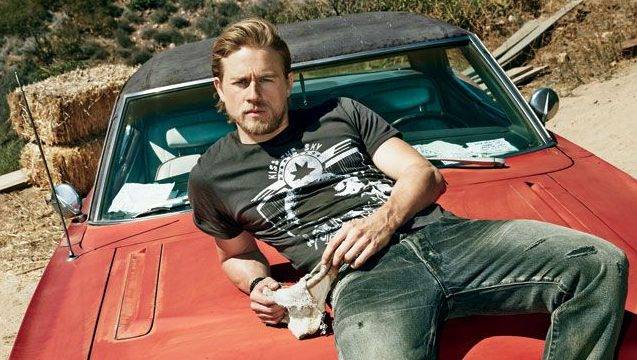 Every now and again while watching the series, it seems as if Jax is trying to pull off a British accent. What you are actually hearing is actor Charlie Hunnam's British accent accidentally cracking through his "Jax" voice. The native Brit had worked on a few projects before trying to make it stateside. It was his portrayal as Pete Dunham in Green Street Hooligans that Kurt Sutter had seen that had sold him on trying out for the role. As Jackson Teller, Hunnam provides that soulful spark of a young man in conflict with who he wants to be and who and what his place in society always has been; which is what was at the crux of the show.
Not bad for a fresh-faced kid who was discovered just goofing off at a shoe store as a young lad, when he was discovered by a production manager for the British kid show, Byker Grove. Byker refers to the name of a town. He would work for a few years, most notable Green Street and Undeclared. But a decade or so later and Hunnam would make the transition to a biker for the show, and actually rides a motorcycle in real life, which certainly made playing Jax easier.
16

Sagal Has A Track Every Year
One thing about a show about a bunch of bikers that should be an inevitability is that the music for the show better be completely cool music to ride by. The Sopranos was one of the first shows of this modern era to incorporate a phenomenal soundtrack, and Sons Of Anarchy followed suit right from the jump with its theme song, "This Life," by the Forrest Rangers.
The musical supervisors on the show deserve to be commended for their work for finding grimy and gritty songs to fit the mood of the show, like all kinds of covers of standards like "No Shelter," "Hey Hey My My," "Sympathy For The Devil," and "Bohemian Rhapsody." Not to mention some of these bands having the scones to play their own versions of such heralded classics, such as "Los Tiempos Van Campiando," Bob Dylan's epic "Times They Are A-Changing" as slow Mariachi number!
But Gemma herself, Katey Sagal, who once sang back up for Dylan actually gets to flex her lungs on every season's soundtrack. She has sung at least one song every season like "Son Of A Preacher Man," and "The House Of The Rising Son." Probably the most famous cover she tackled was "Bohemian Rhapsody," during the series finale.
15

Brad Pitt Attached To Star In Prequel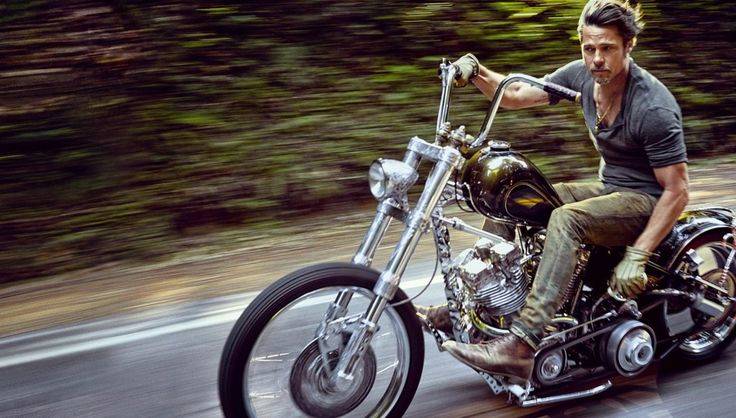 A few years after Sons Of Anarchy started, episodic moviemaking had become commonplace. Universe building films like all of the Marvel Universe films have become the norm and has assisted in reboots, prequels, and "Star Wars Stories." All, of course, allow mega fans to immerse themselves more into the world of the show or movie. While it has been a bit of a slow go, Kurt Sutter had world-building in mind all throughout the series. The entire show is built against the backdrop of a terrible incident involving Clay and Jax's father and club founder, John Teller. Some members of the club even wear patches that denote their part of the original group, the "First 9."
With such a big huge backstory dripping in Vietnam/sixties nostalgia, fans of the show have been clamoring for more Sons long before Jax Teller's final ride. Kurt Sutter had been entertaining fans with this notion as well, clueing fans in on not one, but two different series to branch out of Sons Of Anarchy. One of which, supposedly detailing all of the backstory and the events leading up to John Teller's demise. If you've ever put pictures of Charlie Hunnam and Brad Pitt together, you might think they look similar. So did Sutter – Pitt's name has been attached to star as John Teller since the prequel's inception.
14

Scott Glenn Was Clay Morrow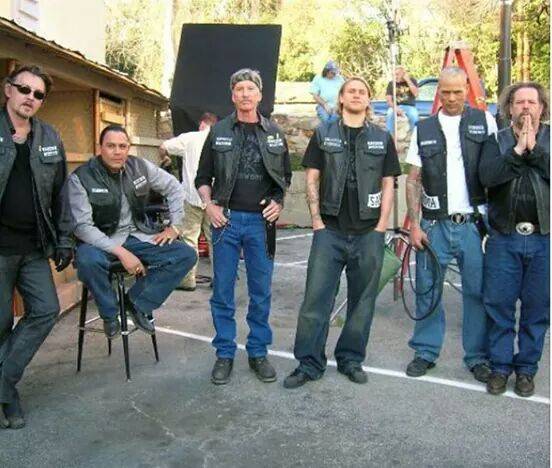 Ron Pearlman was no stranger to dramatic cult television. Nearly twenty years prior to Sons Pearlman and Linda "Sarah Connor" Hamilton starred in the fantasy revamp of Beauty And The Beast. His return to TV came here, as he played Clay Morrow as a likable, but terrifying character. He was a charismatic leader, but had a clear dark side to him, and Pearlman always played the guy like he was hiding something, which over the course of the series, he clearly was. While Pearlman seems like a perfect fit for the role, he wasn't always the Clay cast for it.
Sutter and showrunners had cast Scott Glenn (Daredevil) as Clay for the pilot episode. While Glenn is certainly a capable actor, anyone who looks at pictures of Glenn in his biker gear can plainly see, from a looks perspective, Glenn simply didn't look imposing enough, compared to Pearlman. Now that may or may not be the reason, but according to an interview Glenn did with the AV Club, Glenn said, "Yeah, I did the pilot, and then they called me up – I remember my agent called me up and said, 'Are you sitting down?' I said yeah. The network is going to go ahead with the series, but not with playing that part."
Featured Today
15 Things About Avengers 4 That The Cast Is Trying To Keep Secret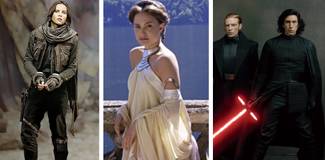 10 Star Wars Actors Perfect For Their Roles (And 10 Who Clearly Are Not)

15 Roles That Meghan Markle Wishes The World Would Forget

13

Hamlet On Motorcycles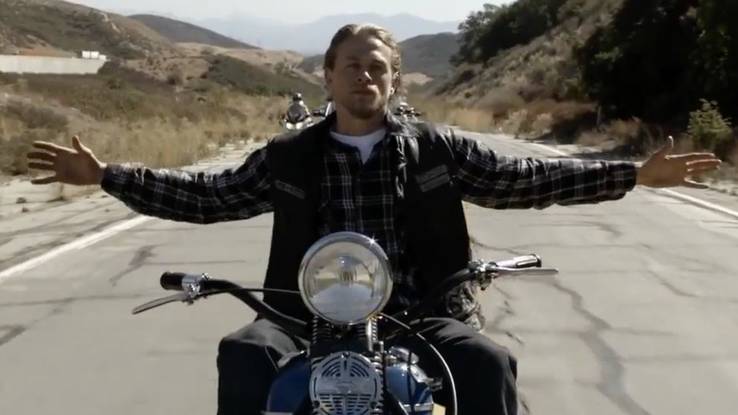 When the ghosts of the past come back to instruct, inform, and maybe even haunt a young prince a little bit, it sets him on a path of redemption and vengeance to avenge his murdered father, killed by his own brother who would marry the queen. It sounds like a bloody, gore-filled tale of revenge, and Sons Of Anarchy played it out every week for seven seasons. The story sounds like it should be narrated by Rosencrantz and Guildenstern. Or maybe Chibbs, Tig, and Bobby Elvis. Probably more like Juice than the other three guys.
The Tragedy Of Hamlet, Prince Of Denmark is widely thought of as one of William Shakespeare's greatest works of literature, and therefore one of the greatest works of literature, period. If you know the story, it does play very similar to the overall story arch of Sons. Which is no eery coincidence either, the Bard's work did in fact influence Kurt Sutter when he created the show. During an interview, Sutter said of the comparison, "It a version of Hamlet, but it's definitely influenced but it."
12

Hell's Angels Played Club Members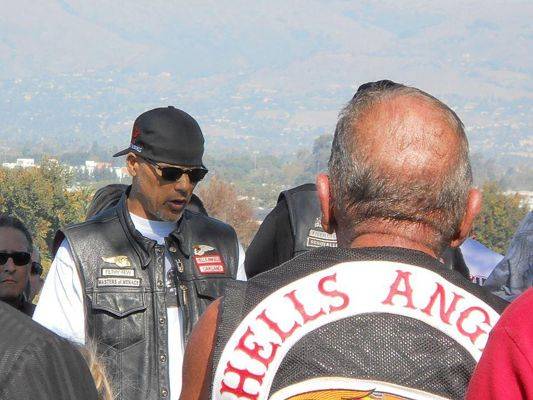 The Sons Of Anarchy Motorcycle Club Redwood Original chapter started by Piney and John upon returning home for the Vietnam War. This was similar to how the Hells Angels began shortly after World War II. Both the real club and the fictional one that was based on the Red and White that were formed by ex-soldiers who may or may not have felt left out of where the country was going as a nation and started their club to pal around with like-minded people who just wanted to ride their bikes around and be free. It was only when the group started becoming an illegal "outlaw biker gang" is also unfortunately when both groups gained notoriety.
Sons Of Anarchy is actually just another in a long line of Hollywood takes on the lives of these supposed Outlaws. Kurt Sutter spent some time with the real MC (Motorcycle Club) while researching his show. As far as the series went, once they started filming, it was in obvious that the cast would need an advisor on board to make sure things are as accurate as possible. So the cast and crew got Happy. As in the crew's assassin, Happy – played by David Labrava. Labrava also is a member of the Hell's Angels who served as the advisor. He wasn't the only 81'er on the series though. Old school members like Sonny Barger and Chuck Zito also had parts on the series.
11

Chibs' Scars Are Real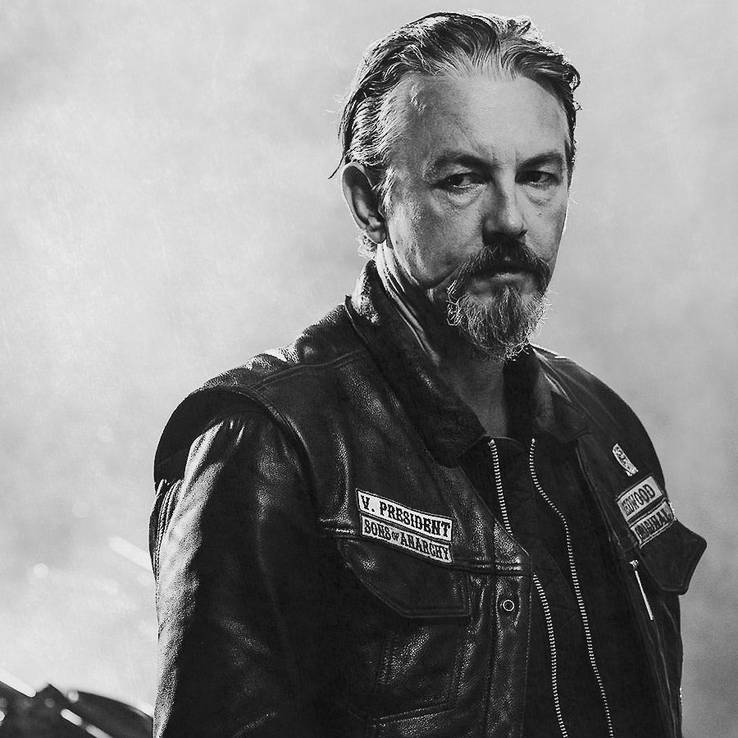 Thanks to resident Scotsman, Filip "Chibs" Telford, the group was able to gain a foothold in Ireland, establish a SAMBEL chapter and ties to the real IRA for their guns. A huge part of the third season takes place in Ireland and features a lot of exposition about John Teller forming SAMBEL and trying to plant roots on the Emerald Isle, as he grew increasingly fearful that Gemma and Clay would be the death of him. The season also featured Chibs coming into his own as a character, played by Tommy Flanagan. We would also get his sordid history with Jimmy O'Fallon, who on the series was responsible for Chibs' facial scars.
But in reality, the scars, which are referred to as a Glasgow Smile are the real deal. A "gift" given to him during a scuffle at a nightclub he was DJ'ing at a club he was working at the time. Perhaps Flanagan should thank the man who cut him, for as far as Hollywood is concerned, the look has garnered Flanagan all kinds of roles, ranging from Face/Off, Law And Order: SVU, Gladiator, and of course, Sons Of Anarchy, always playing some form of rogue or outright villain.
10

Ron Pearlman Didn't Know How To Ride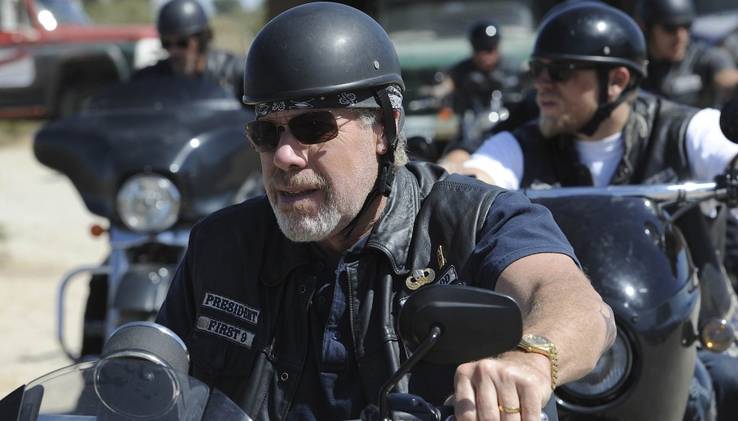 You're doing a show about a motorcycle club, and one of your lead actors, nay, the villain of the entire show doesn't know how to ride his hog. In fact, by all accounts, the barrel-chested, square-jawed Ron Pearlman didn't know how to ride, and he wasn't even a big fan about jumping aboard his Harley. Sure, its Hollywood and shots could be faked and you could hitch the bike up to a trailer and drag the rig through the locations. Sure, you could use stuntmen to ride for Clay Morrow. But the big scary looking actor was actually a little frightened of riding.
When you're aiming for as real as possible, a show like SOA has the majority of the riding and the stunts done by the cast themselves, aside from major stunts of course. "Isn't that funny?" Maggie Siff (Tara) once said. "The toughest guy in the show, and he's not at all about riding. But he's so tough, you'd never guess." Pearlman knew nothing about riding culture when the series started and the 65-year-old took a few "near-death" spills (according to Sutter) that would spook anyone. Pearlman took a bunch more lessons to decrease his fears.
9

One Of The Most Watched TV Shows Ever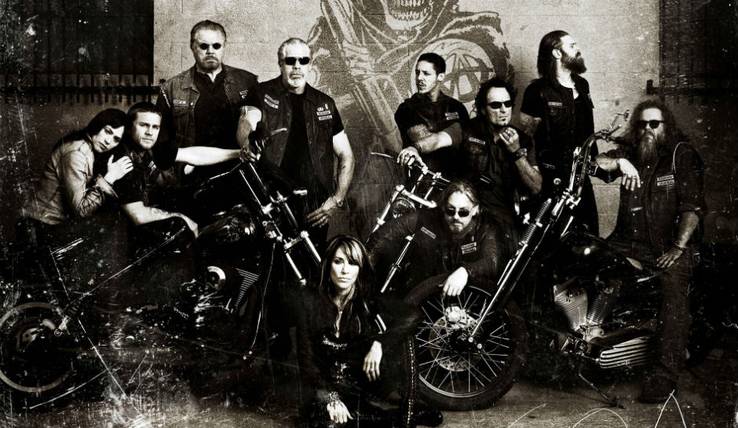 99.9 percent of the time, when a show lasts at least four seasons, its made and it has become minted. Sons Of Anarchy, of course, lasted seven seasons. Every season was crazier than the next, watching Jax try to bring his club to the right side of the tracks and away from illegal activities like gun running, and every now and again plunging them further into the abyss. As the antics of the Sons got zanier, fans clamored for more and more. Ratings increased big time as every season progressed.
Before shows like The Walking Dead and Game Of Thrones started doing complete gangbuster, must watch television, Sons Of Anarchy did it first. It was consistently the most watched show on FX week in week out, and generally, a top ten show during the series run. By the time the finale had driven through DVR screens, the series according to statistic sites had upped its viewership nearly 200 percent.
To put that in perspective, most shows dip in viewership as the series progresses, leaving only the die-hard fans watching. While that did happen for Sons, 200 percent just shows that more people jumped aboard the series bandwagon than the usual amount of viewers that jump aboard and binge watch.
8

People Passed Out All Of The Time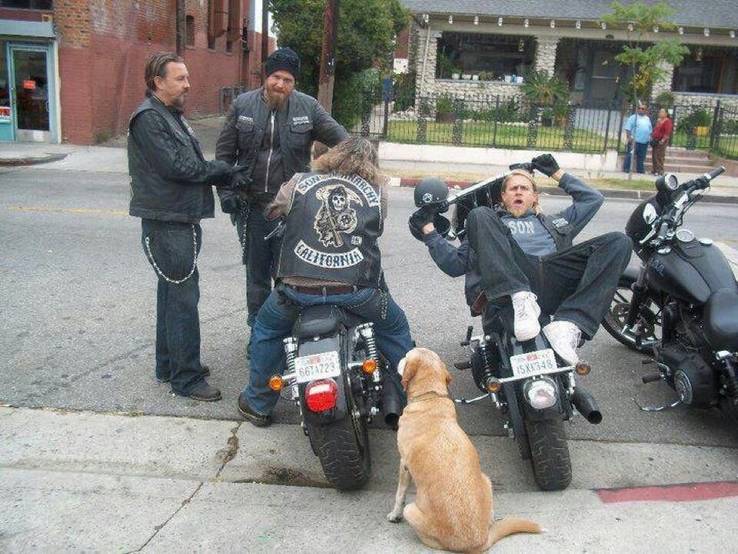 Newsflash for people who aren't in the know, most parts of California are blistering frigging, boiling hot. Like fry an egg on the sidewalk, take two showers a day kind of hot. If you're a resident of Southern California, the desire to have fun in the sun needs to be a prerequisite. If you live in the middle-upper north part of the state, where the fictional city of Charming lies, thankfully the climate is a little cooler. Perfect for saddling up and riding. Especially some of the more mountainous regions.
But the series wasn't filmed in the Lodi-Stockton area of Cali, it was filmed in Southern California, where the days' temperatures could reach upwards of 100 degrees. You're in the hot sun in full biker regalia – heavy denim jeans, biker jackets, biker kutte, and steel toe biker boots. Pretty much everything to help a guy pass out on set. Which happened plenty of times on the show. The heat plus dehydration, and exposure to the sun created what the crew calls "the timber effect." "We'd lose a crew member a week," Kim Coates said in an interview with Entertainment Weekly. "Even Flanagan had to be sent to get an IV drip."
7

White Sneakers?!?!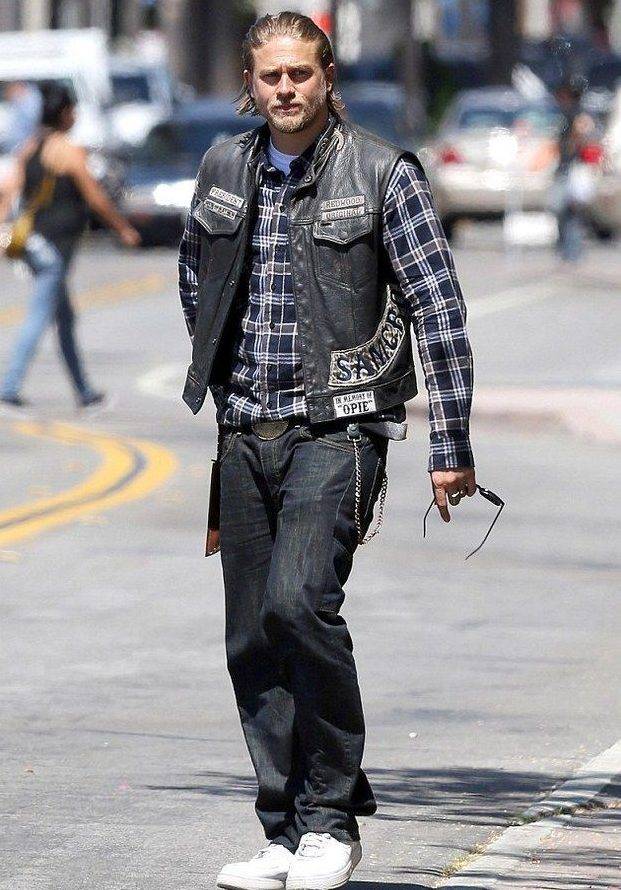 No matter the weather, no matter the club, there's a long-standing thought by just about every outsider that all bikers wear all black, leather jackets, black boots, and black helmets. And for the most part, that's exactly what a lot of bikers wear – the leather jackets look pretty darn cool, and provides some protection in the event that they take a tumble of their metal steed. The look has also been perpetrated by movies, TVs, and MCs themselves since Marlon Brando in The Wild One.
One thing you hadn't seen in the motorcycle motif that Sons Of Anarchy had brought to the forefront was the blinding white sneakers that Jax wore. While plenty of people might have been a little surprised by Charlie Hunnam's wardrobe choice, but according to the actor, the white sneakers while appropriated from hip-hop culture is also accurate part of biker youth. Kurt Sutter once said Of he and Hunnam's research – "a lot of these Prospects are influenced by hip-hop culture," hence the white sneakers. Sutter also explained how plenty of these guys just ride for comfort, and sneakers are more comfortable than boots. Besides, as an outsider, are YOU going to question why some big burly biker is wearing comfy shoes?
6

the weird things were very real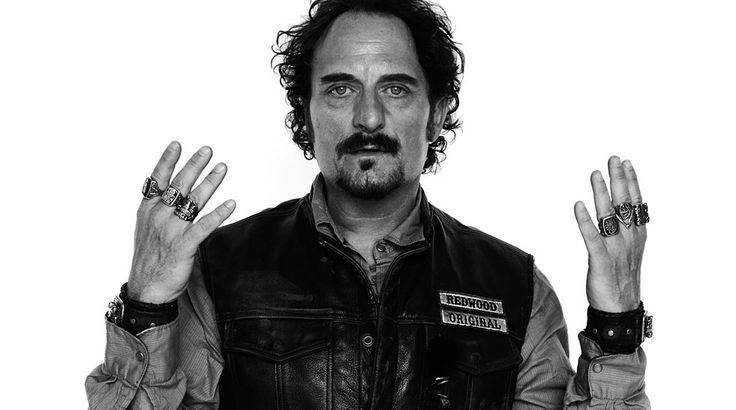 Club member Tig is a quirky, far more violent member of the club than most. He actually seems to not only enjoy the violence he inflicts, but also the reputation it garners him. There was even one episode where he describes to Clay why he likes certain things, and no one can tell if he's serious or it's just his warped sense of humor at play. As Sargent-at-Arms for the club, not to mention one of their "Men Of Mayhem," Tig is a valued, if not scary member of the club. His quirky antics and personality are on full display when he develops affections for the transitioned woman, Venus Van Dam.
How do you stop a guy this strange and this violent? How about showing him some American Girl dolls? Tig suffers from a phobia that sounds imaginary. How could anyone be afraid of children's dolls? But not only is pediophobia as real and debilitating fear that to anyone who doesn't have it doesn't understand it; but it is also real to series creator, Kurt Sutter – he suffers from the same odd affliction. Whenever Tig sees dolls on the show, he turns them around so he doesn't have to look them in their big vacant plastic eyes.
5

Connections To The Shield

Before Sons Of Anarchy debuted and took FX Networks and the world by storm, the network had another rogue villain as the lead character of a hit show. The Shield told the story of LAPD detective, Vic Mackey and his band of fellow corrupt LAPD detectives robbing a bunch of Peters to pay a bunch of Pauls, all mostly illegal activity in order to keep the real bad guys, the gangs of South Central Los Angeles at bay. For fans of the show, you might have recognized the Sons Of Anarchy creator and "Otto," Kurt Sutter also played on The Shield as Armenian hitman, Margos Dezerian.
Sutter isn't the only connection to both shows though. There's a slew of them. From gang names like the Byz-Lats and the One-Niners to just about every single actor from The Shield showing up on Sons right from the start of the show, as Jay Karns, who played Dutch on The Shield came to Charming as an ATF agent investigating the club, and stalking his ex-girlfriend Tara. Even series star, Michael Chiklis makes a brief but important cameo during the Sons' final season.
4

Sons Rocks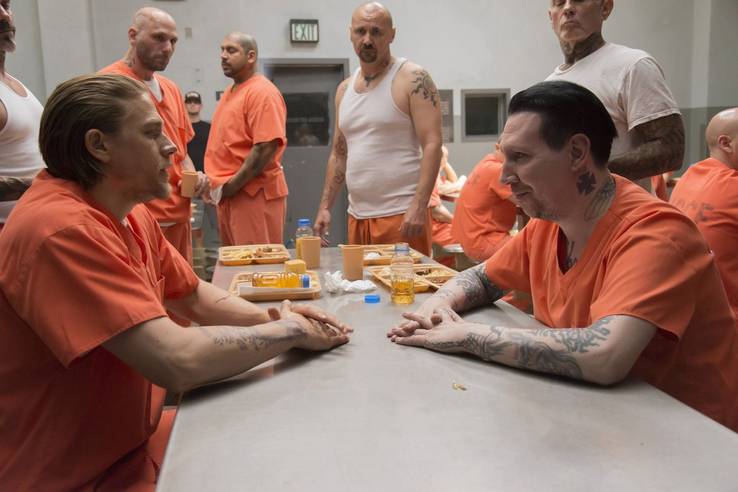 When some shows want to add an edge to their show, they try to add real mobsters, athletes, and bonafide rock stars to the cast to spice things up a bit. Sons Of Anarchy was no different and the series cast a few great rock gods of the nineties in some bit parts, but also a few important roles too.
Besides the rocking soundtracks to each season that Sons Of Anarchy provides, plenty of the guest stars on the show are known more for their musical talents, than their acting chops. Acclaimed guitarist, Dave Navarro had played Nero's cousin, Arcadio. Courtney Love played Mrs. Harrison, Abel's nursery school teacher who called Social Service when she caught him harming himself with a fork.
Perhaps the two most important roles for rockers on Sons go to Henry Rollins and Marilyn Manson. Rollins was part of the second season as unwieldy and psychotic second in command to a white supremacist, Ethan Zobelle. As A.J. Weston, he, along with several other masked Nazis thought it would be a good idea to rape Gemma. Shock-glam rocker, Marilyn Manson gives a (what else?) shocking performance as a white supremacist, Ron Tully, a powerful inmate who takes out Juice.
3

Mayans MC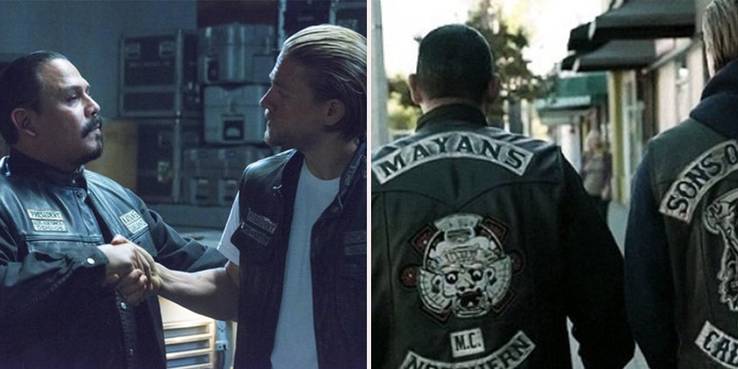 When you're part of a motorcycle club, chances are you're going to run into, run alongside, or run afoul of plenty of other motorcycle clubs in your area. With that much testosterone, it's generally more running afoul and trying to one-up each other. Until of course, things get so heated that club personnel on both sides. That's what happened between the Sons Of Anarchy and the Mayans clubs. The two clubs would play a violent and bloody game of "can you top this" until both clubs had made deals with the Galindo cartel.
For fans of the Mayans MC, you're in luck, their story is not over at all. While it has been four years since Jax Teller's final wild ride, the SOA and Mayans have lived on. Later this year in 2018, the Mayans MC series will be detailing the next saga in the world of the Sons Of Anarchy, from Sutter and Elgin James (currently best known for writing and directing the film, Little Birds).
The show will focus on Mayans' Prospect EZ Reyes (JD Pardo) and his journey to carve out his own outlaw identity near the Mexican border. If you're getting impatient waiting, fear not – the pilot is currently in reshoots right now.
2

Men Of Mayhem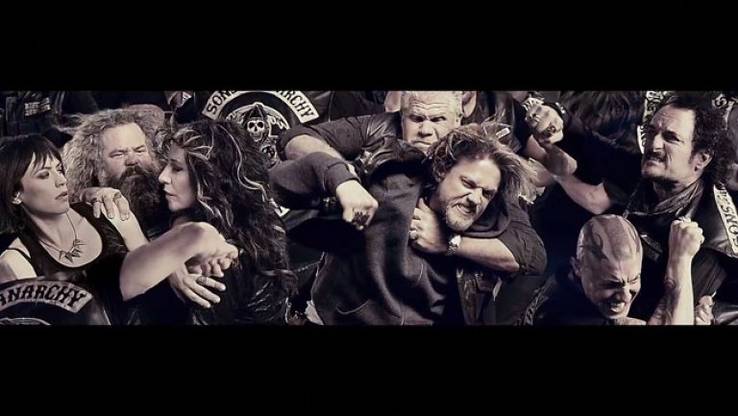 Throughout the history of motorcycle clubs, there are guys who just love to ride and love the camaraderie of riding the open road with your brother. There are guys who are part of the inner circle, friendly with all of the club bosses. And then there are club bosses of course. For the more nefarious members of the crew, who don't mind dealing with illegal activity, they still make sure that they have a code among them. According to some sites on the internet, the Hell's Angels have a flash on their kutte that reads "The Filthy Few," and the Sons Of Anarchy, these guys are the Men of Mayhem.
So if you ever run into a member of the Eighty-One and you happen to catch a glimpse of their flash and see the Filthy Few, you know to mind your ps and qs. As far as the Sons go, pretty much all of the main cast have Men Of Mayhem flash on their kuttes. For fans of the show, Men of Mayhem moniker has a double meaning, off the show the saying and plenty of others are all over SOA merchandise from the series.
1

Forever Sam Crow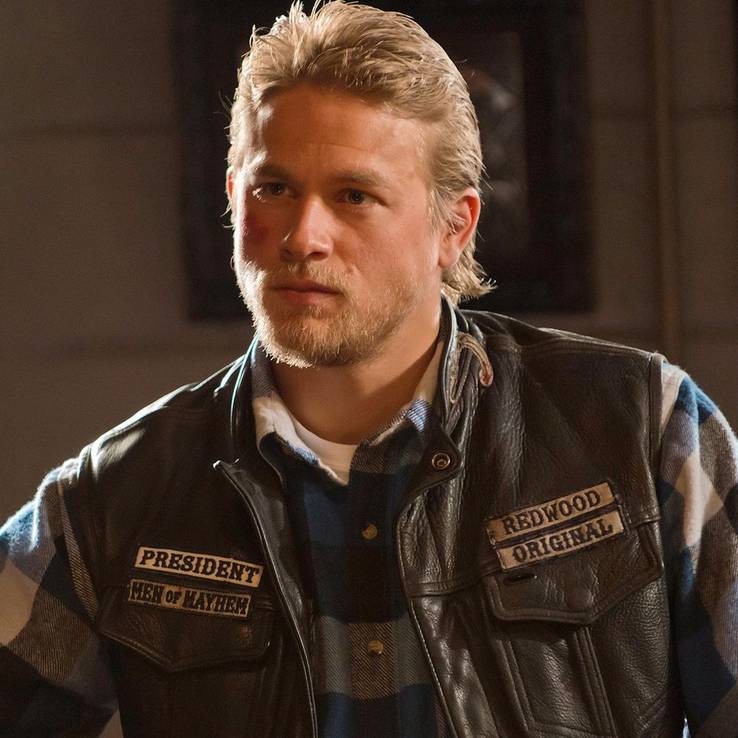 Oddly enough, one of the most asked questions about the series has been, "Who is Sam Crow?" Imagine that, seven seasons, over 92 hours of television produced, and random outsiders don't quite understand who or what Sam Crow is. It's actually a few things. Sam Crow was the original working title of the series, Forever Sam Crow. Thankfully, the network brass realized that was going to be confusing as heck to viewers. After all, people still Pink Floyd is the name of one of their band members. They'd be liable to think Sam Crow is one of their members.
While the group itself was very occasionally referred to as crows by their enemies, and the finale song by White Buffalo and the Forest Rangers as Jax rides into a truck is called "Come Join The Murder," referring to a group of crows, which is referred to as a murder. But in actuality, Sam Crow should be spelled SAMCRO and it stands for Sons of Anarchy Motorcycle Club Redwood Original. But the group has other charters as well – SAMBEL (the Belfast chapter), SAMTAZ (The Tuscon, Arizona chapter), and SAMDINO (San Bernardino), to name a few.
Sources: ScreenRant, Fame10, Tickld, EW, Ranker
Source: Read Full Article