In June of 2009, the pop world lost an icon. The King of Pop, Micheal Jackson, passed away. It was a death the shocked the music industry and the public. Before his death, Michael did what he could to keep the identity of his children a mystery. Since his whole family was always in the public eye, he did not want his children to be exposed to that. When his memorial service was televised, the public got a good look at his children. Growing up without their father, the children were not in the media as much as one would think. It was not until recently that Michael's only daughter has been making headlines.
Paris Jackson is now an up-and-coming model and is also known to enjoy a party or two. The now 20-year-old may not be old enough to enjoy a drink legally in America, but that does not stop her from enjoying a night out with some friends. When she started to make headlines for her partying lifestyle, many people including her family started to show some concerns. Paris has ensured everyone that she is fine and enjoys living her hippie lifestyle. She feels like there is nothing to be concerned about and that if her family is so concerned they should talk to her personality instead of talking to the media.
Paris has gone through an evolution when it comes the women she is today. From rocking no shoes on the red carpet to partying when she should not be, here are 20 pictures of Paris Jackson's evolution to Hollywood's #1 party girl.
20

Young and Innocent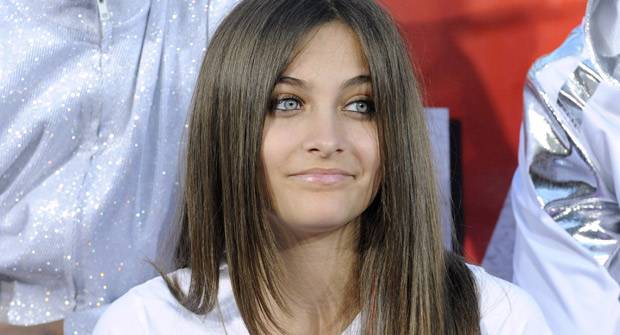 Paris has been in the public eye ever since she was a young, innocent girl. Being one of Michael Jackson's children meant that all eyes were on her. However, her father did what he could to protect his children from the limelight. Once Micheal Jackson suddenly passed away, his children found themselves being covered by the media. With her whole life ahead of her, Paris knew she wanted to continue the work her father did while he was alive. In an interview with Ellen DeGeneres, Paris said that she knew that her dad always wanted to heal the world and that she wants to follow in his footsteps. She displayed the same kind character traits that Micheal did, in regards to how they wanted to help people who were less fortunate. During this time period, the idea of hitting the party scene was not on her mind. Paris did find herself out of news media outlets for some time, however, when she emerged back on the scene, she was no longer the same Paris Jackson. She started off as America's sweetheart and even though her values or morals may have not changed, her image started to shift to Hollywood's number one party girl.
19

People's Most Beautiful Person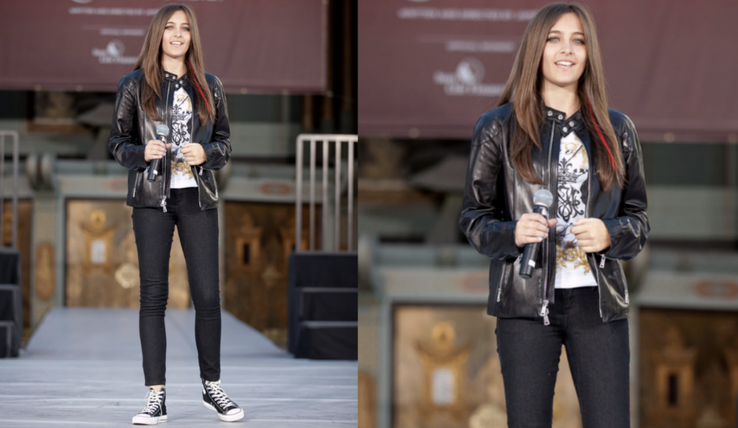 In 2012, Paris made People Magazine's Most Beautiful People list. At the young age of 14, Paris was included on the list not only because of her beautiful looks, but also because of her beautiful soul. Her hopes to one day make the world a better place captured the hearts of many people. When it comes to her beauty, she admits in the magazine that her grandmother does not like it when she wore makeup. She stated that when she would have sleepovers with her friends they would wash their faces and use nose strips that help eliminate blackheads and reduce pores. Being young that was her only beauty routine that she would do. In People magazine, she said that her beauty icons include Halle Berry and Beyonce. She admits that Beyonce is the most beautiful women she has ever seen. Her magazine appearance included a full page close up headshot that emphasized her light blue eyes. Her light blue eyes are a staple when it comes to her appearance. Even at the age of 14, the world recognized her beauty and nothing has changed since. The world knew that she was going to be a beautiful women.
18

Emerged With A New Look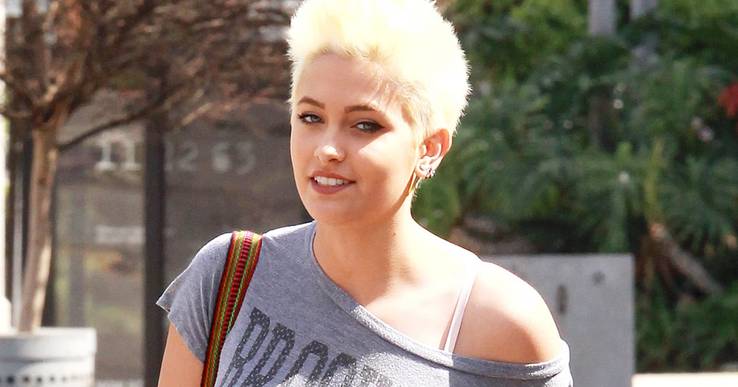 After staying out of the limelight for a few years, Pairs emerged back on the scene with a new hairstyle. She chopped off her long, brunette hair and dyed her hair blonde— a change that symbolized she was a new person and an adult who is going to make their own decisions. As images of her new look surfaced on the internet, the public was shocked and did not know what to think about the new Paris. A lot of what she was dealing with after her dad's death became public. In an interview with Rolling Stone, Paris admitted that at the age of 15, she struggled with depression and anxiety. At this time, she was also battling addiction. She started to feel like she was unworthy and could not do anything right, therefore, she would self-harm. She was able to keep what she was doing a secret from her family. However, once it became public she was forced to take action.  After a failed attempt at taking her own life, Paris was sent to attend a therapeutic school. She stated that attending the therapeutic school helped her a lot. She admitted that she was crazy, however, the school was great for her and now she believes she is a totally different person.
17

Tattoos Of Her Favourite Artists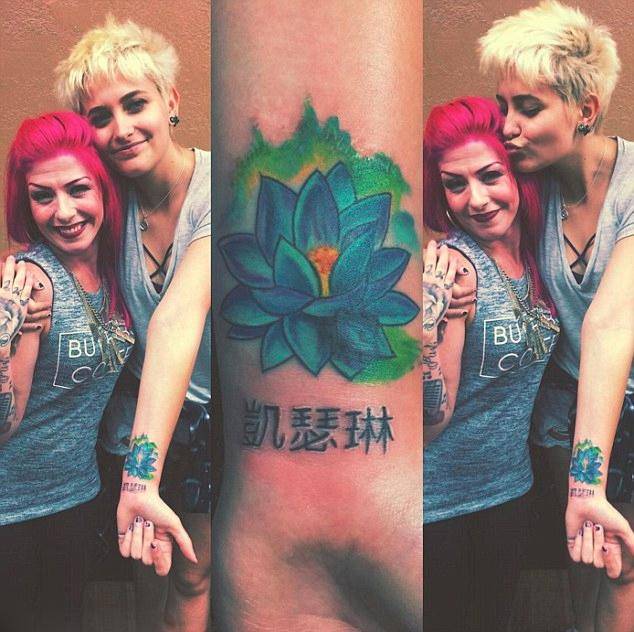 In her interview with Rolling Stone, Paris admitted that she has over 50 tattoos, and some of them were done while she was underage. Paris has accumulated these tattoos in a very short period of time. She has nine tattoos devoted to her father. She stated that her father gave her joy and happiness, so why not have something on her permanently to remind her of that? Among the nine are handwritten words from her father, album cover images and logos from her father's career. She also has tattoos that are devoted to other artists such as, John Lennon, Prince, David Bowie, and Van Halen. These tattoos show off her great taste in music. As previously mentioned, Paris did struggle with self-harm and she has a few tattoos that cover the scars. She also uses her tattoos to hide marks on her arms from her addiction. This is her way to forget about the hard and difficult times she went through. Now, she has tattoos that will remind her how much she has overcome. These tattoos are a way to express who she is as an individual. A new hairstyle and tattoos are only the start of Paris Jackson's evolution to Hollywoods number one party girl.
16

Blue Hair For Prom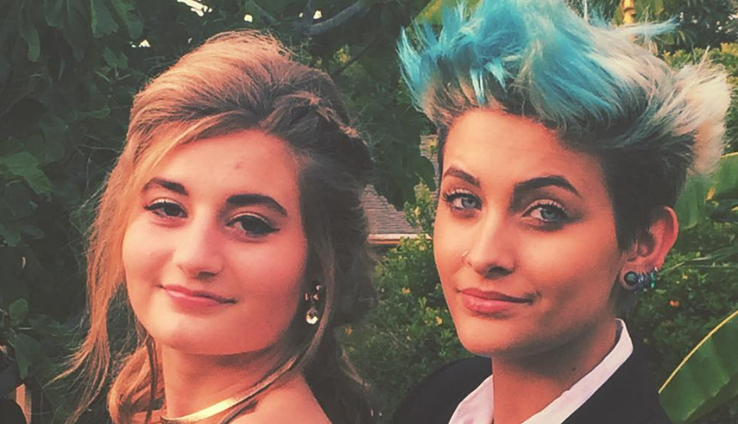 Prom is one of the most important times of a student's school career. It symbolizes the end of one's high school career and the beginning of a new era. It is a time where everyone is hoping to receive a "promposal" and go shopping for their dream dress or tuxedo. Paris is no different from any other high schooler, except for the fact that she opted to wear a tuxedo for the big night. Not only did she wear a tuxedo, she also rocked blue hair that matched her prom date's dress. Like most prom dates, she also wore a blue tie, which matched her hair and her prom date's dress. She posted this beautiful picture on Instagram with the caption "only true friends dye their hair to match their gal's prom gown." Despite not mentioning her prom date's name, the pair looked beautiful in their matching outfits.  Paris is all about not looking like everyone else and if that means dying her hair just to match her prom date, then that is something she is willing to do. From what the public can tell by her actions, Paris is not the type of person to live by other people's rules and this adds to her evolution to Hollywood's known party girl.
15

Signs Contract With IMG Models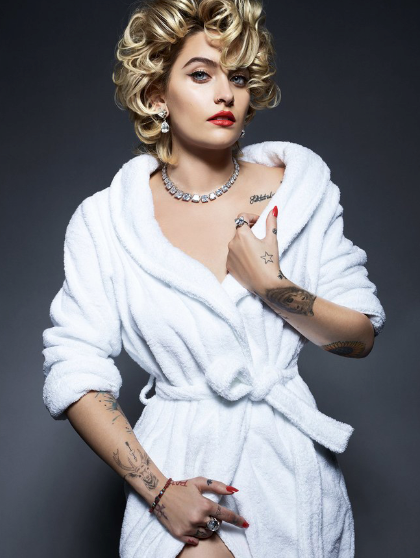 At the age of 18, Paris signed her first modeling contract with IMG Models. This agency also represents well-known models such as Gisele Bundchen, supermodel siblings, Bella and Gigi Hadid, Kate Moss, and other high-profile models. Just after a few weeks of landing her first fashion magazine cover for CR Fashion Book, Paris revealed the good news on her Instagram account. In her interview with the magazine, Paris touched upon topics such as the things she hopes to achieve throughout her career, she talked about modeling, acting, and her activism work. She admits in the interview with CR Fashion Book that she does not intend to follow her father's footsteps in the music industry. She said that she does write music, but it is only for herself and it is a way for her to get stuff out. She did express that she has always wanted to try out acting and also really wants to do bigger things when it comes to her activism work. For the time being, Paris wants to enjoy her time in the fashion industry. Paris was seen at a show during Paris Fashion Week and has been involved in a photo shoot for Chanel. Being a part of a great group of models did influence her evolution on becoming Hollywood's number one party girl.
14

Not The Outfits She Typically Wears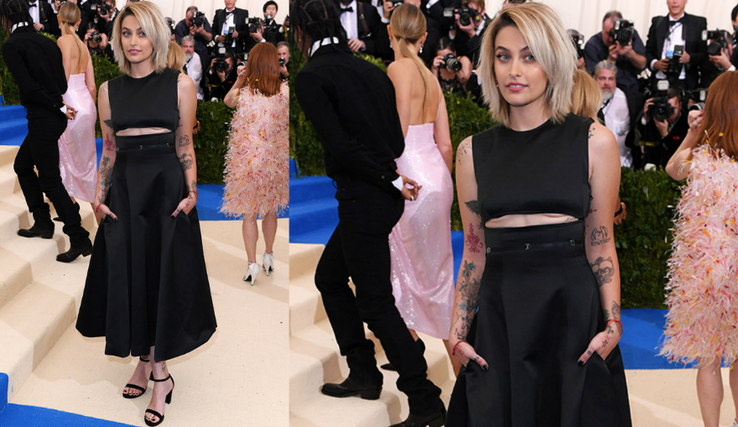 Considering the fact that she is the daughter of the King of Pop, Paris is a natural when it comes to walking the red carpet and attending award shows. Making her Met Gala debut, Paris walked the carpet in a black Calvin Klein cut-out dress. Her hair is styled straight and she has a more natural look for makeup. This outfit is paired with black high heeled sandals and no jewelry.  It is an outfit that covers a lot more skin then what we are used to. This outfit is the total opposite as to what Paris is known for wearing. Prior to this event, Paris had been posting topless pictures of herself on her Instagram account. As a part of her feeling free lifestyle, Paris opts for posting pictures that expose herself. She is often photographed in loose clothing that represent more of a hippie style. However, Paris is no stranger when it comes to dressing up. She knows how to rock any outfit and looks good in almost anything she wears. Surely, her family prefer the more covered up Paris, however, she would not be Paris if she was not following her own rules. The clothes she wears or lack of is all a part of her evolution on becoming the women she wants to be.
Featured Today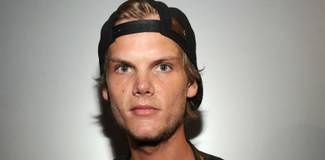 Avicii's Family Confirms His Death Was Suicide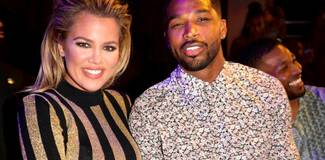 Khloè Kardashian and Tristan Thompson Relationship Update

25 Celeb Babies Born In 2018 With Names That Leave Us Baffled

13

Living A Hippie Life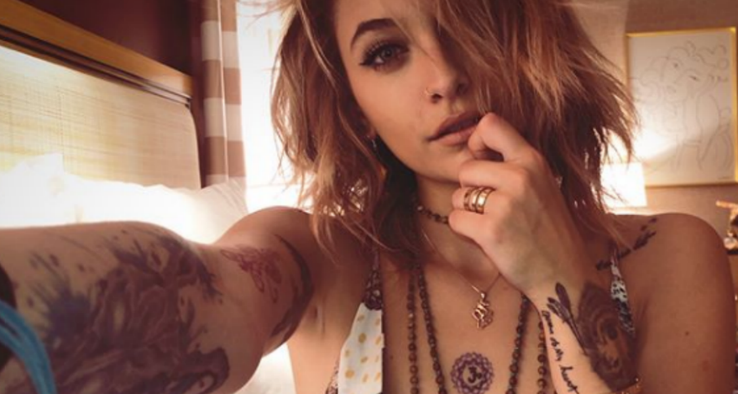 In May of 2017, Paris moved into a seven-bedroom house in Topanga Canyon. This house is located in the mountains above Los Angeles, away from the hustle and bustle of the luxurious city life. This move was referred to as 'hippie treatment,' as the house is located in the mountains away from everything. She moved into a house with other troubled friends including Marlon Brando's granddaughter. Most of her roommates are people who are trying to make it in the movie industry. The friends have all found strength in each other, as they help one another put their difficulties in the past. One of her roommates admitted on Instagram that moving into this house saved her life and has those people who she lived with to thank for where she is today. Paris has been able to find happiness while living in this house and was a big help while she was dealing with having to help nurse her mother back to health while battling cancer. According to Mirror, the housemates lead a carefree lifestyle and party at friend's houses in the Hollywood Hills. There is no telling if these friends she surrounds herself with are a good influence or bad, but it does contribute to her evolution on becoming Hollywood's number one party girl.
12

Rocking The All Dior Look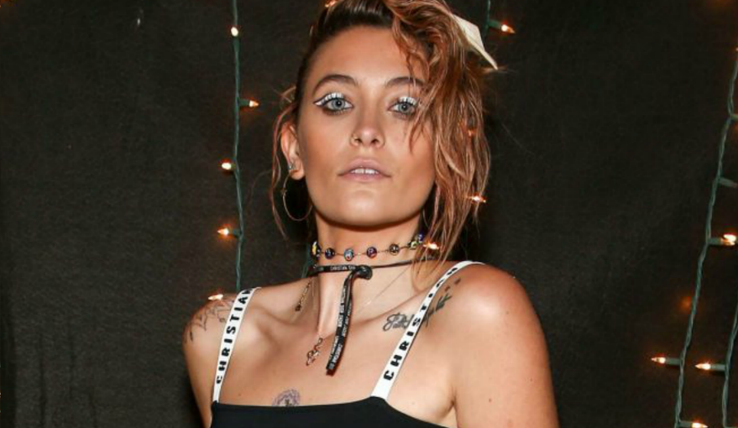 Paris attended the Dior Sauvage event that took place in the middle of the desert in Pioneertown, California. Since signing with a major model label, Paris has become no stranger to attending high-end brand events. She looked amazing when she showed up at the must-attend event. Her outfit included a black and white bra top, paired with shorts that were covered by an embroidered skirt. She wore olive green platforms and a tied leather jacket around her waist. Her hair was tied up with a scarf that was around her neck for the beginning of the event. To tie the whole look together, she included bohemian-style jewelry with this outfit. Everything she wore was from Dior. Her makeup was on point with the desert theme, as she wore bright white eyeliner that adds a little drama to her makeup. In relation to the event, her makeup look was all done with Dior makeup. According to Hollywood Life, Paris enjoys taking risks when it comes to her fashion choices. What she wears shows off the creative side of her. Paris is not afraid to be a little risky when it comes to her outfits and her fashion sense is always changing and evolving.
11

Hitting The Red Carpet Shoeless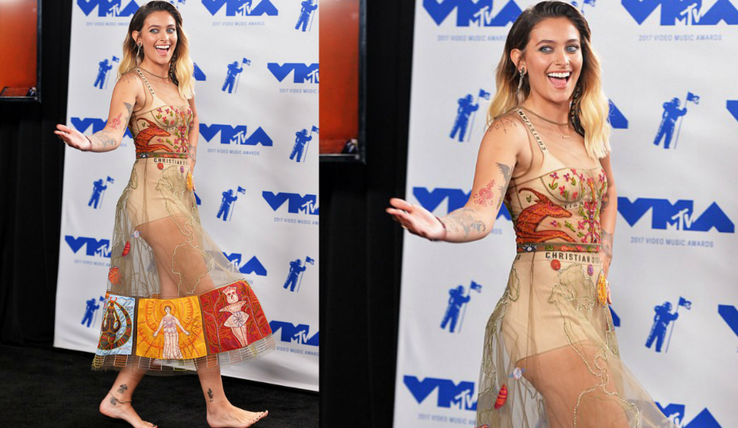 Paris attended the 2017 MTV Video Music Awards and she was also a presenter. As she graced the red carpet, her outfit looked like something only Paris Jackson would wear, including the fact that she was not wearing any shoes. Her outfit was all from Dior and included a bra top and nude boy-shorts underneath sheer nude tulle dress. The tulle dress was embroidered with flowers and mythical images. To add to her outfit, she added a few rings, necklaces, and earrings. Her hair was worn wavy and her makeup gave a dramatic effect. Despite how beautiful she looked in this outfit, people could not help but focus on the fact that she was not wearing any shoes and that her armpits were not shaven. Most likely, this is all about the hippie lifestyle that she has been recently embracing. Not only did she make headlines for her looks, but also because she was photographed kissing Caroline D'Amore in the press room. Caroline is a 33-year-old DJ who has a two-year-old daughter. Daily Mail reported that it is likely that the two met through Caroline's husband, the musician, Bobby Alt. This display of affection shows that Paris wants people to know that she is a wild-child.
10

Family Worried About Her Life
The Jacksons have expressed their concerns about the things Paris has been doing in her life. Recently, Paris posted a video on her Instagram of her walking along a ledge of a skyscraper. Her family related this incident to the time when Michael Jackson dangled his infant son over a balcony. The video shows Paris leaving a restaurant staggering and unable to speak properly. It then cuts to Paris walking along a ledge of a high building as she loses balance and falls into her then rumored girlfriend's arms. The video was captioned, "I almost died!" However, it has since been removed from her profile. Her family saw the video, which sparked their concern. They believe that Paris is heading for another meltdown. Page Six reported that sources close to the family believe that "new romance and new friendships have seemingly opened Paris up to more dangerous passions." What really has her family on high alert is her recent bizarre behavior and her constant need to be partying with her friends. Paris has become Hollywood's number one party girl and her family believes it is because of the people she surrounds herself with.
9

Wacko Jacko 2.0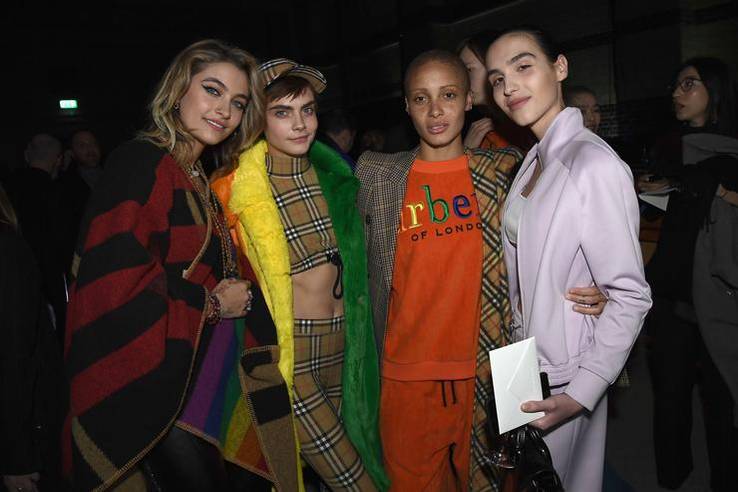 Paris spent a little time in Australia for the Melbourne Cup. While having a little fun, Paris was photographed licking a window panel. Australian news outlet, The Herald Sun, published the picture with the caption "Wacko Jacko 2.0." This title did not get a positive reception from the public, who thought that calling a young lady a "wacko" was inappropriate. The public also did not agree with them making fun of her deceased father. Just like the Australian public, Paris did not find it funny. She took to Twitter to respond to the name calling. She tweeted that she does not care what people call her, but she will not stand the fact that they brought her father into the matter. She tagged the writers of the story and claimed that they were cowards and that the would never dare to say something like that to her face. The public stood by Paris' side and showed their support by tweeting kind words to her. Many people stated that Paris is just being a kid who does goofy stuff and it is no big deal. With all the media coverage on Paris, it is hard to tell if it is just childish behavior or there is more to the things that she does.
8

Not Worried About Family Concerns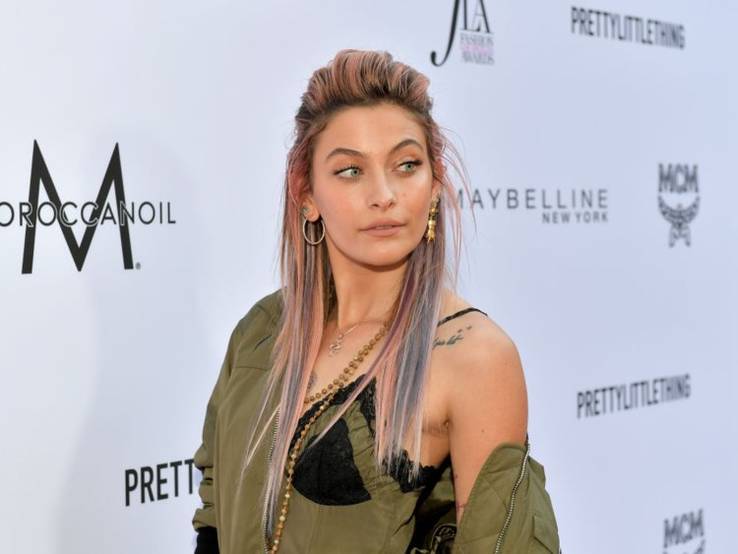 It is clear that the Jacksons are concerned about Paris and she is aware of their concerns. According to an Instagram post, these concerns were made known to her by her therapist who informed her that this report about her concerned family members was spreading. Therefore, Paris took to Instagram to slam her family's concerns about her. She calls out the family members who are speaking with the news outlets and lets them know that if they are so worried about her, they should reach out to her personally. She questions why they are running to news outlets to express their concerns instead of speaking to her about it. She states that no one in her family calls to her reach or they that they have not spoken in a while. She explains that her brother, Prince, is not worried about her health or safety because the two talk all the time, therefore, he knows what is going on in her life and has no reason to be concerned. It is not made clear as to which family members that she is referring to. Paris may be displaying some concerning behavior, but in her mind, there is nothing wrong with what she is doing and that she is totally fine. She may think she is fine, but her behavior is shaping her into Hollywood's number one party girl.
7

Believer In Religious Freedom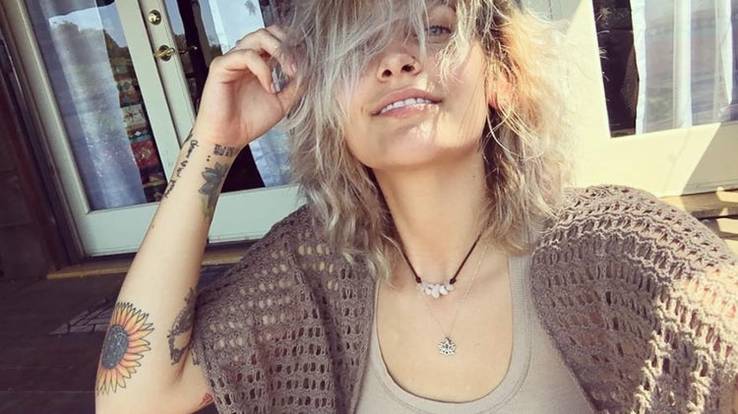 In an interview with Vogue Australia, Paris explains that she was taught to educate herself. She was taught that she should pick what works best for her, especially when it comes to religious beliefs. Paris is a believer in religious freedom and after studying Buddhism for almost two years, she switched to Wicca. Her reasoning for picking Wicca was being it focuses on the worshipping of nature. She stated that she hopes to one day become a shaman and that she can help heal other people. Getting spiritual guidance for Paris was a way to recovery from everything she endured by being in the public eye. In 2017, Paris joined a spiritual group at a meditation center in California and often Instagrammed herself meditating in front of temples. She has also Instagrammed images of her crystals, which she relies on for healing. It is no surprise that Paris is taking an alternate approach to healing since she has been taught all her life to think outside of the box. Despite making headlines for partying and questionable behavior, Paris does what she can to center herself and heal her soul.
6

Shows Her Support For Women's Rights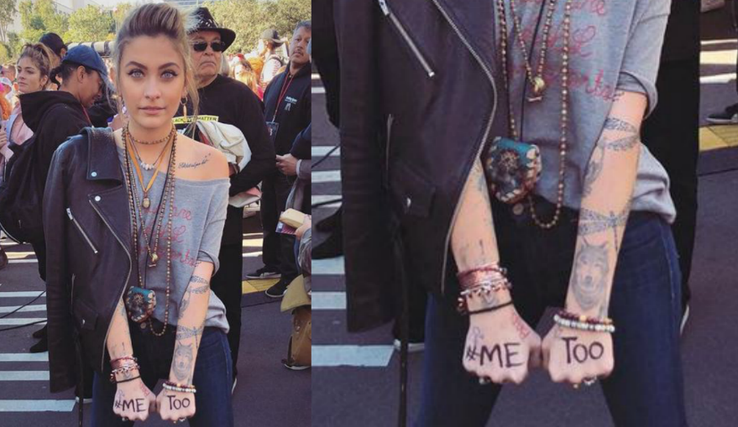 Paris attended the Los Angeles Women's March this year along with many other celebrities who showed up to support women's rights. Many people showed up to stand in unity and support the national movement. Paris was among many who gave a speech at the march to express her support and add her voice to the movement. She was joined by stars like Natalie Portman and Viola Davis. The march took place a year after President Donald Trump was inaugurated. This year's march also included the #MeToo and Time's Up movements, which recognize the mistreatment of women in Hollywood. Paris had #MeToo written on the front of her hands and she was also photographed holding up a peace sign with her fingers. During the march, there were many protests taking place, including Trump's immigration policies and his plans for DACA. To show her support, Paris wore a grey t-shirt that said: "We are all immigrants." Despite her party girl ways, Paris finds the time to settle down and focus on things that are important to her and matter in life. It may seem like she is out of control, but this Hollywood party girl wants the world to know that feminism is cool.
5

Dating Cara Delevingne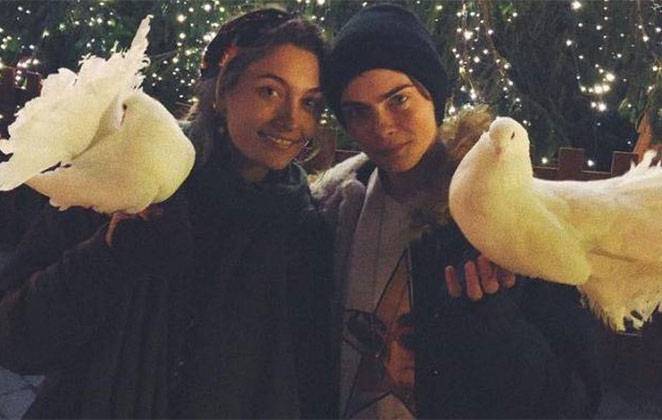 The two met at the MTV Movie Awards last year and have been inseparable ever since. After spending so much time together it was rumored that Paris and the model, Cara Delevingne, were dating. To fuel the rumors, Paris and Cara were photographed kissing in public. However, a source told People Magazine that the two are just friends. The source explains their relationship as flirty, but they are not dating and that "Paris is 19 years old and living her life" and has no plans on settling down any time soon. Whether or not the rumors are true, the couple has not really spoken about their relationship, even though they share many pictures of themselves together on social media. The couple has even been spotted on a double date at a Los Angeles restaurant with Paris' godfather, Macaulay Culkin, and his girlfriend, Brenda Song. They were even spotted holding hands while out with their friends in London. Despite confirming their relationship status, the couple does not attempt to hide how they feel about each other. They may not speak about their relationship to the public, but a picture is worth a thousand words. This relationship comes after Paris' relationship with Michael Snoddy ended, which lasted less than a year.
4

After Party Partying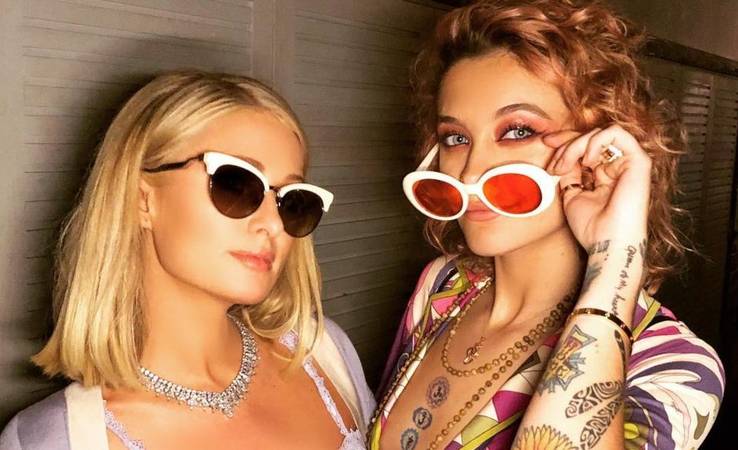 Paris turned heads as she attended the Vanity Fair's Oscar After Party in a green Versace dress. The dress was sheer and had a chiffon train. There was a lot of skin showing, which allowed for her to show off her many tattoos. The dress fit her body shape perfectly and fit her well. She paired the outfit with matching open-toe high heel shoes.  Many news outlets compared her look to Tinker Bell, however, she left the wand and wings at home. She may not have had the idea of looking like Tinker Bell in mind when picking out the dress, but when she realized the resemblance, she went with it. Paris told Rolling Stone, that her father, Michael Jackson, would call her Tinker Bell, which comes to no surprise, as Michael did have an obsession with Neverland. At the end of the night, Paris was spotted leaving the event. She was photographed holding up the shaka sign, winking, and sticking her tongue out. By her gestures surly she had a great time attending the after party. She may not be old enough to drink, but she sure knows how to have fun at an event, which is why she is Hollywood's number one party girl.
3

Godfather Always By Her Side
The actor, Macaulay Culkin, who is famously known for playing Kevin McCallister in the hit movie, Home Alone, is a lot closer to Paris than what the public knows. The actor is actually her godfather and has been close with the family for a very long time. He told Marc Maron's WTF podcast that Michael Jackson was actually his best friend for most of his childhood and that he never felt uncomfortable around him. Macaulay has expressed to many magazines that he always has his goddaughter's back no matter what. In a podcast, he stated that he is very protective of Paris and, despite being an open book about a lot of things, talking about Paris is something he keeps sacred and is not willing to talk much about. He can understand and relate with some of the things she's going through, therefore, he is not going to give the media the information that they are fishing for. When asked about Paris, he told Marc Maron that "she's tall, and beautiful, and smart." Paris and Macaulay have been seen a lot on social media hanging out together. The two also have matching tattoos of spoons. Family is very important and since Paris is having some issues with her own family, it is nice to have someone she can turn to in difficult times.
2

Partying While Mom Is At Home Sick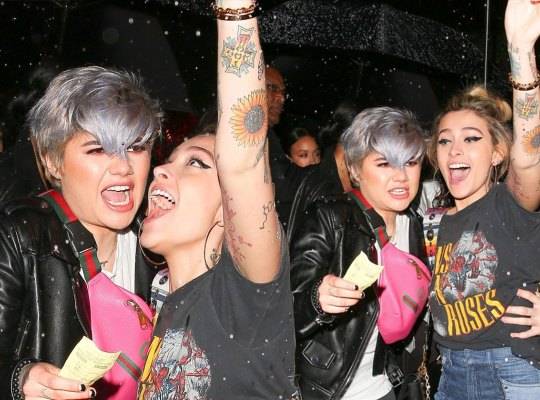 Last year, Paris' mother, Debbie Rowe, started her battle with cancer and started chemotherapy. Paris has been doing everything she can to be by her mother's side and help nurse her to health. Paris has gained a reputation of being a party girl, therefore, it came to no surprise that she was spotted at many nightclubs with her friends. She has been spotted attending many events lately. However, knowing that her mother is battling cancer, the public believes that the model should be at home spending time with her mother. On March 14, Paris was spotted at the Dior bash at Poppy nightclub in West Hollywood. She was photographed leaving a club seemingly out of control. Sources tell Radar that Paris has been acting stranger than usual, as she now lives in a teepee and smokes recreational substances. Despite the partying, she does still live a very isolated hippie lifestyle. Within the public, her actions have been getting mixed comments. While some feel like she is acting like a normal 19 year-old and her mother's health should not dictate how she lives her live, others feel like her behavior is out of control. Paris, on the other hand, does not care what people have to say or think, she will do what she wants, therefore, she thinks there is nothing wrong with being Hollywood's number one party girl.
1

Turning The Big 2-0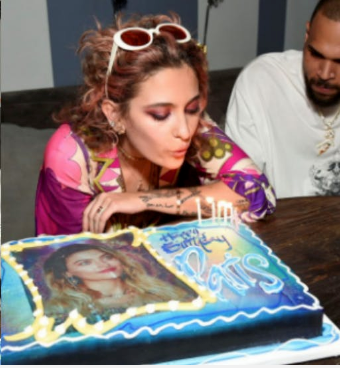 This year, Paris left her teenager years behind her as she turned 20! Michael's only daughter is no longer a child, as she celebrated her birthday at sbe's HYDE Sunset in West Hollywood. She celebrated her birthday with her older brother, Prince Jackson, and a bunch of celebrity friends. Those friends included, Paris Hilton, Chris Brown, Jared Leto, and Ashlee Simpson Ross, along with her husband. Paris wore a vintage-themed outfit to her party and had pink-tinted hair. Her outfit included a pink and purple patterned Missoni dress paired with all white knee-high boots. Her birthday cake was customized and had a picture of herself on it with a few candles. Everyone who attended had a great time and there were many pictures of the party online with everyone smiling and laughing. Turning 20 only means one thing, she only has one more year until she is legal in the United States, which means this party girl can take being Hollywood's number one party girl to a whole other level. Surly, her 21st birthday party will be a popular event. Paris is still young, therefore, the media should let the girl live and let her do what she wants. With good friends and family by her side, Paris is in good hands.
References: Page Six, Daily Mail, Radar Online, Rolling Stone, Australia Vogue, CR Fashion Book, People Magazine, Mirror, Hollywood Life
Source: Read Full Article