We tend to forget that Meghan was a normal girl before meeting Prince Harry, posting photos of her ordinary daily life on Instagram. Sadly though, it has been deleted because social media is a no-no for royals. Luckily, though, there are rare photos from Markle's Instagram that we can't ignore! They consist of endless selfies of yoga poses and poses by the swimming pool. There's even a pose of Meghan in Ugg boots! Meghan was quite the party animal in her 20s and we have the rare photos to prove it, photos of a younger Markle out and about with her friends on their way to the next party. We were also lucky to get snapshots of Meghan growing up thanks to Markle's childhood friend Ninaki Priddy. There are endless images of Meghan during her school days, her teenage years, and of course in her 20s. Meghan must be fuming about this now since she's a duchess and her photos are still on the Internet for the whole world to see.
There are even images of Meghan at her prom and yes, of course, she was crowned homecoming queen. But the most embarrassing would have to be the images of Meghan's advertisement job before she became famous. The Queen also wouldn't like the shots of Meghan while holidaying with her friends as they are quite revealing. We're jealous of all these rare photos that Meghan will never live down because it shows her living the life, but there are also embarrassing snaps that show us Meghan was just a normie!
24

An Embarrassing TV Ad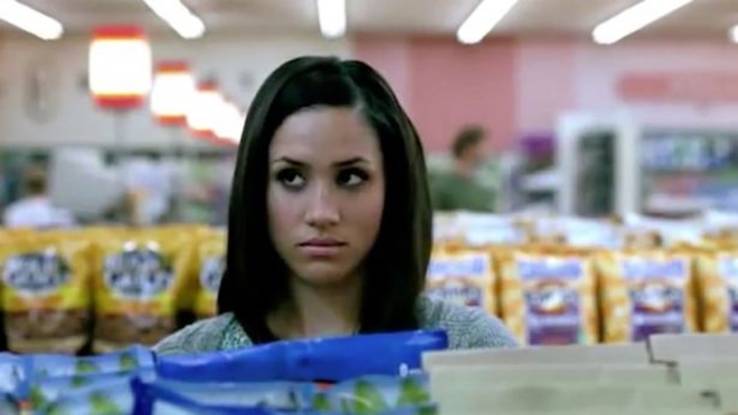 Before Meghan made it big on Suits, she did some acting jobs which every struggling actor would do — TV commercials. I bet Markle must be squirming because of these images and the fact that everyone in the world can literally see them. The ad was for Tostitos and it was done about 10 years before Markle's engagement to Harry. The ad features Meghan in a supermarket contemplating what chips to buy. Markle holds one pack in her hand and reads the contents and continues thinking while a voice-over speaks. Meghan doesn't say a word in the video, but does portray a thinking face very well.
The cringe-worthy thing about it, though, is how young Meghan looks and her clothes, which she obviously had no choice but to wear. Markle always looks flawless these days but in the ad, she looks bland. At least Meghan shined in Suits and her acting struggles are behind her.
23

Meghan Enjoyed Take Out In Her Younger Days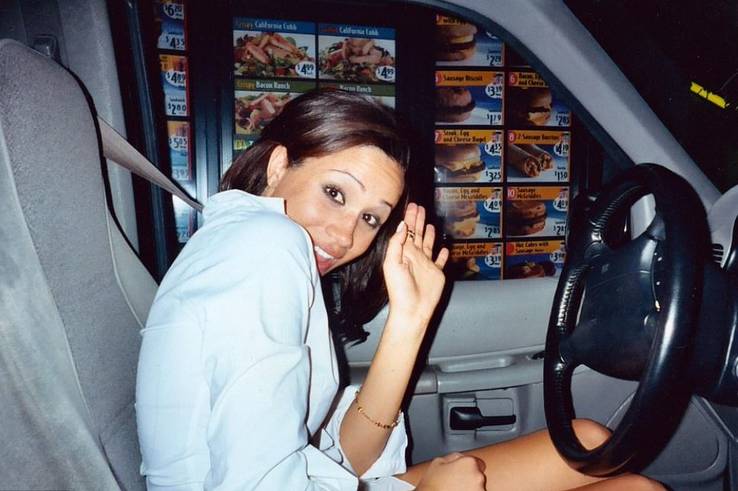 Markle must be cringing as her friend from back in the day, Ninaki Priddy, shared heaps of photos of the Duchess in a whole different light as it shows Meghan acting like a normie and not like a royal. In this image, Markle was celebrating with a group of friends and having a night out on the streets of Chicago back in 2003. The number-one rule for partying is fast food and Markle didn't disappoint. In the photo, Meghan looks very excited behind the wheel at the drive-through. Meghan eats healthier now so this is a very rare occasion that caught on camera. Markle's diet now consists of salads and green shakes, but her guilty pleasure is French fries, saying she can "eat French fries all day."
22

Re-Doing Her First Apartment Walls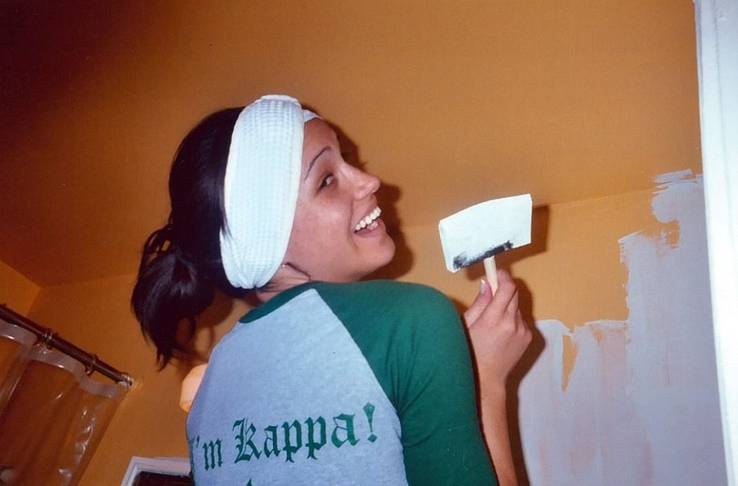 When you're a college student, it's normal for students to change their rented rooms since it's their first home away from home and Meghan wanted to make her room a Bollywood-inspired theme instead of having the walls plain white.. In the photo, Meghan is painting the walls back to how they were before she moved in and it's the only photo that reveals Meghan in her first apartment after moving out of the house.
Markle looks like your average college student with a sorority T-shirt and super casual look. Her hair is tied up and Meghan even wore a bandana around her forehead. Painting is normally tedious, but Markle makes it look fun, laughing with a tiny paintbrush in hand. Worth mentioning is the fact that Markle is makeup free, but she does look fresh and wholesome.
21

Lounging around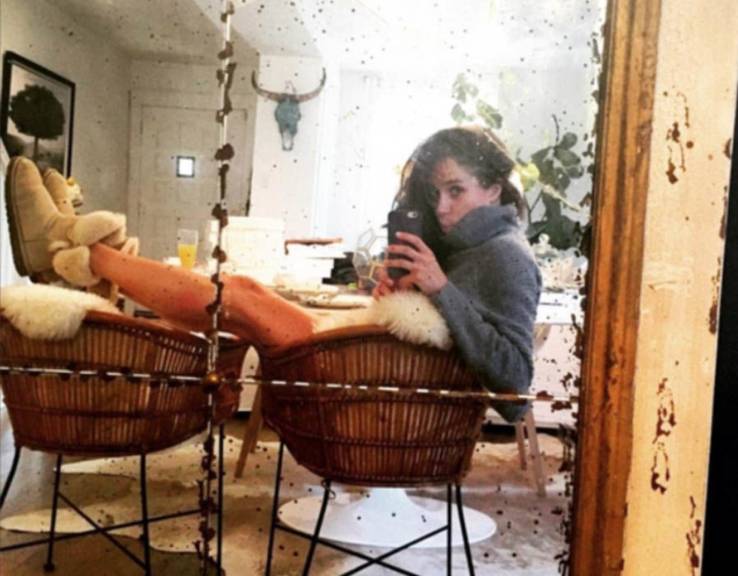 If only Meghan could've kept her Instagram account because seriously, it was the best thing ever as it included endless selfies and in every single one of them, Markle pulls silly poses or does funny things. In the photo, Meghan is decked out on the chair while at home. It was a rarity as she didn't take selfies at home often. When out and about Markle always wears denim and normally dons a white-collared shirt with it. In this photo, though, Meghan wears a turtleneck sweater and instead of flats, she decided to wear a big pair of fluffy Ugg boots.
Markle's hair is swept messily to the side and she's doing a model pout. Plus, Meghan is just like everyone else, taking mirror selfies. Now that she's a duchess, I bet Markle can't strike these poses anymore and definitely has to stick to a more conservative style.
20

Deal Or No Deal Briefcase Model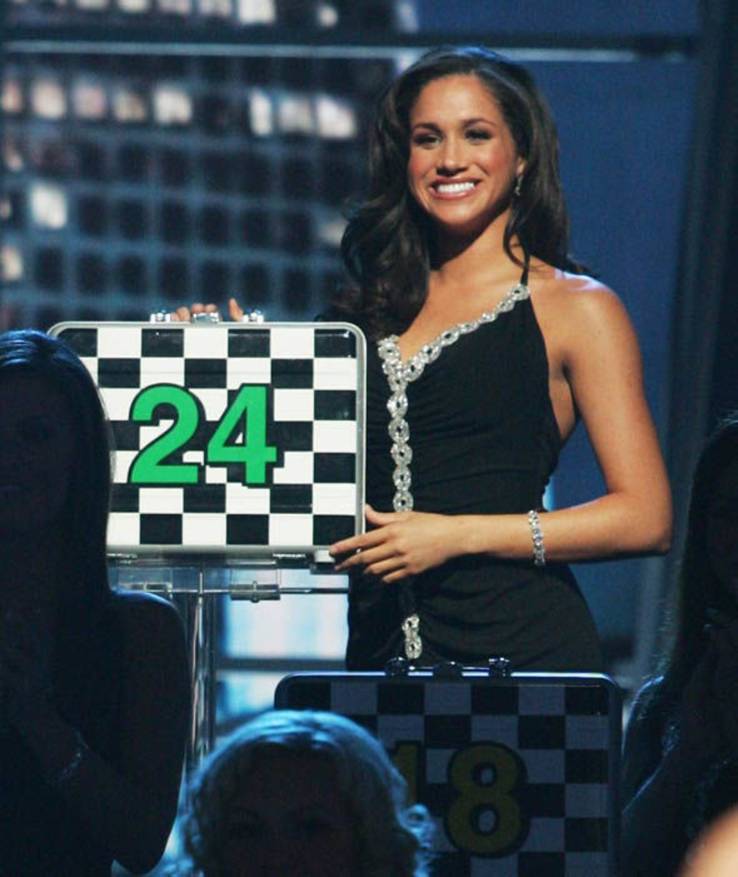 I bet you didn't know this fact about Meghan, but before Suits, she was also a model for the show Deal or No Deal. Twelve years ago, Markle needed work and I bet she would take any acting job to add to her resume which possibly explains why she took this job. Markle's job description was being the briefcase model and I'm sure she regrets this now since marrying into the Royal Family. Meghan worked with Chrissy Teigen who was also a briefcase model and who recalls that Markle joined the cast on the second season. Teigen only had nice things to say about Meghan though.
 "I remember her being just very quiet and sweet. Just really kind, and I don't say that about anybody." 
The role of the briefcase model is to look glamorous which Markle certainly did. In this image, Markle holds the briefcase with number 24 and she brightens up the room with her wide smile.
19

Markle's Partying Days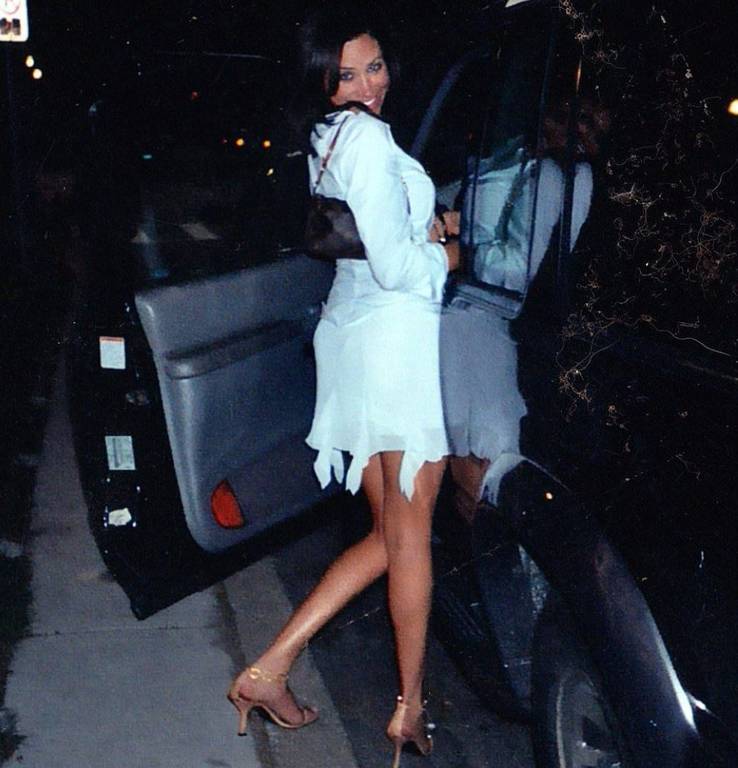 If it wasn't for the Duchess' friend, we would never have these images of Meghan's partying lifestyle. In your 20s, it's normal to have this sort of lifestyle, so we don't blame Markle, but now, she must regret them especially because she needs to live a more conservative life that the Queen would improve of and partying is definitely not part of it. Harry also loved to party in his younger days but now, he is leading a quieter lifestyle because of the media scandals. Markle lived it up in her college days and in this particular photo, she was on her way to a graduation party. Ninaki did share other photos of the night which included group shots, but in this photo, Meghan is all smiles and looks like she is having the greatest night. The outfit isn't all that flashy and is actually quite tame for a night out, but it's still short and Markle definitely looks her age.
18

Trying To Become Famous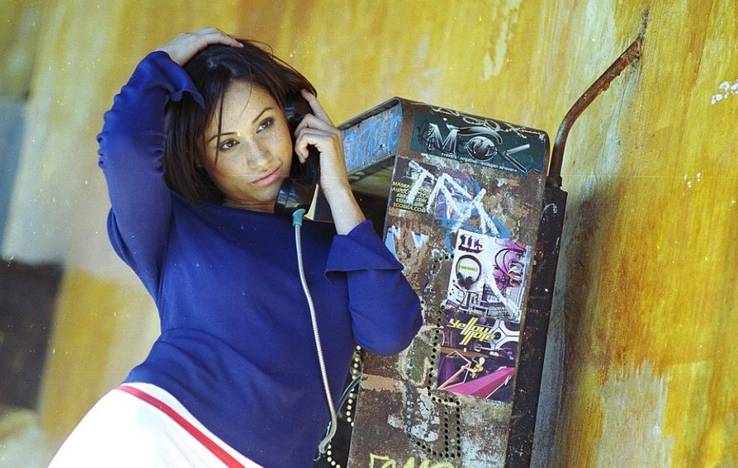 Markle had a lot of odd jobs here and there before hitting the jackpot and also did some photoshoots. The Duchess did these photoshoots in 2003 when she was only 22 years old and it doesn't even look like her. Markle was hoping that the photos would kick-start her career but that wasn't the case until 8 years after the shoot. The set of photos showed an innocent Markle in a white top and denim jeans smiling or doing a series of pouts. In this image, Meghan spiced up the wardrobe with a purple jersey. Markle's pose changed as well as she obviously wanted to reveal her acting ability by pretending to talk on the phone.
 "She was very professional and knew exactly how to pose for the camera, despite being new to Hollywood."
It shows Markle has always been a natural in front of the camera!
Featured Today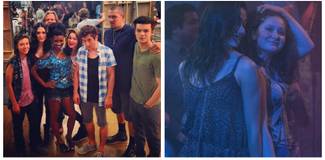 20 Behind-The-Scenes Secrets From Shameless Fans Have No Clue About

15 Reasons Why Hollywood Might Drop Emma Watson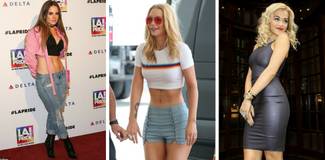 20 Famous Celebs Fans Won't Remember By 2019

17

Meghan Loves The Gym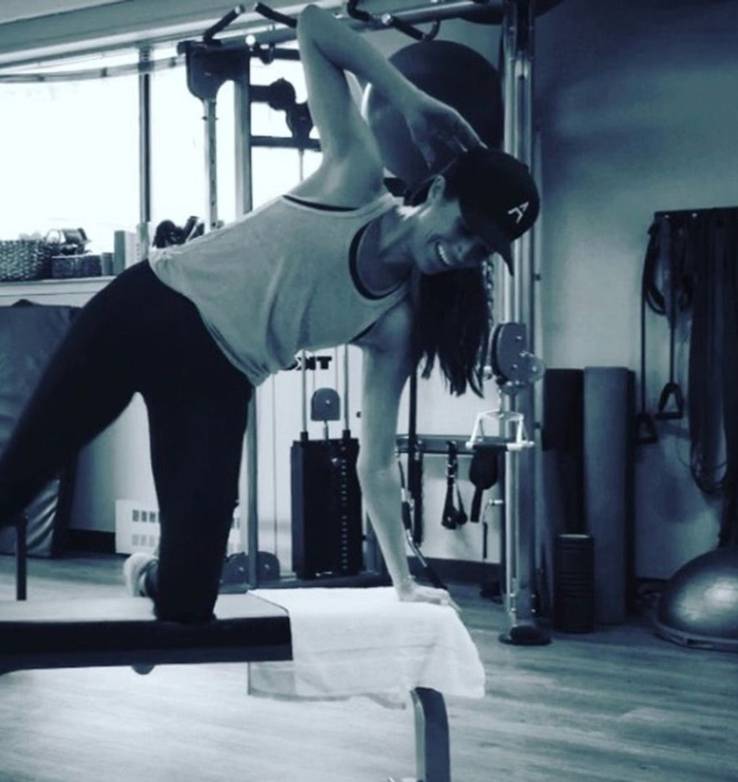 Back when Markle was active on Instagram, she shared with the world her gym workouts. What makes this image so unique is the fact that we're now used to seeing Markle in street style and public-appearance attire, not workout clothes. Plus, we will never be able to see gym snapshots ever again as her private life will need to remain behind closed doors since she married into the Royal Family. Luckily, we have this image as we can see Meghan doing a workout on a table with gym equipment in the background. Markle is dressed in a typical exercising ensemble as well, with a plain tank top, black leggings, white sneakers, and a cap which is now replaced with elegant fascinators.
"My health, my state of mind, the feeling you have after a workout; all of this things drive me to step onto my mat or go to the gym."
Meghan's fitness regime includes yoga which she absolutely loves. Maybe she was attempting a yoga pose in this picture
16

Holidaying In the Sun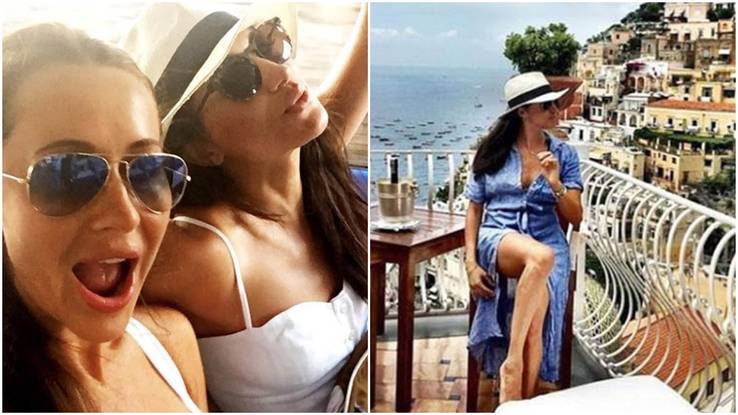 Before becoming a duchess, Meghan had a lot of images in a bikini and a month after she started dating Harry, she jet-setted to Italy with her best friend, Jessica Mulroney. All of their vacation snaps was on Jessica's Instagram and they would definitely make the Queen blush, and not in a good way. Meghan is living the life while on holiday with trips to the beach and sunbathing with her bestie on deck chairs. The two instantly hit it off.
"Meghan adores Jessica, not just as a friend but also as someone whose taste and style are impeccable. Meghan looks up to Jessica and has, to a certain degree, modelled herself on her." 
It's rare because we will never see these sorts of photos from Meghan again because she needs to abide by royal rules now.
15

The Curly Hair Days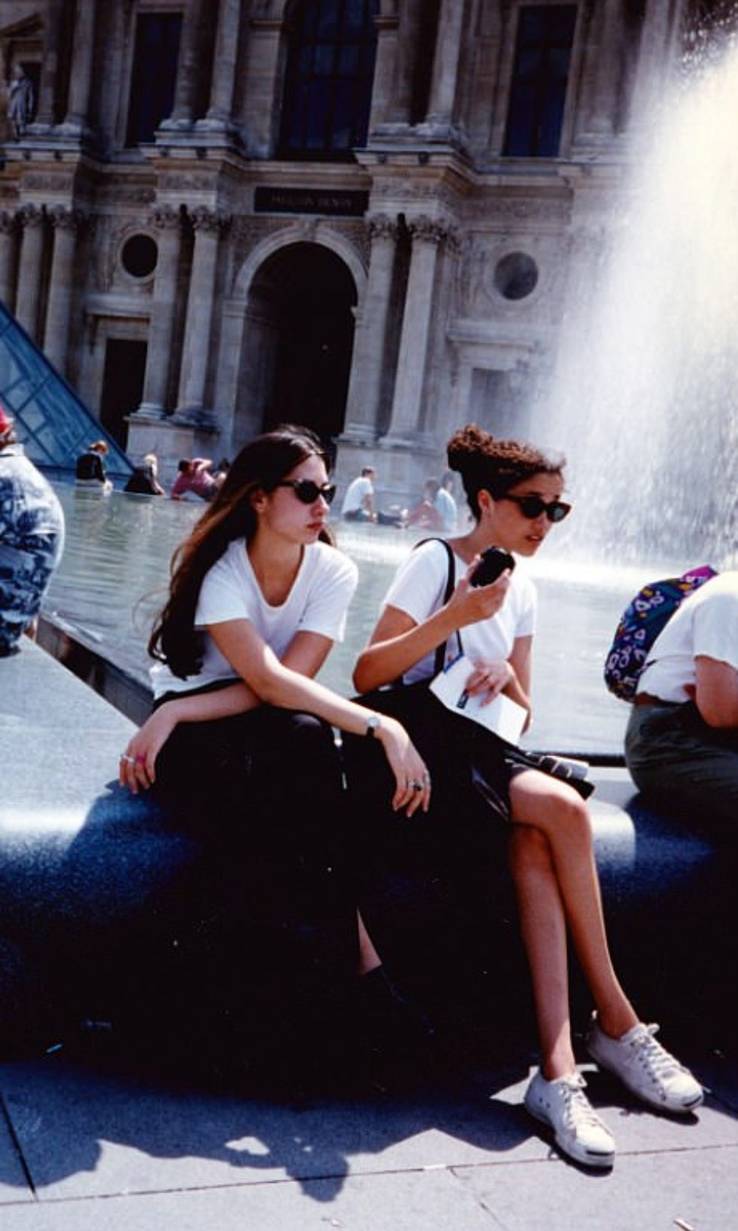 Ninaki and Meghan went to Europe in 1996 on a family trip. Meghan was only 15 years old but looks much older as she looks very professional while sitting on the fountain step at the Louvre in Paris. Markle's expression is very serious as she holds a device in her hand and it looks like she means business. We're not used to seeing a serious side to Markle, so this image is a rare one. Another thing worth mentioning is the hair as Meghan's hair is always straight with some volume now and in this image, it looks like Markle is rocking her natural locks.
To tell you the truth, Meghan's hair is curly in all her older photos which means she has natural curls. Markle also looks like any casual teenager with the white tee and white sneakers.
14

High School Graduation Headshot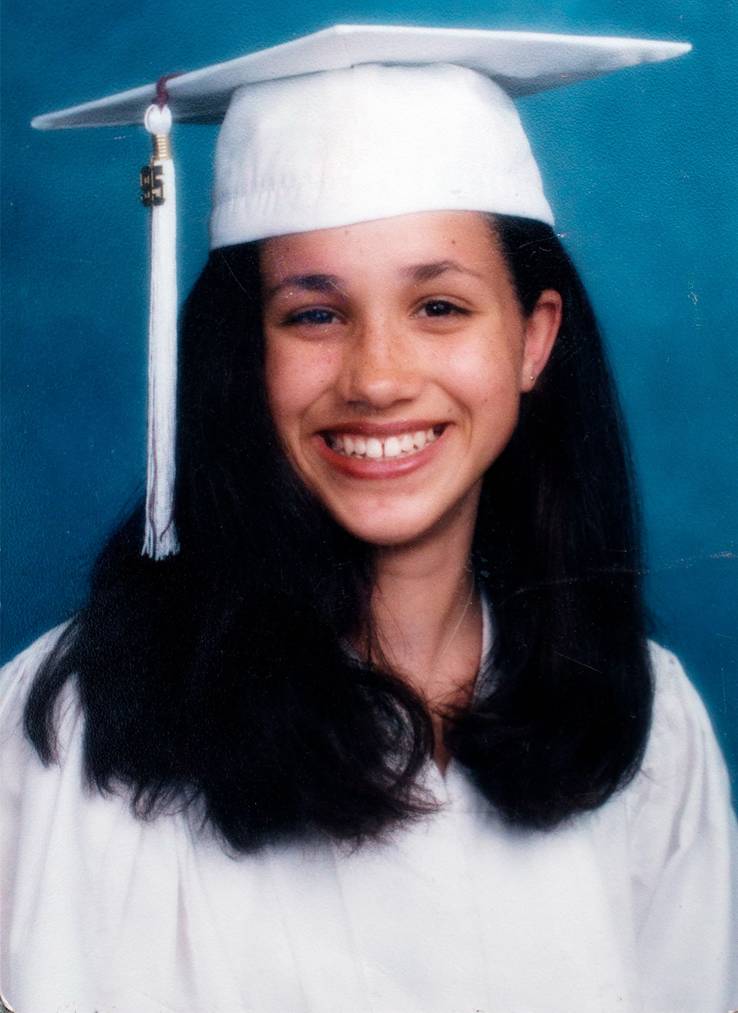 High school photos are always the worst. Markle attended high school at the Catholic school of Immaculate Heart in Los Angeles and she looked completely innocent, especially with the little gap in her teeth. When Markle shows her teeth now, you can see she's had work done to fix the gap between her two front teeth. Dr. Otto Placik says, "She clearly had her teeth whitened and the gaps closed with braces." We don't blame Meghan for fixing her teeth as it's ideal to have a million-dollar smile when you live in Hollywood and especially when you're a duchess.
Markle was a good student and according to one of her teachers, Maria Pollia, she was always happy and wasn't afraid of having discussions in class and also raised her hand.
13

First Carpet Appearances Are Awkward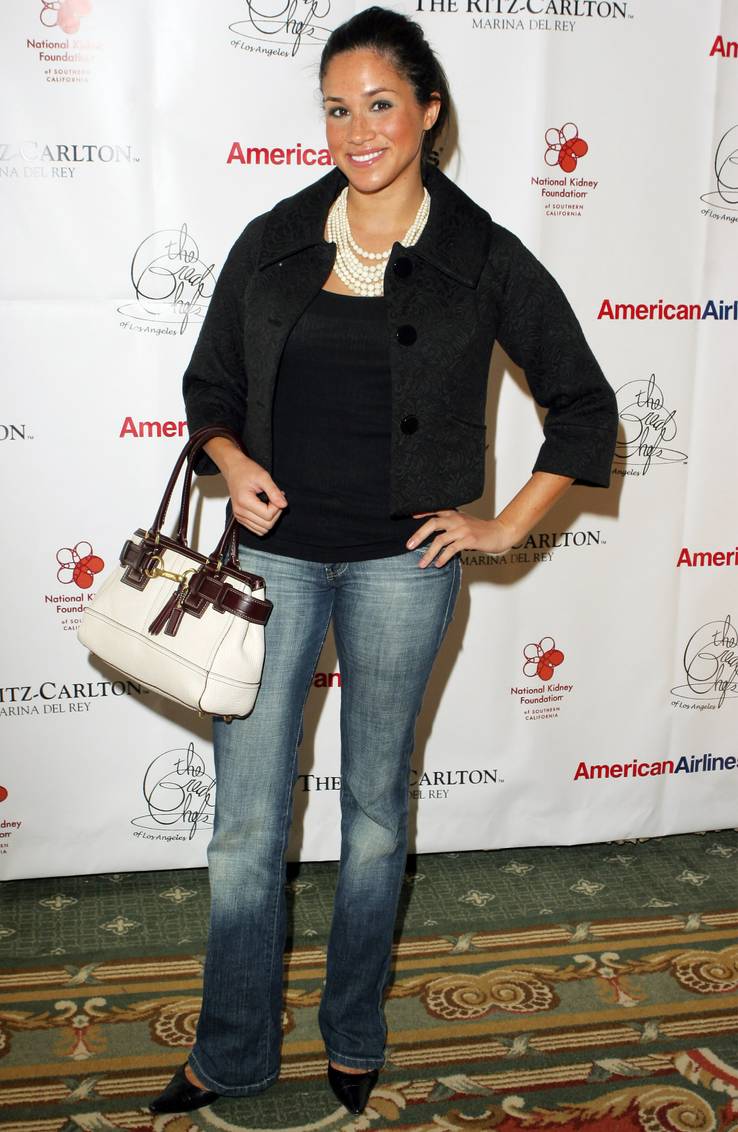 Is this really Meghan? Yes, it is a much younger Markle after her college days and when she returned to Los Angeles after living in Chicago for a while. The Duchess still has that innocent schoolgirl look and thankfully, her red carpet photos have improved over the years. During recent appearances, Markle wore stunning dresses which really accentuated her curves. Although, in this image, which was taken in 2006 at the George Lopez/Great Chefs of L.A. Event, Markle decided to go simple as she wore a pair of jeans and a simple black tee. This photo is old and this look would've been okay for a day oat the mall, but not for an event.
I'm sure Meghan must cringe when she see's this photo because of the casual look but also the hair as Markle just tied it up. She doesn't stand out in this image like she always does nowadays and it just looks awkward especially the pose and smile. Markle didn't have a lot of practice when this photo was taken but she is more confident now thank goodness and knows how to work the red carpet!
12

Chilling At Home With The Dog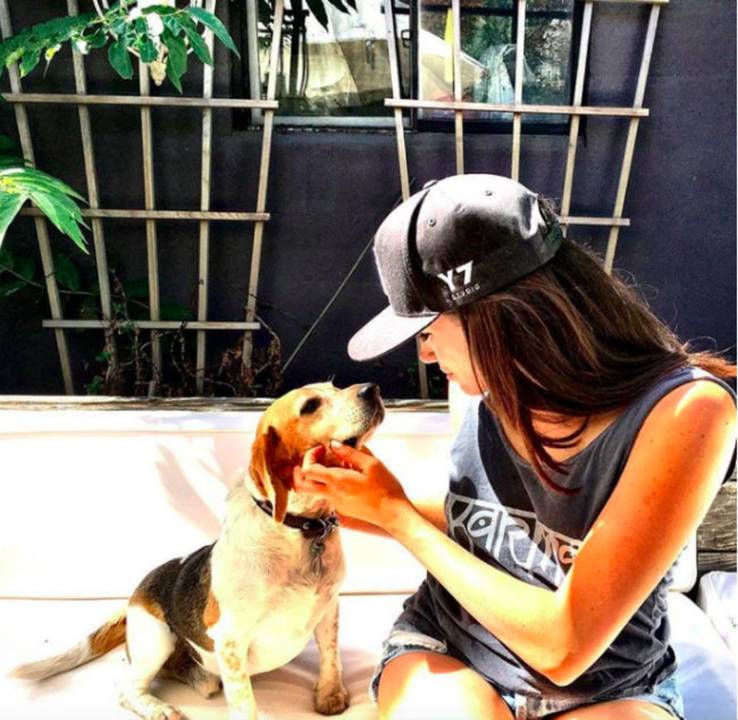 When Meghan lived in Canada before making the big move to London, she had two dogs who she absolutely loved! They were evident in many Instagram selfies of Meghan's and this image is another rare precious gem which we will never see again as Markle's life has changed drastically. It was reported that Meghan only took one dog with her, the Labrador-Shepherd mix, but she didn't take the Beagle because he was older. A source says Markle was very close to her dogs.
"She is very close to those two dogs. She lets them sleep on her bed and they eat only the highest quality organic food."
We all know how much the Queen loves her Corgis so it's something they have in common.
11

Partying with friends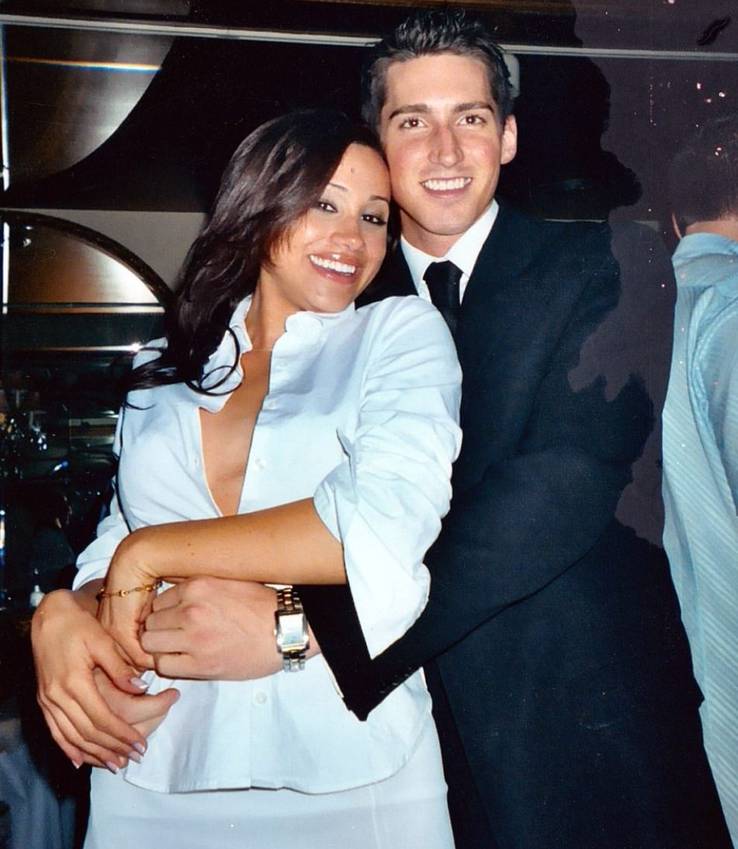 This is one lucky guy as he got to pose with Meghan in a photo which was one of the images taken by Markle's longtime friend. It was taken during the graduation celebrations back in 2003 in Chicago. This guy was all smiles and I bet he must treasure this photo now since Meghan married a prince. Markle really loved her wild days when she was at college according to a former student.
"Meghan had a fake ID during her time at university and told us about it when she visited the campus in 2014. She said she used it to drink at The Keg, which was a popular student bar for years, and she also got a job at a club in the city." We don't blame Markle for her party days as she was young and even though she lives a reserved life now, pictures like these will always be on the Internet for the public to see.
10

Photo booth Fun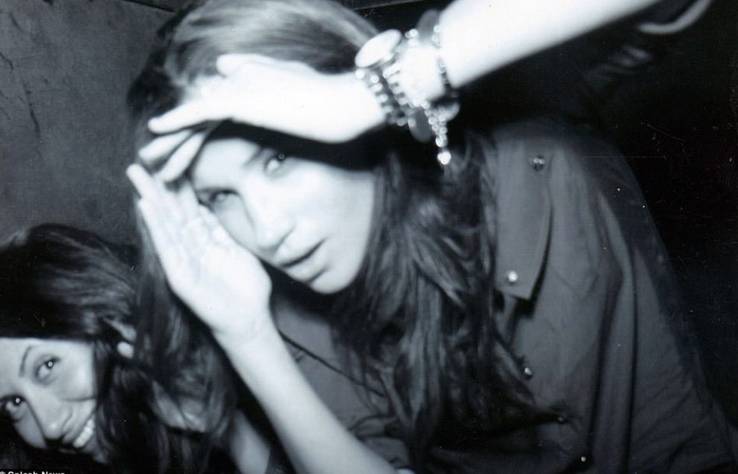 This is one of the most recent pictures of Meghan and the picture was snapped in a photo booth in 2010 at Soho House in Los Angeles. It's a rare image of Markle having fun and playing around with friends. Meghan was playing around with funny poses which you do in a photo booth and her poses were almost playing hide and seek with the camera as Markle placed both hands on her forehead. Ninaki knows a lot about Meghan which can be a bad thing since Markle is now a royal.
"We'd been like sisters since we were two years old, so I knew she always wanted to get married."
What makes it even worse is they had a falling out after Meghan left her ex-husband, Trevor.
9

 High School Homecoming Queen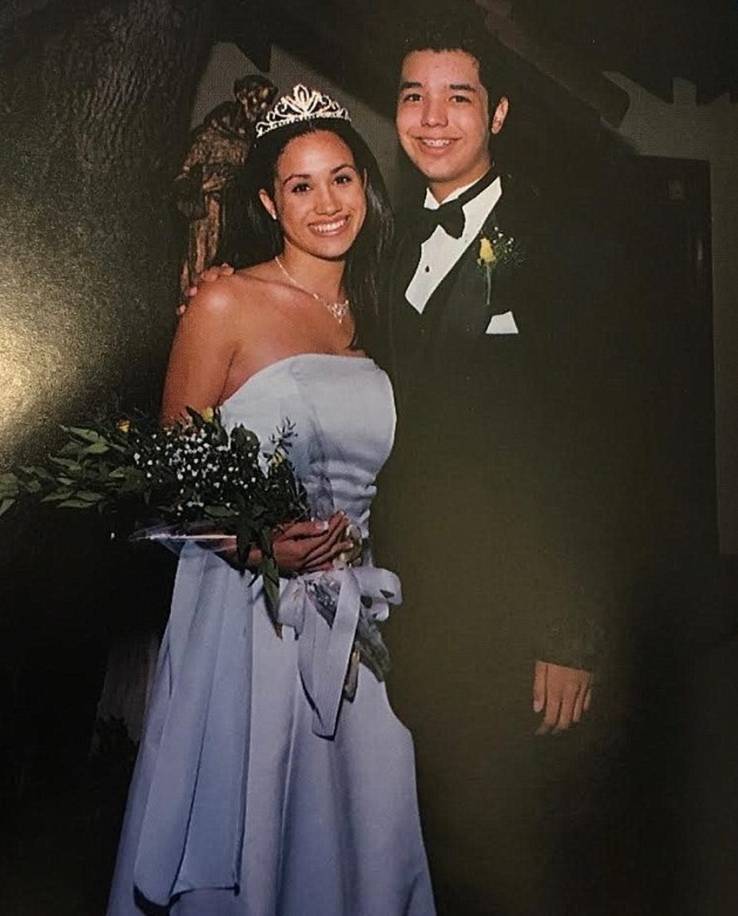 It seems like Meghan was destined to be royal since she won homecoming queen back in 1998 and we all know how important winning the crown is when you're a teenager. Markle looked very happy to receive the award and her homecoming date is one lucky man as he can now say that he was Markle's date back in the day. Homecoming is very important and stressful as you have to worry about the dress, hair, and makeup. Markle chose a purple strapless dress which looked heavy on her and didn't really accentuate her waist.
The photo isn't cringe-worthy, but if Meghan would've to look at it now, I bet she would be proud of how far she has come since then. I wonder if Markle still has her crown!
8

The Wedding In Jamaica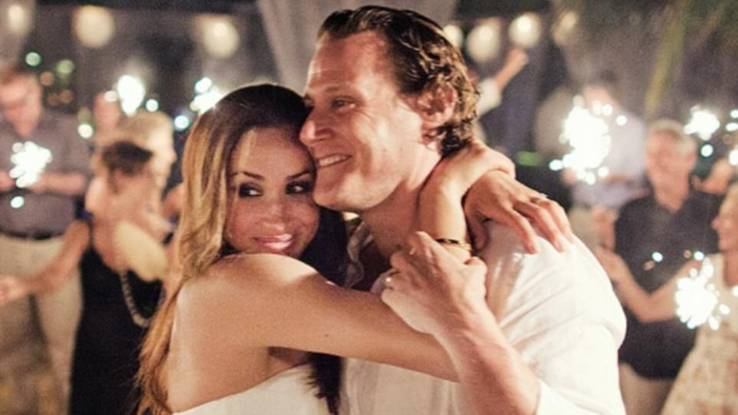 We all know by now that Meghan was married before Harry, but what makes the first wedding so different is the location, dress, guests ,and, oh yes, it wasn't publicized. In 2011, Meghan had her first wedding to director Trevor and the first dress was very different from her royal wedding dress. The first time, Meghan opted for a bohemian style. The frock was also strapless and Markle didn't wear a veil, which she opted for her wedding day with Harry. Meghan and Trevor got married in Jamaica on the beach and the wedding celebrations lasted for four days. There were only over a hundred guests, though, and the duration of the celebration reveals Meghan's wild partying ways. In the picture, Meghan has her arms wrapped around Trevor and they look very happy. Meghan's childhood friend gushed about the first wedding,
'To see her finally doing that was, well, it was a big deal. It was such a moving wedding. I started crying the moment I saw her in her dress.
We had the ceremony on the beach. It was so beautiful to watch, beautiful to be a part of. They each wrote their own vows. They loved each other so much."
7

Dedicated to yoga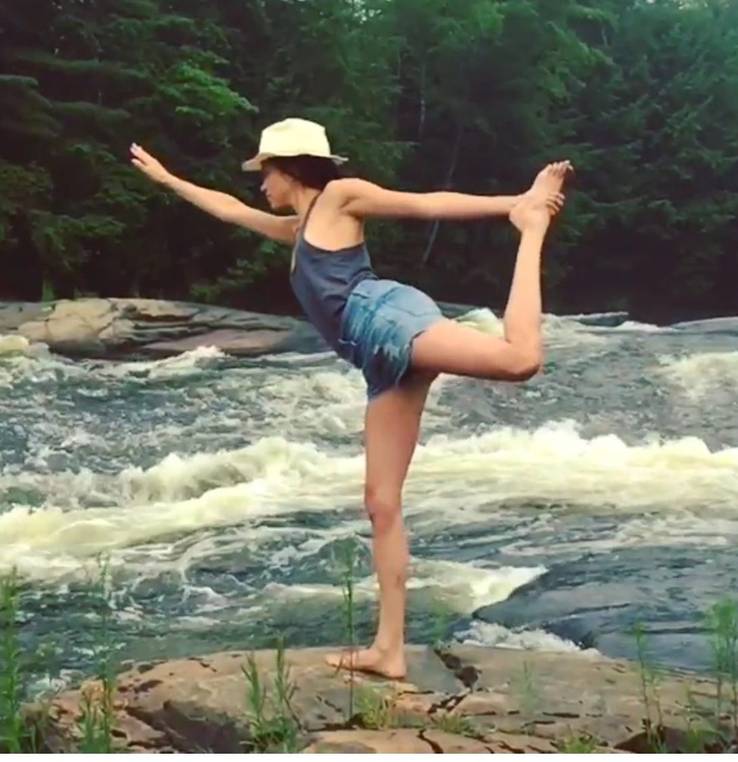 Before Harry, Meghan even had a blog called The Tig which was deleted after it became public that she was dating a prince. Meghan even made an Instagram account for the blog which is obviously not active anymore. The Tig was a lifestyle blog which included lots of stories about her advice on certain things like traveling and staying at home. According to one of the posts, Meghan even had an Eat Pray Love kind of storyline for a year. We're jealous! In this image, Markle is promoting her hobby and passion, which is yoga, with her readers.
"Yoga is my thing. That practice is in my blood."
It would be, though, especially since her mom is a yoga instructor. Meghan has been spotted walking in London with a yoga mat so she's still doing it, but obviously not striking poses like this in public.
6

Going Way Back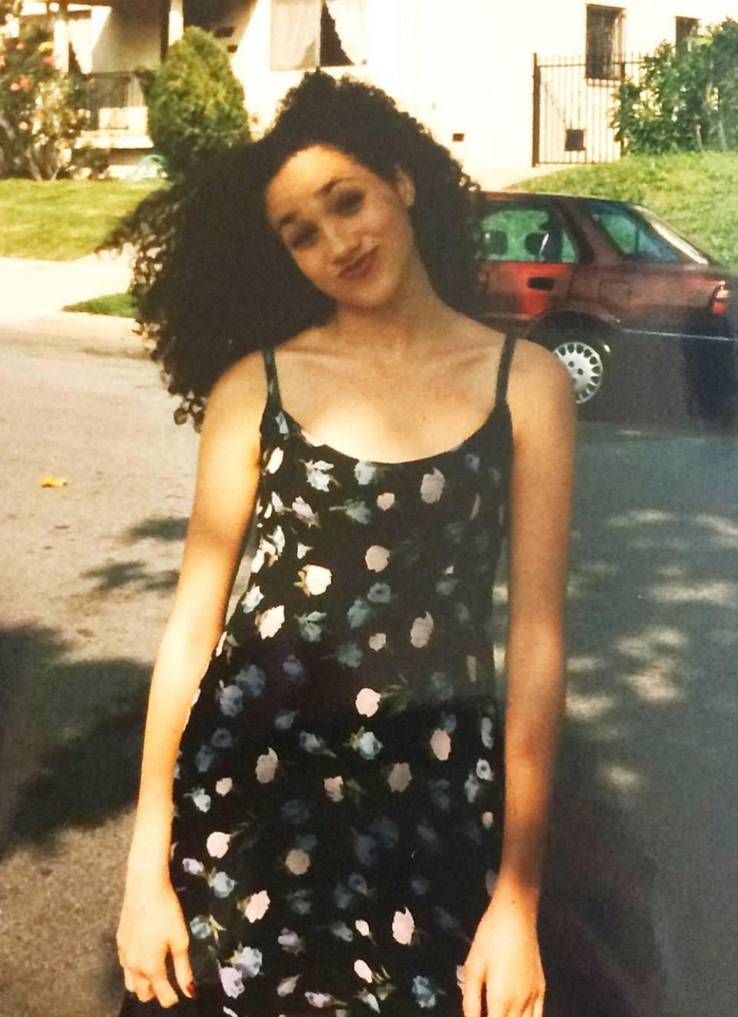 This is another old picture of Meghan during her school. The dress is perfect for a summer day because of the floral design, but it also reveals Markle's teenage innocence. Another thing is Meghan's hair as it's curly instead of straight. Markle must've decided to keep it wild instead of straightening it. Instead of tying it up, she left it down and it's a shorter cut compared to Markle's long length now. It also looks like Meghan went overboard with the makeup.
Markle didn't really stand out like she does today so thankfully, Meghan outgrew the awkward stage and turned into a confident woman which you need for the public life.
5

Playing Around At School With Friends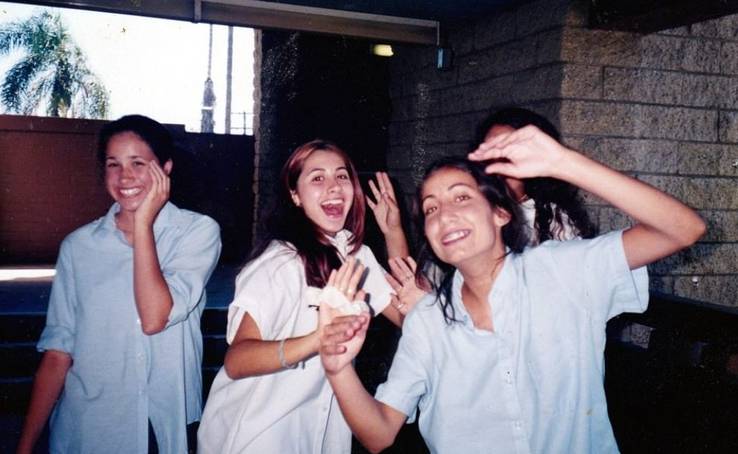 School photos are always embarrassing, but it's worst for Meghan because hers get published on the Internet for all to see and judge. In this image, Markle is snapped having a laugh with her group of friends in her school uniform and it shows Meghan's bubbly personality. A student who went to school with Markle shared her experience with the Duchess who stuck up for her. 
"She was really outgoing, she wasn't shy and she was never mean. She was always bubbly and always had a big happy smile."
The high school Meghan went to was an all-girls school and they had to wear uniforms. She still has her outgoing personality today which her Instagram selfies prove and hopefully, it won't go away now that her life's changed.
4

Travelling Abroad
When your school days are over, all you want to do is celebrate and travel, which is exactly what Markle did and she did it with her former bestie, Ninaki. The duo traveled all the way from Chicago to Los Angeles in 2003. Meghan and Ninaki stopped on the side of the road in Colorado to take a selfie in front of the welcome sign and Markle is completely make-up free which is ideal for traveling. Meghan mustn't have thought that this particular image would be on the Internet and therefore decided not to bother with makeup. Markle does look natural here, but without makeup, she looks like a young school girl and not someone who just finished college.
Now that Markle is in the spotlight, she travels in style.
3

'80s Fashion Gone Wrong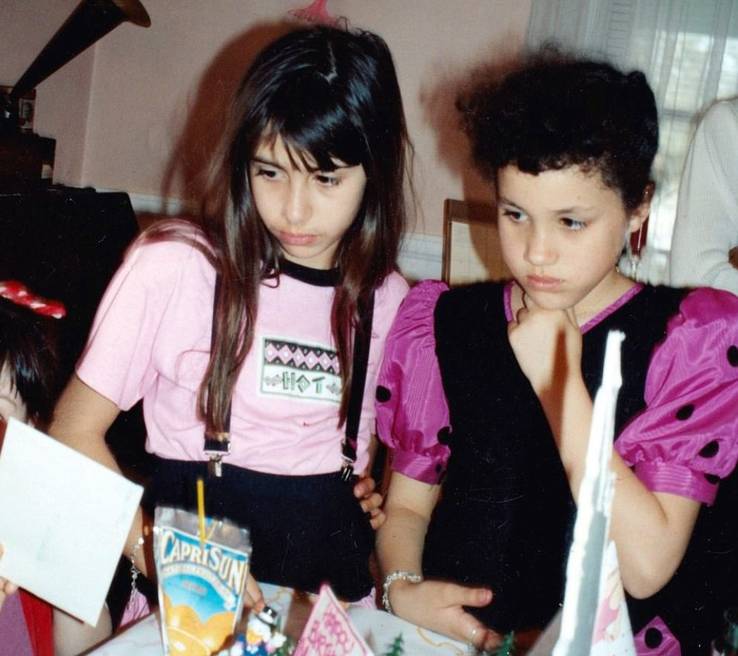 Here, Markle was at Ninaki's ninth birthday party in 1990. It was a new decade but Meghan wore a classic '80s outfit. The puffed-up sleeves are the worst and the bright pink is also quite shocking. Meghan doesn't look happy at all, instead, she looks miserable which is very unusual for Markle as she's always smiling. Clearly, Markle's hair is naturally curly. According to Meghan's hairstylist, she uses the Keratin treatments to make it straight now.
"It's great for people with naturally curly hair like Meghan, it takes the frizz out and makes it more manageable — she said it made a real difference." 
At least Meghan ditched the '80s clothing since this birthday bash.
2

Enjoying An Ice Cream Treat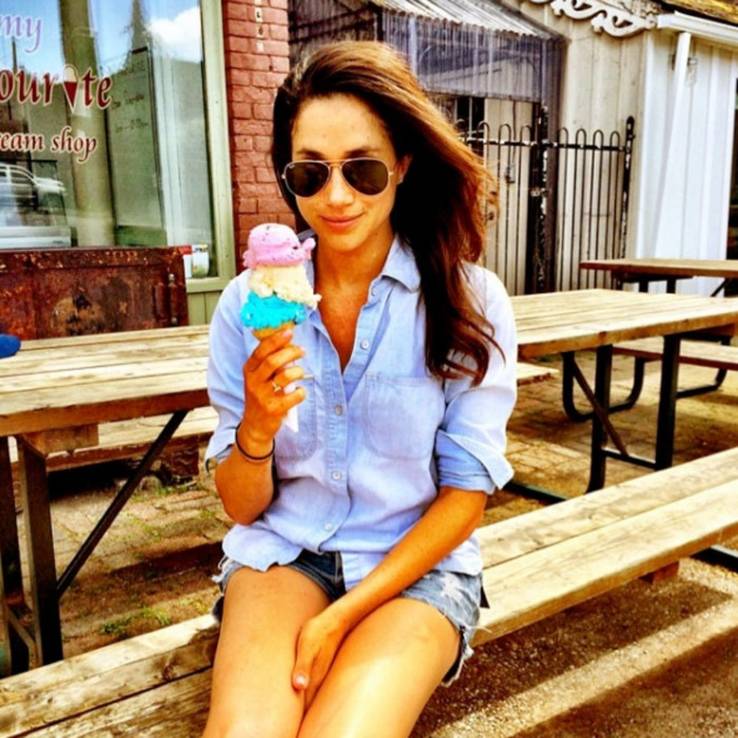 Markle posted this picture of herself enjoying an ice cream which is three scoops with three different flavors. It's strange that Meghan is eating an ice cream, especially since she doesn't really eat sugary food. Meghan has admitted that she's vegan during the week.
 "When I'm filming, I'm conscious of what I eat. I try to eat vegan during the week and then have a little bit more flexibility with what I dig into on the weekends."
Markle must've really enjoyed this ice cream since it's a treat. Markle's also wearing her usual street-style look which consists of denim shorts and rolled-up collared shirt with aviator sunglasses, but sadly, those days are over now as Meghan had to have a royal makeover and ditched most of her clothes for a more demure attire.
1

A Thanksgiving Turkey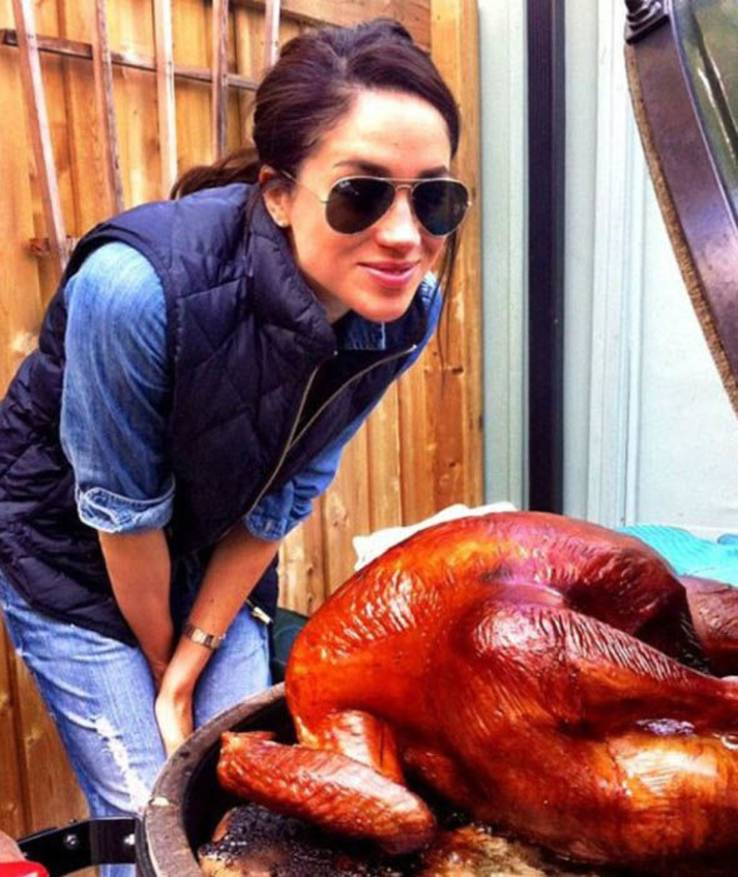 Meghan shared the picture with her fans on Instagram before her account was removed and it's quite funny actually because of the picture and because of Markle's caption,
"Oh, that time I roasted a pretty perfect Thanksgiving turkey! The question is, can I do it again? The pressure is on! "
What makes the picture so funny is the big turkey and the fact that Markle is leaning over and smelling it with a big smile, of course. Before Meghan made the big move to London to be with Harry, she spent last years Thanksgiving with her mom and Harry hasn't had a chance yet to experience the holiday. Now that Markle's main residence is England, hopefully she can keep to her American traditions, especially with Thanksgiving. I'm also sure that Harry will really enjoy Markle's turkey if she is able to make one this year.
References: Instyle.com, Mirror.co.uk, Daily Mail.co.uk, E Online.com, Harpersbazaar.com.au, People.com, The Sun.co.uk, Vanityfair.com, Cosmopolitan.com, Metro.co.uk, Express.co.uk, Hello magazine.com, Popsugar.com.au, CNN.com, New idea.com.au, News.com.au, Vogue.com.au, Elle.com, and Womensweekly.com.
Source: Read Full Article