Sometimes, celebrities need someone in their lives to be the person to bring them back down from that high. They have a lot of people around them telling them how fabulous they are and what a wonderful job they are doing— it can be a bit much. It can sometimes cause a strain between two famous people who are married. One way to combat that is to marry someone who isn't famous at all. Someone who can shut you down when that ego of yours gets too out of control. It's quite surprising how many celebrities have married non-famous people, especially with the circle of people they have around them. We all assume that every day it's parties and hanging out with other famous people when in reality, a lot of celebrities can be quite isolated. Getting married is a big step and, let's be honest, we have seen a lot of famous relationships go down the drain quickly. This is due to a lot of different reasons, but mostly, it comes down to that fact that they are rarely in the same place at the same time. The celebrities on this list have fallen in love with people who are not famous and who have zero aspirations to be famous. It has turned out to be one of the best decisions they have made. Granted, they have their ups and downs, but what marriage doesn't? But, they seem to be more committed to pushing through than most relationships that are built off of fame.
25

Tobey Maguire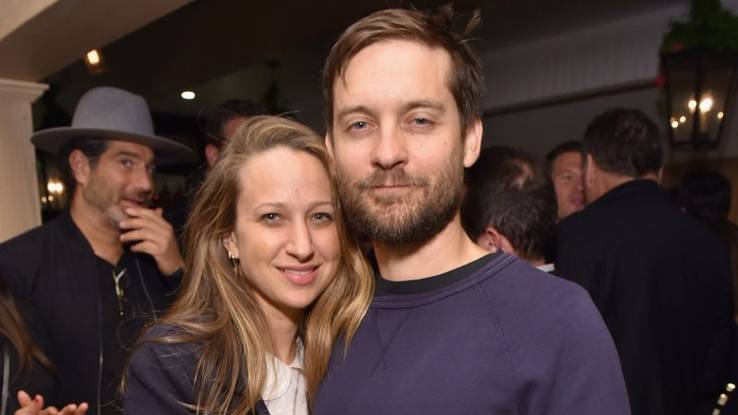 Tobey Maguire met his jewelry designer wife, Jennifer Meyer, while he was filming Seabiscuit. The couple almost immediately hit it off but still took their courtship very slow. The now ex-couple took four years to tie the knot, which is a long time when you see other couples getting married after one and a half to two years. They must have wanted to make sure that they were ready for the plunge. They were married for nine long years and they ended up having two children together. They got married in a small ceremony in Hawaii back in 2003 and Meyer was quoted as saying it is the "best time of her life." Meyer is actually the daughter of Ronald Meyer, the director who Maguire worked with on Seabiscuit, are you seeing the connection? He literally married the boss's daughter. Even though they are now divorced, the couple has nothing but good things to say about one another and they are co-parenting successfully. Maguire hasn't made a film since 2014 and he rarely makes public appearances. Whenever fans do see him, it's at events for his ex-wife supporting her jewelry line and other endeavors. They seem to be very focused on putting up a united front for their children and really, that's all that should matter to a parent.
24

Reese Witherspoon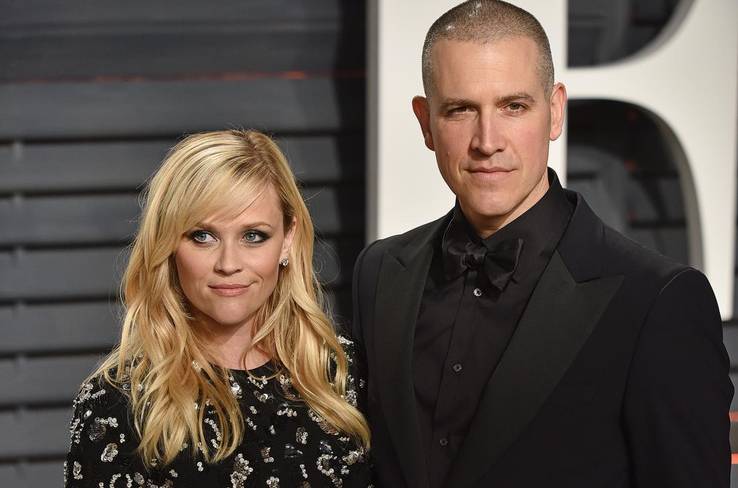 Once upon of time, Reese Witherspoon was married to Ryan Phillippe and they were a dynamic duo. When that relationship broke down, she was focused on co-parenting and her career until she met Jim Toth. He was her knight in shining armor one night, as he saved her from a drunk guy who was incessantly hitting on her. The biggest twist of the story, the drunk guy was his friend. Witherspoon told the story to Elle Magazine in 2012, "This really drunk guy was hitting on me, making such an idiot of himself, yelling at me. He was like (slurring), 'You don't know me.' And I was like, 'Yeah, I know. I don't know you!' Jim came over and said, 'Please excuse my friend. He's just broken up with someone.'" From there, it was love at first sight. Toth is a Hollywood agent who has managed to truly stay behind the scenes and just focus on doing his job. The couple eventually got married in Ojai in 2011 and have been together ever since. He is still an agent and she is still an actress he has still managed to stay out of the spotlight, as hard as that can be with a wife as famous as Witherspoon.
23

Tina Fey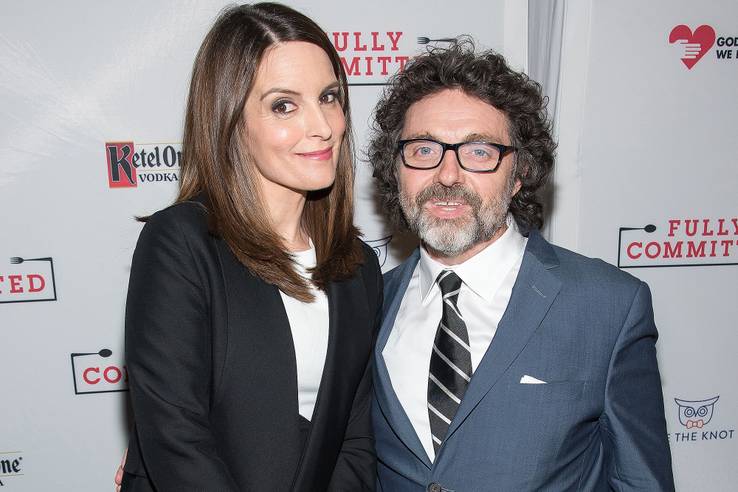 Tina Fey's husband is the composer, Jeff Richmond, and while we have never heard of him, we can only assume that he has made a name for himself in the world of composers. They met while the two were trying to make a name for themselves in Chicago's Second City. During an interview with Vanity Fair, Fey spoke about how their love story came about. She said that their first date was at a museum in Chicago. She recalled how they spent the entire day together at the Chicago Museum of Science and Industry. She knew then that she was falling in love. They then spent the next seven years together before making it official with a Greek Orthodox wedding ceremony surrounded by friends and family. The two seem to be meant for each other, as they effortlessly play off of one another during the Vanity Fair interview. He even lets fans in on a little secret— her vice is cupcakes. During an interview with Reader's Digest, he said, "I think that we complement each other nicely because we're not in the same room all day. There'll be whole days we'll be at work and not see each other until the ride home. And we've been working at the same place for a long time — Second City, then SNL."
22

Jerry Seinfeld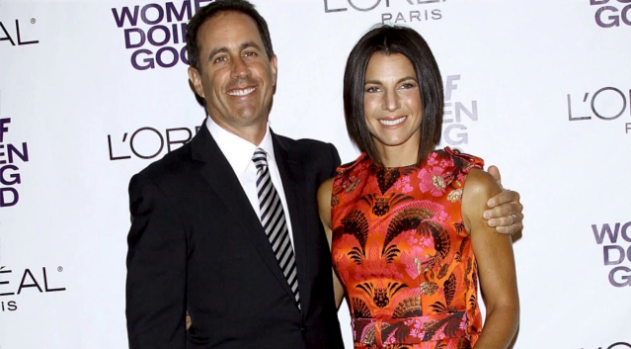 Jerry Seinfeld's relationship with Jessica Sklar may have started off a little scandalous, but now, they have lasted longer than most couples, so whatever happened in the past should be voided. Sklar was a public relations executive for Tommy Hilfiger when she met Seinfeld—she was also newly married, with the wedding had just taken place a few days earlier. They officially met at the Reebok Sports Club in New York City and she had just returned from her honeymoon. Sklar quickly divorced her husband and started a relationship with Seinfeld in 1999. They got married quite quickly and tabloids have branded her as somewhat of a gold digger. Sklar has never come out publicly to defend herself but Seinfeld has here and there. During a 2002 interview, he said, "The true story of what happened has never been printed, No. 1 because it's not nearly as interesting as the gossip and No.2 because my wife, to her credit, in my opinion, doesn't have much interest in settling the tabloid record straight." The couple has now been together for almost 20 years and has three kids, so the fact that her ex-husband, Eric Nederlander, keeps writing op-eds about his very brief marriage to Sklar is kind of a joke.
21

Elizabeth Banks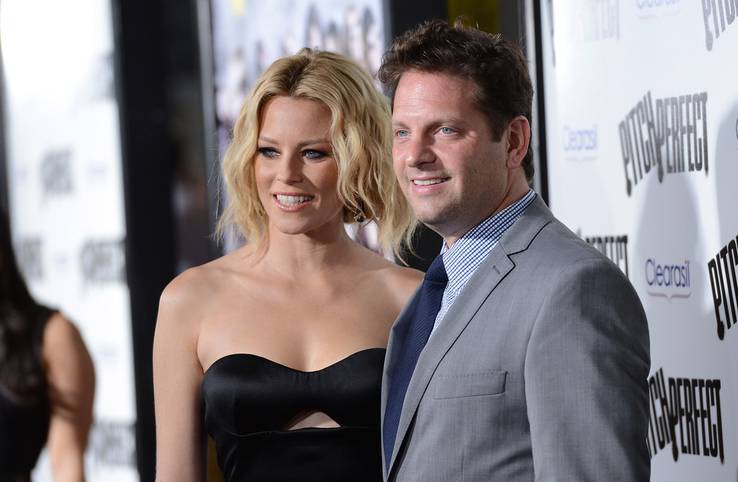 Elizabeth Banks met her husband, Max Handelman, a sportswriter and dabbling producer, in 1992 on the first day of college at the University of Pennsylvania. The couple ultimately didn't get married until 2003 and then didn't have their first child until 2011, who they welcomed via surrogate. This is rare, a lot of the times, people who wait that long to do anything, in regards to their relationship, usually don't end up being together. The couple was definitely committed to their work and didn't feel the pressure that many people feel to get married and start a family. Banks did an interview with InStyle about her relationship and wedding. She said that the engagement was unexpected, "He said that after 10 years, he owed it to me to completely surprise me." They got married in front of 180 guests and then sent them home with Krispy Kreme donuts. If you want to get real teared up, take this in— the couple reportedly used letters they wrote to one another during their first year of dating as their vows. Don't act like you aren't feeling sentimental! The couple is extremely supportive of one another and it seems like he has no problem taking a bit of a backseat to his wife's extreme success.
20

Conan O'Brien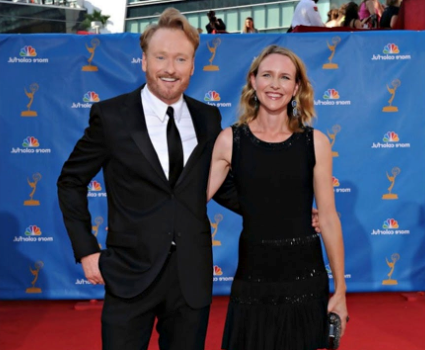 Conan O'Brien is one of the most famous faces of late night TV but fans hardly know anything about his personal life. It turns out, it could be because his wife isn't a famous person. Her name is Liza Powell and she is a copywriter at Foote, Cone & Belding. She has helped out her husband a time or two, appearing in a skit about the agency. They officially got married in 2002 and have been a strong front for one another since then. During an interview with People magazine, she described her husband as a "softie," could we imagine him any other way? Now that they have two children, he has become even more or a soft-hearted person. "I think Conan is itching to play bad cop. Dads have that need to flex the authoritarian muscle, but Conan is such a softie. He adores them, so if I ever kind of turn him loose on them, it doesn't go very far!" She went on to say, "[He] really just wants to snuggle and make up with them immediately. And they're good – they're young still, so they haven't really earned bad cop treatment yet. But when they're teenagers, it will be interesting to see if Conan can wing it!" As for Conan, he told Piers Morgan that he knew his wife was "the one" right away. He said, "somewhere, in the vault at NBC, there's footage of me literally falling for my wife on camera.
19

Cynthia Nixon
Once upon a time, Cynthia Nixon was married to someone who she fell out of love with. Thankfully, that happened because she met her wife, Christine Marinoni, an education activist, in 2002. They met at an education rally and hit it off almost immediately, however, they didn't officially start dating until 2004 after Nixon kicked her ex to the curb in 2003. They have been together ever since, 14 years and one child later. The couple didn't officially get married until 2012 and have had to deal with a few people questioning their relationship and Nixon's commitment to her relationship with a woman. She defended it by saying, "In terms of […] orientation, I don't feel I've changed … I'm just a woman in love with another woman." Well said. Nixon gushes regularly about how great Christine is with her kids from her previous marriage and the child they have together. "Maybe I'm just lucky, but I feel like Christine is so amazing with our kids – because they're our kids. I feel like falling in love with her is part of being amazed at how she makes our family so much better." She has supported Nixon in all of her endeavours.
Featured Today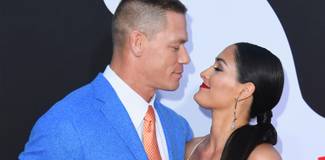 John Cena Tweets After Splitting From Nikki Bella

25 Celeb Babies Born In 2018 With Names That Leave Us Baffled

Joey Lawrence Spotted With Pricey Car After Bankruptcy

18

Patrick Dempsey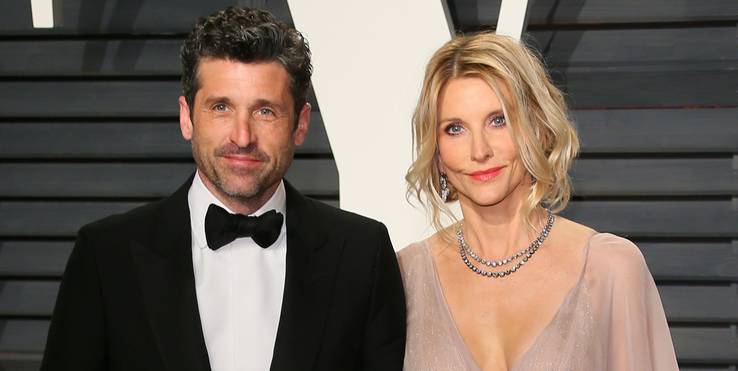 Dr. McDreamy has been married to his hairdresser wife, Jillian Fink, for 18 years. The couple has certainly had their ups or downs over the years, even to the point where they have filed for divorce. Dempsey has called off the divorce and the couple are committed to making their relationship work for their kids. It wasn't always drama though, he has always had kind words for his wife, and even during the divorce, he was quoted telling People magazine, "I didn't feel like we had done all the work. And we both wanted to do that work." He went on to say, "Our union has to be the priority. I wasn't prepared to give up on her and she wasn't either," adding, for good measure, "We both wanted to fight for it." He even had some marital advice for his fans, "You've got to keep at it. You've got to communicate, and stay open and not get lazy. And not give up." He described the beginning of their relationship as an immediate attraction but because they were both in relationships at the time, they didn't end up dating until three years later. He even says that she is still his hair stylist, he gets regular haircuts at the salon. "It's like our date night when we work together because we can talk and don't have our three kids around."
17

Lisa Kudrow
Lisa Kudrow's husband, Michel Stern, is an advertising executive. The couple has been married since 1995; they are very private and still going strong. Kudrow gave some solid advice to Glamour magazine about marriage and commitment saying, "When [Michel and I] decided to get married, we understood: We're not promising to love each other forever because you can't do that, but we are promising to work on whatever problems come up. We're committed to our marriage working. It turns out, after you have a history, there's such a bond, and love takes another shape. But, oh, I don't want to jinx it—I'm superstitious!" She definitely has a model relationship and they have managed to make it work, even as her career was soaring on Friends and again with The Comeback. They have one child together, who Kudrow says she stopped doing out of town films for because he just wasn't a child who could handle being uprooted. One of the biggest reasons why her marriage works is because of the space they give one another. "[Michel and I] respect each other's independence, and I don't mean that as a euphemism. I don't mean relationship wise outside the marriage. Clear? But I don't like to travel. So if he wants to go on a golf trip, he goes. I think people get in trouble [when they assume they're] supposed to be one unit, in sync about everything. [Marriage] is like being on a team. Each teammate is different, but you have the same goal."
16

Zach Galifianakis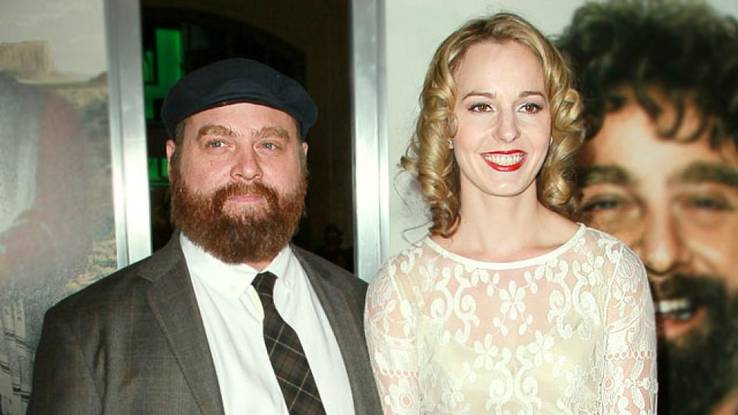 Zach Galifianakis is a comedian but there is one thing he is very serious about— his marriage. He is married to Quinn Lundberg, a co-founder of a non-profit organization called Growing Voices. They work to help increase rural education in places like Malawi and support domestic violence survivors in North Carolina. She is also a former ballerina and holds a degree in International conflict resolution. She seems like she has her own life to live, which is probably the perfect complement for a comedian who is used to being the center of attention. They got married in 2012 in a private ceremony in Vancouver. They are so low-key that he doesn't even talk about her in interviews or the two children that they have. But he has mentioned how happy he is to be a father, "Fatherhood is just the greatest thing, it really really is." And he even revealed a bit about his parenting style, "I'm strict. He's two and right now, I have him on a strict exercise routine. When he gets out of the crib, it's 50 push-ups right away. To have a really fit 2-year-old and to show that he can kick other 2-year-old's butts is really important."
15

Matt Damon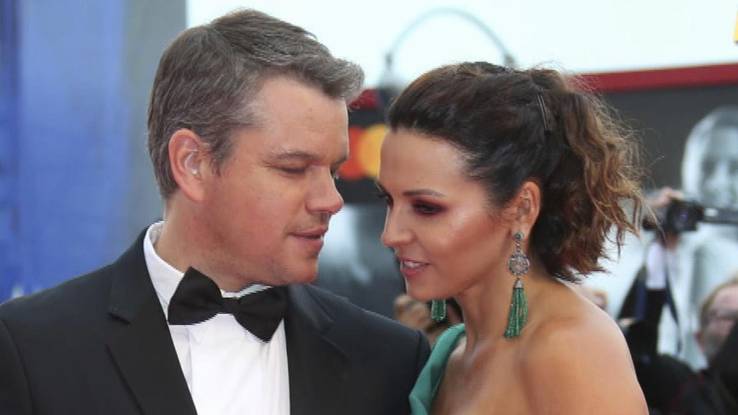 Matt Damon is a super popular actor, producer and director. He is a household name and will most likely be for the rest of his life. So, is it wrong for fans to assume that he would marry someone more high-profile, successful, and privy to the Hollywood scene? He really is a rare gem. Many men of his status would do exactly as we assumed but Damon decided to marry a woman named Luciana Barroso. She was a single mother and a bartender when he met her. So it's safe to say she has moved up in life. Many people assumed it wouldn't last because, hey, she isn't famous, but now, it's been well over 10 years of marriage and four daughters later and they are still going strong. The couple renewed their vows in 2013 in St. Lucia, which was a way bigger ceremony than their last quick trip down the aisle in 2003. Damon said of his wife, "We ended up at a bar where my wife was the bartender. I literally saw her across a crowded room." He went on to say, "I don't know how else our paths would have crossed if that didn't happen, the moral is that when you're tired, suck it up and go to the bar because you might meet your wife."
14

Julia Roberts
Everyone was shocked when Julia Roberts announced that she had gotten married. They were even more shocked when they realized that she married someone who no one has ever heard of before. Roberts married Danny Moder. He was the cameraman on the set of her film, The Mexican. So what made America's sweetheart choose this man of all the options she had? She described him to be unlike any man she has ever known saying, "He is formidable. He is a man among men, unselfish and all-encompassing." She went on to say, "He stands by the choices he has made. He will never blame it on somebody else, and I have never seen anybody else do that." Her comments had us thinking that she was talking about someone, in particular. Just before she married Moder, she had been in a serious four-year relationship with Benjamin Bratt. She told ABC, "I figure [Benjamin Bratt] is kind of making his choices, so all the better because he was unhappy and he left and moved along and found happiness in a place where there aren't any mosquitoes." She was referring to her love of country living. It sounds like the couple had just been in completely different spaces.
13

Joseph Gordon-Levitt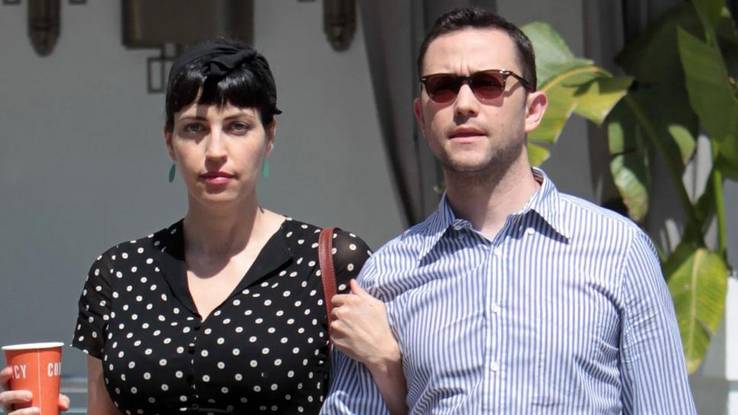 Joseph Gordon-Levitt has always been super down-to-earth, no matter how long he has been in the business. So, it came as no surprise that he married someone who is also extremely low-key. Tasha McCauley is a robotic engineer and she can't get any farther from Hollywood than that. The couple now has two children together and still manages to keep their family under wraps; they rarely make appearances together. Gordon-Levitt rarely talks about his wife or how they met. During an interview with Howard Stern in 2013, he stated that he is seeing someone but likes to keep that part of his life private. The two have been married since 2014 and, of course, even that was kept extremely private— private to the point where no one could confirm the marriage until months down the road. As for life now, Gordon-Levitt says that he is still very private even when asked about his kids he said, "My son, he's just a baby, you know? He hasn't made the choice to be in the public eye, and that's a choice that I would like him to be able to make when he's older, when he can think about these kinds of things and make that decision for himself. And so, for now, I'm just a protective dad, and I want to protect his privacy."
12

Natalie Portman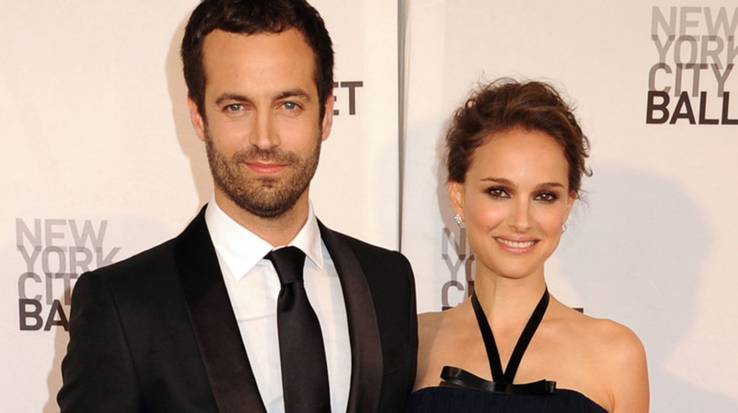 Natalie Portman has been in the business since she was a child. She was one of the lucky child actors who made it out without any real drama. She had her pick of men, that's for sure— she is gorgeous and anyone in Hollywood would have jumped at the chance to date her. She ultimately met her husband on the set of her film, Black Swan. Benjamin Millepied was the choreographer who whipped her into shape and made her look like a real dancer. A lot of people were shocked that she married someone that essentially no one knew. They said "I do" in 2012 and have since had two children. During an interview with Us Weekly, Portman tells a little bit of how the two met, "Benjamin choreographed the film, and also you might remember him in the movie as the guy when they ask, 'Would you sleep with that girl?' And he's like, 'Pffsh, no.' He's the best actor. It's not true: He totally wants to sleep with me!". He has since retired from ballet and has gone on to essentially be a full-time dad. Hopefully, they never get a divorce because Portman will be paying a lot in spousal support.
11

Zoe Saldana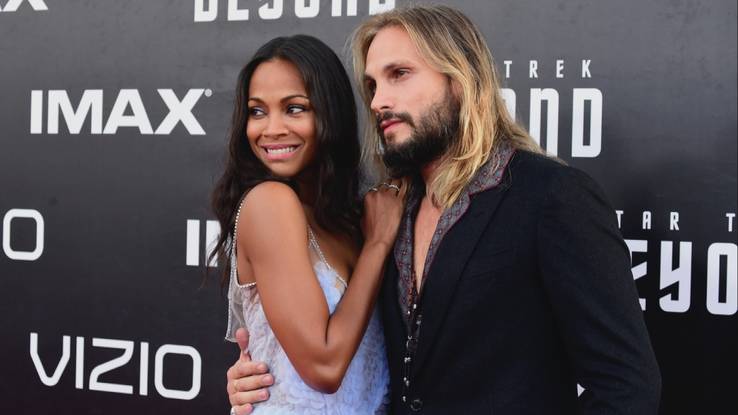 Zoe Saldana and her husband, Marco Perego, knew one another for over five years before they decided to date. When they did decide to date, no one knew about it, and then when they decided to get married, it flew under the radar for three months before anyone even suspected anything. Their relationship is shrouded in secrecy, but what we do know is Saldana said she met him at the perfect time in her life. "It was like I found all my answers with him not in him. I was finding my answers on my own." Page Six reported that the couple met in New York and when they actually started dating it was for a few months and they decided to get married. "As soon as we decided we were going to get married, we didn't wait. We did it three weeks later," said Saldana. He even inked her face on his arm. Perego is an artist and Saldana was a fan of his before they even began dating. One might even say that she was a bit of a groupie who caught her man. The couple now has three kids— a set of twin boys and another boy.
10

Alec Baldwin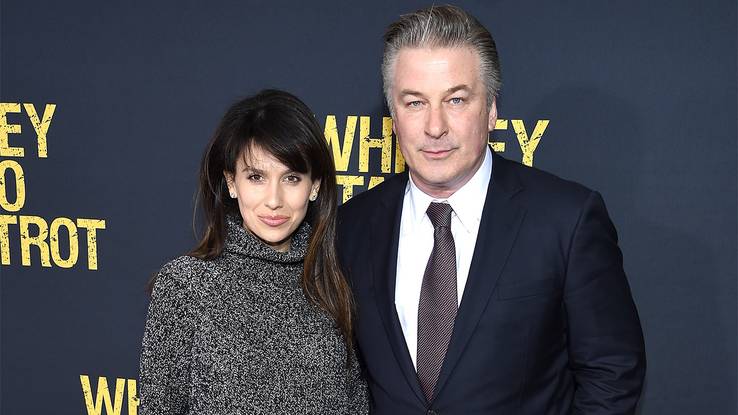 Alec Baldwin has had his fair share of scandals when it comes to women, but so far, since he has met and married the yoga instructor, Hilaria Thomas, in 2012, he has been pretty good. During an interview with BEACH magazine, Thomas spoke with Mariska Hargitay about the couple's courtship. She said, "He didn't kiss me for six weeks! He shook my hands for six weeks. We'd have the most romantic dinner date, and afterward, he'd drop me off at my house and shake my hand." She believes that their slow start truly helped them in the long run, "'I think we knew fairly soon because we built a real relationship very early on. We got to know each other in a way I think most people forgo if they start dating first, then learn about each other after." The couple now has three kids and, while at first, she was worried about what a relationship with a celebrity would do to her life, she can no longer imagine what her life was like before. She describes Baldwin as a great man and father, "He's a good dad, a very good dad. I don't think you ever know how they're going to be until you experience it."
9

Eddie Redmayne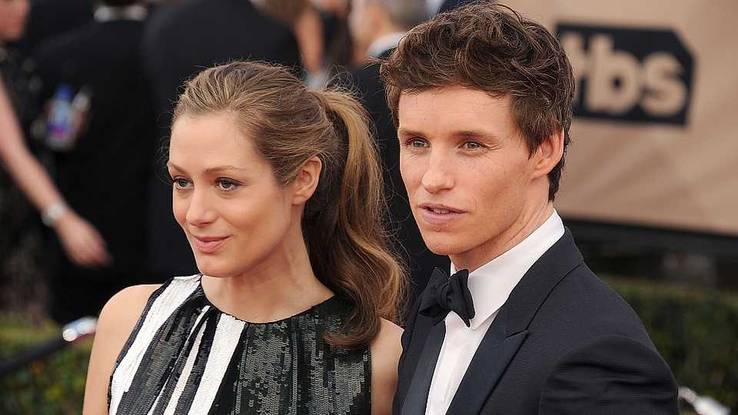 Eddie Redmayne married his wife, Hannah Bagshawe, in a quick ceremony followed by a quick honeymoon in 2015. No one recognized Hannah and they soon found out that it wasn't because she wasn't an up and coming actress. She is far from that, actually. Hannah is a financial publicist, and according to Heavy.com, the couple met when they were in college. It still took them years to begin officially dating after attending separate post graduate schools. They made their official red carpet debut at the premiere of Les Miserable, breaking the hearts of many women around the world. He credits her with keeping him grounded. During an interview with E! News he said, "there was a moment yesterday where I was in rehearsal and my wife was calling me because our dishwasher broke down … So in the process of trying to focus on my craft, I was dealing with the blocked pipes." The couple has proven to be very low-key, they had their honeymoon in the Alps, which isn't a common place for people to go to after they have had the stress of planning a wedding. For the most part, she stays out of the limelight until it is time to support her husband and the many, many awards he continues to win.
8

Jesse Tyler Ferguson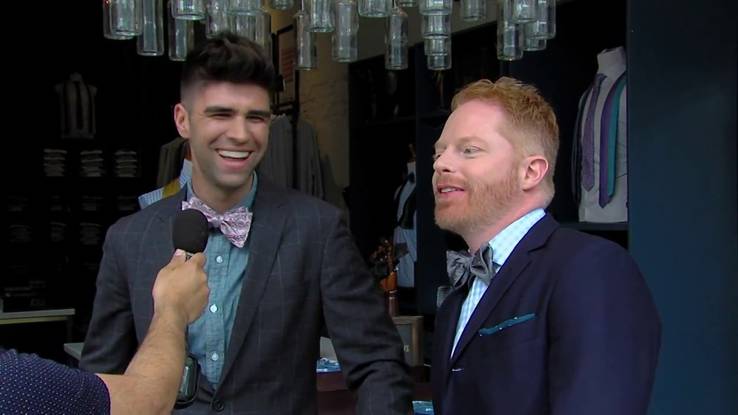 Jesse Tyler Ferguson married his lawyer husband, Justin Mikita, in 2013. One would assume that an actor would have a hard time being married to a lawyer. They seem like they are on opposite ends of the spectrum. However, these two have made it work and look so cute doing it. According to Ferguson, he and Justin met at the gym, which the actor hates to admit because it is so not him to be at a gym and meet a guy. Mikita is a very interesting guy— he has battled cancer and has been cancer-free for over 15 years. He also started a tie company called "Tie The Knot," which advocates for the civil rights of gays and lesbians. All the proceeds go to gay and lesbian rights organizations. One of Mikita's biggest accomplishments was his work on overturning Prop 8 and seeing it all the way to the supreme court. Ferguson has been very vocal about what he hopes is next for him and his husband. "We're baby crazy right now, we see kids with families walking around, and if those parents look away for too long, someone has to hold us back to not steal them."
7

Marcia Cross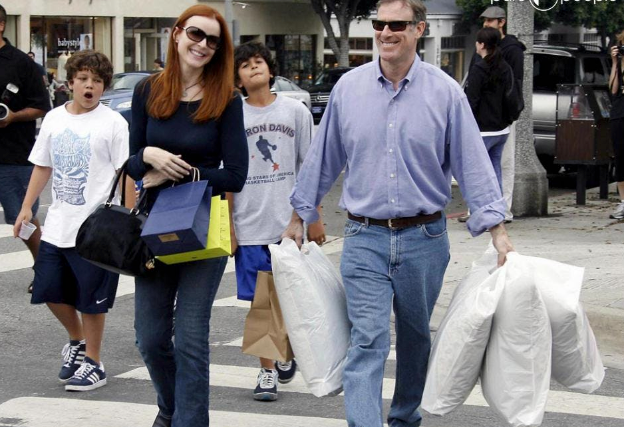 Marcia Cross met her stockbroker husband, Tom Mahoney, at a flower shop in L.A. In a bold move, she left her number with the store owner and like fate, everything seems to have worked out. The couple got married two years later. Cross told People magazine about the moment she knew Mahoney was a keeper— when he played word games with her in bed the night before the Emmy nominations were announced in July. "He told me the next day he was doing it so I wouldn't be nervous, It was very sweet." Yeah, we would say that is a keeper, as not every man puts a woman's needs in front of their own. Cross has even gone as far as to say that her radiant look is thanks to her husband. "My favorite beauty product is my fiance, Tom, it's true. I think that beauty comes from being happy and connected to the people we love, and his love makes me feel beautiful." This couple has now been together for almost 15 years and has even added two adorable kids to their family. Her career has slowed down a bit, which could be because she spent several years on Desperate Housewives and needed a break, but in the long run, her being around more is great for her kids and her husband.
6

Julie Bowen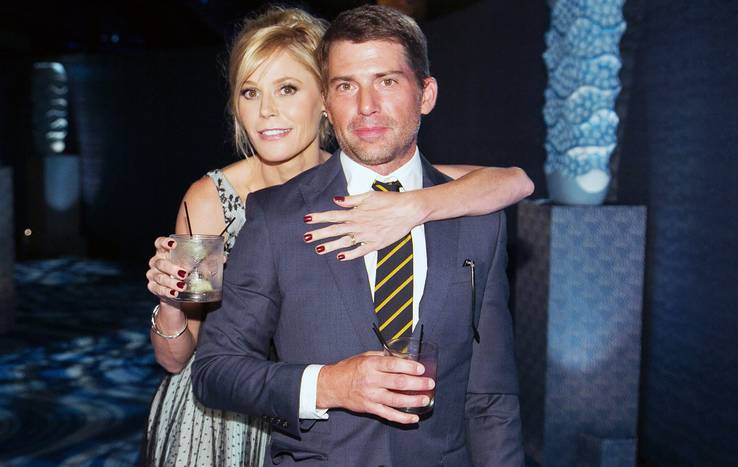 Julie Bowen got married to Scott Phillips in 2004, together, they have three boys, which is crazy because Bowen doesn't look like she has even one kid. Her husband is a real estate investor, which is funny because her TV husband, Phil, is a real estate agent. The couple was married for 13 years, but unfortunately, in early 2018, Bowen filed for divorce from her husband. She once described her husband to a panel at PaleyFest, "He is so patient, and takes care of me like nobody's business." She says that he has a calming effect on her and they are the "perfect counterbalance." We aren't sure what exactly went wrong but if we had to speculate, we would assume that it has something to do with her success. Phillips is actually asking for spousal support so we hope Bowen has a good postnuptial agreement or she is going to be in for a surprise. Bowen did comment once on her divorce and she admitted that they do butt heads but not in a bad way. "Butting heads is part of life. I mean … I've spent a lot of time in excellent therapy and butting heads is part of life. Being perfect is not a good model for your children."
5

Vince Vaughn
Vince Vaughn was once in a high-profile relationship with Jennifer Aniston, but when that didn't work out, he moved on to someone on the opposite side of the spectrum. In 2010, he married a Canadian real estate agent by the name of Kyla Weber. When he initially met Weber, he told Ellen Degeneres during an interview on The Ellen Show that he "met the best girl in the world." He went on to say that she gave him purpose in his life and that "if he had met her earlier, he would have done it a long time ago." Of course, he is speaking of marriage. They now have two kids and Weber rarely makes appearances in public with her husband. To be honest, this is a great sign that she isn't in it for the fame. The couple reportedly met at an L.A. wedding of a mutual friend and then proceeded to date for two years before tying the knot. Vaughn said that he initially wooed his wife through phone calls and emails. He jokingly said that the couple got married on Valentine's Day because it wouldn't be an easy date to forget. It sounds like he is trying to cover all bases. Vaughn has recently said that he would like to have more kids with his wife and expand his family.
4

Meryl Streep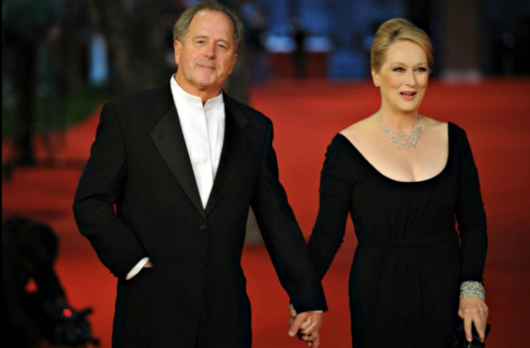 Meryl Streep has been married since 1978, yes, 1978. During that time, they have produced four kids, who have all gone on to be in the entertainment industry in one form or another. Streep's husband, Don Gummer, is a sculptor— how cool? The couple met through Streep's brother. He and Don helped Streep move out of an apartment that she shared with her recently deceased boyfriend. She ended up staying in Gummer's empty apartment while he travelled. Like something out of a movie, they correspond through letters and soon found that they were falling in love. The ultimately got married six months after her boyfriend's death. Many people have wondered how Gummer feels about taking a backseat to his uber-famous wife. He said he isn't sick of it, "I just don't get excited," he told [email protected]. He went on to say that he is no longer marveled at his wife's accolades and even she gets sick of asking people to come out and support her. At this point in their marriage, they are more concerned with bickering over household chores like "Wash the dishes or put them in the dishwasher," he said.
3

Aaron Paul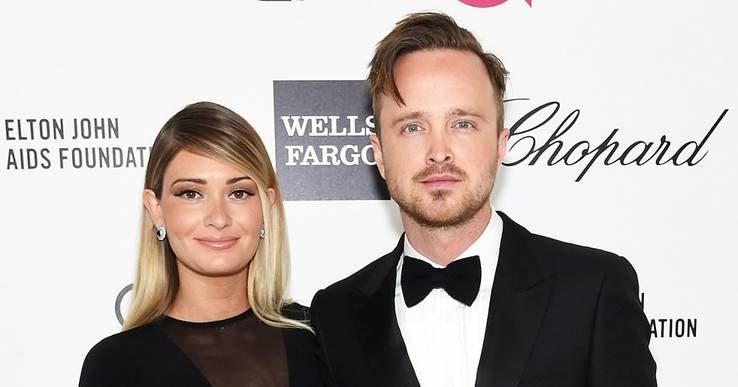 Aaron Paul has been in the business for a while but he only truly made a splash when he got the role of a lifetime as Pinkman on Breaking Bad. He has a typical falling in love story. He met Lauren Parsekian, his now-wife, while they were both partying at Coachella, how amazing is that? In a sea of people, these two happened to cross paths and fall in love and actually got married. Paul speaks of his wife like she is a literal angel on earth. He describes her as someone who just wants to make the world a better place, which could be why they co-founded a charity together. Paul told Elle Magazine that he was so in love with his wife that on their first date they almost got married. "Our first date after Coachella was a trip to Vegas. We bought our first child a baby leather jacket from All Saints. We also jumped into a cab and said, 'Take us to the nearest chapel. We're getting married.' The Little White Chapel ended up being closed. We probably would have gone through with it. It would have been a pretty funny story. But I'm happy we got married when we did — a year later."
2

Gal Gadot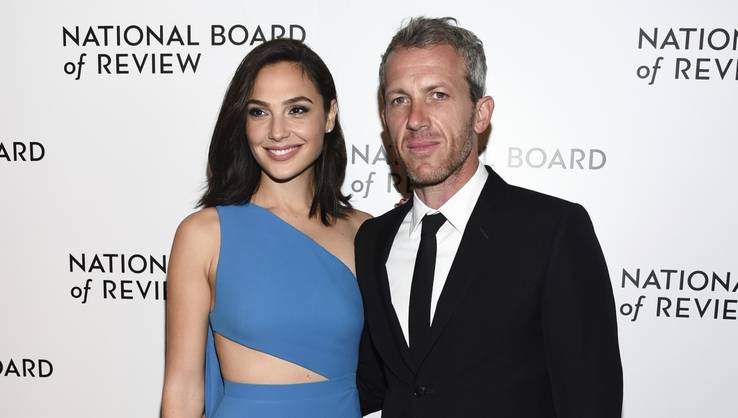 Wonder Woman truly is that, a wonder woman. She has been married for several years, she's a mother, and was even five months pregnant when she was filming those stunts on the set of Wonder Woman. Her husband is Yaron Varsano, a real estate agent, and they have been married since 2008. Gadot met her husband at a party in Israel. The story goes, "this [party] was all about yoga, healthy eating, and chakras. This party was supposed to be for people who want to re-discover themselves," He is 10 years older than her and when they initially met, she was underage, so he didn't pursue her. Unlike many couples on this list, these two are very active on social media and show the world on a regular basis just how much they love one another. He and his brother own a hotel in Israel, but he is more focused on his young family and supporting his wife as her career takes off. They come off as the perfect couple with two adorable daughters. Seeing as they were together before she was super famous, they have a great chance of being together for a lifetime, or at least, we hope so.
1

George Clooney
The actor was long-known as the bachelor who could not be tamed. He dated woman after woman and they were normally models. He eventually had a good run with former wrestler and model, Stacy Keibler, and people even assumed that she was the one, but clearly, they were wrong. Thankfully, because he met Amal Almuddin and fell instantly in love. Almuddin is so different from all the women he dated in the past. She is a lawyer, very successful, makes her own money, and has no problem surviving on her own if she didn't have a man. In addition, she was closer to his age, which was something that we can safely say he hadn't done before. During an interview with ET, Clooney described his new wife as "caring." When asked why this was the woman he fell in love with Clooney said, "She's an amazing human being, and she's caring. And, she also happens to be one of the smartest people I've ever met. And, she's got a great sense of humor. There's a number of reasons why." No doubt, this was kind of a slap in the face to all the other women who weren't good enough to marry him. But, at the end of the day, you love who you love.
References: etonline.com, india.com, elle.com, nydailynews.com, dailymail.co.uk, theglobeandmail.com, bustle.com, vanityfair.com, eonline.com, romper.com, abcnews.com, instyle.com
Source: Read Full Article