Most people know Sofia Vergara as the face of the hilarious Gloria Delgado-Pritchett on the hit ABC series, Modern Family. The celeb has been nominated for four Golden Globe Awards, four Primetime Emmy's, and additionally seven Screen Actors Guild Awards for her portrayal. Aside from her long-running stint on Modern Family, Sofia has also made many appearances in various movies.
The Colombian-born-star first got her start co-hosting television shows on Spanish television network Univision in the late 1990s. She's starred in several movies, including Four Brothers (2005), meet the Browns (2008) and Chasing Papi (2003), before making the switch to TV when Modern Family debuted in 2009, which brought her notable popularity. Since then, she's starred in various high-profile movies like New Year's Eve (2011), The Smurfs (2011), Happy Feet 2 (2011), Escape From Planet Earth (2013), Machete Kills (2013), and Hot Pursuit (2015). In 2018 alone, she also has two movies set to debut- The Brits Are Coming and Bent.
Nowadays, Sofia is one of the most widely recognized Latina actresses in Hollywood. Check out 25 of her most fashionable moments, which will make it clear why she's become such a favorite in Hollywood. What looks of hers is your favorite? Make sure to let us know in the comments!
Click the button below to start this article in quick view
25

Like A Second Skin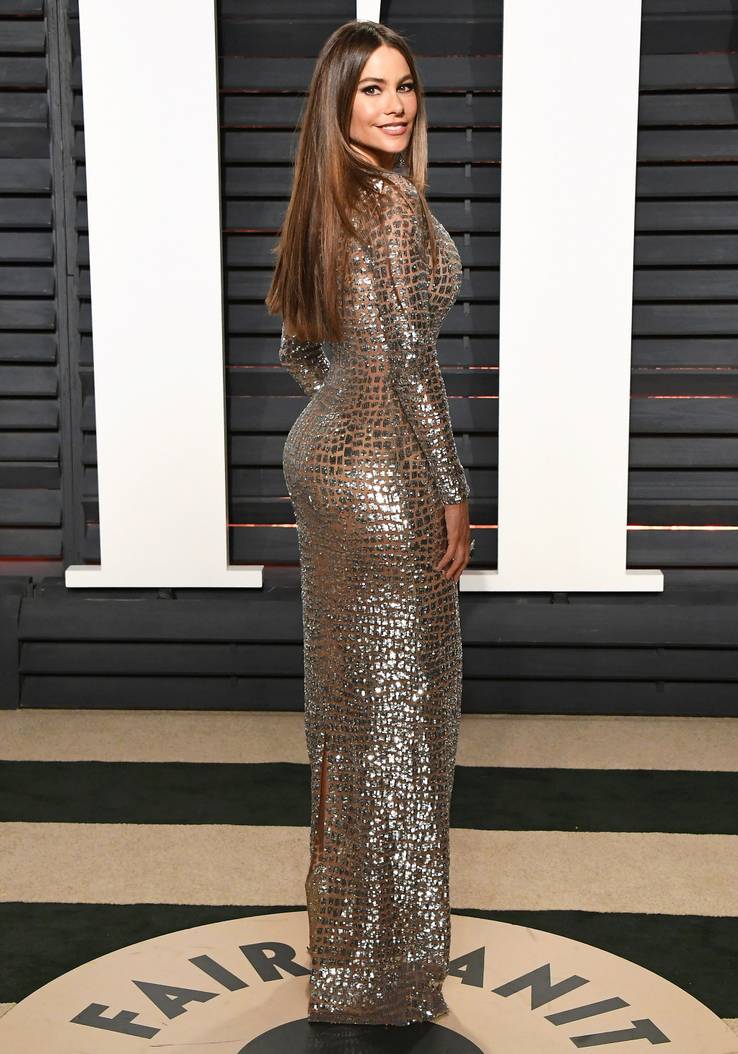 Sofia turned heads when she showed up to a red carpet event in this snakeskin-patterned dress. The form-fitting gown didn't show off a lot of skin from its long sleeves and floor-length hemline, but it expertly showed off her curvaceous frame. Sofia's long, dark hair and bronzy makeup complimented the metallic dress.
Ever since she became a household name, fans have been curious to know how the 46-year old maintains her gorgeous figure. And, Sofia isn't shy to admit that she has to work out a ton! "I've been doing a lot of weight training the past few years; that along with Pilates works really well for my body," she said to InStyle Magazine in 2017. "If I want my cake, I have to work for it."
24

Radiant In Red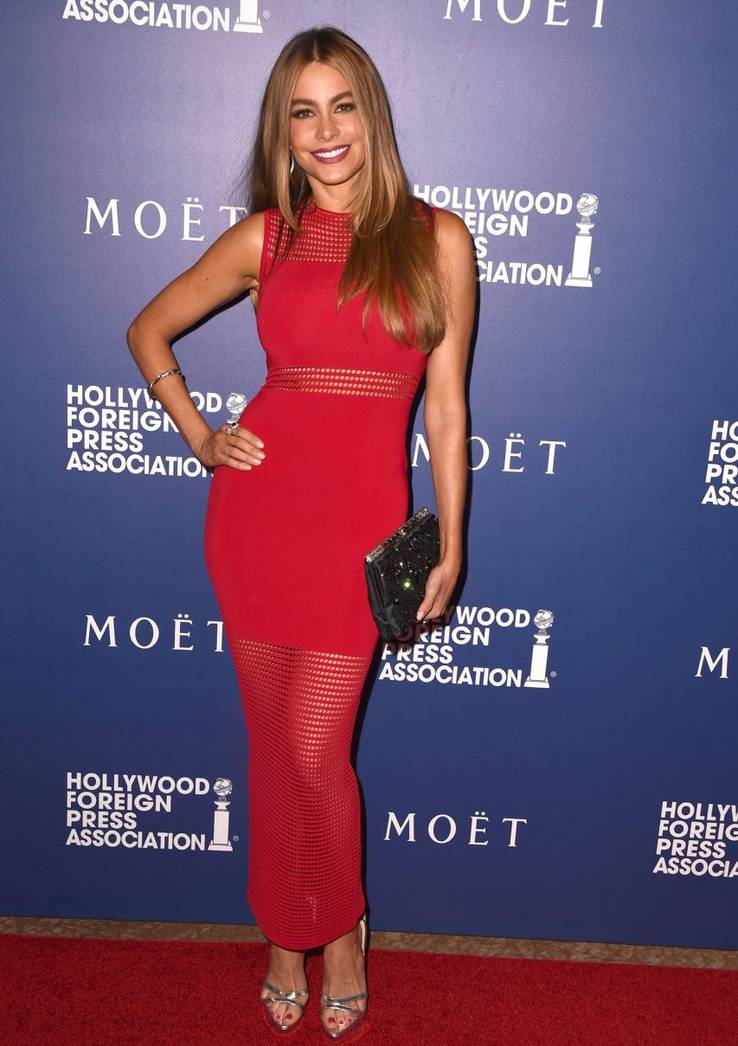 Sofia was red-hot in this tight little number, which showed off her hourglass frame. It's clear the actress' confidence was bursting in this sultry outfit.
When asked by InStyle magazine about how she always manages to feel confident in her own skin, she said this in reply: "What's most important is how you feel on the inside. And I feel beautiful when I'm with my husband and my family and friends."
The celeb added, "Don't get me wrong: I can assure you, during those moments I'll have some makeup on—and probably high heels." High heels always do the trick, right?!
23

Work It Like A Runway
Even on her days off, Sofia proves she has a killer sense of style, as evidenced by this outfit. The celeb showed off her toned figure in a flattering, white pencil skirt paired with a dark crop top. She accessorized with a cross-body bag and gold sunglasses, which complemented her caramel hair color.
Sofia, who is originally from Colombia, credits her Latina heritage with helping her feel comfortable in her own skin. "Latin women are very comfortable with their bodies. We aren't afraid to show that off a little bit more," she has said. Sofia added, "Beauty is really all about confidence. If you feel beautiful, then you are beautiful."
22

She's Always Best Dressed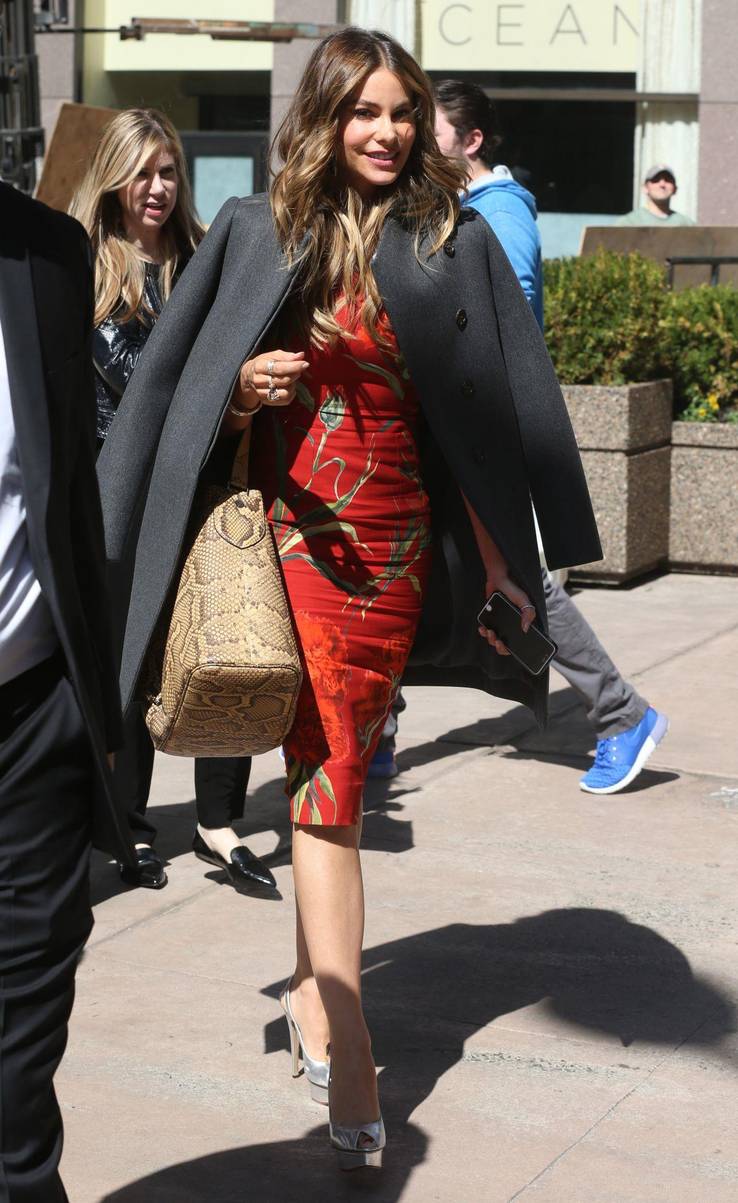 Given the fashion-forward outfits Sofia always wears, it's hard to imagine a time she was ever uncomfortable in her own skin. But the star is open about how long it took to find peace with and confidence in her body.
"I was always a little confident, but it wasn't until I began finding success as an actress that I truly became comfortable," the Colombian native told InStyle Magazine. "Being on a hit show opened the door to so much opportunity and allowed me to pursue passions outside of acting. I was able to have clothing lines, be the face of CoverGirl, and create three perfumes."
21

A Little Latina Flare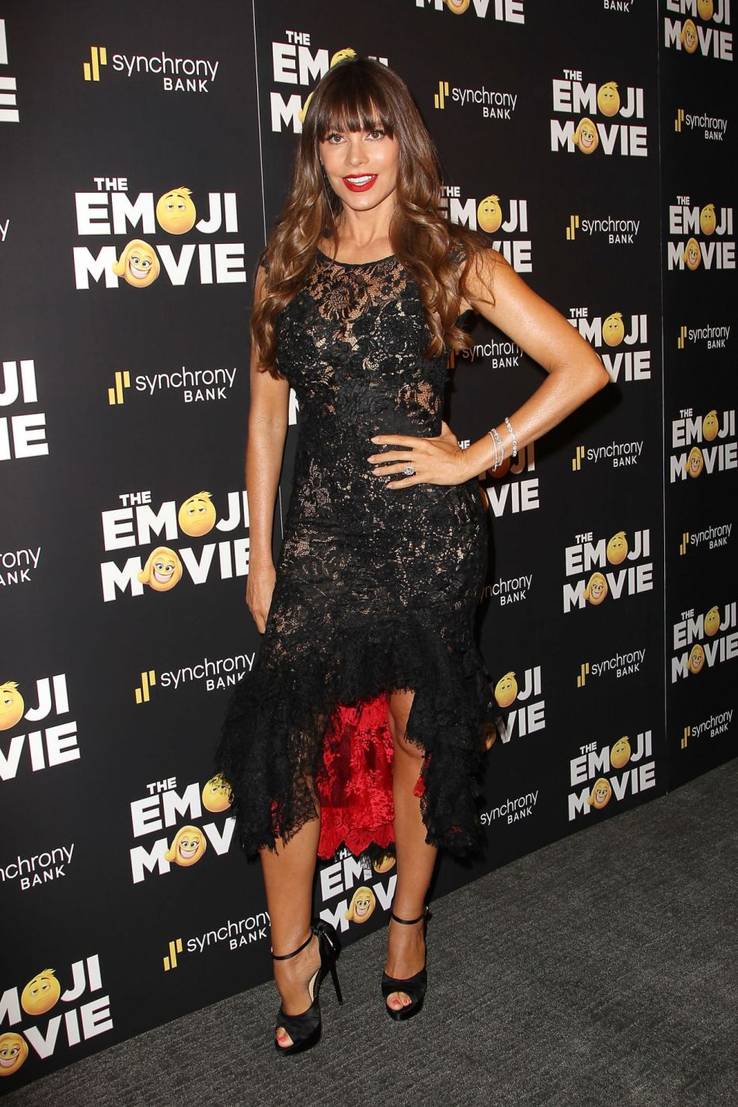 Sofia dazzled in this fun black, lace dress at the premiere for The Emoji Movie. The red high-low hem brought a bit of color to the sultry dress, and also matched her bright lipstick.
Many of Sofia's co-stars have commended the actress for her body positive words. And her Modern Family co-star Ariel Winter credits her with helping her become comfortable in her own skin.
"I had Sofia Vergara, for one thing," the teen told TODAY Style about having Sofia as a role model. "Growing up working with her was amazing because I got to see how confident she was in her body and how much she embraced her curves."
20

Blondes Have More Fun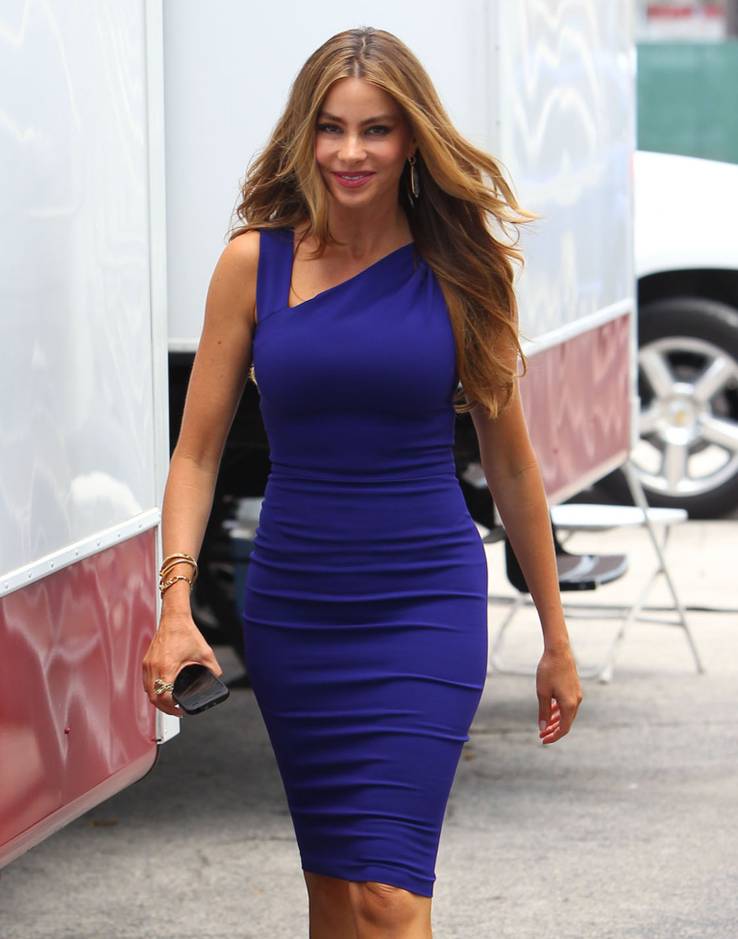 Sofia tends to keep her hair a dark shade of brown, but in this photo, the celeb showed she can rock a lighter hair color with ease! As it turns out, the actress actually is a natural blonde, though she says she's always felt more comfortable as a brunette.
"Yes, I'm blonde," she once talked about her natural hair colour. "When I started as an actor, because of the accent and my body and my personality, it was not what the stereotype of the Latina woman in Hollywood is, so they didn't know where to put me."
She added, "The blond hair wasn't matching. The moment I put my hair dark, it was better for my work." Could you imagine Gloria as a blonde?
19

Hardly The Face Of 40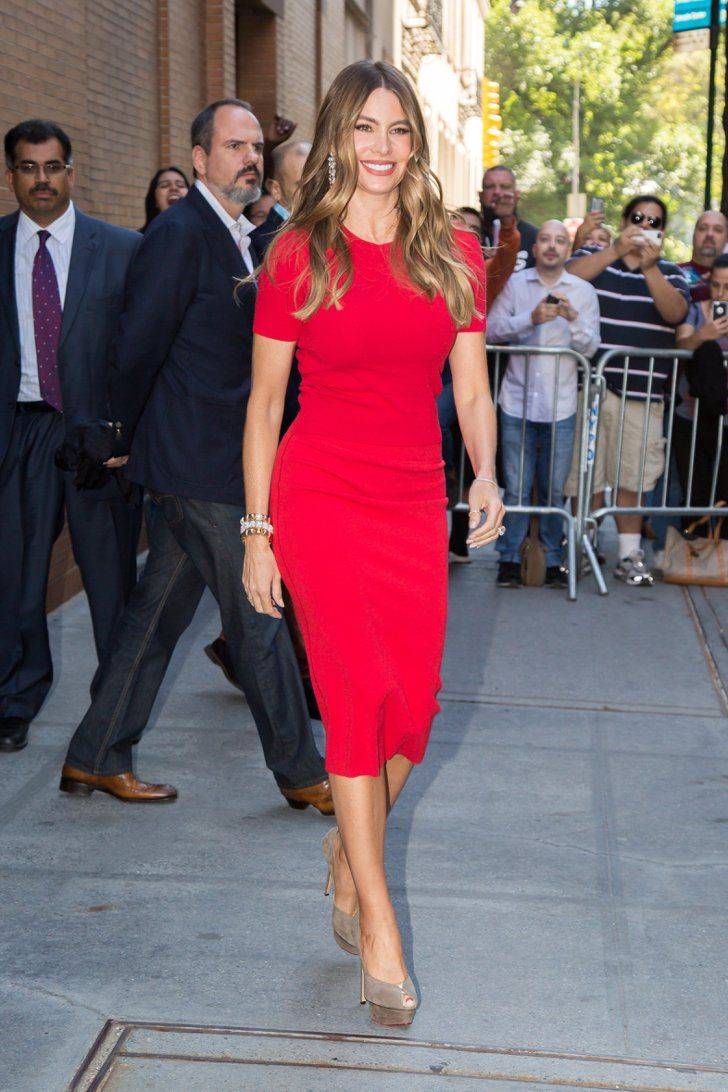 For many fans, it's hard to believe that Sofia is already 46. The actress looks at least a decade younger than her years.
Though there has been tons of speculation over whether Sofia has had work done, the star insists that she's au natural (and just has good genes!). She's actually spoken out against the ridiculous beauty standards women are held to in Hollywood, and the expectation of getting work done to maintain your youth.
"L. A. is crazy. The women all look the same now. That thing with the cheeks. Like Madonna," Sofia once said in response to plastic surgery rumors. "Who do they think they're fooling? It doesn't make them look young. You end up looking like a freak."
Featured Today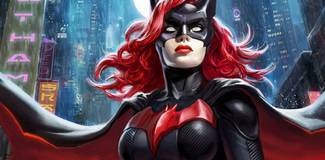 12 Things Fans Should Know About Batwoman (12 About Ruby Rose)

20 Celebs Over 35 Who Got Pregnant In 2018

20 Things The Korean Hulk Spends His Money On (That Lindsay Lohan Can't Afford)

18

She Never Has A Bad Day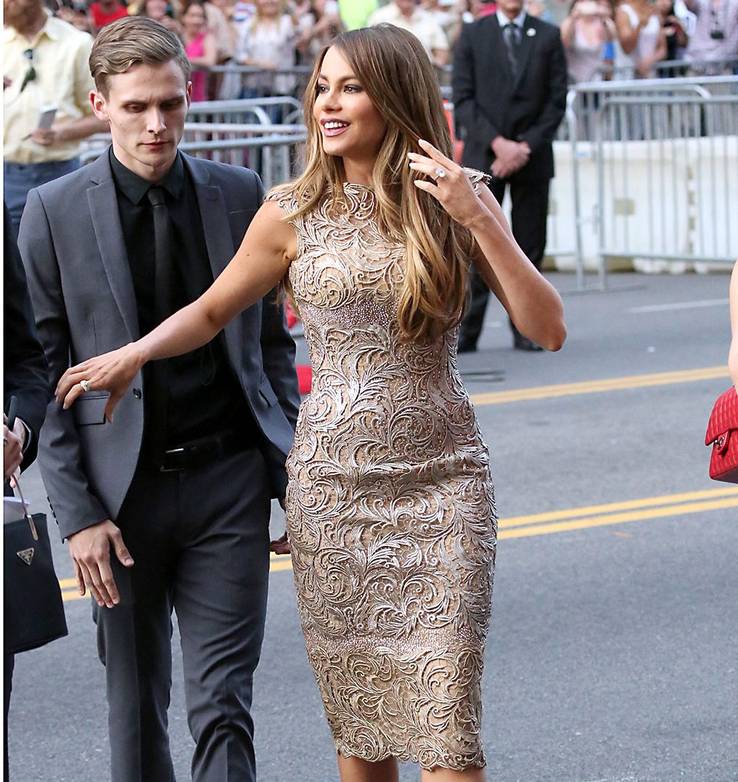 Given how flawless Sofia looks on and off the red carpet, it's hard to imagine that the celebrity has a bad day. But, despite the fact that she knows her looks are to die for, the actress says they've still put her at a disadvantage in some situations in Hollywood.
Specifically, Sofia has spoken out multiple times about the struggles and stereotypes she faced when trying to land roles. "I think I'm going to be stereotyped forever, but I'm not scared of being stereotyped," the celeb once said, acknowledging that her character on Modern Family, Gloria, is even a stereotype of a beautiful Latina woman.
17

Out For A Stroll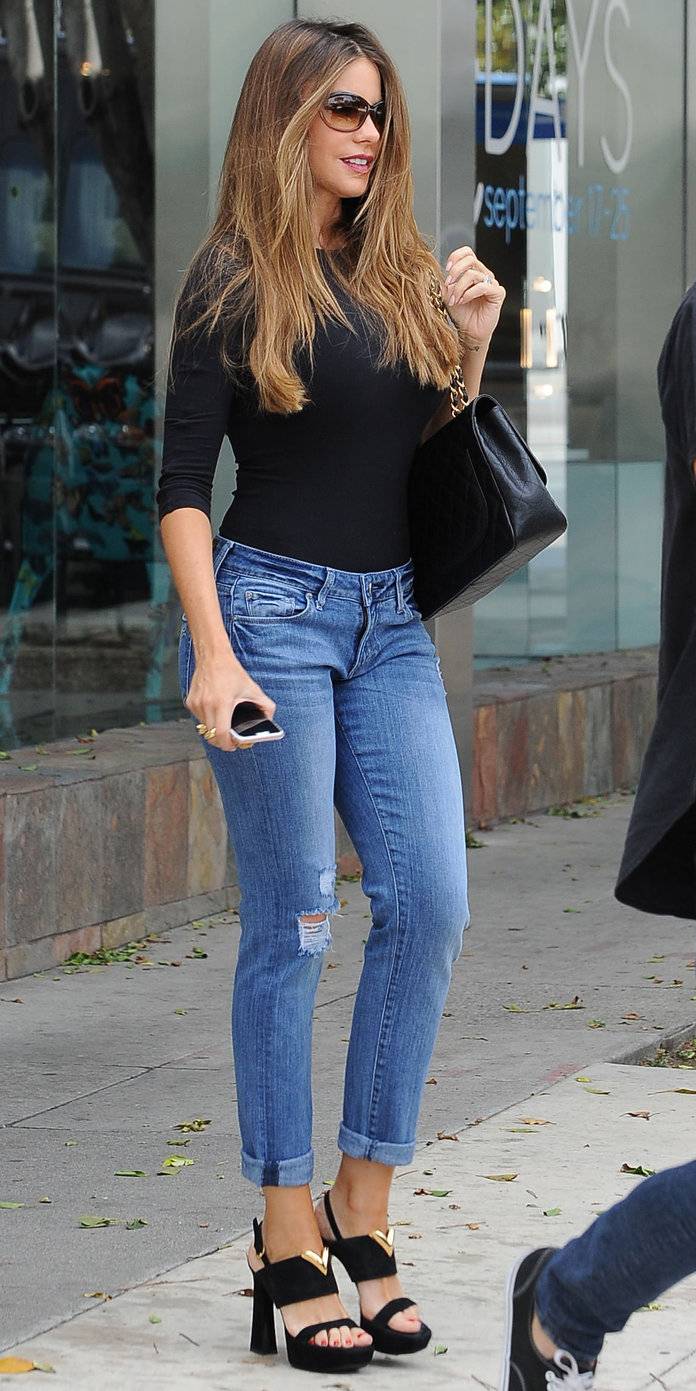 From the looks of it, you'd never guess that Sofia is a mom! But, what many fans don't know is that the celeb was actually a teen mom, which she credits to allowing her to maintain her figure later in life.
Sofia married her high-school sweetheart, Joe Gonzalez, at age 18, and welcomed their only child, son Manolo, the following year. "I do think it was fantastic to have a kid young," she's said about being a young mama.
"My friends now are all panicking if they haven't found somebody to have kids with. It was never like that for me because I already had the kid!"
16

Hair From The Heavens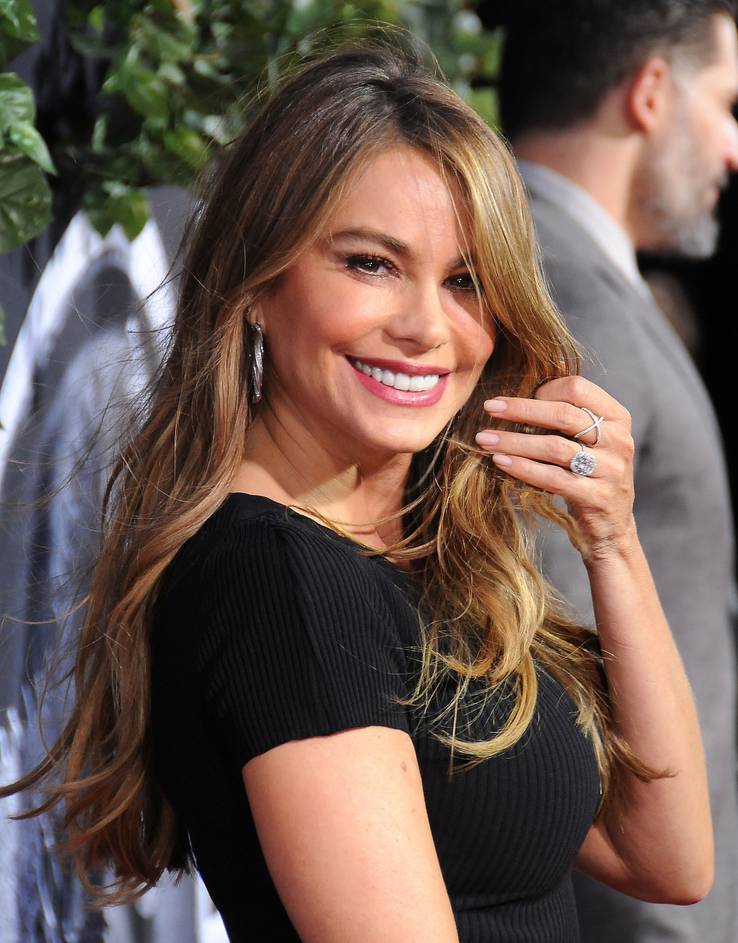 Aside from her killer acting chops and hourglass figure, Sofia has been revered for her always-perfect hair. The celeb has never been pictured with a hair our of fight or with an unflattering color.
Regardless, Sofia admits that its' tough constantly dying her naturally blonde hair to a darker shade. "Having blonde roots with dark hair, you start looking bald! So I've been making it lighter recently, just because it's easier," she told Red Book Magazine in 2014.
"When my hair was very dark, I had to dye my roots every month—it was a lot of maintenance. Now I can go two or three months between colorings."
15

Just Jeans 'N A T-Shirt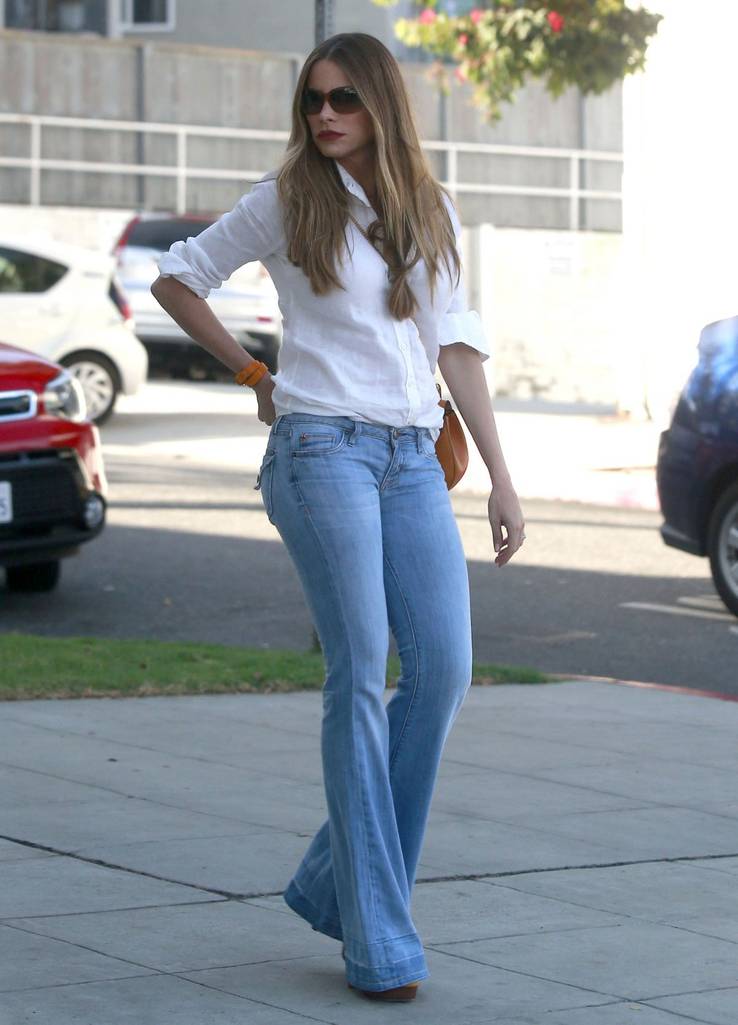 We're used to seeing Sofia all dolled up in figure-hugging dresses and sky-high heels, but this photo is proof that the celeb loves a good pair of jeans just as much as anyone. Her bell-bottom jeans perfectly showed off her hourglass shape, while her button-down kept the look fresh.
Sofia admits it's taken her a long time to come to love her curviness! "In Latin America, women are supposed to be voluptuous. They don't believe that you have to be skinny to be attractive," she has previously said. She's also added, I guess at the end of the day, all women like to be appreciated and treated with respect and kindness."
14

Brilliant In Blue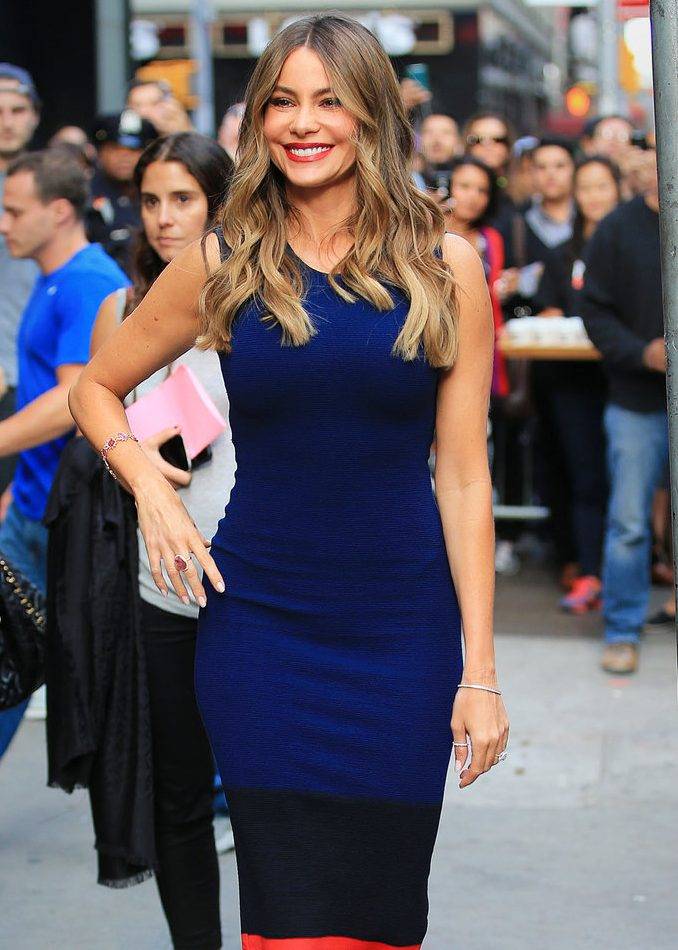 We're convinced that blue is Sofia's best colour after she showed up to an event in this colour blocked cocktail dress. The royal blue complimented her caramel hair, while the black and red detailing on the bottom elongated her figure.
Unlike many celebs, Sofia admits that she's high maintenance- and proud of it! An hour and 15 minutes. I take my time," she once told Red Book Magazine about her daily beauty routine. "I like showering, scrubbing, bubbling. Everyone is always rushing me! They'll lie about when an event starts to try to get me there on time. But I always know, so I don't give a damn."
13

Spotting The Polka Dots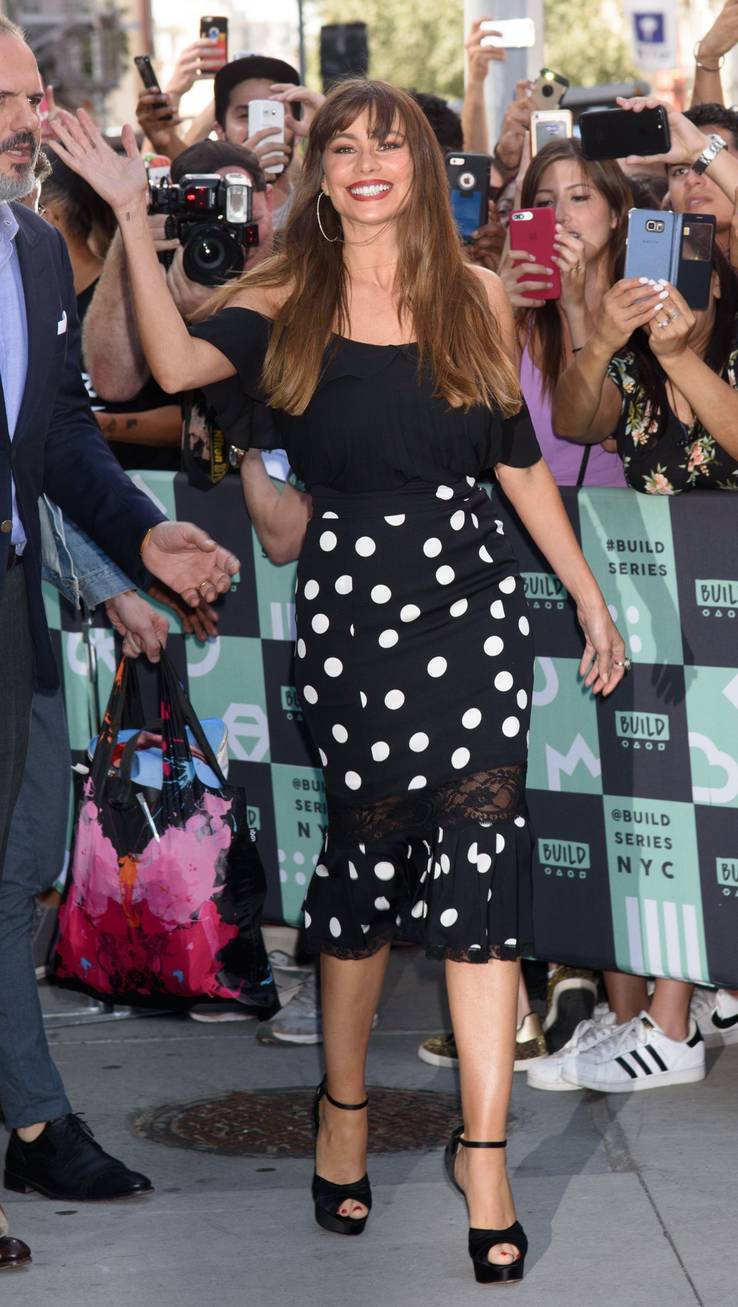 Although Sofia usually sticks to a single-colored dress, there have been times the celeb has stepped out in a bold pattern, like when she rocked this black and white polka dot dress.
Surprisingly, Sofia never expected to land up in Hollywood as an actress. "I didn't want to be an actress. I wanted to be a dentist, but you never know what life will bring you," she has said.
She's also added that her unconventional body (by Hollywood standards, that is) was often an obstacle when she was first trying to make it in LA. "My boobs are, like, huge. My whole life, buying a bra was a nightmare. What I used to do when I moved to LA, I found places like Frederick's of Hollywood that make bras for… strippers."
12

All Bundled Up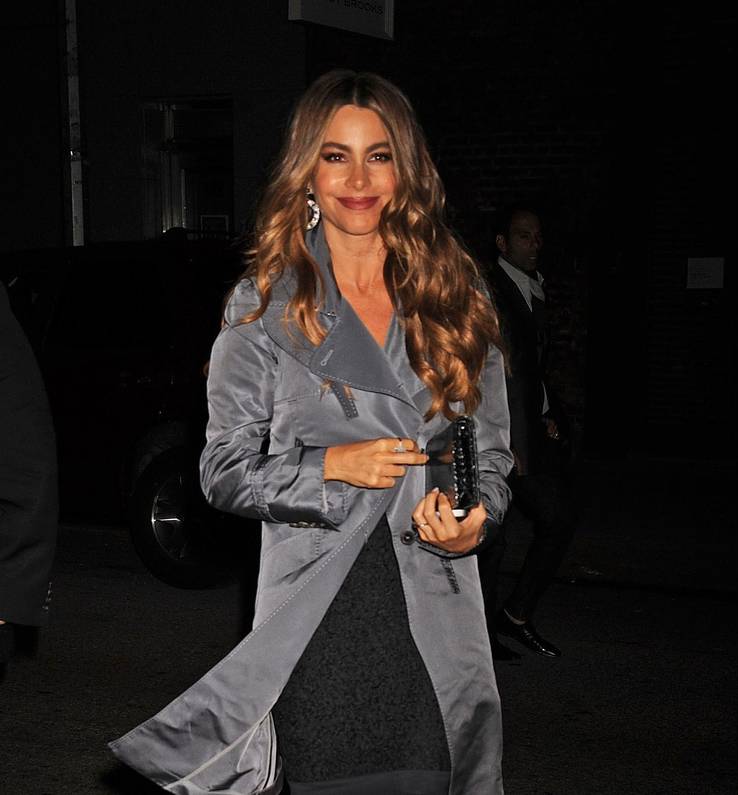 What many fans may be surprised to know is the number of people who discouraged Sofia from trying to make it in Hollywood, simply because of the shape of her body.
"One time, years ago, I remember my publicist [at the time] told me, 'I think you should just reduce your b**bs because nobody's going to take you seriously here,'" the Modern Family star admitted to Health Magazine.
Eventually, she decided against it. "My mother almost had a heart attack. She was like, 'God is going to punish you! You can't cut your b**bs!' I don't regret not doing it, because now it's become a big part of Gloria."
11

She's The Power In This Suit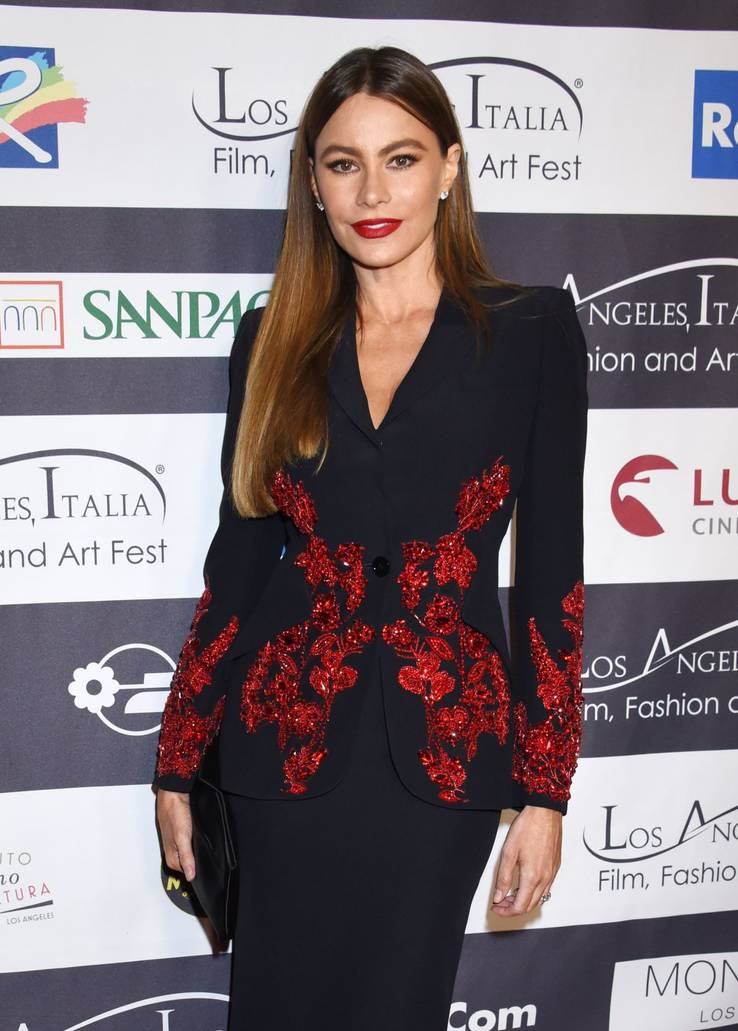 Sofia put her curves on display in this striking red and black suit, which was only complimented by her fierce red hair and bold lipstick. She admits it's taken her a while, but now Sofia loves her curvaceous frame.
"I've always been pretty confident. I grew up in a family of strong women, so I was always taught to be proud of who I am, the way I am," the actress has said. "Well, in Colombia everybody's very voluptuous, and you're supposed to be. You don't want to be skinny when all of your cousins are mermaids," Sofia has also added. "You grow up thinking that's how beauty is."
10

A Real-Life Golden Star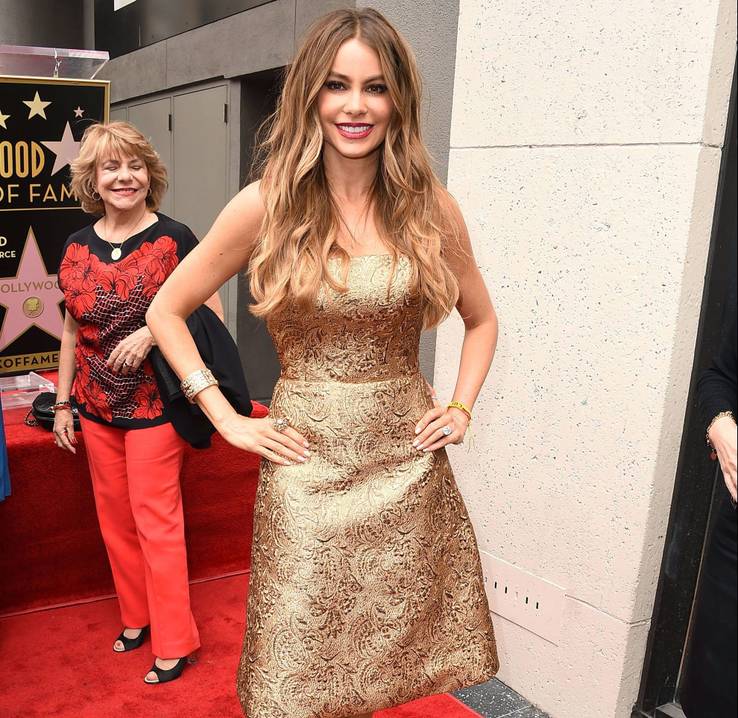 Sofia may have been standing next to a golden star, but it was her that was the real focal point. Her stunning golden dress made her look like a real-life goddess, and her tousles waves and berry lipstick only complimented her dazzling look.
Despite having such a successful career nowadays, the celeb has admitted that she never thought all of this was in the cards for her. "I never thought I could act, or acting was for me. I've never been artistic. I always knew I was funny," she told Harper's Bazaar in 2013. "I was the class clown, but I never thought to make money out of it or to be professional."
9

Sweatshirts Can Be Stylish, Too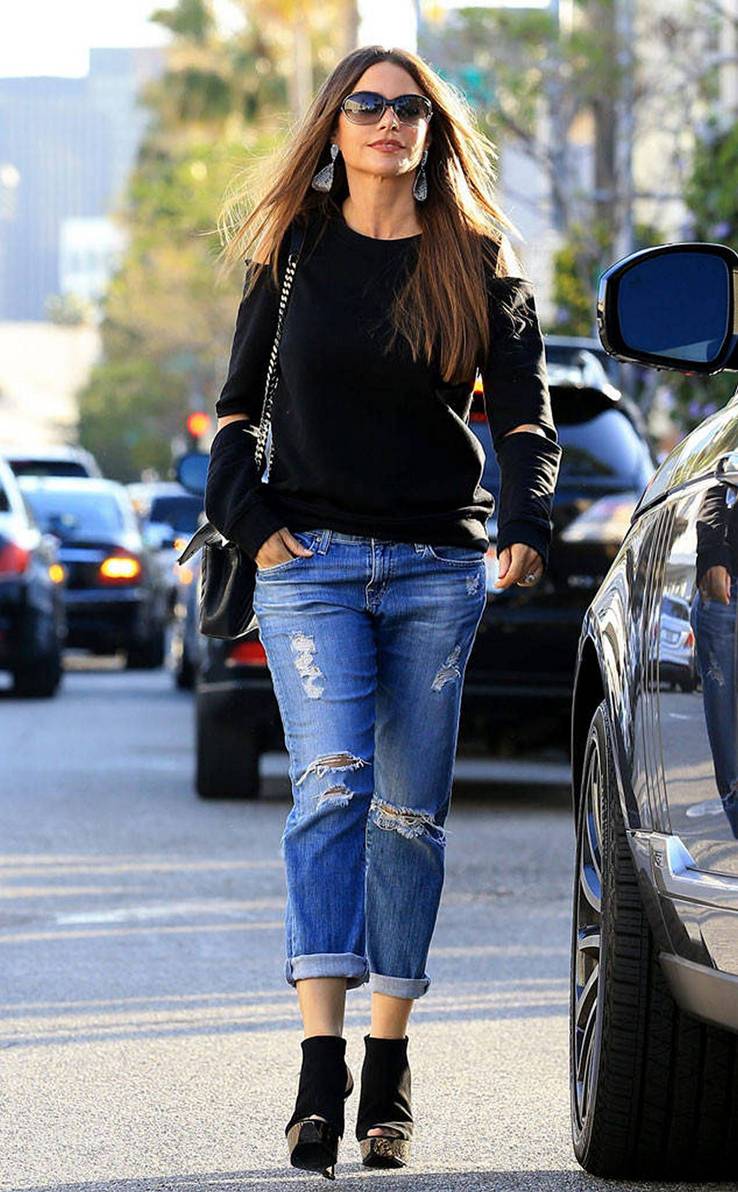 There's only one person who could make a sweatshirt look stylish- Sofia Vergara! By pairing her oversized sweatshirt with skinny jeans and a pair of wedges, she looked like was ready for the catwalk, rather than just some errands.
Sofia isn't afraid to admit she puts a lot of effort into maintaining her looks- and she doesn't always enjoy it! "I hate to work out. I get in a bad mood when I have to do it!"
The celeb has said that using dancing as a workout routine has made it easier for her. "I use Spanish dancing as a way to exercise. I've done that for my whole life," she said. "I love dancing to Latin music, so I have a trainer who dances with me for an hour three times a week."
8

Wearing All The Colours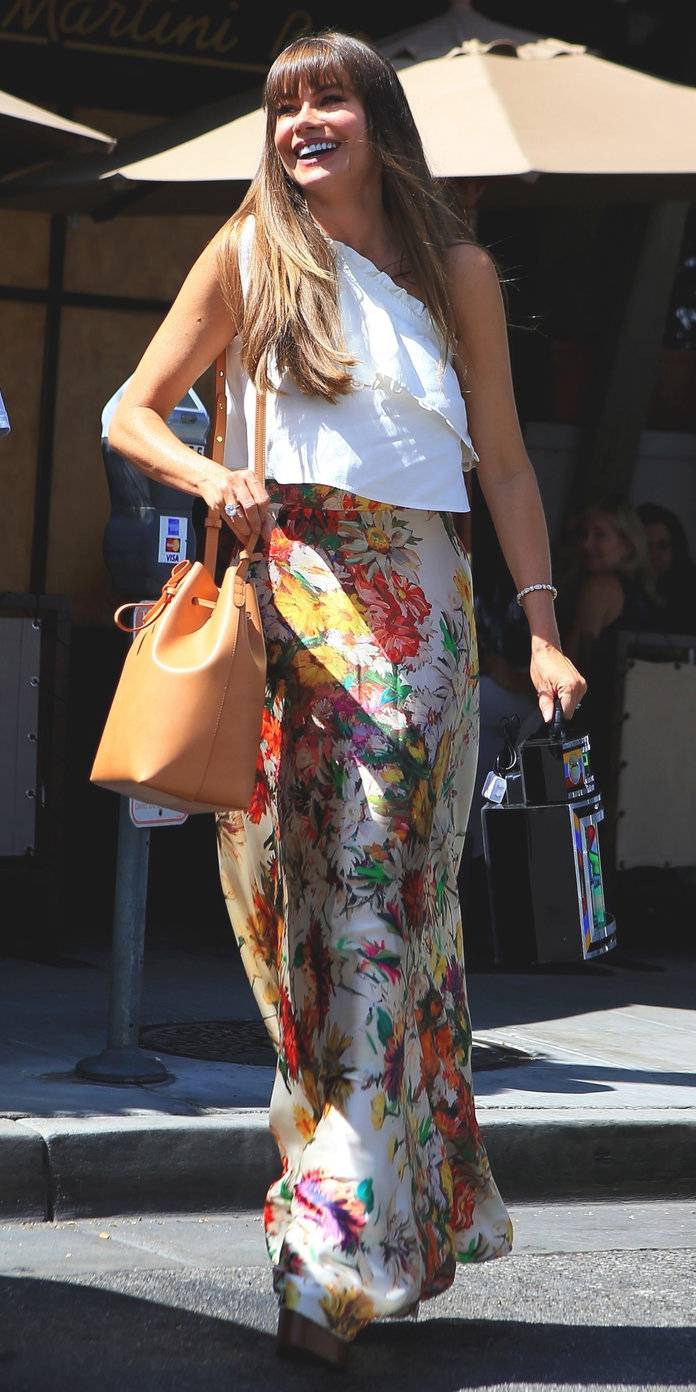 Sofia is always pictured all smiles, just like this candid paparazzi shot of her enjoying an afternoon out.
The celeb has always been thankful about the amount of success she's garnered from starring on Modern Family. "Even after the first episode, it was insane. People came up to me everywhere—little girls, grandmothers, everybody," she told Harper's Bazaar about first becoming famous.
The celeb added, "I don't think there's ever going to be a better part for me." We couldn't imagine anyone else playing Gloria other than her!
7

She's A Natural Beauty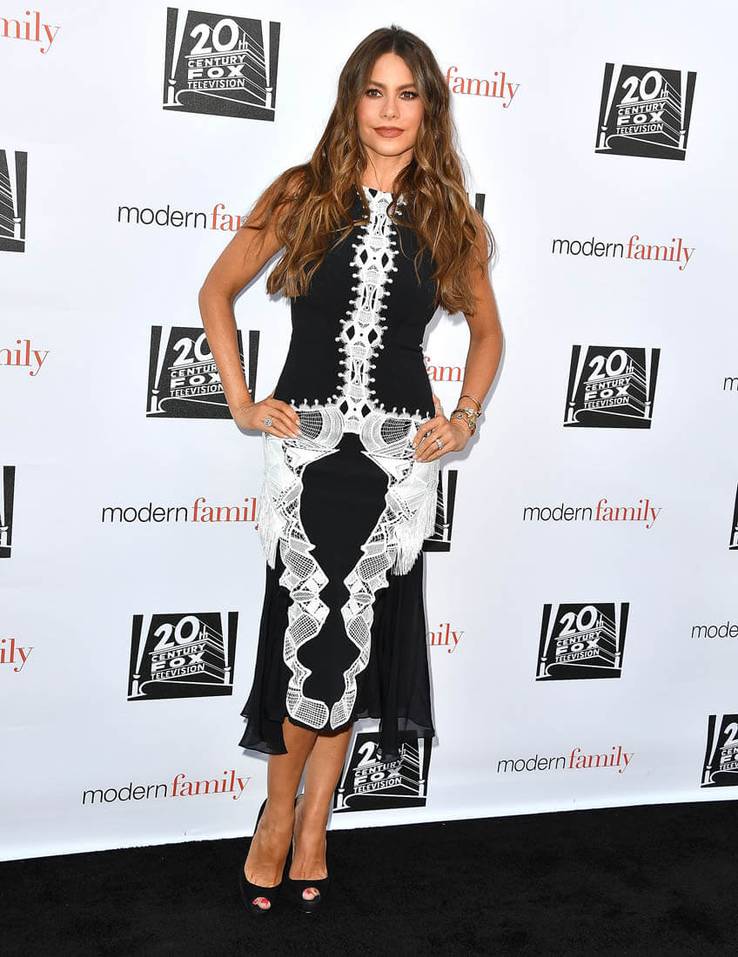 There's no denying that Sofia is drop-dead gorgeous, especially considering she's closer to 50 than 40. But, despite her good genes, the star has been resistant to say she's completely against going under the knife to preserve her youth.
"I don't want plastic surgery or fillers or Botox," the celeb once previously said. But, to Style Caster, Sofia says she's leaving the door open when it comes to plastic surgery. "Yeah, I would definitely do something. Not something crazy but little things here or there," she told the magazine.
"Hopefully, when the time comes and I'm considering it, there will be even better treatments out there."
6

Black But Not Basic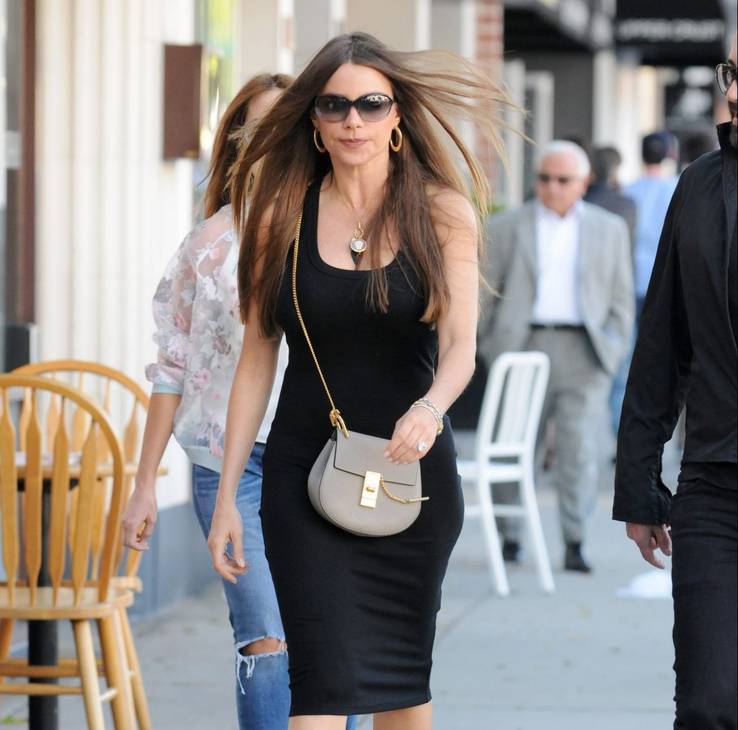 A lot of people might think that a black tank top dress is boring or basic. But, if that's you, then you must not have seen how Sofia Vergara styles hers! The celeb looked anything but basic in this sultry black dress, which she paired with tall heels and a cute cross body purse.
As famous as she is, Sofia admits she hasn't had as much commercial success as she'd like. "I still haven't played a leading role in cinema or in TV, and that's something that I long for," she's said. However, she loves her role in Modern Family! "I like TV, I feel comfortable there and I'm willing to take every opportunity that's offered to me," the celeb has added.
5

When Casual Becomes Chic
Even in the most casual of outfits, Sofia always manages to look sultry! In this street style outfit, the actress paired a long cardigan with boyfriend jeans and heeled booties for a comfy yet stylish look.
The actress says that it's sometimes tough for her to wear and do what she wants for fear of how her curvy body will appear. "My father told me that if I ever did anything artistic, I was going to look like a hooker," Sofia once said about her father's words before she entered Hollywood. "I told him, 'With these huge boobs that I inherited from your mother, I already look like a hooker!'"
We're glad she feels confident enough to wear whatever she wants!
4

She's Dressed To Impress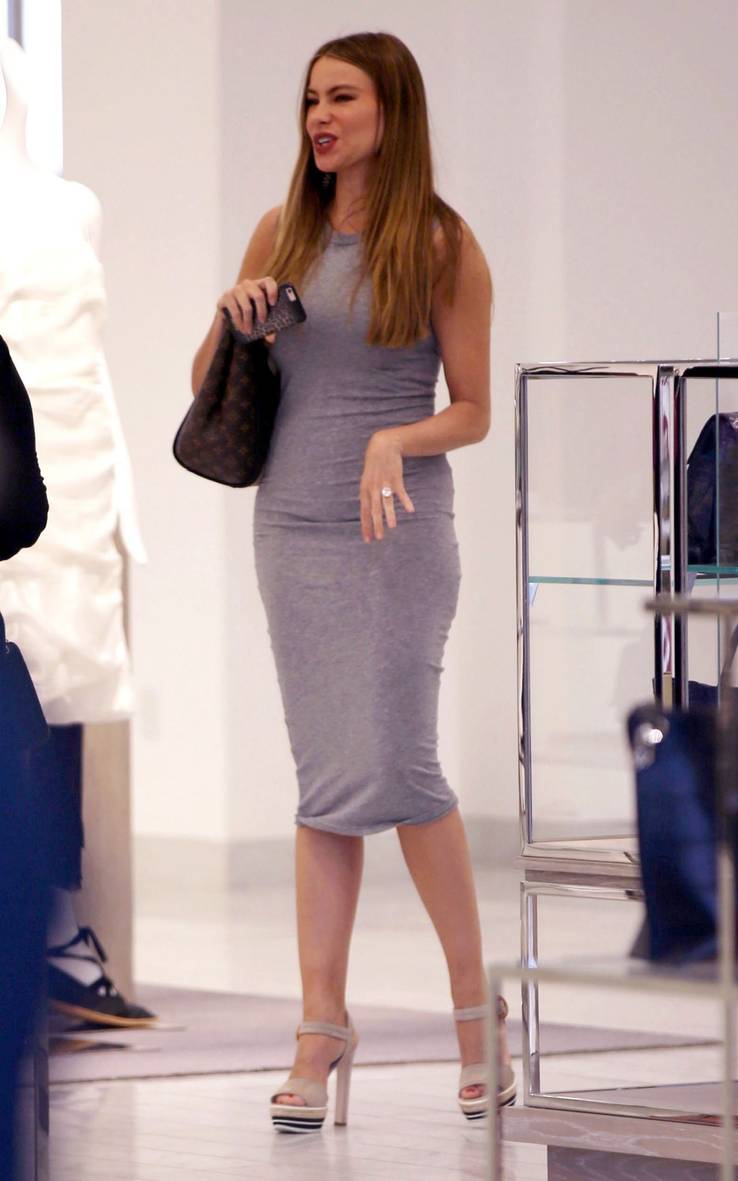 Paparazzi caught Sofia in this candid pose looking absolutely stunning in this form-fitting grey dress! The celeb was out shopping for friends as she rocked the casual outfit. Er, we guess it's not so casual given the sky-high heels she was wearing! But that's just Sofia for you!
On the topic of finding work in Hollywood, the celeb has admitted it's been a challenge due to her thick Spanish accent. "It has to be a very specific role for me because of my accent," she has said. "I can't complain; I've been working since I got to LA. But it is hard. I have no training as an actress so I try whatever I do like school, because I'm learning."
3

The Modern Woman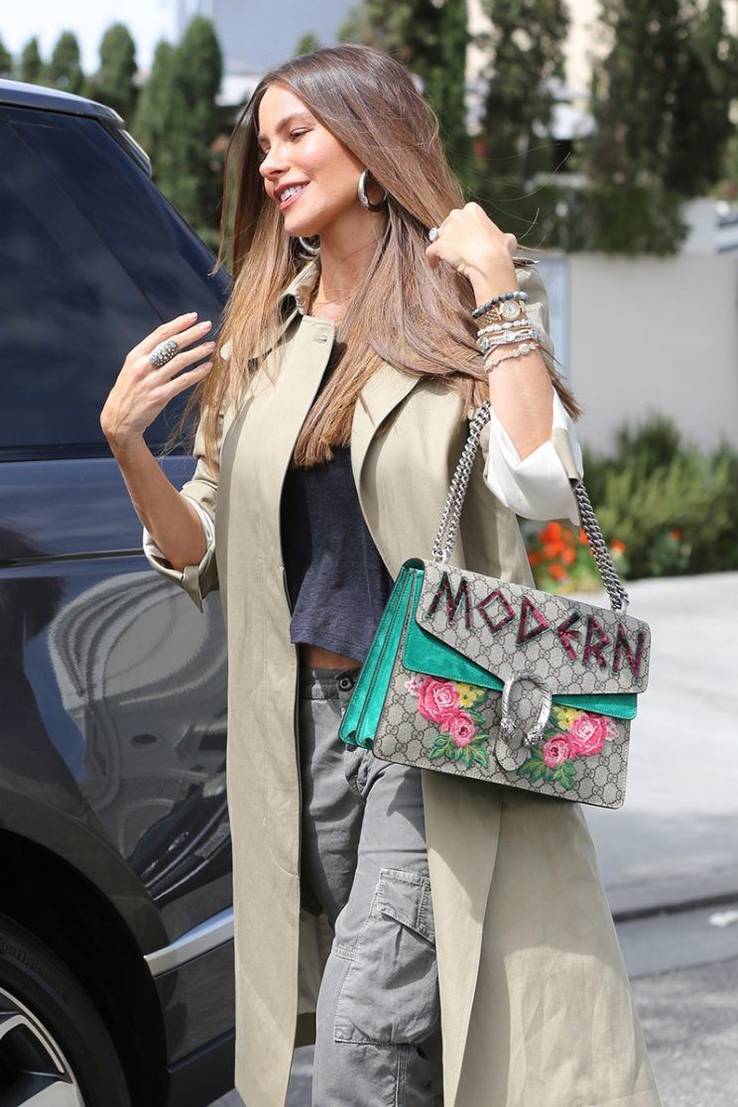 As this stunning outfit proves, Sofia is always on-trend and fashion-forward. The celeb says she owes that to not caring how uncomfortable or impractical her clothing choices might be. Pain is beauty, right?
"I'm not a very practical person with dressing, like with shoes, if they hurt, I don't care, I suffer," the star once said to Style Caster about her personal style and clothing line. "But I wanted to create a brand that was affordable and comfortable and versatile. It was important for me to make different pieces that people can wear for many things — not for just one!"
2

Going Back To Black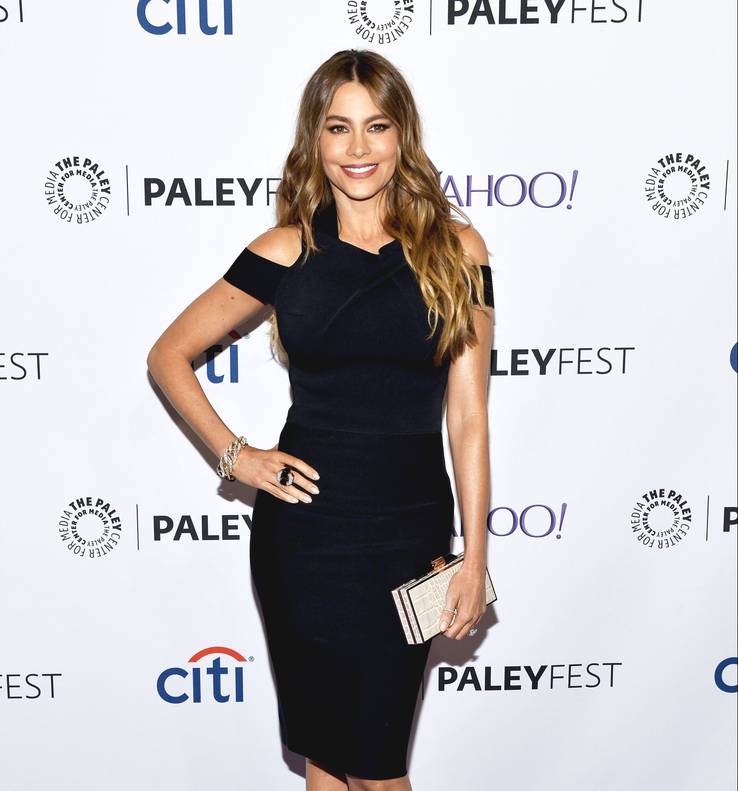 Sofia tends to wear a lot of colorful outfits, but she proved she can pull off a basic black look in this little number- though we don't think there's anything basic about it.
The celeb has been very honest about how her good looks are both a blessing and a curse, adding that it's easy to get stereotyped. "I think that would be ungrateful if I were upset because I'm seen as attractive or sexy," she once said about the topic. "That's opened so many doors for me in my life."
Sofia said she didn't think the perfect role existed for her until Modern Family rolled around. "I never thought I would get such a perfect role in 'Modern Family.' A lot of TV shows now are looking for more Latin women."
1

Strutting In Stilettos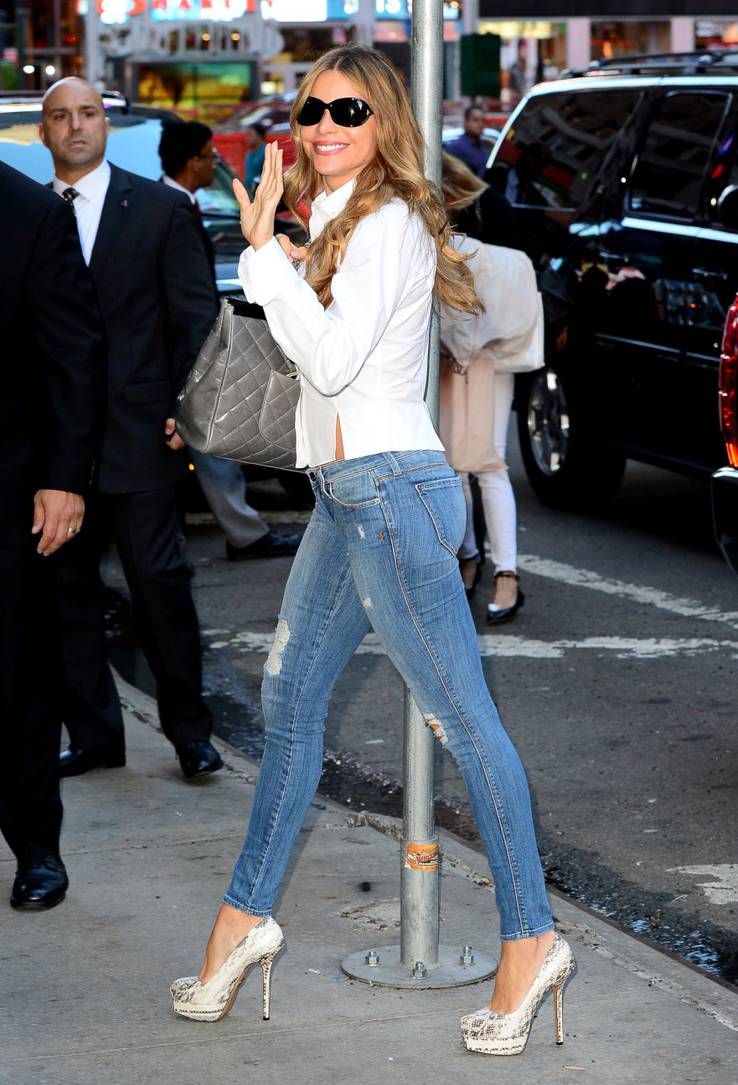 If the normal person were to walk in heels like Sofia's, they'd fall flat on their face! But the actress makes walking in 7-inch stilettos look like a breeze, if this photo is any evidence. As per usual, the star looked flawless in this street-style outfit proving her good fashion taste.
As the celeb is getting older, many wonder if she'll go under the knife to preserve her good looks (not that we think she needs to anytime soon!). "I don't really think that plastic surgery can make you look young," she told Health Magazine in 2011, hinting that she probably won't take the plunge.
She added, "It can make you look prettier, but if you go with the mentality of being young, I think that's where accidents can happen."
Sources: Redbook Magazine, Instyle Magazine, Style Caster, Brainy Quote, AZ Quotes, Extra TV, TODAY Style, Harper's Bazaar,
Source: Read Full Article