If you ever needed proof that some awards shows turn themselves into pointless three-hour blocks on your TV guide, look no further than the fact that Green Book won the Best Picture Oscar this year, Macklemore and Ryan Lewis beat Kendrick Lamar for the Best Rap Album Grammy in 2014, and now, Beyoncé's Homecoming special has been snubbed. She and the Homecoming crew didn't take home any of the six Emmys they were nominated for.
Year after year, some great artist or body of work is so grossly overlooked that it bears repeating: Why do people put so much stock into this? Most of the time, the voting bodies don't even reflect viewers or America as a whole, but when groundbreaking work fails to get recognized, it's frustrating.
Basically, this is how Beyoncé's internet feels about the fact that Homecoming wasn't enough to secure an Emmy for Outstanding Variety Special, Outstanding Directing, Outstanding Writing, Outstanding Production Design, Outstanding Directing for a Variety Special, and Outstanding Costumes for a Variety, Nonfiction, or Reality Program.
I mean, she had the costumes! (A unitard has never looked so good.)
She had the writing! When she said, "Until I see some of my notes applied, it doesn't make sense for me to make more," I felt it in my bones.
Here ya go….. pic.twitter.com/BfHBdtXA6V
And, you know, it's not like she lost all of these awards to something totally out of this world. Nope, she lost one of them to James Corden's Carpool Karaoke! Don't get me wrong: Carpool Karaoke is great and joyful and makes you feel all warm and fuzzy inside, but it is basically a GoPro taped to a dashboard. It doesn't have anything remotely close to the seamless transitions from one history-making Coachella performance to another.
This segment alone should've secured all of the things she was nominated for pic.twitter.com/HWWynQqQcK
james cordens carpool karaoke just won best technical direction…. a camera taped to a windshield just won an emmy over this pic.twitter.com/61jMbY1i5h
With all due respect, nothing that was nominated could ever, even on its best day, top the 57 seconds you're about to watch:
emmy or not, watching this remains to be perhaps the greatest 57 seconds of my life pic.twitter.com/QPFcEheI3G
Unfortunately, this isn't the first time Beyoncé was snubbed by the Emmys—she didn't win anything for Lemonade and was beat out by Carpool Karaoke, again, in the 2016 Outstanding Variety Special category. (Related: What is with the Emmys obsession with Carpool Karaoke?) And as we all know, the Grammys loves to ignore Queen Bey and keep her in the "urban" category, despite her obvious talent that transcends genre. No matter what she does, Beyoncé can't catch a break and doesn't always get recognized for her hard work.
Some silver lining in all of this: Beyoncé just announced a behind-the-scenes The Lion King special that will premiere on ABC tonight at 10 p.m. EST, so even though we don't deserve it, she keeps on giving.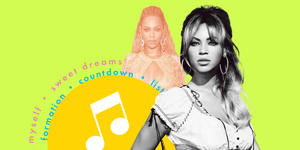 Source: Read Full Article