Spotted last night at #11Miami! #Drake celebrating the release of his new album #Scorpion! @champagnepapi @ovosound @nightowlsound @applemusic . . . Get Scorpion now at Drake.Lnk.to/Scorpion
A post shared by E11EVEN MIAMI (@11miami) on
Drake joined his friends as they made it rain at a release party for his new album Scorpion in Miami on Friday night.
The bash took place at the E11EVEN club. Drake showed up around 4:30 and entered via a side door, an eyewitness told E! News. He arrived with a crew of about 50 people from his OVO record label, including fellow rapper PartyNextDoor and producer and songwriter Murda Beatz. The group had a blast at the party, throwing money in the air from their VIP table.
The DJ played Drake's entire Scorpion album. The rapper himself, however, did not jump on the microphone or even address the crowd and did not interact with any of the women. He and his crew remained there for a few hours.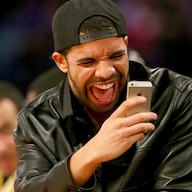 Photos
Drake's Awesome Sporting Event Faces
@champagnepapi celebrating his album release @11miami last night in Miami !! How's #Scorpion ? sounding?! #drake #scorpion #albumrelease #e11even #e11evenmiami #goat #miami #ovo #champagnepapi #proseccopapi
A post shared by N.O.G.A.S Podcast (@nogas_podcast) on
Drake's new album contains tracks such as "Emotionless," whose lyrics confirm rumors that said he has a child, "Finesse," which many fans speculated is about Bella Hadid.
The model later responded to a fan who tweeted it was probably about her, adding, "who hasn't he banged."
"Not me!!" Hadid said. "That's disrespectful. WHY CANT PPL BE FRIENDS W/o all the insinuation."
—Reporting by Holly Passalaqua
Source: Read Full Article