Have you ever been watching a movie and thought, "Why does this setting look so familiar?" As it turns out, many of the most popular Hollywood movies aren't just filmed in their studios. The movie industry loves to film in some of the biggest cities across the world — many of which are situated in America.
A new list has revealed Hollywood's most-used film locations, from an area that feels like a movie just to walk through (No. 8) to a university that feels like more of a movie set than a school (No. 6). Here are 15 places Hollywood loves to film in, leading up to the No. 1 most popular location.
15. Piccadilly Circus, London
Piccadilly Circus | Tolga Akmen/AFP/Getty Images
If you've ever been to London, you might know Piccadilly Circus as a popular location in the City of Westminster. However, if you haven't visited but it still looks familiar, you may recognize the busy street as the backdrop to some of your favorite movies.
From Bridget Jones: The Edge of Reason (2004) to Harry Potter and the Deathly Hallows: Part 1 (2010), a number of films have used this location. It also proves that this location can work for literally any genre.
Next: Did you recognize this area in Rogue One?
14. Canary Wharf, London
Canary Wharf | Oli Scarff/Getty Images
London locals wouldn't exactly deem the Canary Wharf area of London worth their time. According to Londonist, that's because it's "full of suited workers in the week, and an apparent ghost town at the weekends."
Hollywood wouldn't agree with that mindset, however. A number of popular movies, including 2006's Casino Royale and 2005's Batman Begins, have used the district as their backdrop. Most recently, you might recognize the area from Rogue One: A Star Wars Story (2016), where Jyn, Cassian, and K-2SO travel through in disguise.
Next: This is right in their backyard.
13. Hollywood Boulevard, California
Hollywood Blvd | Mark Ralston/AFP/Getty Images
While film crews may travel across the world for the best film locations, some movies are filmed right in their backyard. Hollywood Boulevard in California has been home to some huge movies.
The 2006 comedy, Borat, used the popular location in their film. You also might recognize it from 2001's Mulholland Drive.
Next: This has become one of the most popular Brooklyn neighborhoods.
12. Greenpoint, New York
Greenpoint | Michael Brown/Getty Images
New York City's Greenpoint has become one of the most popular neighborhoods in Brooklyn. The film industry loves it, too, as it's been the setting for tons of classic films.
Serpico (1973) is one of the most notable films shot in Greenpoint, which stars Al Pacino. He also stars alongside Johnny Depp in 1997's Donnie Brasco, which is "based on the real life Greenpointer Sonny Black Napolitano," and "was shot on West and Manhattan Avenue," according to Greenpointers.
Next: This is a hot tourist location.
11. South Bank, London
London's South Bank | Steve Eason/Hulton Archive/Getty Images
A hot tourist attraction, South Bank, London, is also a popular filming location. It's where the London Eye is located, which has served as a pretty iconic backdrop in a number of movies.
From Austin Powers in Goldmember (2002) to Fantastic Four: Rise of the Silver Surfer (2007) to Guardians of the Galaxy (2014), there seems to be no end in sight for Hollywood's use of the city. It's basically the perfect setting for any genre of movie, so we can see why it's so often used.
Next: You won't believe the movies filmed here.
10. Harlem, New York
Harlem | Don Emmert/AFP/Getty Images
If you take a walk around Harlem, New York, you'll have the opportunity to be on the set of some of the most classic films out there. According to Harlem World Magazine, the neighborhood became the setting to pivotal scenes 1961's West Side Story.
Other classic movies filmed in Harlem include The Seven Year Itch (1955), Shaft (1971), and Deathwish (1974). Of course, more recent movies have used Harlem to film, too, such as Get Him to the Greek (2010) and Limitless (2011).
Next: This school has been used for a surprising variety of movies.
9. University of British Columbia, Canada
The University of British Columbia, Vancouver | peterspiro/Getty Images
Whether or not a film is set in a school, the University of British Columbia in Canada has become a Hollywood go-to. X-Men Origins: Wolverine (2009) is one of the many movies that used the location. According to The Daily Hive, they "filmed the scene for the raid on the 'Lagos' compound outside Buchanan Tower at UBC."
2006's She's The Man starring Amanda Bynes also used the University of British Columbia. It's where her character, Viola, attends boarding school disguised as her brother to play soccer, and ends up falling in love with Duke (played by Channing Tatum).
Next: It feels like a movie to just walk through this area.
8. Times Square, New York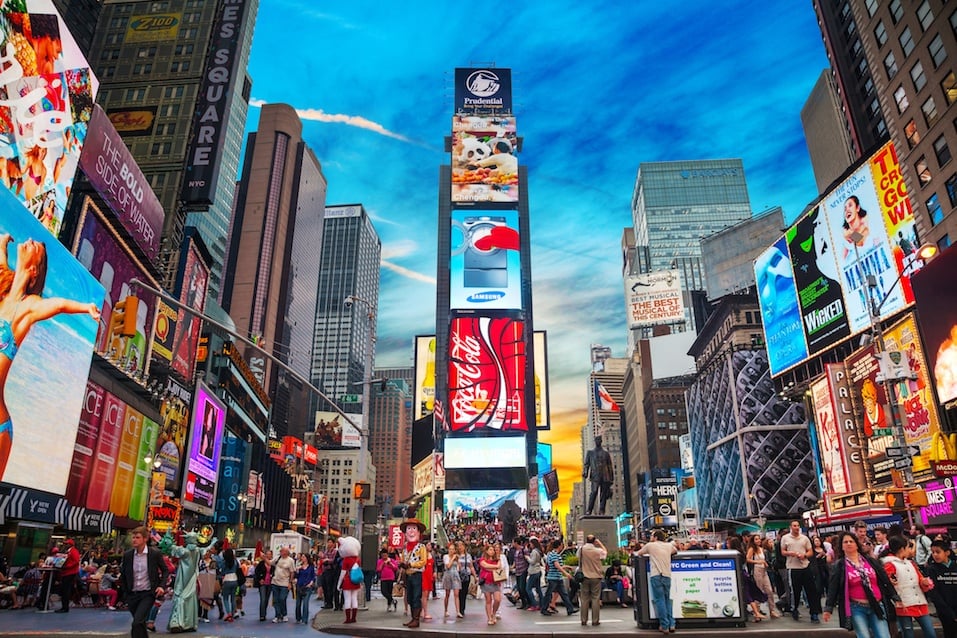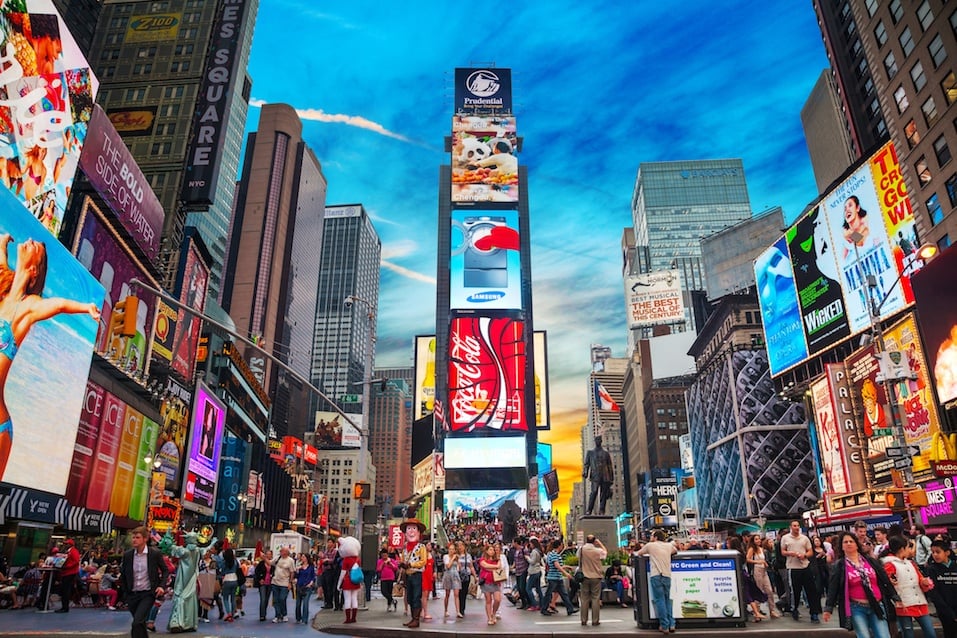 Times Square | AndreyKrav/iStock/Getty Images
Walking down Times Square in New York just feels you're walking through a movie. So it's no surprise that the most well-known New York City location has been an essential part of countless movies.
King Kong (1976), Annie (1982), and Breakfast at Tiffany's (1961) have all used Times Square for filming. And those are just a few of the acclaimed movies shot in the bustling area of the city.
Next: This has set the scene for classic films.
7. Coney Island, New York
Coney Island | Spencer Platt/Getty Images
New York's Coney Island has been setting the scene in movies for decades. The 1978 cult-classic, The Wiz, was a Wizard of Oz adaptation filmed at the attractions around the area.
Requiem for a Dream (2000) was also filmed at Coney Island "on the boardwalk, in the amusement parks, and in adjacent Brighton Beach," according to A Slice of Brooklyn's website. You may even recognize the teacup ride in 2003's Uptown Girls as the classic ride located at Coney Island.
Next: This feels like more of a filming location than a college.
6. UCLA, California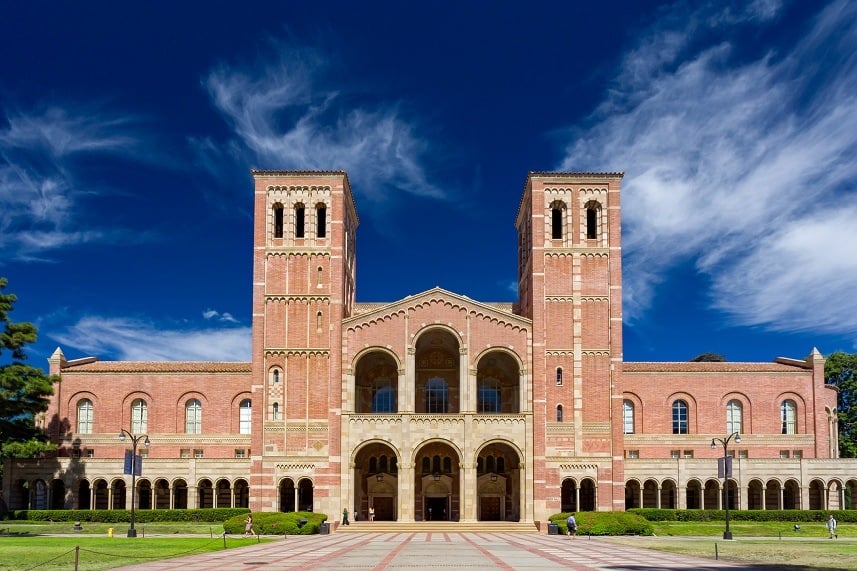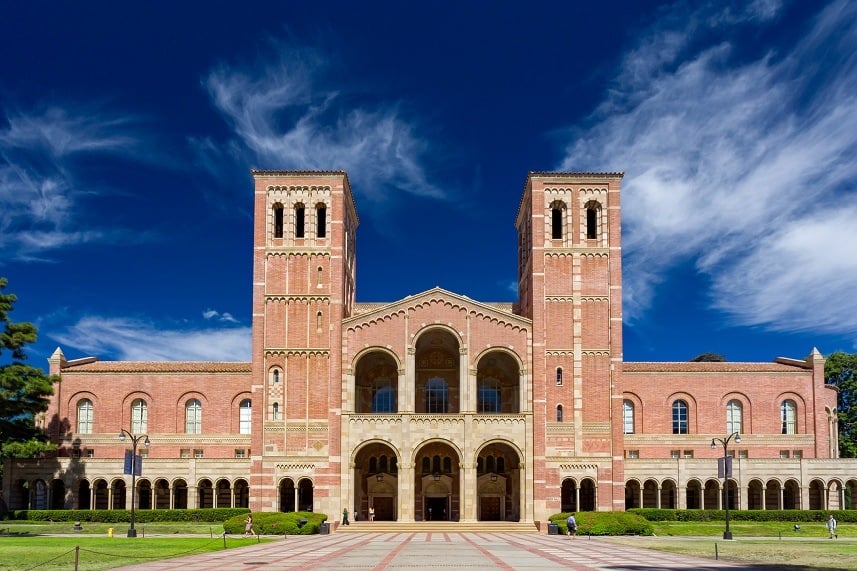 Campus of UCLA | Wolterk/iStock/Getty Images
It almost seems like UCLA is more of a filming location than it is an actual college. You won't believe the wide range of praised films shot at the Los Angeles school.
From Old School (2003) to National Lampoon's Van Wilder (2002) to Legally Blonde (2001), the list seemingly never ends. Now that Legally Blonde 3 is officially happening, we'll see if they incorporate the school into filming once more.
Next: This is one of the most-loved areas of Brooklyn.
5. Williamsburg, New York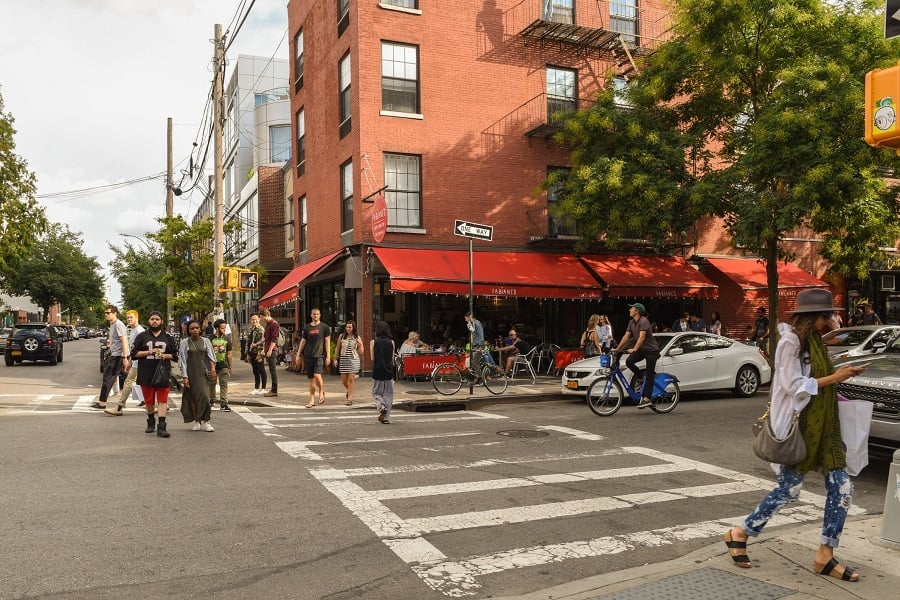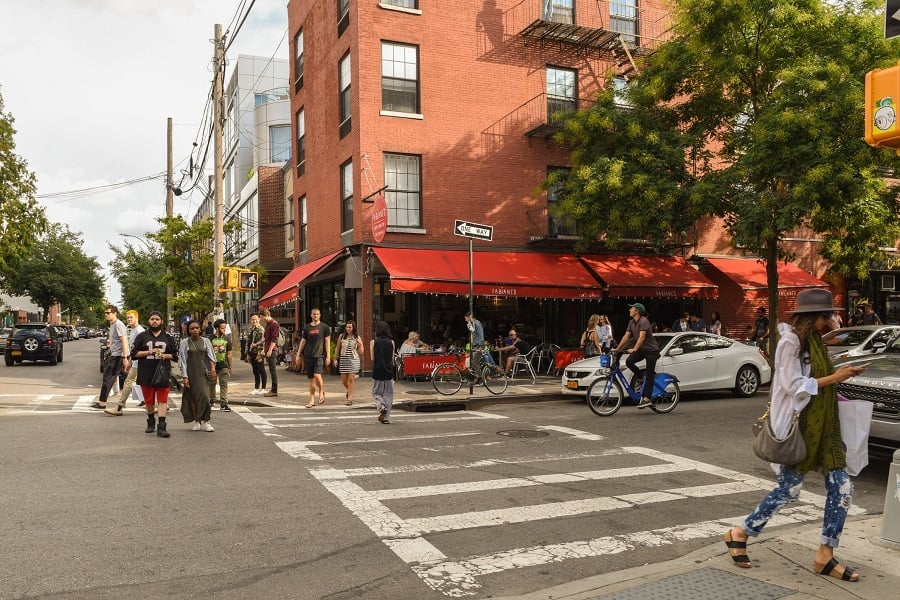 Williamsburg | Auseklis/iStock/Getty Images
As one of the most-loved neighborhoods of Brooklyn, it's no surprise that Williamsburg has often been chosen as a filming location. 2001's Don't Say a World was shot in the area, starring Michael Douglas, Sean Bean, and Brittany Murphy.
Sherlock Holmes (2009) was also filmed in Williamsburg. Can you imagine walking by Robert Downey Jr., Jude Law, or Rachel McAdams while filming on location?
Next: This neighborhood can easily transform into other areas.
4. Astoria, New York
Astoria | Drew Angerer/Getty Images
Yet another area of New York, the neighborhood of Astoria, set the scene for a number of classic movies. 1993's A Bronx Tale was filmed in the area, despite being all about the Bronx.
Similarly, Goodfellas (1990) was set in Brooklyn but was filmed in Astoria. It seems to an easily adaptable area of NYC to depict its nearby neighborhoods.
Next: You won't believe the movies that were filmed here.
3. Greenwich Village, New York
Greenwich Village | thinkreaction/Getty Images
The list goes on and on for movies filmed in Greenwich Village, New York. 13 Going on 30 (2004) starring Jennifer Garner takes you all around the city, which shares spots of the popular neighborhood.
A few other examples include titles you may have heard of. Ghostbusters (1984), Made of Honor (2004), and P.S. I Love You (2007) have all used Greenwich Village as a backdrop.
Next: This beachy town often sets the stage.
2. Venice Beach, California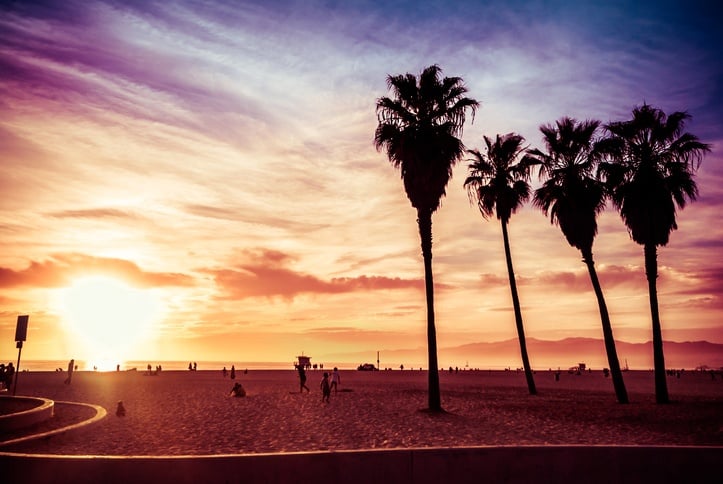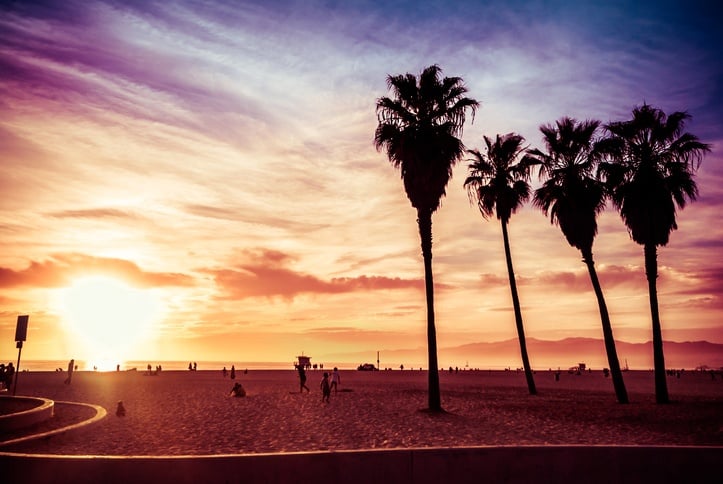 Sunset at Venice Beach, California | mervas/iStock
Many of the biggest movies in Hollywood have been filmed in Venice Beach, California. The sunny town has set the stage for movies like American Pie (1999), The Big Lebowski (1998), and Dracula vs. Frankenstein (1971).
1978's Grease was among the ranks of beloved movies filmed in Venice. According to Movie-Locations.com, the famous Rydell High in Grease was actually filmed at Venice High School.
Next: This is the most popular film location for Hollywood.
1. Central Park, New York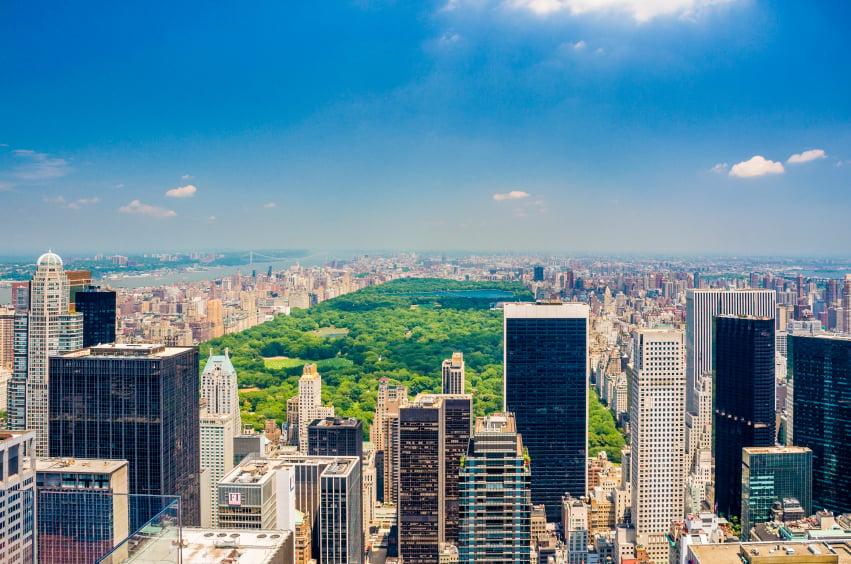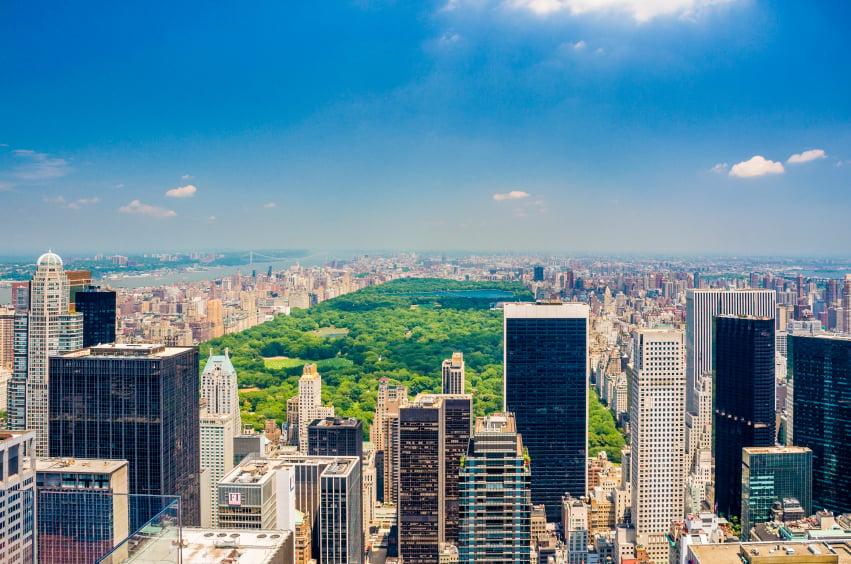 New York, New York | iStock/Getty Images
Central Park in New York City has been crowned the most popular film location of all time. Hollywood loves to use the green space in the city, whether it involves a date night in the park or an action scene.
There are too many titles to count that have filmed in the popular area. You won't believe the huge movies that have taken place in Central Park, from The Avengers (2012) to The Devil Wears Prada (2006) to Home Alone 2: Lost in New York (1992).
Hollywood may be able to create remarkable settings, but sometimes, nothing beats the totally real backdrops found around the world. We have a feeling that we'll see plenty more movies using these popular locations in the future.
Read more: You Have a Better Chance of Seeing a Movie Set in 1 of These Cities Than in Hollywood
Check out The Cheat Sheet on Facebook!
Source: Read Full Article