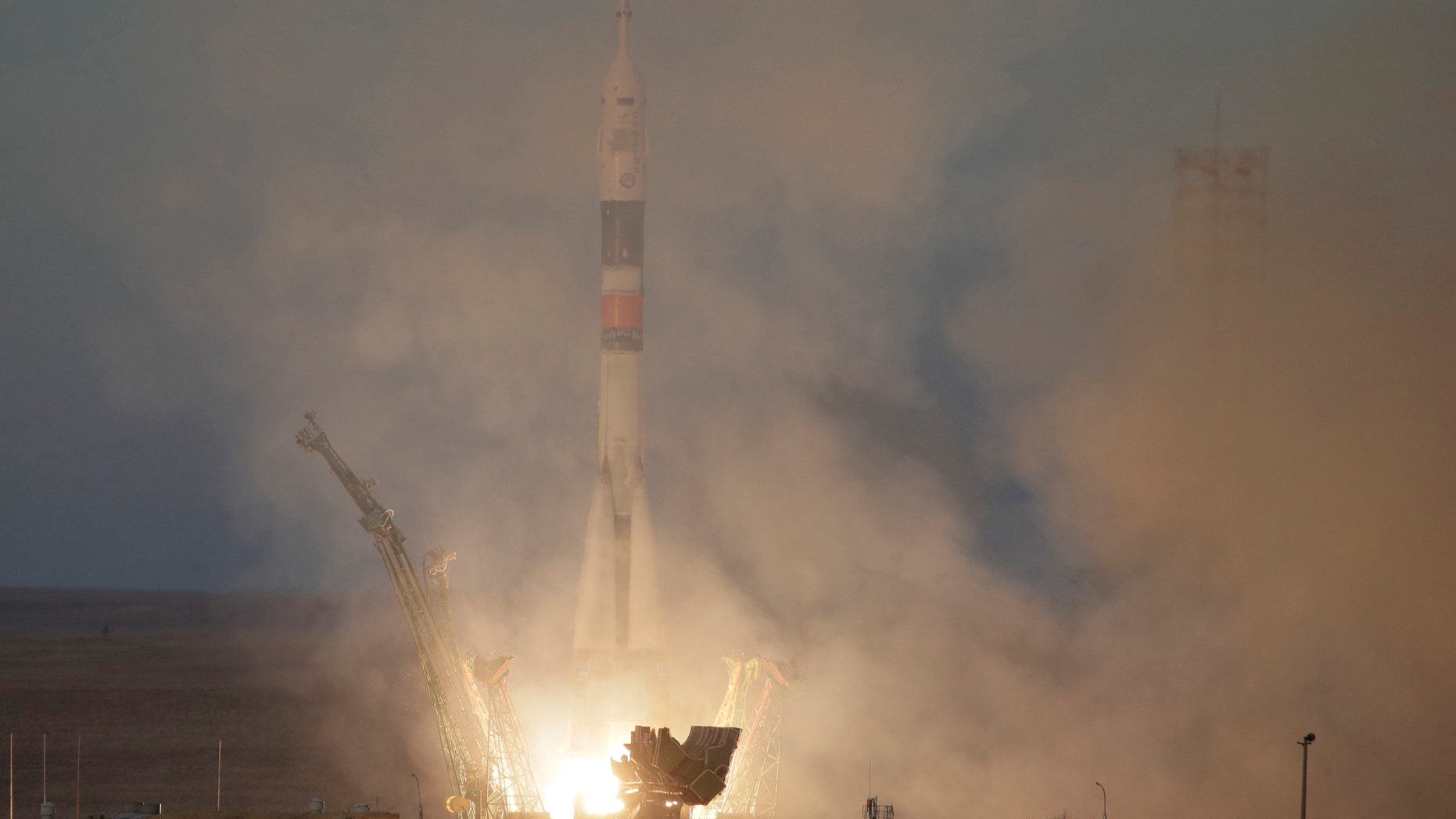 The Soyuz-FG rocket booster with Soyuz MS-11 space ship carrying a new crew to the International Space Station, ISS, blasts off at the Russian leased Baikonur cosmodrome, Kazakhstan, Monday, Dec. 3, 2018.
(AP Photo/Dmitri Lovetsky)
Three astronauts, including one American, successfully blasted off to the International Space Station from Kazakhstan Monday in the first launch of a manned Soyuz rocket since an aborted mission in October.
NASA astronaut Anne McClain, David Saint-Jacques of the Canadian Space Agency and Oleg Kononenko of Russian space agency Roscosmos lifted off as scheduled at 6:31 a.m. EST.
The astronauts' Soyuz MS-11 spacecraft entered a designated orbit just under nine minutes after the launch. The Expedition 58 crew members will arrive at the orbiting space lab after a journey of six hours.
US, RUSSIAN ASTRONAUTS MAKE DANGEROUS BALLISTIC RE-ENTRY INTO EARTH'S ATMOSPHERE AFTER ROCKET FAILS
McClain, Saint-Jacques and Kononenko will live on the ISS for six-and-a-half months.
NASA and Roscosmos said that all onboard systems were operating normally and the crew was feeling fine.
The #Exp58 crew is safely in orbit! I'm grateful to Director General Dmitry Rogozin and the entire @NASA and @roscosmos teams for their dedication to making this launch a success," tweeted NASA Administrator Jim Bridenstine, shortly after liftoff.
NASA ASTRONAUT DESCRIBES DRAMATIC ESCAPE FROM FAILED SOYUZ ROCKET
On Oct. 11, NASA astronaut Nick Hague and Russian cosmonaut Alexei Ovchinin made a dramatic escape after their Soyuz booster rocket failed two minutes after launch. A Russian investigation attributed the failure to a sensor that was damaged during the rocket's final assembly.
The Expedition 58 astronauts will briefly join NASA astronaut Serena Auñón-Chancellor, Alexander Gerst of the European Space Agency and cosmonaut  Sergey Prokopyev, who are scheduled to leave the space station on Dec. 20.
"Just days after their arrival, the [Expedition 58] crew members will capture the SpaceX Dragon cargo resupply spacecraft set to launch Tuesday from Cape Canaveral Air Force Station and deliver more than 5,800 pounds of critical research and supplies," said NASA in a statement.
SOYUZ ROCKET FAILURE: BOOSTER SEPARATION WAS TO BLAME FOR BOTCHED LAUNCH, RUSSIA SAYS
The accident in October was the first aborted launch for the Russian space program since 1983, when two Soviet cosmonauts safely jettisoned after a launch pad explosion.
The Soyuz spacecraft is currently the only vehicle that can ferry crews to the space station, but Russia stands to lose that monopoly in the coming years with the arrival of SpaceX's Dragon and Boeing's Starliner crew capsules
The Associated Press contributed to this article.
Follow James Rogers on Twitter @jamesjrogers
Source: Read Full Article