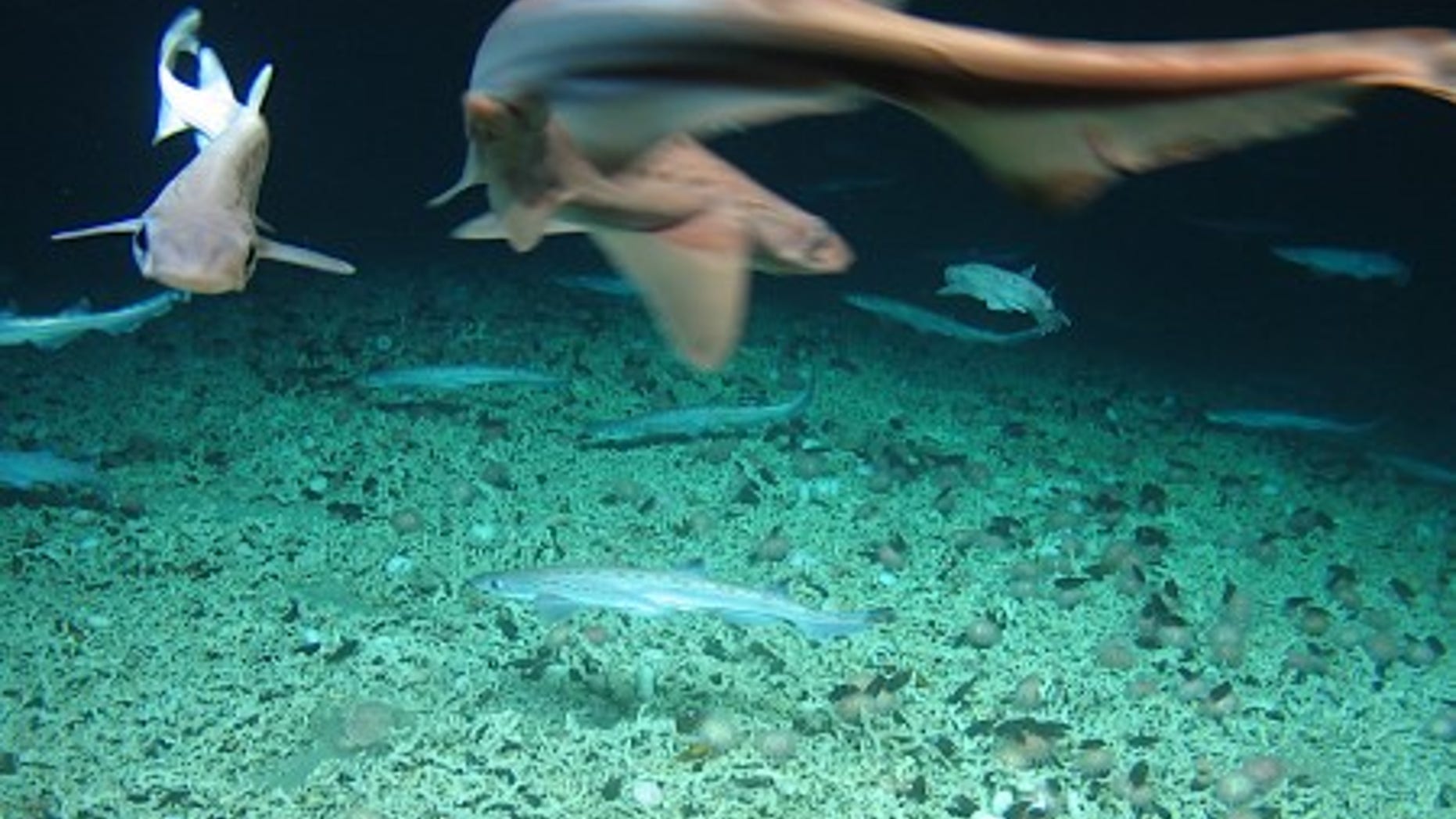 Scientists discover rare 'shark nursery' west of Ireland
(Marine Institute/handout)
Marine scientists made a major — and somewhat unexpected — discovery while surveying the ocean floor roughly 200 miles off the coast of Ireland: a "very rare" shark nursery.
A school of adult sharks, identified as Blackmouth catsharks and Sailfin roughsharks, were spotted 2,500 feet below the surface by a remotely operated vehicle controlled by a team of scientists with the Marine Institute. The sharks were swarming around a "very large" number of egg cases, researchers recently revealed in a news release.
It was unlike anything scientists in that area had ever seen before.
'We are delighted to report the discovery of a rare shark nursery on a scale not previously documented in Irish waters," marine biologist David O'Sullivan, who helped lead the research, said in the online statement. "This discovery shows the significance of documenting sensitive marine habitats, and will give us a better understanding of the biology of these beautiful animals and their ecosystem function in Ireland's Biologically Sensitive Area."
500-POUND GOLIATH GROUPER EATS SHARK AS SHOCKED FLORIDA FISHERMEN WATCH: 'HE JUST SUCKED IT IN'
Researchers participating in the Marine Institute's "SeaRover survey" — an initiative to explore Ireland's deep-water coral reef systems using an underwater operated vehicle — said they made the discovery last July, though they just presented documentation of their findings during the INFOMAR Seabed Mapping Seminar last week.
Koen Verbruggen, director of Geological Survey Ireland, said it was an honor to have the findings "unveiled" at the November event. Verbruggen added it demonstrates the "importance of mapping our seabed habitats."
"Our data and team continue to make significant contributions to harnessing our ocean wealth," he said.
Chief scientist David O'Sullivan recalled the moment he witnessed the school of sharks swimming around eggs, which were covering piles of dead coral.
GIANT GROUP OF OCTOPUS 'MOMS' DISCOVERED DURING DEEP SEA EXPEDITION: 'IT'S SUICIDE'
"It was incredible, real David Attenborough stuff. This is a major biological find and a story of this magnitude would have been on Blue Planet if they'd known about it," O'Sullivan told The Guardian. "Very, very little is known on a global scale about deep-sea shark nurseries."
It's unusual to stumble upon such a sight that far underneath the ocean's surface. And little is known about the habits of both Blackmouth catsharks and Sailfin roughsharks.
"Both species are of scientific interest as Ireland has an obligation to monitor deepwater sharks under the Marine Strategy Framework Directive," Maurice Clarke, who works at the Fisheries Ecosystem Advisory Services at the Marine Institute, said in an online statement.
The Sailfin roughshark is on the International Union for Conservation of Nature's (IUCN) "red list," as it is a threatened species. The slow-moving deep-sea shark is typically found anywhere from 870 to 2,500 feet below the surface and can grow up to nearly 4 feet long, according to Revolvy.
To further observe the biology of sharks at these depths, O'Sullivan said the team plans to return to the site next summer, hoping to catch some of the eggs hatching.
A healthy coral reef in the vicinity may act as a refuge for the juvenile shark pups once they hatch. It is anticipated that further study of the site will answer some important scientific questions on the biology and ecology of deep water sharks in Irish waters," O'Sullivan told the Marine Institute.
Source: Read Full Article