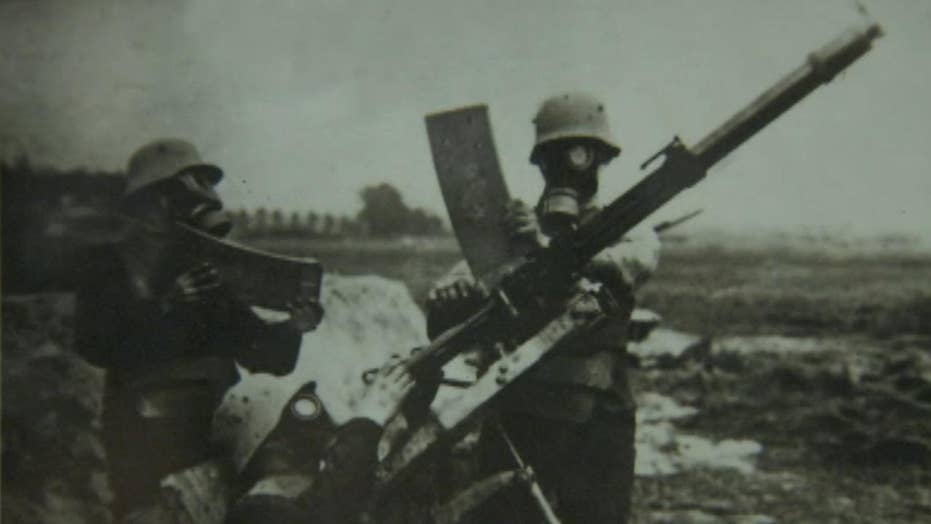 World War I's terrible legacy: chemical weapons
One century after the unforgiving horrors of chemical weapons were first unleashed with abandon on the modern day battlefield, they are still shockingly used against innocent civilians in Syria and elsewhere.
As the world marks the 100th anniversary of the Armistice that ended World War I, there is one tragic legacy of the conflict that sadly has not stopped: chemical weapons.
One century after the unforgiving horrors that chemical weapons first unleashed on the battlefield, they are still shockingly used against innocent civilians in Syria and elsewhere.
"In today's world, it is just unconscionable," says Bassam Rifai, the chairman of the Syrian American Council. He criticizes the world's acquiescence to Syrian president Bashar al Assad's repeated use of chemical weapons against his own people.
"I cannot imagine what that would do to somebody who is hiding in their basement, with their children, waiting for a chemical weapon to rain down and suffocate them," says Rifai.
WORLD WAR I POSTERS OFFER UNIQUE GLIMPSE INTO SOLDIERS' STORIES 100 YEARS AFTER THE ARMISTICE
"I don't understand how a human being can use a chemical weapon against anyone else."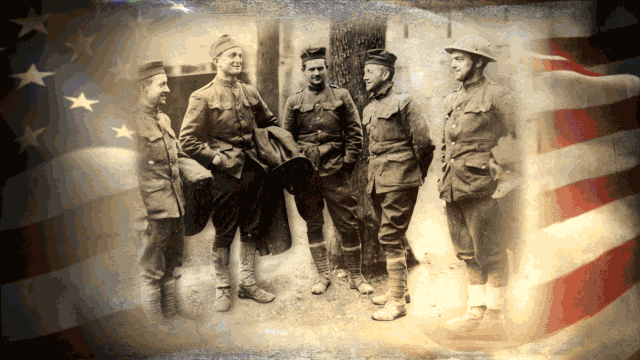 It is a lesson not learned since 1918.
"Countries have still been able to get away with it, even though we know what they do," notes Dr. Timothy Westcott, professor of history at Park University in Parkville, Missouri. He is also the director of the University's George S. Robb Center for the Study of The Great War.
"It's horrific," he notes. "It's horrific on children, adults, service members, the whole population. It's awful."
THIS BULLET-SCARRED BIBLE 'SAVED THE LIFE' OF A WORLD WAR I SOLDIER
The Germans first used poison gas, chlorine, against the British in 1915 to try and break the long stalemate on the Western front. Even though their use constituted a war crime, first outlawed in 1899, that did not stop their use, eventually, by both sides.
"White phosphorus was a powerful one, some people would have seen kind of like a cloud that just eats the skin away, very quickly," says Dr. Westcott. "Mustard gas is probably what most people have some familiarity with. Mustard gas, inhaling that, eats your insides outward, and is very painful. A lot of these were very painful. The gas mask that was invented very quickly to deal with them was somewhat successful, but not always, particularly if there was not enough warning of a gas attack."
"Mustard gas was really an oil that would sit on things, especially your skin, it was a vesicant, it was a blistering agent," explains Johnathan Casey, the director of archives at the Edward Jones Research Center at the National World War I Museum and Memorial in Kansas City, Missouri.
AMERICA'S DEADLIEST BATTLE: WORLD WAR I'S MEUSE-ARGONNE OFFENSIVE 100 YEARS LATER
"There was a convention prohibiting these gases that had been signed by a number of the European countries but they were able to circumvent that by saying the definition of the weapons that they were using did not fit the convention."
As part of its collection, the Museum displays the rudimentary gas masks and grenades that were used during the war.
"People would start to choke on it and the body would react to get this poison or irritant out of the body," Casey says. "It was quite a shock and caused a lot of panic among the soldiers, because there was something all of a sudden there that they had not experienced before, or had any training or defense against and from that there was a natural outrage."
After the war ended, the 1919 Versailles Treaty banned the use of chemical weapons. In 1925 another agreement, the Geneva "Protocol for the Prohibition of the Use in War of Asphyxiating, Poisonous or Other Gases, and of Bacteriological Methods of Warfare" went into effect.
INCREDIBLE WORLD WAR I DIARY SURFACES
Currently, 193 nations have adopted the United Nations' "Convention on the Prohibition of the Development, Production, Stockpiling and Use of Chemical Weapons" that was enacted in 1997.
"We have international agreements that these are not to be used on human beings. Unfortunately, we have not enforced those," laments Dr. Westcott.
At the United Nations, there has been harsh condemnation of the continued use of chemical weapons. Saddam Hussein deployed poison gas to massacre 5,000 Kurds in 1988 and repeated attacks have not completely stopped in Syria. Russia is also suspected of having used a deadly chemical nerve agent, Novichok, in the U.K. earlier this year.
At a U.N. Security Council meeting in September, British Ambassador Karen Pierce was blunt.
100-YEAR OLD LETTER FROM WWI UNCOVERED
"I just find it unconscionable … that after all these years, in the hundredth anniversary year of the end of the first World War, that any government can even think of using chemical weapons against its own people or indeed against anyone else, whether they're a small city in Britain or they are a country like Syria," she said.
Dr. Westcott, sadly, does not foresee a day when chemical weapons will no longer be used. He is calling on governments to step up enforcement of sanctions against those who violate the international agreements.
"There are humans in charge of them. There's humans in charge of the countries, and I think unfortunately as humans, we have to do our best to control however we define that as a global society, to control those. But unfortunately humans will be humans and unfortunately, will use them as a last resort scenario."
Ben Evansky and Lloyd Gottschalk contributed to this report
Follow Eric Shawn on Twitter: @EricShawnTV
Source: Read Full Article