Dreaming of the day Joanna Gaines knocks on your door and offers her fairy godmother-like home makeover services? While that would be a dream come true, you can make it happen all on your own — with the help of her Fixer Upper design tips, of course.
From what color to paint your walls to the perfect way to tie a room together, we share some of the simple design rules Joanna Gaines swears by for a beautiful home, ahead.
1. White walls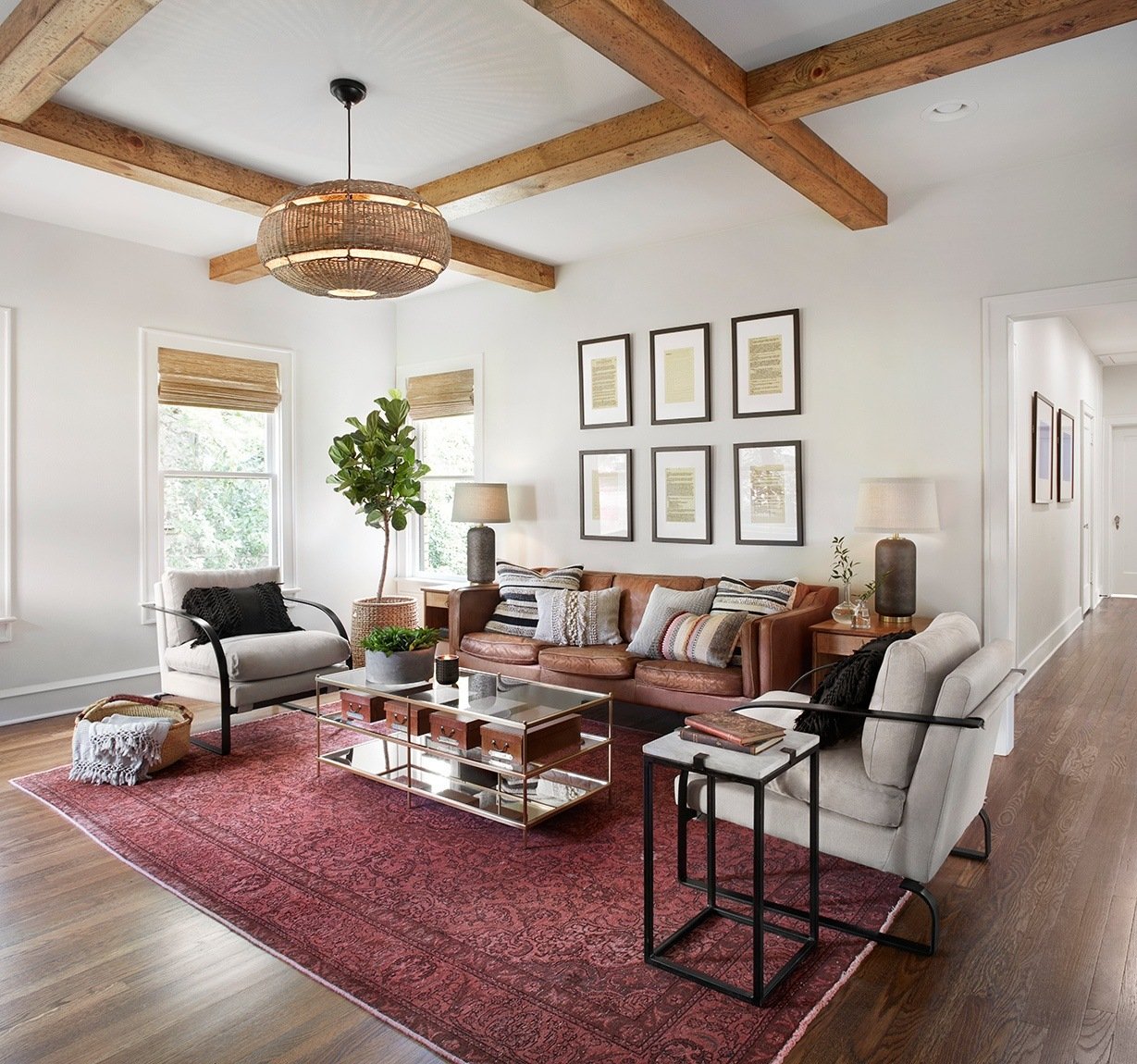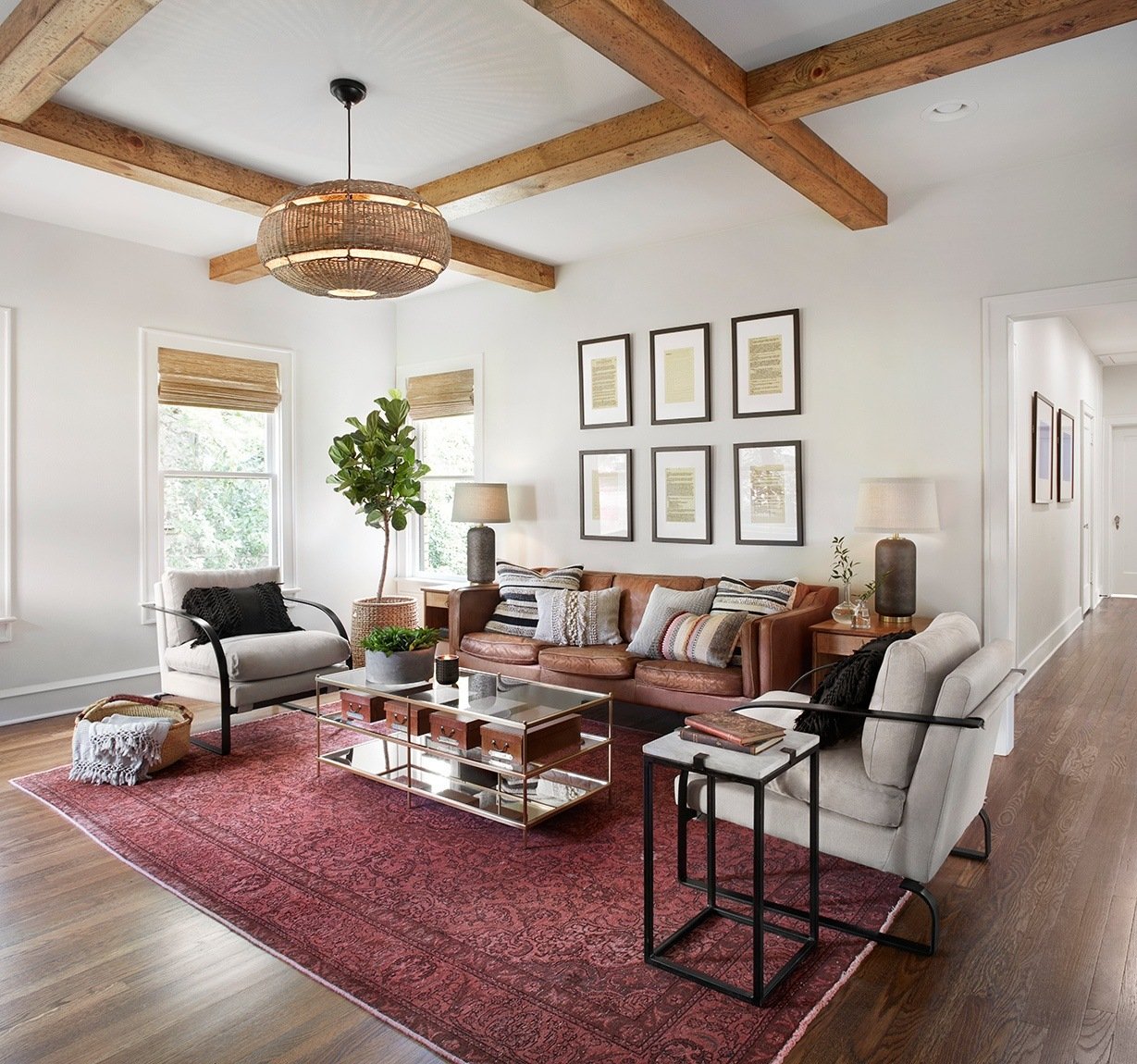 It is a great way to add color in in the details. | Magnolia Market
Painting your walls white may seem boring, but according to Joanna Gaines, it's actually the perfect starting place. In her design tips for the Lunar Lander House, Gaines explains how painting your walls white "can actually provide a neutral and clean foundation to design around that other colors can't, giving you more freedom to get creative with decor."
2. Tile isn't the only way to backsplash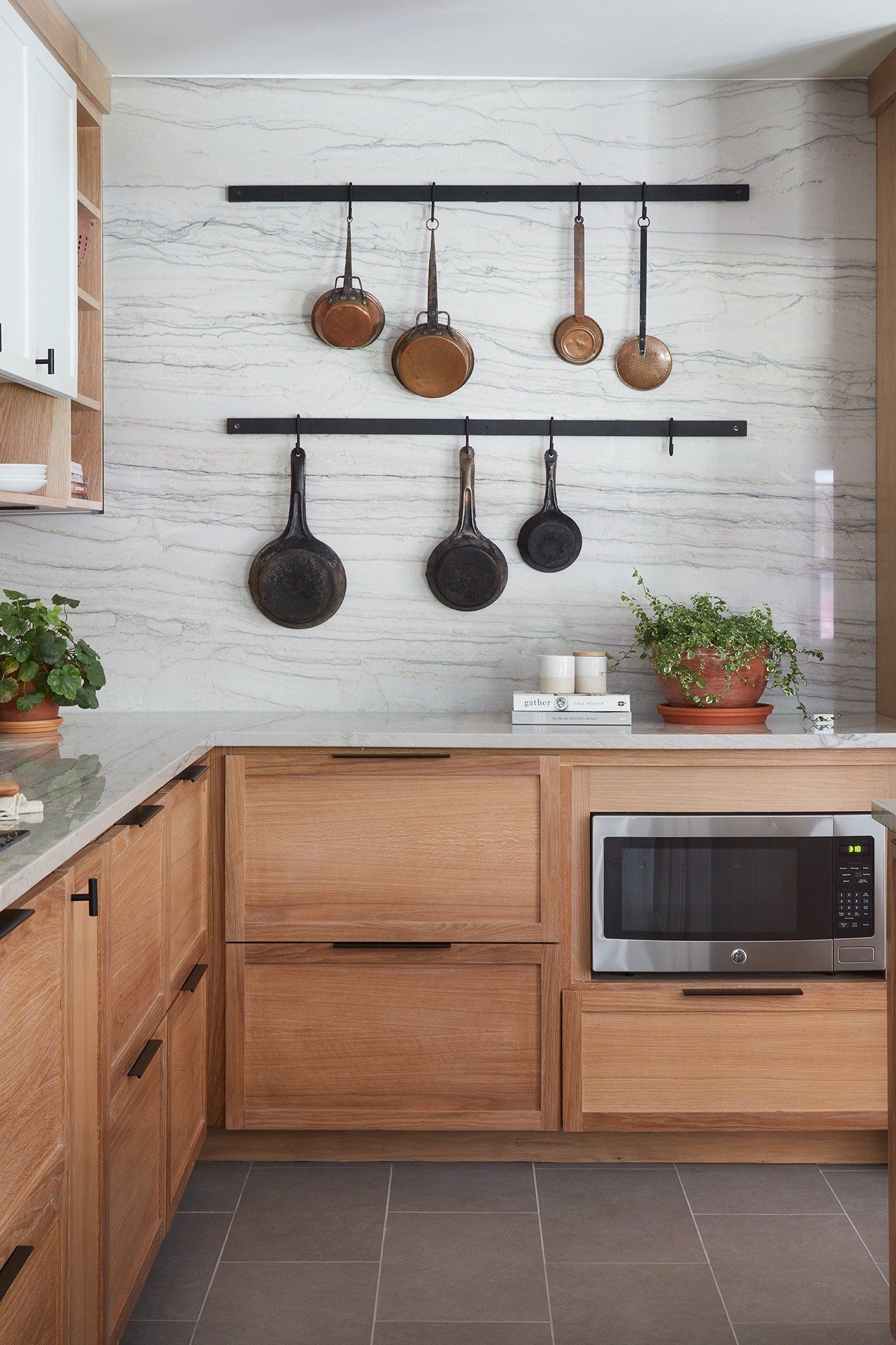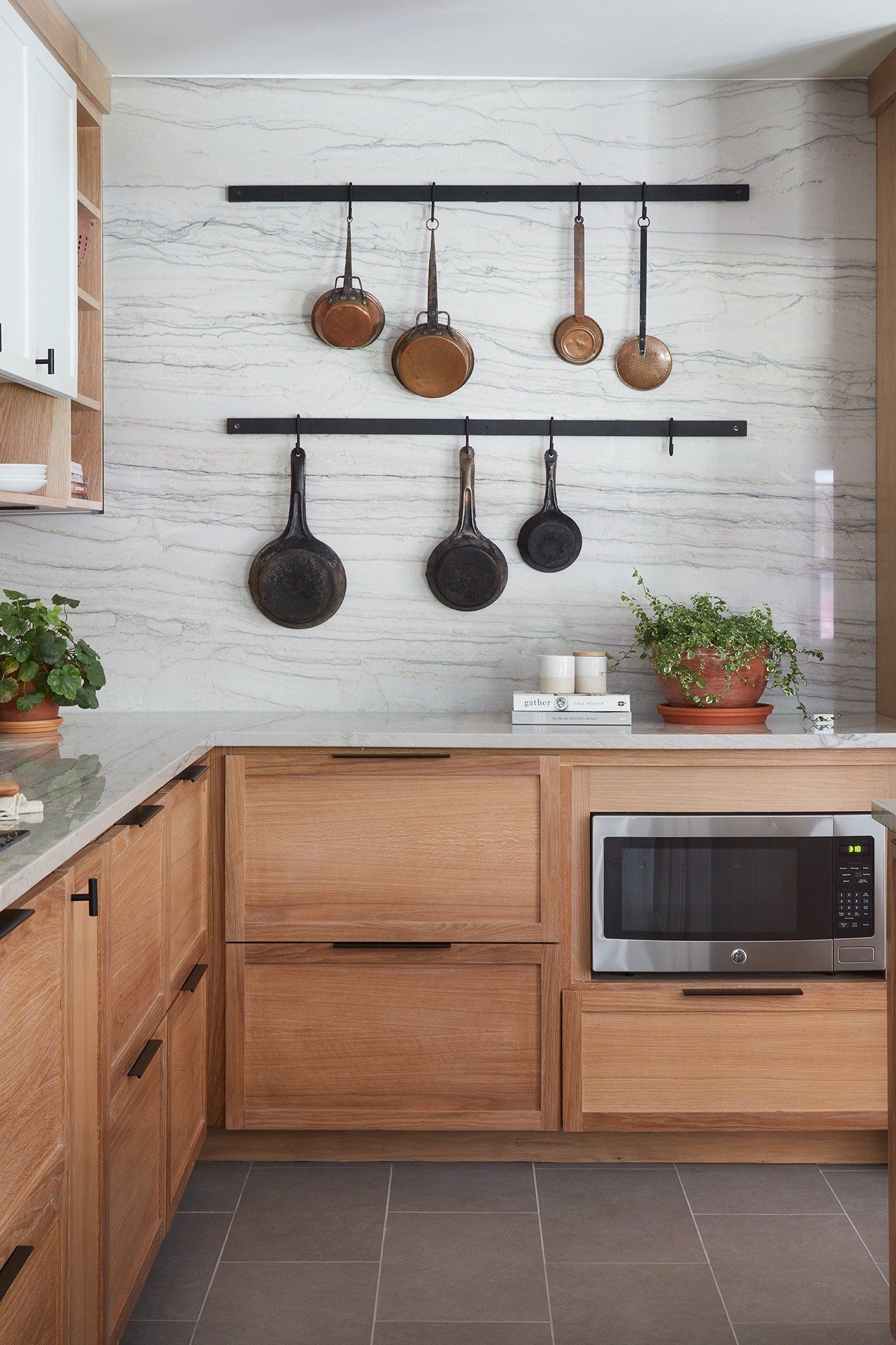 Joanna added an incredible backsplash. | Magnolia Market
Think tile is the only way to make a splash? Think again! In her La Pequeña Colina kitchen design tips, Gaines discusses why you don't have to limit yourself with tiled backsplash. For this kitchen renovation, she and Chip used a polished white macabus quartzite with horizontal veining. "I love that it adds texture without competing with the rest of the design details in the space," Gaines says.
3. Add some greenery
Joanna added lots of greenery to the space. | Joanna Gaines via Instagram
It should come as no surprise that Gaines loves plants — and loves to incorporate them into her home designs. In her Ivy House design tips, Gaines stuck with tropical greenery to tie in the rustic coastal vibe she was going for.
4. Rug placement is key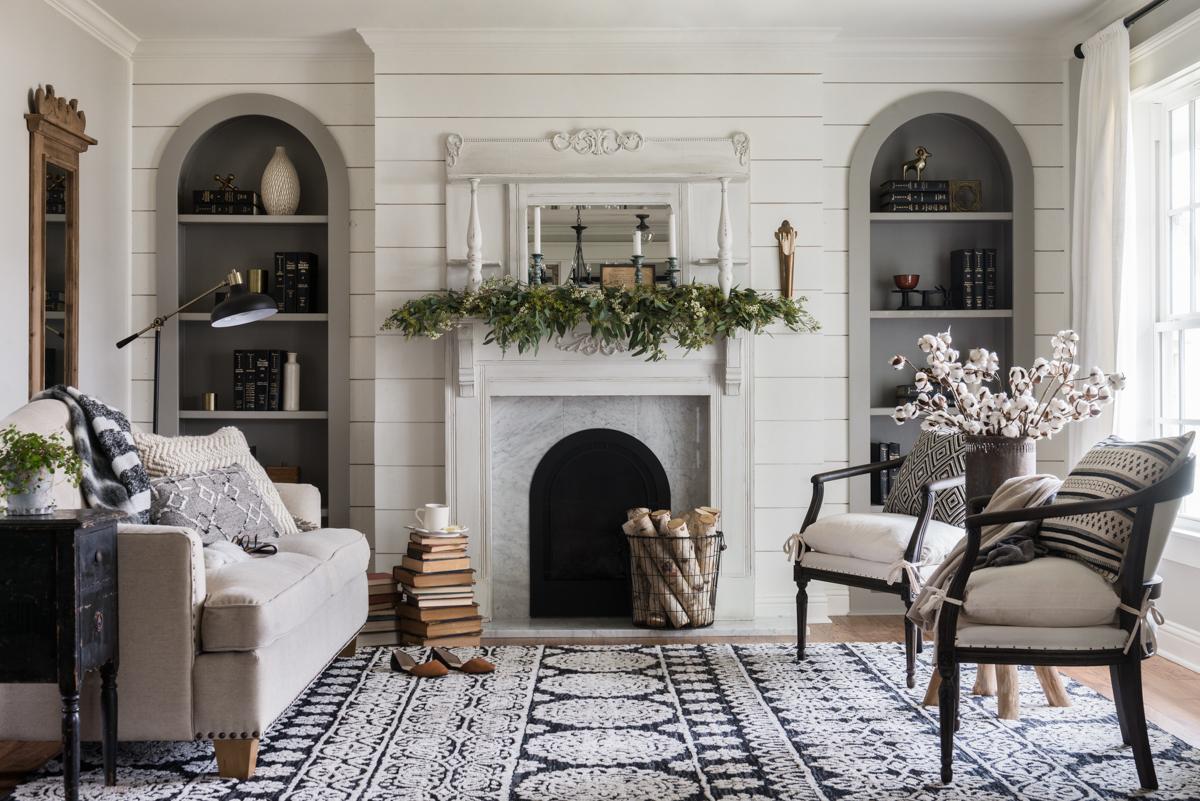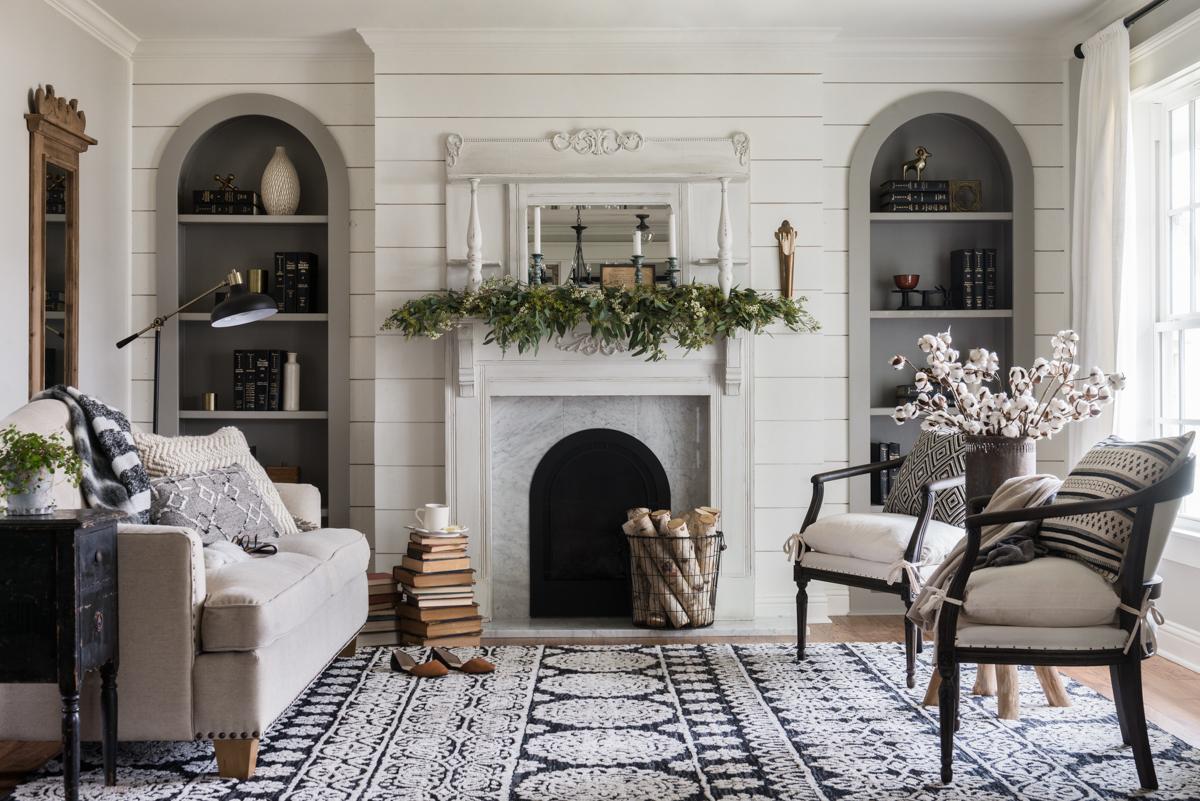 It can make a huge difference in a space. | Magnolia Market
Rugs are a great way to add texture and tie in colors in a room. That said, rug placement is key. Here are Joanna's tips for rug placement:
Living room: For the living room, Gaines suggests placing "the front two legs of each furniture piece on the rug."
Dining room: As for the dining room, your entire table and chairs should fit on the rug. "Choose a rug that extends about 24 [inches] beyond each side of the table," suggests Gaines.
Kitchen: Want a rug for your kitchen? "A small, half round or rectangular rug in front of the sink is ideal," says Gaines.
Bedroom: Finding a rug for your bedroom can be tricky. As a rule of thumb, Gaines suggests a rug that extends 36 inches around the bed.
5. Combine old with new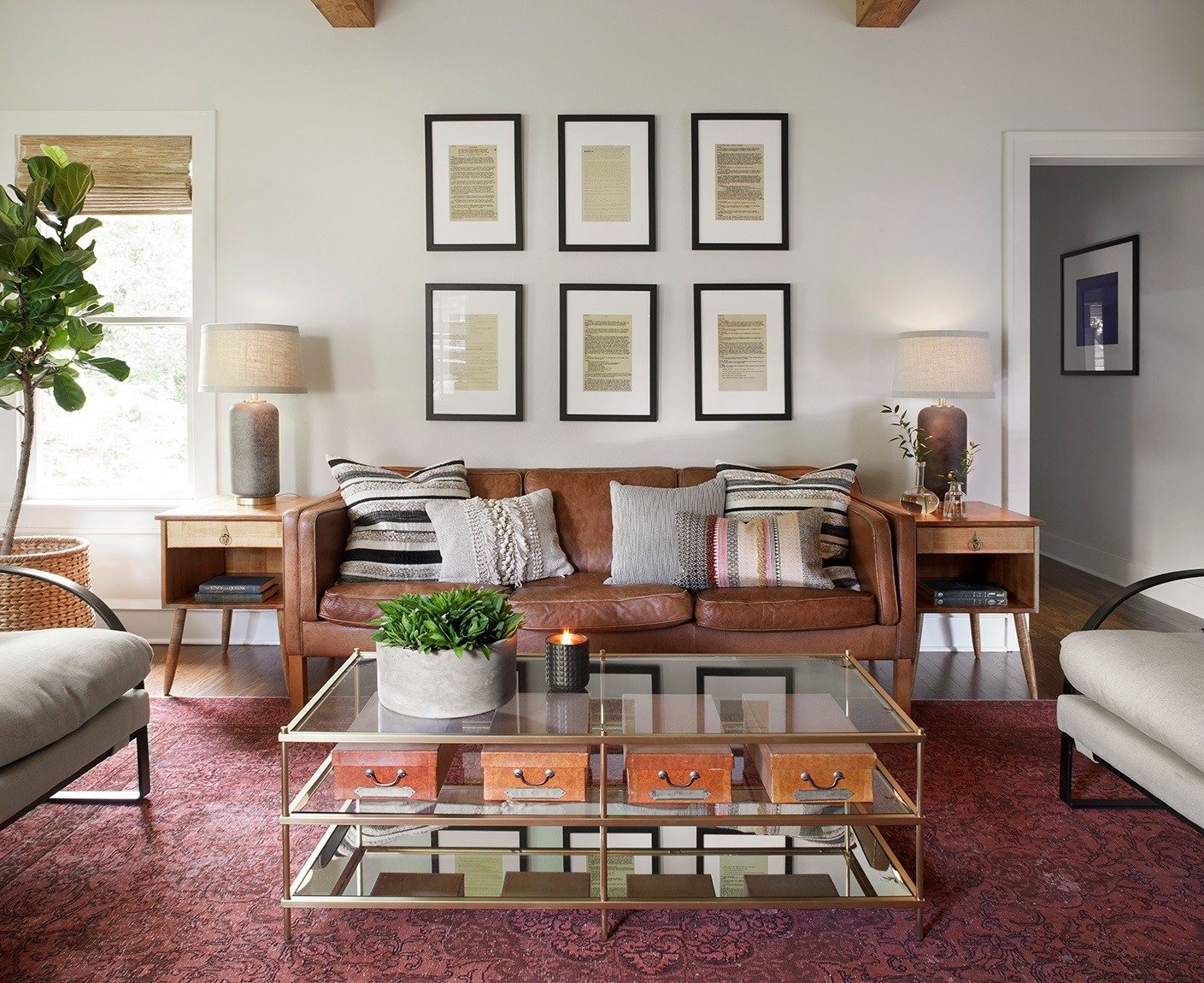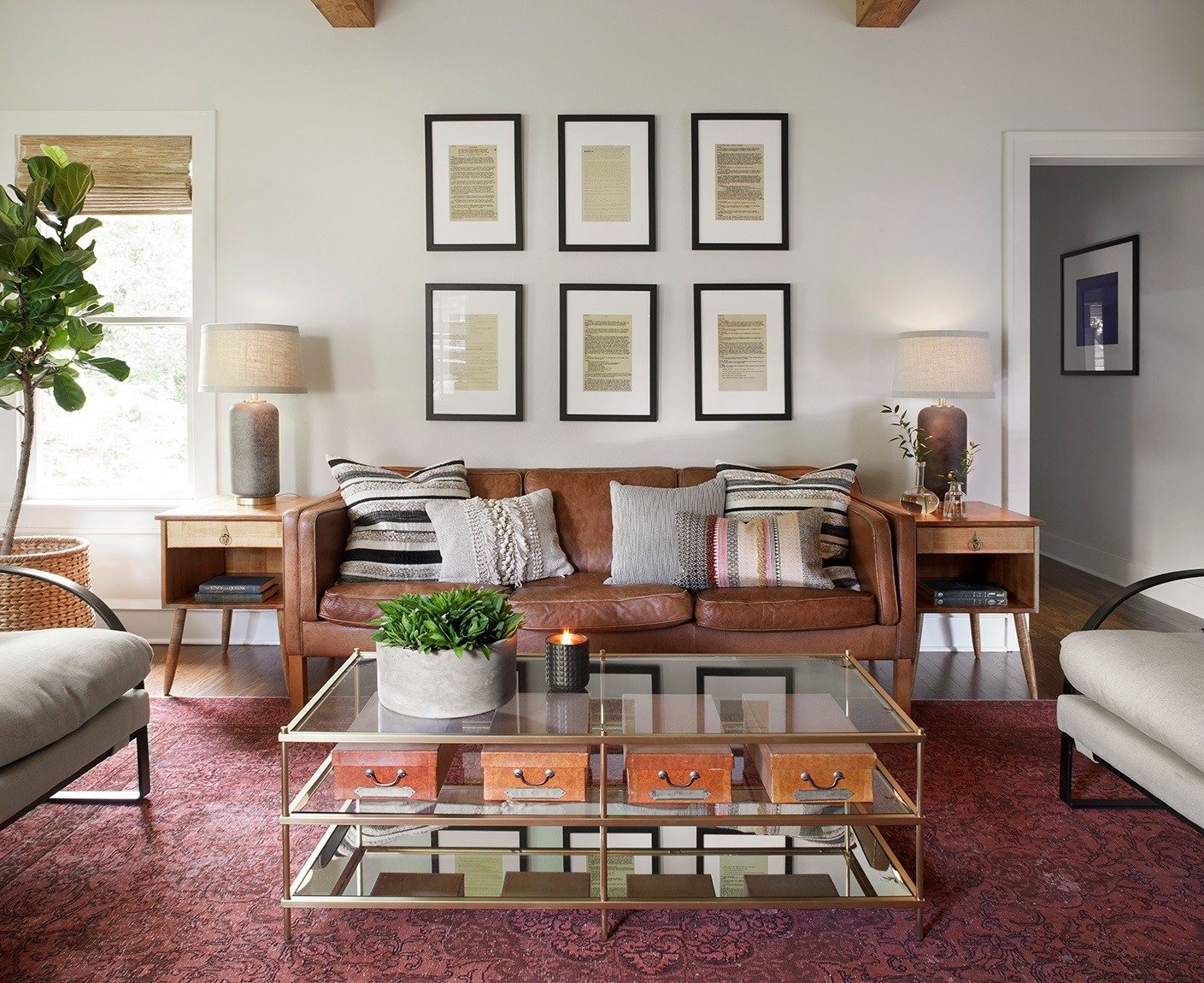 She mixed the vintage looking couch with modern accents. | Magnolia Market
Another Fixer Upper design tip to try? Combine old with new. "Mixing old and new in a room has always been a design rule for me," Gaines explains in her design tips for the Lunar Lander House. "I chose to mix the worn-in, vintage couch with the new, modern accent chairs to bring a balance to the room and soften the lines," she adds. "Because some of the larger pieces in this room were old, I made sure that most of the accent pieces were new, with clean lines — to be sure the room didn't feel like an antique store."
6. Use pillows and throws to tie everything together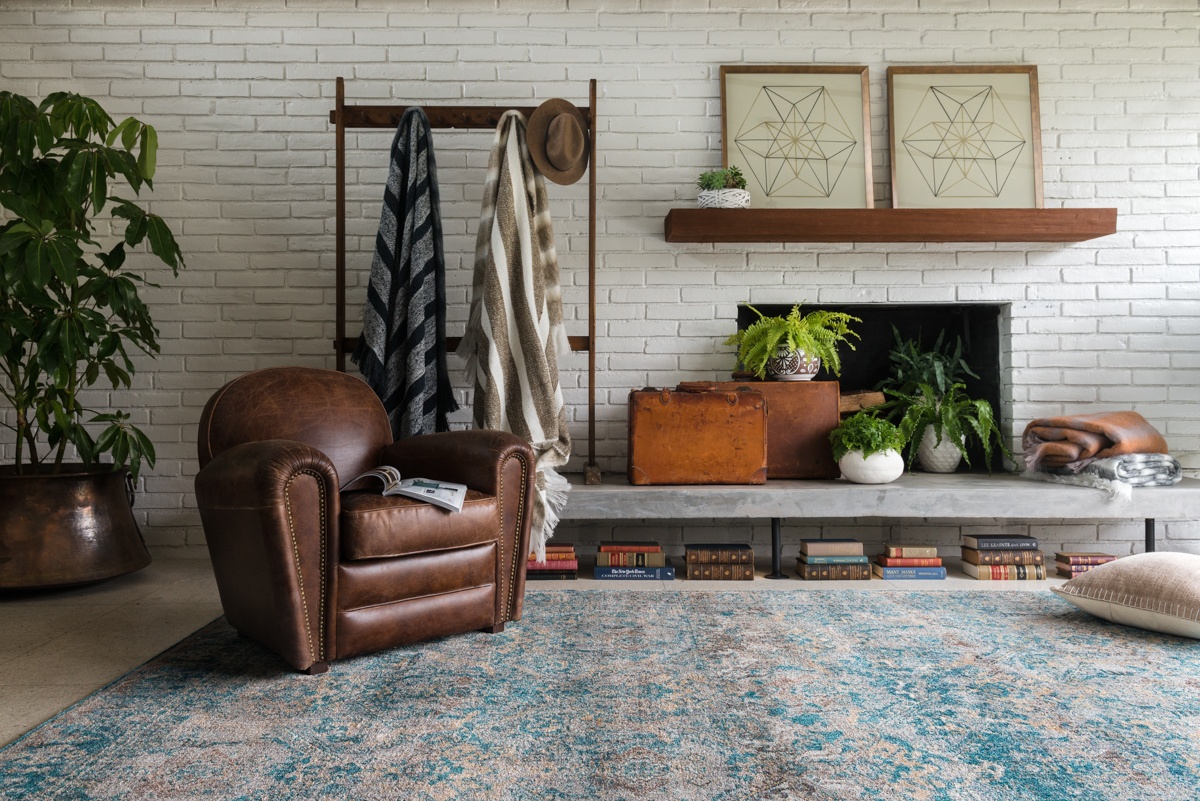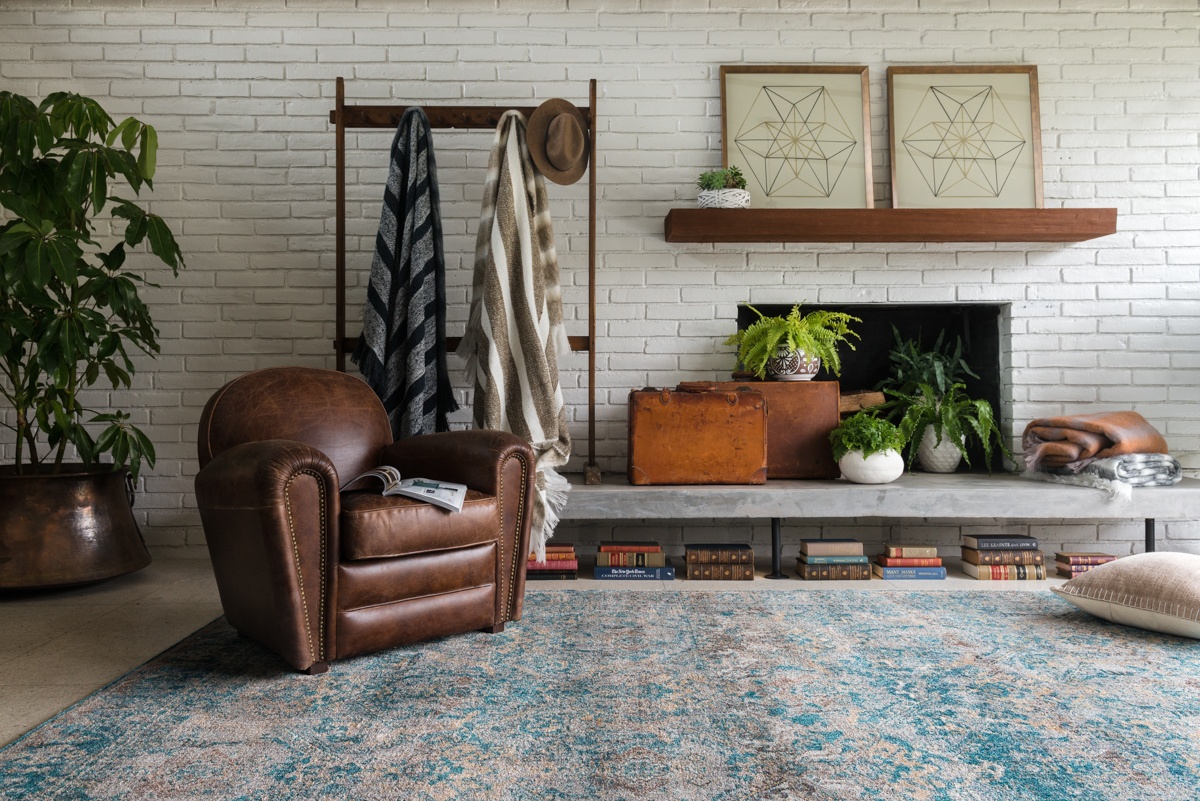 Throws can help tie together a space. | Magnolia Market
One of her favorite home decor items? Textured pillows and beautiful throws. "To me, rugs, pillows and throws are the finishing touches that make a space feel like home," Gaines says in a blog post. "Throws can be used on the back of a couch to add texture, or fold a few and toss them in a basket or crate in the living room or guest room for easy access," she added. In addition, she loves how easy it is to switch out accent pillows for the season "or when you need a change of pace."
7. Personalized touches make a big difference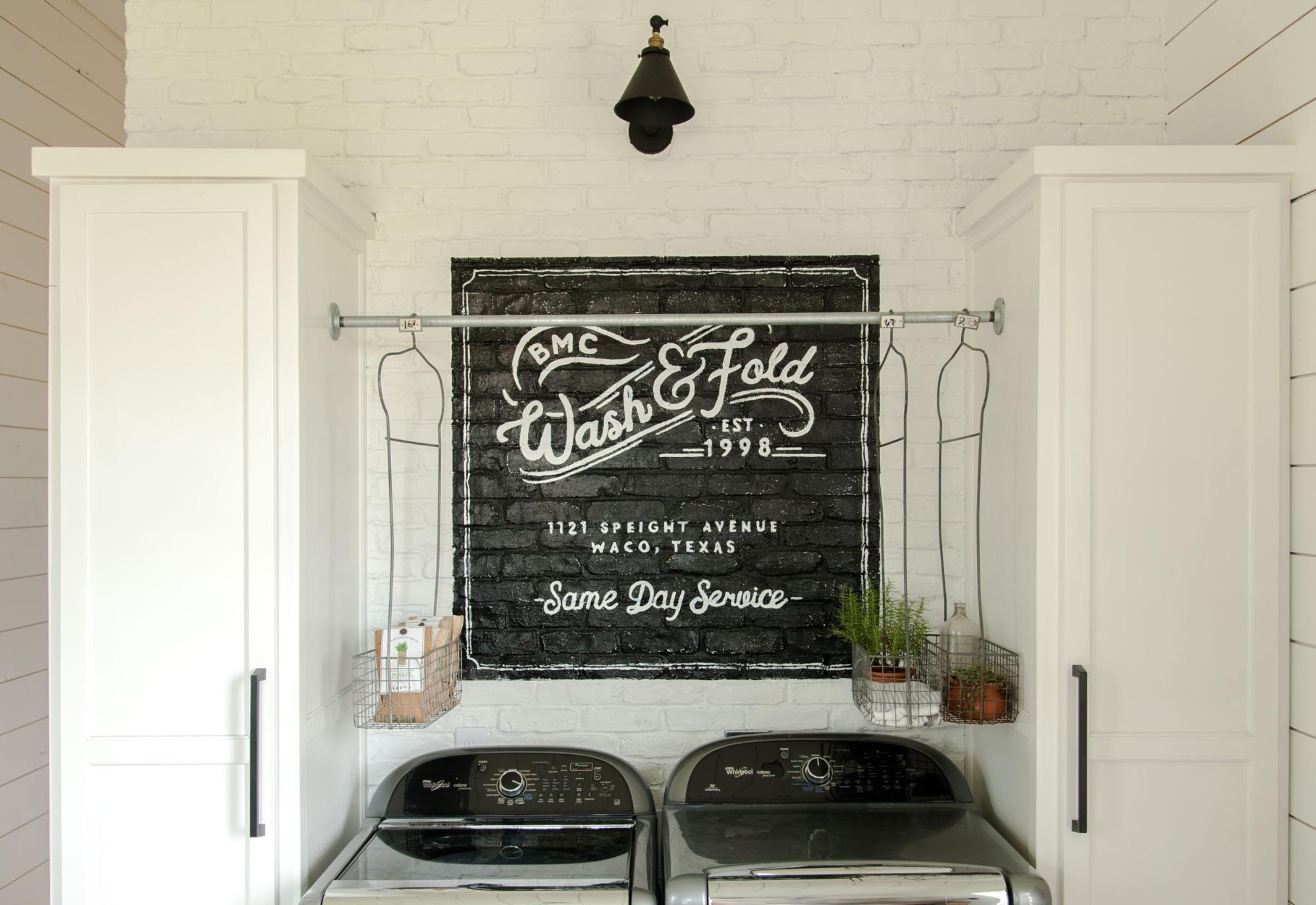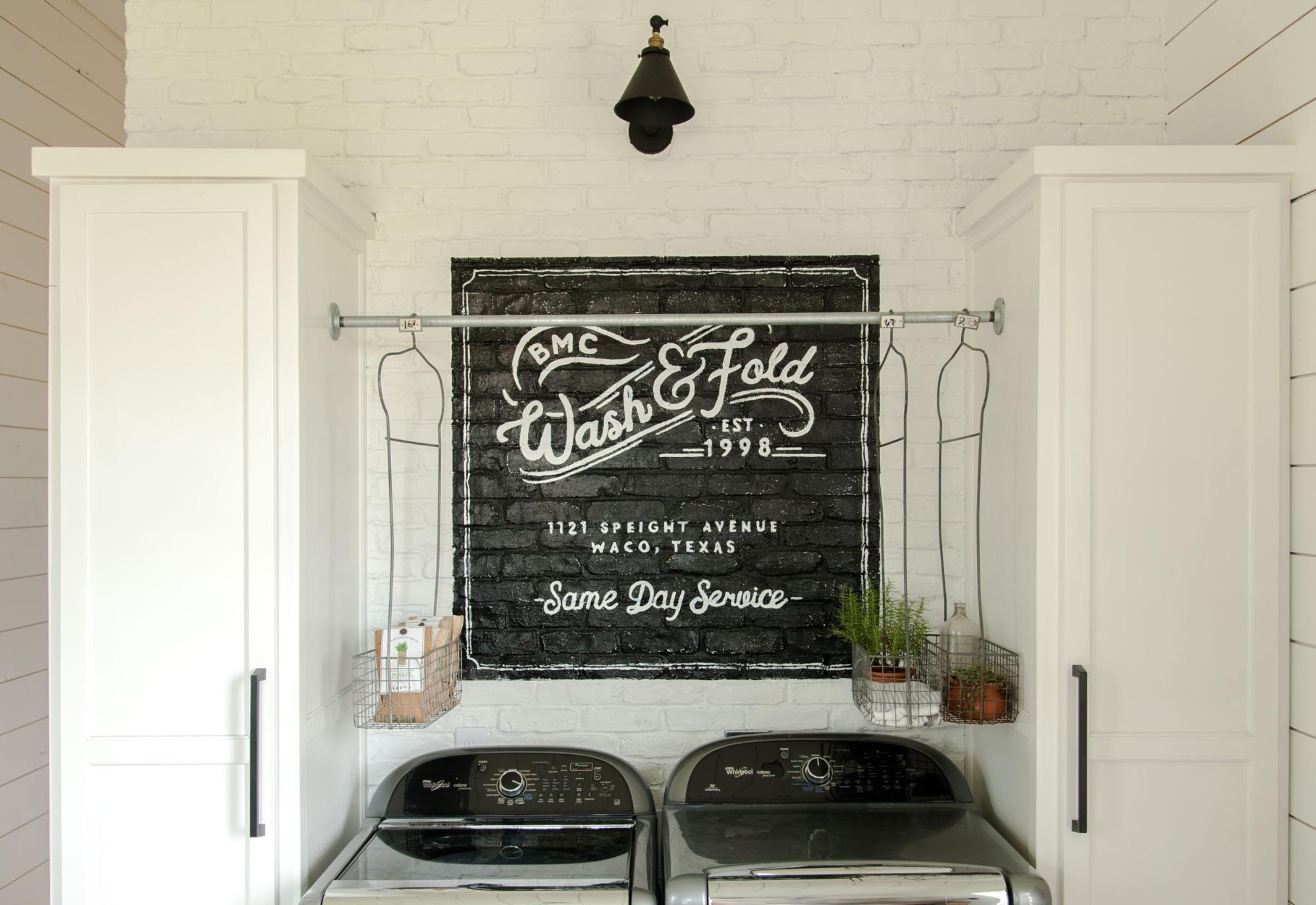 She gave chip a personal detail he was sure to love. | Magnolia Market
It's no secret Joanna loves adding personal touches. Case in point: The farmhouse laundry room mural she had painted to honor Chip's past. "BMC Wash 'n Fold was Chip's business when we were dating," Gaines writes. "I love that this is a part of his past, so I had an artist paint it on the brick to surprise Chip," she adds.
8. Do the unexpected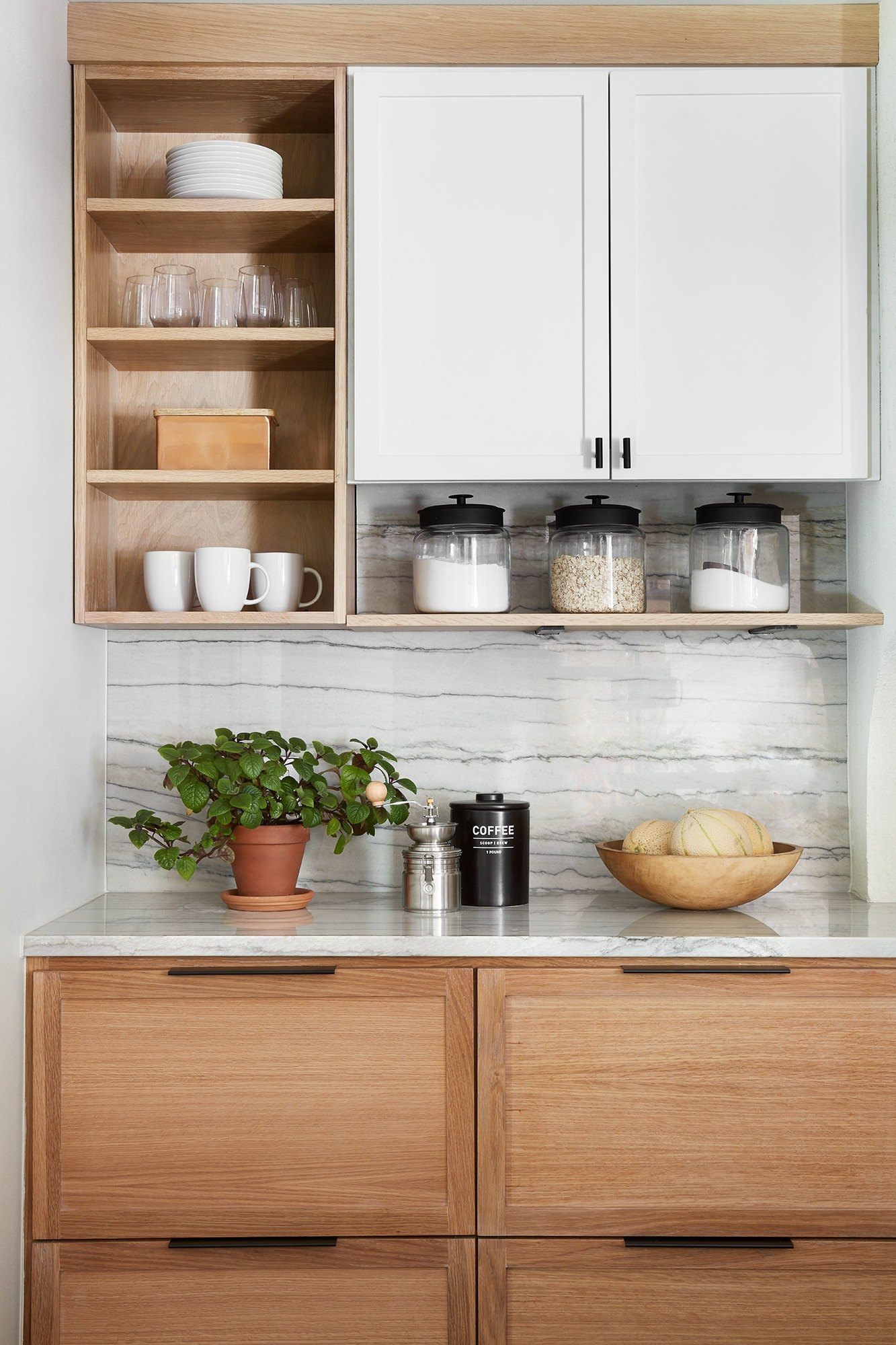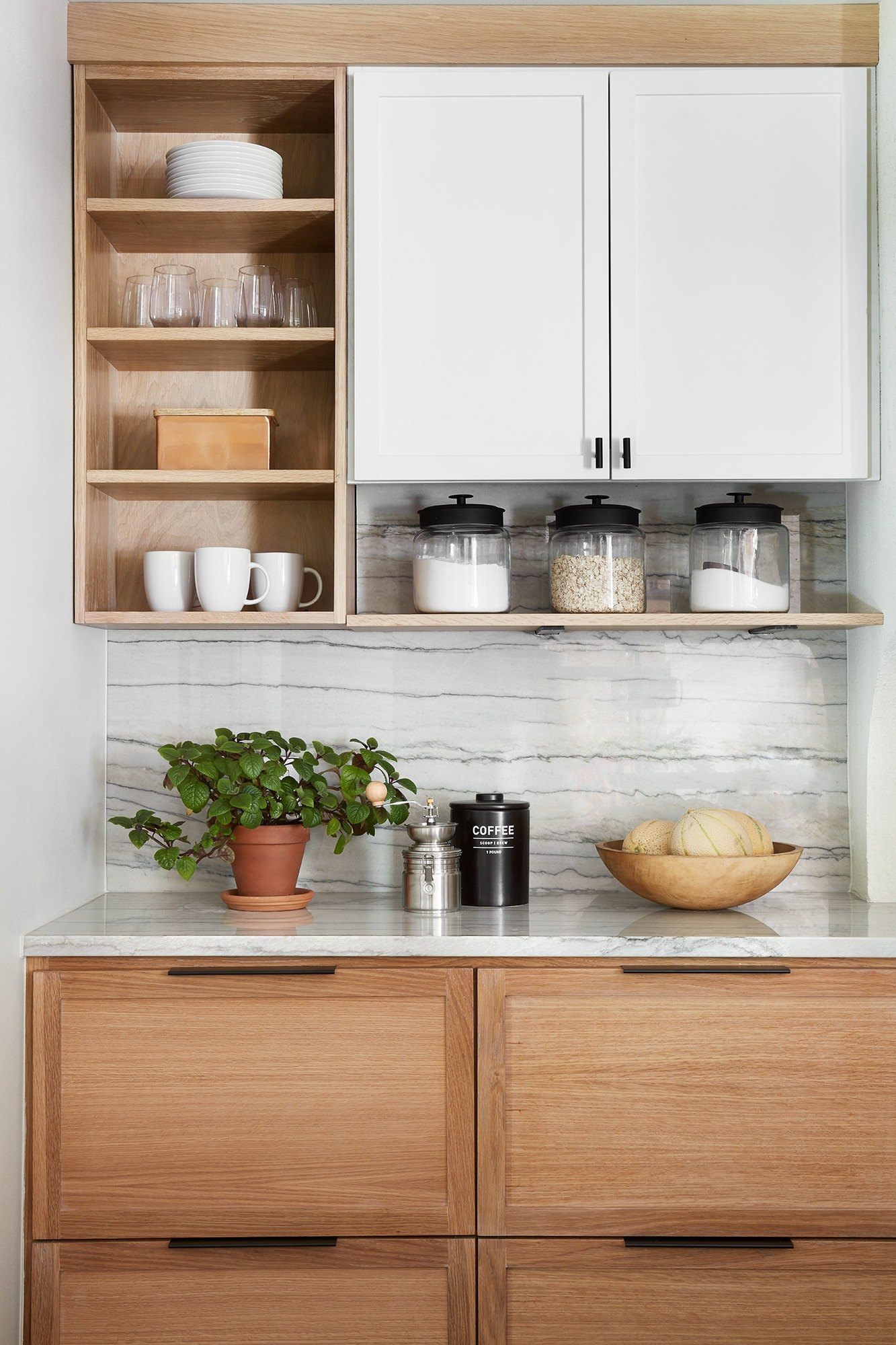 The color combo was unexpected, but beautiful. | Magnolia Market
When it comes to home design, Joanna always likes to do the unexpected. For instance, in the La Pequeña Colina kitchen, she mixed white cabinetry with wood. "Mixing modern-style lower shelving with more classic white uppers and open shelving is a visually interesting way to incorporate a lot of storage in this space," she writes in her design tips. "I was intentional about painting the upper cabinets white, so that the architectural elements in the room could stand out," she adds.
9. Display your essentials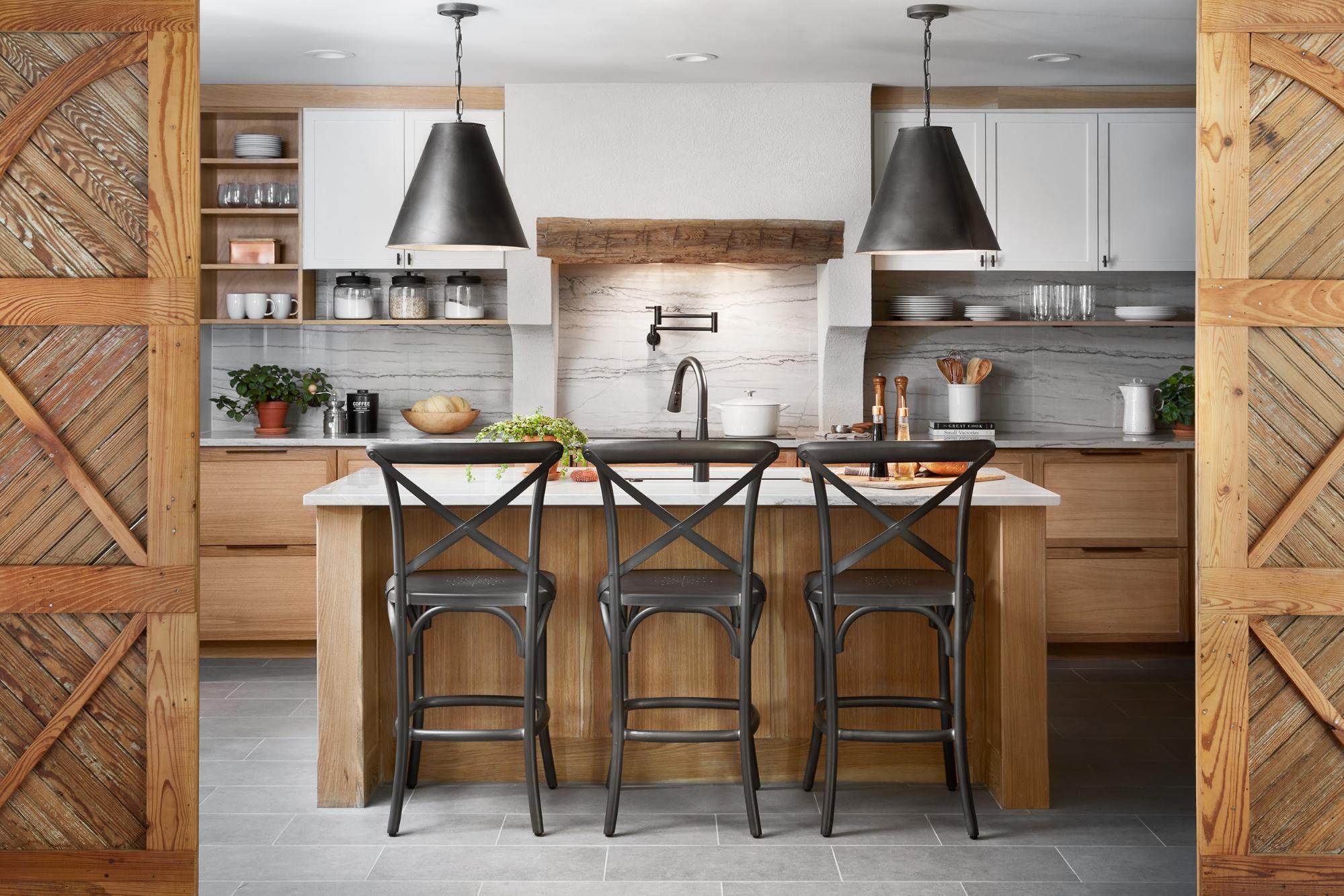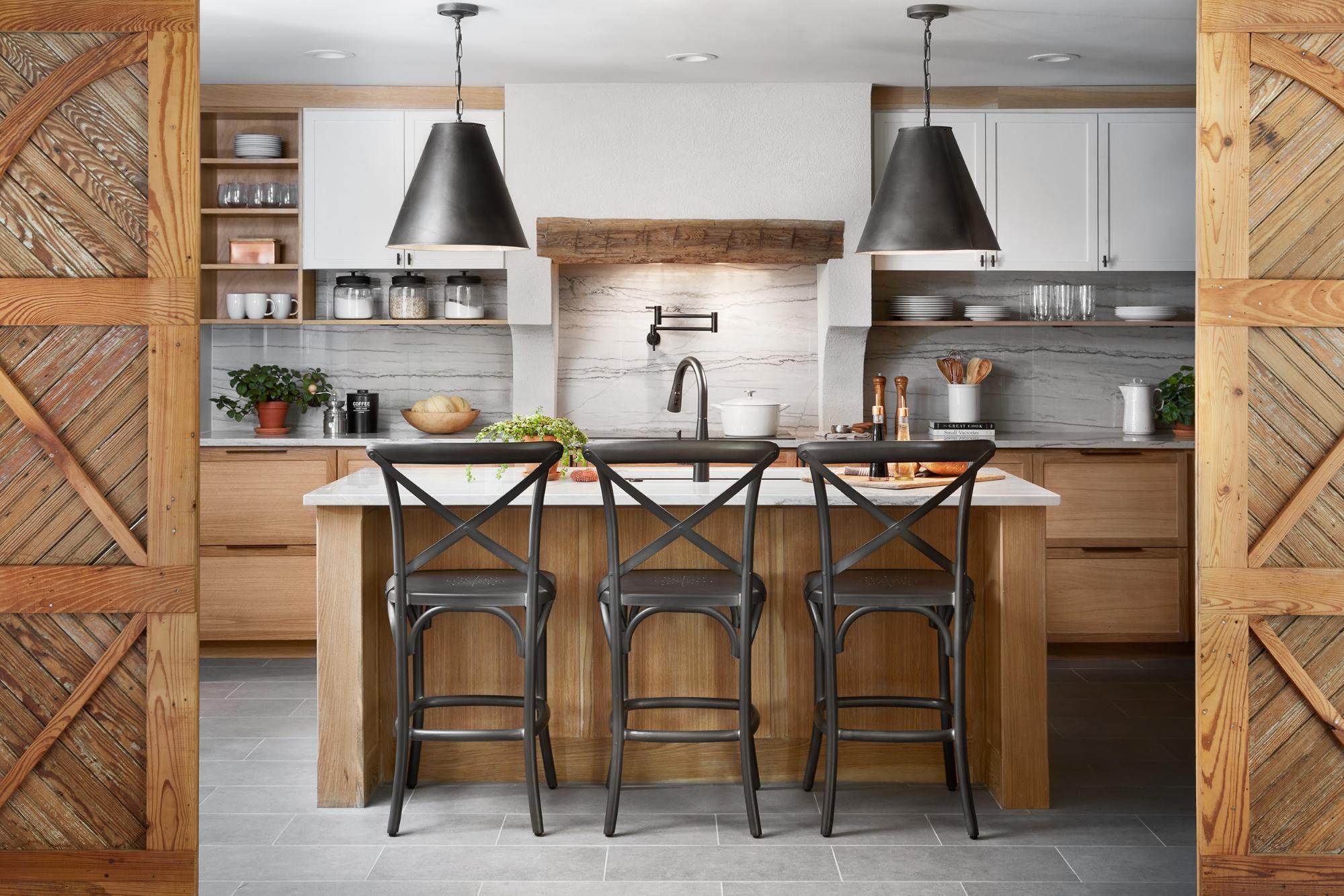 Joanna gave them easy access to all of the important items. | Magnolia Market
While her designs are beautiful, they're also functional. One functional design tip she swears by? Displaying the essentials. "I love the idea of putting your most-used items on display in your kitchen," she says in her design tips for the La Pequeña Colina kitchen. "This saves the homeowner from having to look through a cramped cabinet drawer, while also bringing the character and patina of their collection to this wall," she adds.
10. Choose clean lines over fussy furniture
This living room features clean lines. | Magnolia Market via Facebook
While Gaines' decorating style skews farmhouse, the furniture she chooses often has classic features and modern styling. Look for simple, sleek pieces that can fit into a variety of spaces. Your furniture should fade into the space, not stand out. Classic leather couches are a good bet here. They're easy to keep clean and will last for years.
11. Lighting matters
Dramatic lighting makes the space. | Magnolia Market via Facebook
One thing every space Gaines curates has in common is it's awash in light. Even if you don't have floor-to-ceiling windows in every room, creating the illusion of light is as easy as adding some overhead lighting, floor lamps, and table lamps. Bright, open spaces are so much cheerier and welcoming.
Have a little wiggle room in your budget? Consider adding windows or replacing the ones you have with bigger options. These seemingly small upgrades go a long way to making your space lighter and brighter.
12. Don't neglect curb appeal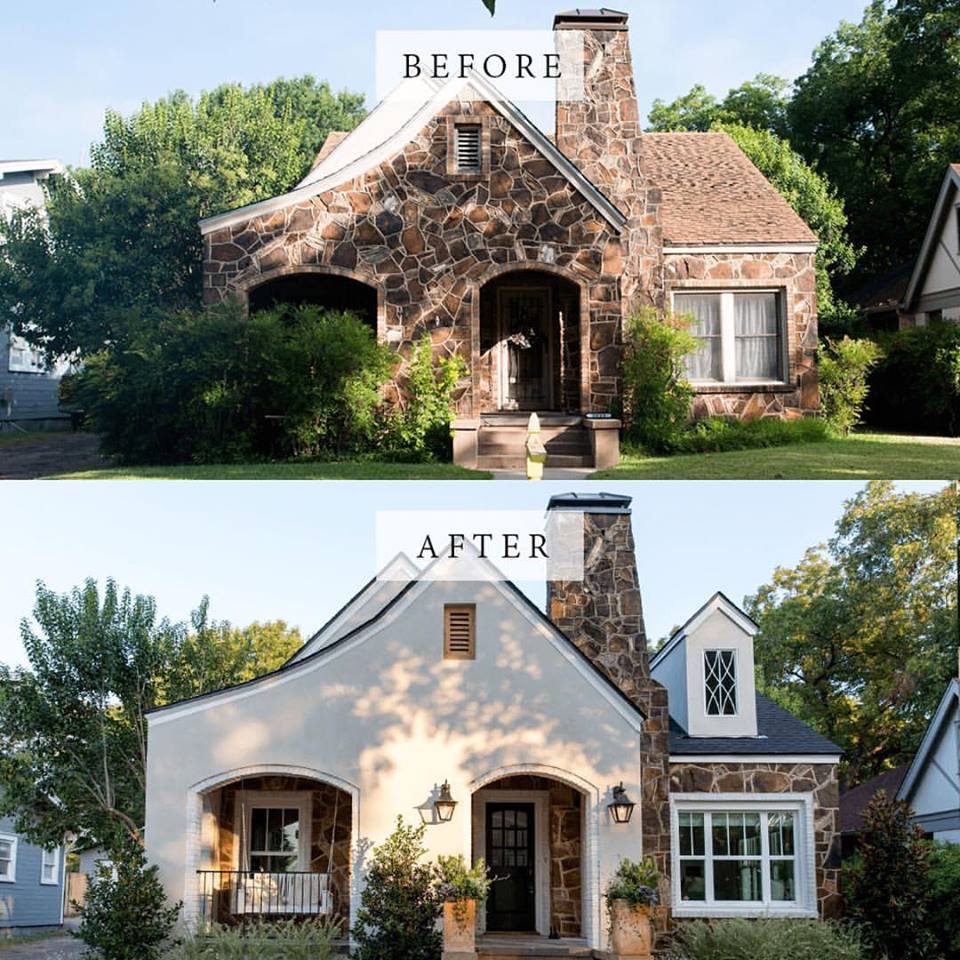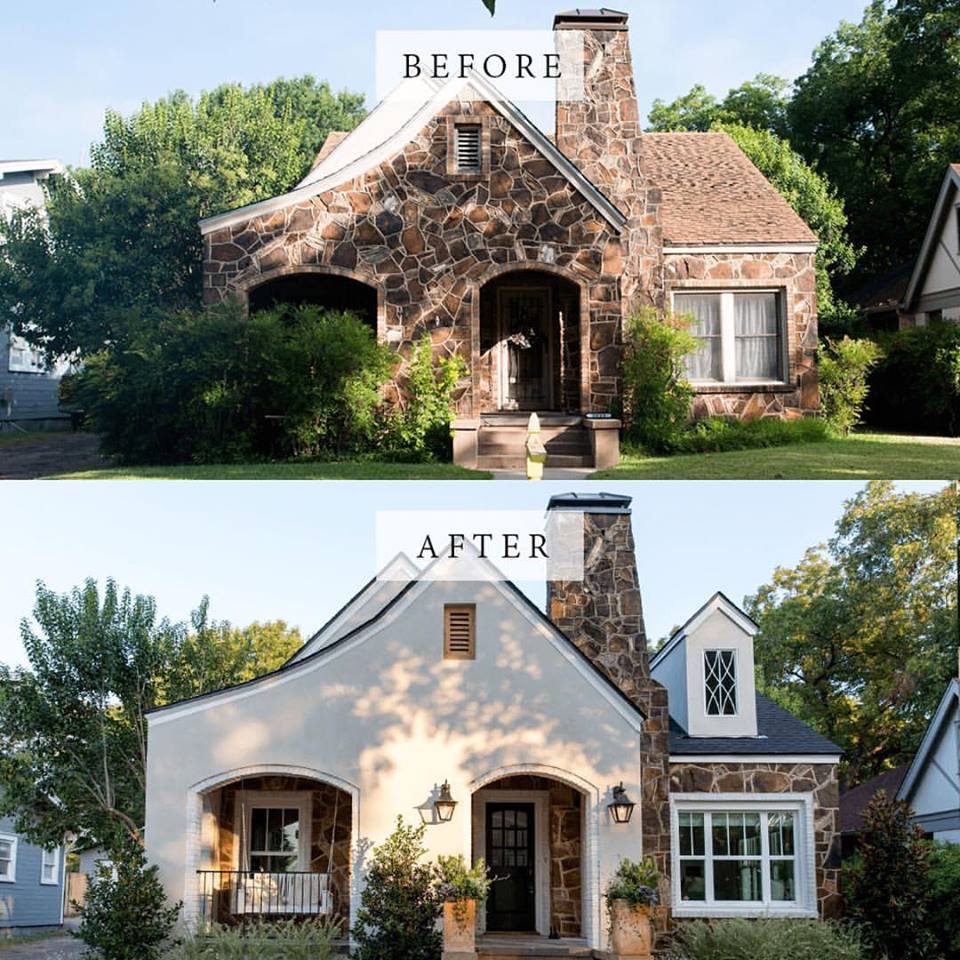 Curb appeal matters. | Fixer Upper via Facebook
That home reveal moment wouldn't be half as satisfying without the attention Gaines pays to each home's exterior. No matter what the couple's budget, Gaines always works some kind of exterior upgrade into her design plan. Her improvements include adding porches; upgrading the front door; planting shrubbery; adding accents, such as window boxes and shutters; and painting the entire exterior. There's always some huge change to make the outside look just as good as the inside.
13. Less is more
Simplicity is key. | Magnolia Market via Facebook
Although it's unclear whether Gaines is a student of Marie Kondo, one thing that stands out about her remodeling projects is they're not overrun with clutter. In decorating your own space, keep knickknacks to a minimum.
Make sure everything has a cohesive look, but don't match too much. The goal is for each trinket to look (or be) meaningful. The more you follow a minimalist look when it comes to decorating, the more impact each item will have — and the less you'll have to spend on accessorizing.
Additional reporting by Amanda Harding.
Check out The Cheat Sheet on Facebook!
Source: Read Full Article