Cruise ships — you love 'em or you hate 'em. Everyone knows what they're in for when they take a cruise: activities, sunshine, and endless drinks and food. That's all good — but what about the things people don't know they're in for?
Creepy stuff happens on cruise ships. According to Grunge, cruise ships are places where people commit some strange crimes. Let's take a closer look at the dark side of the cruise industry.
1. Bizarre homicide
The victim's husband tried to drag her body to the balcony. | Cassinga/iStock/Getty Images
In 2017, Kenneth and Kristy Manzanares took an Alaskan cruise to celebrate their anniversary. Authorities found Kristy's dead body in the couple's cabin covered in blood, next to her very-much-alive husband, who was also covered in blood, according to CBS News. All Kenneth had to say to the authorities was, "She would not stop laughing at me."
Friends and family of the couple noticed nothing awry about the couple — one neighbor called the Manzanares and their three children the perfect American family. Accused of first-degree murder, Kenneth pleaded not guilty. He will stand trial on April 23, 2018, according to Fox 13.
Next: Where does all that waste actually go?
2. Environmental abuse
The cruise line tried to dump waste into the ocean. | iStock/Getty Images
When you take a cruise, try not to think about where all that waste goes — the sewage, the garbage … yuck.
Some cruise ships do the unthinkable — they dump that stuff right into the ocean. And in 2016, Princess Cruise Lines did it and got caught, according to Grunge. The company paid a whopping $40 million fine for dumping "oily waste" into the ocean.
This illegal practice significantly and negatively impacts the environment, too. An incident of this type, according to The Guardian, adds approximately 4,227 gallons of waste to the ocean.
That wasn't the only Princess Line vessel that dumped illegally — investigators found four more followed suit. The last straw? Princess Cruise Lines tried to cover it up, according to the Los Angeles Times.
Next: Cruise ships as drug mules
3. Coke smuggling
The smugglers hid an enormous amount in their room. | Sandy Huffaker/Getty Images
In 2016, two Canadian 20-somethings left their homes in Quebec to go on an expensive, two-month cruise. Cut to the cruise ship docking in Australia and the Australian Border Force storming aboard with a pack of dogs.
The officers had been tracking the ship, and when they searched Mélina Roberge and Isabelle Lagacé's room, they found more than 200 pounds of cocaine with a street value of around $22 million, according to ABC News. What an odd way to smuggle cocaine. At least the women got to visit 11 countries — including Colombia and Ecuador — before the authorities busted them in Sydney.
Next: Um, where's the captain?
4. Ship abandonment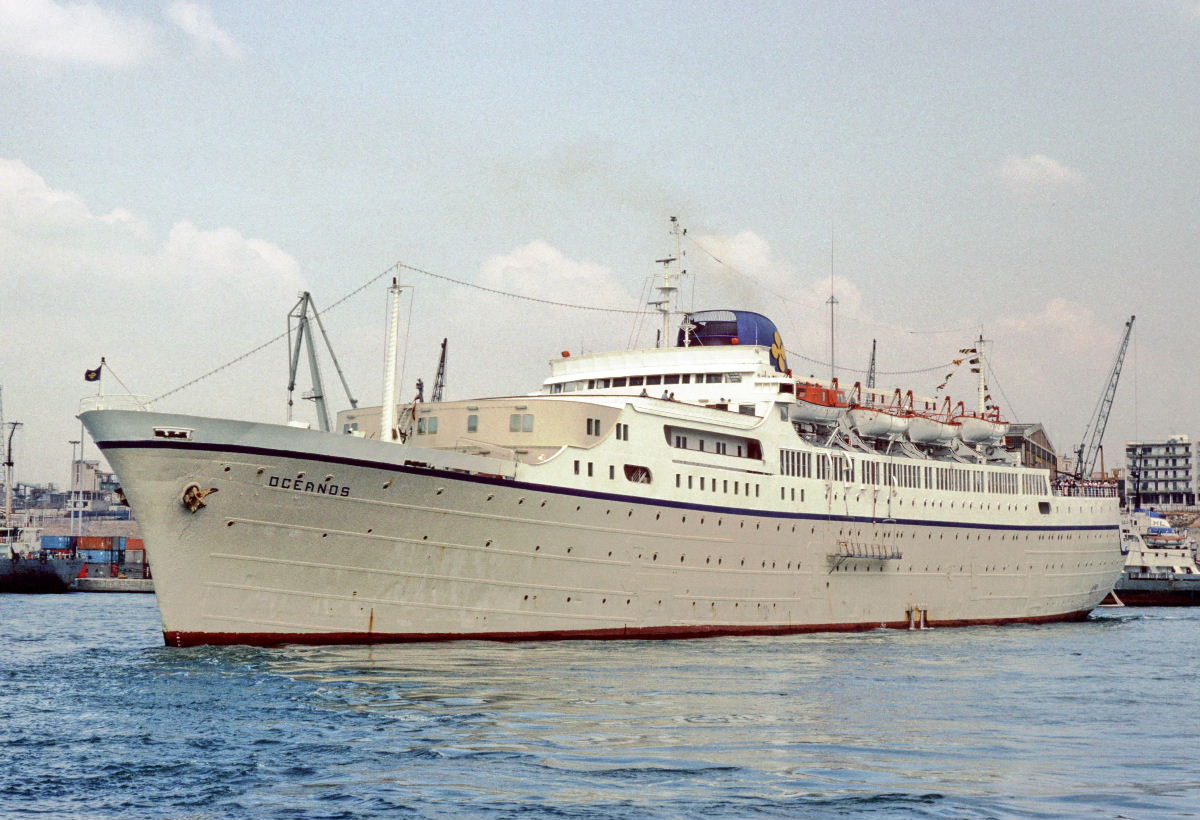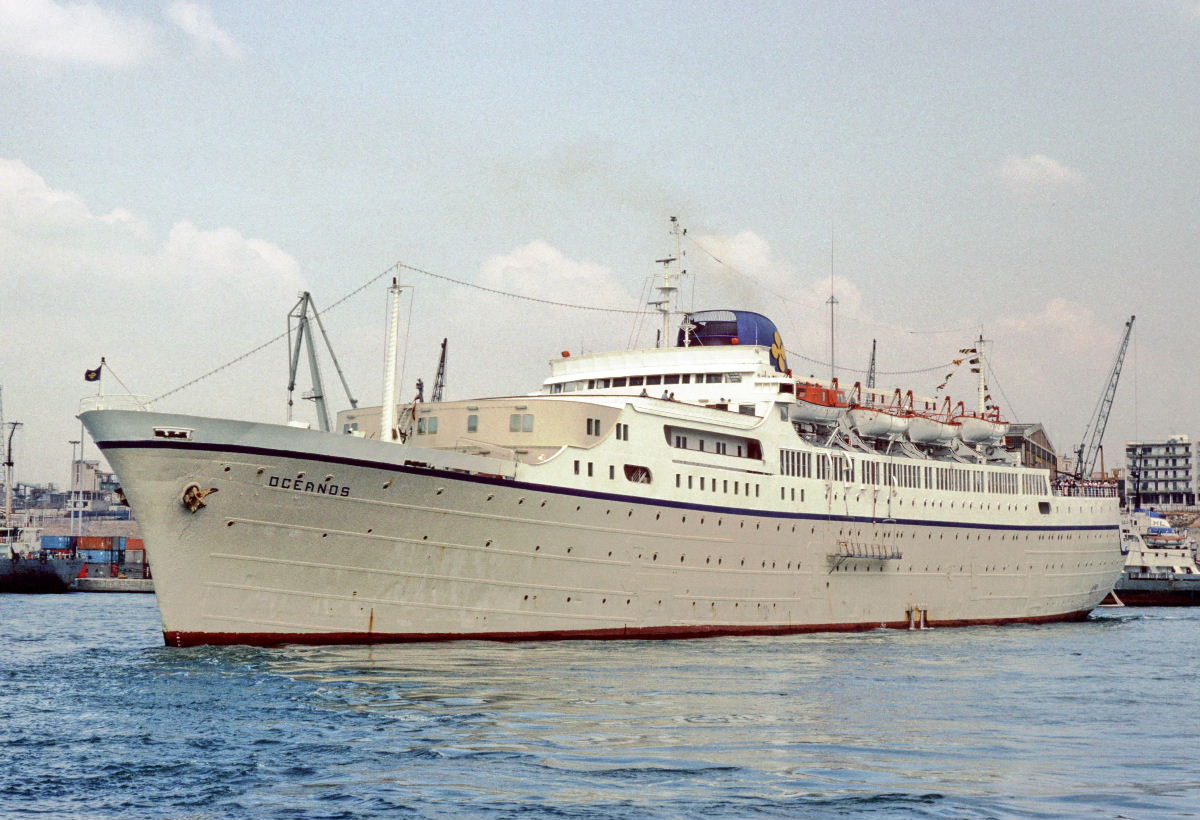 The Oceanos' capitain was among the first to leave the ship. | Peter J. Fitzpatrick/Wikimedia Commons
Although you might think this technically isn't a crime, passengers onboard the Greek luxury line Oceanos would disagree. You've likely heard that a ship's captain goes down with the ship if it sinks. He is supposed to be the last person off the boat — dead or alive. But Captain Yiannis Avranas had a different idea, according to Grunge.
In 1991, the Oceanos sank off the coast of South Africa. It was a pretty routine sink, and all passengers and crew eventually made it off the boat safely. Captain Avranas and some other officers, however, were among the first to leave the ship, while the others spent the night on the sinking vessel.
Avranas told The New York Times he was in a helicopter overseeing rescue efforts and tried to get back on board, but the helicopter crew advised him to stay in the air. Robin Boltman, the ship's comedian, bravely stepped up to take command of the sinking ship.
Next: The cruise liner from hell
5. Hijacking and murder
Surely, it was a harrowing experience for everyone on board. | Paul Bradbury/iStock/Getty Images
The Achille Lauro was a ship that had seen its fair share of troubles. (It had collided with another ship and experienced onboard fires and explosions.) But after a brutal hijacking and murder happened, the Independent called it the "cruise liner from hell."
In 1985, the Achille Lauro was headed to Israel's port Ashdod when four Palestinian Liberation Front terrorists hijacked the ship, according to Grunge. But it gets much weirder.
One of the terrorists lost his temper with American, wheelchair-bound passenger Leon Klinghoffer — he shot Klinghoffer twice and ordered the ship's crew to throw him and his wheelchair off the boat. When the ship finally sailed into Port Said, the gunmen surrendered, according to the Independent.
Next: An unsolved "crime"
6. Strange disappearance
A woman mysteriously disappeared from her balcony. | Alexiuz/iStock Editorial / Getty Images
In 1998, Amy Lynn Bradley disappeared from the Royal Caribbean's Rhapsody of the Seas. The weird thing about this one? The mystery is still unsolved.
According to Oxygen, Bradley's father, Ron, last saw her asleep on the cabin balcony at about 5:15 a.m. When her father got up at 6 a.m., she was gone. Apparently, Bradley's family noticed the crew on the ship paying way too much attention to Amy. When the crew refused to anchor until they found her, the family thought they had targeted her for sex slavery.
It gets even stranger. A Navy man said he saw a woman in a brothel in 1999 who claimed she was Amy Bradley and asked him for help. Six years later, an organization to stop sex traffic found a photo that looked like Bradley — she was posing in her underwear.
Next: A grisly discovery
7. Dead baby on board
This story is horrific. | iStock.com
In October 2011, Alicia Keir sailed on the Carnival Dream to St. Martin. She took a secret with her: She was pregnant. She hadn't told anyone because she wasn't clear on who the father was, according to Ranker.
During the cruise, Keir gave birth — in her cabin, on her own. She wrapped the female infant in a towel and stowed her under the bed.
Keir went on to have a wonderful cruise, and when the ship docked, Keir went on her way. Imagine the cleaning crew's shock when they found the dead infant under the bed. Keir pled guilty to involuntary manslaughter. A judge sentenced her to one day in prison, but Keir didn't even serve those 24 hours, according to CBS Chicago.
Next: These four men escaped manslaughter charges.
8. Drugged and left to die
Dianne Brimble's story is one of the scariest to take place on a cruise ship. | American Cruise Lines
Ranker lists the story of Dianne Brimble as one of the most horrific crimes to happen on a cruise ship. In September 2002, paramedics were called to a cabin that belonged to four men on a P&O cruise ship bound for Noumea and other Pacific ports of call. Brimble was unconscious on the bathroom floor and in her own excretion. She was pronounced dead 30 minutes later, due to alcohol and drug overdose.
Although witnesses say Brimble left with the four men the night before her death, and the men were accused of harassing and offering drugs to multiple women, including teenage girls, the men were ultimately cleared of most of the charges, including manslaughter.
"One of them even pleaded guilty to the vastly lesser charge of giving Brimble GHB, also known as the 'date rape drug' before she died," explains Ranker. "The judge opted for no punishment in the case."
Next: This is the most common type of crime on cruise ships.
9. Most common crimes on cruise ships?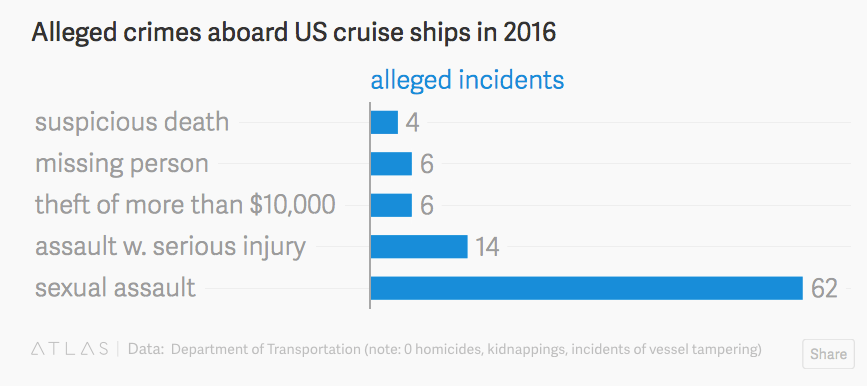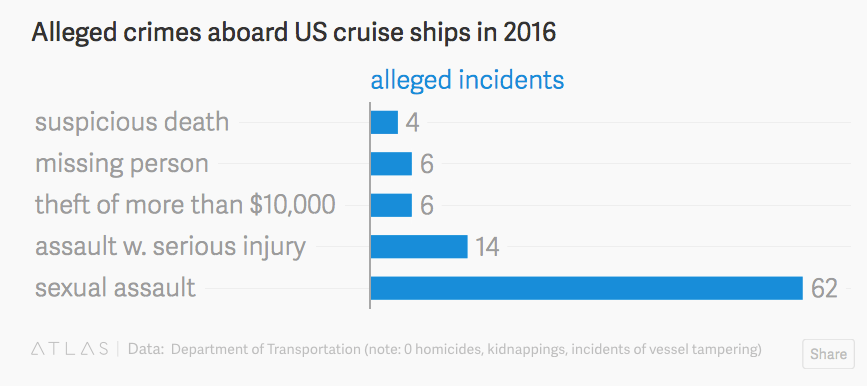 Cruise ship crimes | Quartz
The most common type of crime on cruise ships is sexual assault. According to government data and Quartz, sex crimes easily outweigh all other crimes on board, and many victims are minors.
"The problem of sexual assault on cruise lines is a long-running one. The industry and the government have been reporting some data on these crimes for years. Yet the American public has only had a more complete picture since 2016, after reporting standards were changed," explains Quartz. "These numbers are still likely smaller than in reality — sex crimes are generally under-reported, and what gets classified as an assault depends on the cruise line's security officials. Experts point out that incidents are often miscategorized as lesser crimes."
Read more: You Won't Believe These Disgusting Things That Happen on Cruise Ships
Check out The Cheat Sheet on Facebook!
Source: Read Full Article