Bogota: The lawyer for convicted drug trafficker Cassandra Sainsbury has claimed the Australian Government owes him over $20,000 on top of what he has already been paid for Sainsbury's defence.
South Australian Cassandra Sainsbury rocketed to national attention and was dubbed "Cocaine Cassie" when she was detained in April 2017 with 5.8 kilograms of cocaine, as she tried to leave Colombia via Bogota's El Dorado Airport.
Aged 22, Sainsbury went to trial, but after a five-month series of legal dramas and false starts, she reached a final plea deal in November 2017 and was sentenced to six years behind bars and a fine of $130,000 – well short of the 30 years of prison time she could very well have received given the amount of cocaine involved.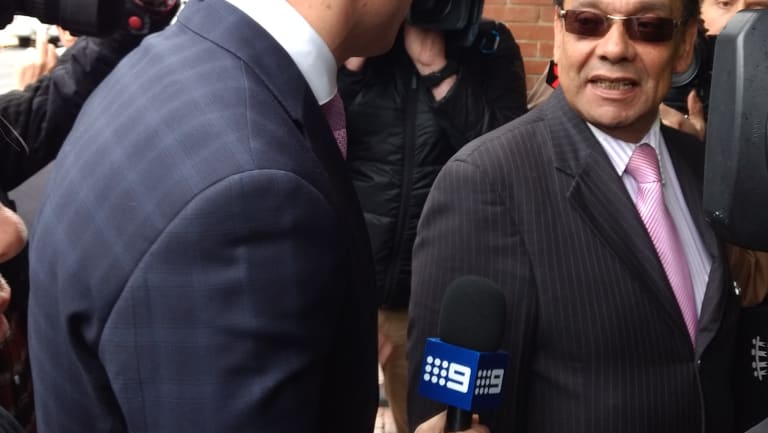 Cassandra Sainsbury's Colombian Lawyer, Orlando Herran, Bogota, Colombia, in July 2017.
"She has been very lucky," Sainsbury's lawyer Orlando Herran said outside the court at the time.
But all through the trial, the Australian public were curious to know – who was footing the bill for Sainsbury's court costs?
At the time of her sentencing, reports surfaced from Channel 7 news claiming taxpayers had funded Sainsbury's legal defence to the tune of $100,000.
However, Herran claimed much lower fees had been paid, when corresponding with Fairfax Media in Bogota late last week.
"The Australian government only paid my fees until August 30, 2017 and has so far refused to pay the rest of my fees," he said in Spanish, "They only made a payment corresponding to the work from April to August 2017."
Cassandra "Cassie" Sainsbury,is escorted by police to a court hearing in Bogota, Colombia.
This is well short of the $100,000 figure quoted by Australian news outlets and Herran expressed frustration with the mismatch between the payment he received versus the work he felt he had put in.
"Only US$16,000 [just over $21,000] for five months of work… [That is] a pretty low fee," he said.
According to Herran, the Australian government owes him an additional $20,000 USD ($26,389), although he did not provide an explanation as to the basis of those additional fees.
The federal government program that provides legal aid to Australians like Sainsbury, who have been charged with serious crimes overseas is called the Serious Overseas Criminal Matters Scheme.
As a matter of policy, the Attorney-General's department doesn't comment on whether it has received a legal financial assistance application from any individual, including Ms Sainsbury, making it hard to know specifics.
However, according to the program cost guidelines, the government can cover solicitor costs up to $290 per hour, and psychological treatment allowances of up to $2000 per day.
A spokesperson for Australia's Attorney-General's Department told Fairfax Media that the scheme, which is currently under review, shares a budget appropriation for a range of financial assistance schemes administered by the Department.
Cassandra Sainsbury arrives at court in Bogota in July.
According to budget documents, the appropriation for financial assistance towards legal and related expenses provides funding of $3.316 million in 2017-18.
The AG's spokesperson said figures are not readily available on the number of Australians who have been helped over the last 25 years. However, previous media reports suggest the scheme helped out both Schapelle Corby and members of the Bali Nine.
The scheme is only granted to Australian citizens who are facing either 20 years in jail or the death penalty in another country.
Since her conviction on drug charges in November 2017, Sainsbury has remained in the media spotlight.
In an interview with the Kyle and Jackie O show on KIIS FM on April 13, 2018 revealed that she had broken up with her long-term partner and fiance Scott Broadbridge.
"I actually broke up with Scott back in February. It's been kept very quiet," she said during the interview, "From the moment I got in here the relationship was doomed. I broke up with Scott because it was the best thing for me and the best thing for his future as well."
This is a major change from December 2017, when celebrity agent Max Markson, apparently speaking on Sainsbury's behalf, had mooted a lavish prison wedding to Broadbridge.
Broadbridge was engaged to the convicted drug trafficker when she was caught in April 2017 and has, through statements to the media, maintained he would stand by her "no matter how long it takes".
In the same interview, Ms Sainsbury claimed the 15 inmates in her section of Bogota's El Buen Pastor prison had been giving her a hard time.
"Everyone looks at white people as 'gringos' … there is a lot of discrimination. Not knowing Spanish, everything just piled on and people took advantage," she said.
Source: Read Full Article