Beirut: Chemical weapons inspectors collected samples on Wednesday from a new location in the Syrian town of Douma, their second visit to the area that was hit by a suspected gas attack nearly three weeks ago.
The Organisation of the Prohibition of Chemical Weapons said samples taken by the team in Douma will be sent to the organisation's laboratories for analysis. An earlier visit took place on Saturday after the inspectors were delayed for days from getting to the town, just east of Damascus, over security reasons.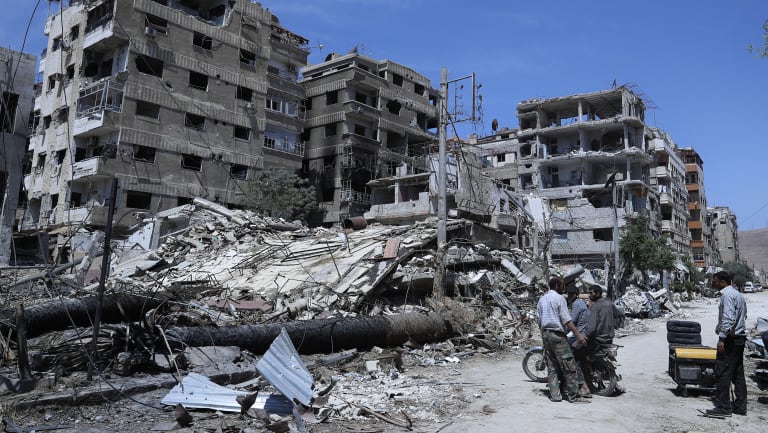 People stand in front of damaged buildings, in the town of Douma.
Russia had even said the attack was staged and, on Wednesday, Russian diplomats said they plan to bring evidence of this to the OPCW.
Russian Embassy spokesman Mikhail Sobolev said it would bring a group of 15 Syrians who they claim were filmed in "staged videos" of the alleged attack to a meeting at the OPCW on Thursday.
The development is part of an ongoing clash of narratives between the West on one side and Syria and Russia on the other concerning the suspected attack. Thousands of Douma residents left the town after the attack while Russian military police and Syrian security forced deployed in Douma, raising criticism from opposition activists the evidence may be tempered with.
Others have said that those Douma residents who stayed in the town under government control would be too afraid to challenge the Russian and Syrian narrative, fearing persecution.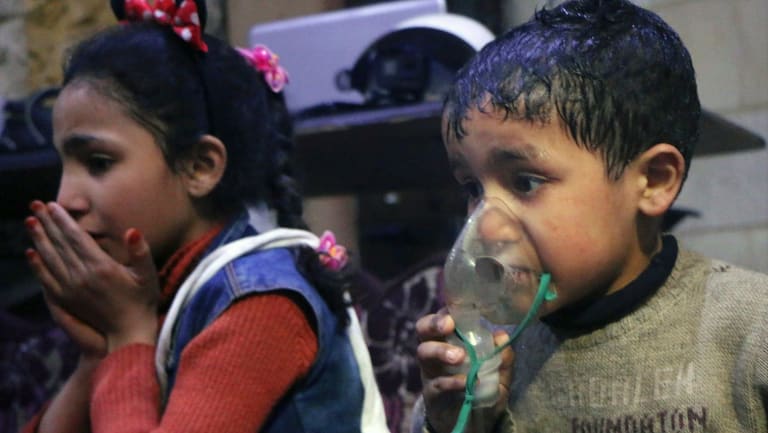 This image released early Sunday, April 8, 2018 by the Syrian Civil Defense White Helmets, shows a child receiving oxygen through respirators following an alleged poison gas attack in Douma.
Responding to Russian plans to visit its headquarters with the Syrians, the OCPW in The Hague, Netherlands, said on Wednesday it has advised the Russian delegation that "these persons should be first interviewed" by the inspectors who are currently in Damascus.
"It was also recommended that such a briefing take place once the [fact-finding mission] has completed its work," the statement said. "Nevertheless, the Russian delegation stated that it would go ahead with the briefing and that its intention was not to interfere" with the work of the mission currently in Syria.
Six days after the suspected attack, Russia's Defence Ministry accused Britain of direct involvement in staging video images of alleged victims. Britain vehemently denied the accusation.
The suspected attack and retaliatory strikes ratcheted up tension between the West and Russia.
On Wednesday, Russian Colonel General Sergei Rudskoi said Russia will supply Syria with "new missile defense systems soon". Rudskoi's statement did not specify the type of weapons, but his remarks follow reports in Russian media that Moscow is considering selling its S-300 surface-to-air missile systems to Syria.
Top Russian officials said that in light of the airstrikes on Syria earlier this month, Moscow may reconsider a pledge it gave a decade ago not to provide Syria with the S-300 system.
Transferring upgraded air-defence systems to Syria could be seen as an escalation by neighbouring Israel and raises the risk of Israeli attacks.
Israeli Defense Minister Avigdor Lieberman warned on Tuesday that if Syria uses Russian-made air defence missiles against Israel, the Israeli military would strike back.
"What's important to us is that the defensive weapons the Russians are giving Syria won't be used against us," Lieberman told Israeli news website Ynet. "If they're used against us, we'll act against them."
Israel has not taken sides in the Syrian civil war, but its air force has carried out dozens of airstrikes during the fighting, most believed to have been aimed at suspected arms shipments to the militant Lebanese group Hezbollah, another key Assad ally. More recently, Israel has warned that it will not accept a permanent Iranian military presence in Syria. Iran is also a staunch supporter of Assad.
In February, Israel shot down what it said was an armed Iranian drone that penetrated its airspace from Syria. Israel responded by carrying out airstrikes in Syria, drawing anti-aircraft fire that shot down an Israeli warplane. Israel then retaliated by destroying Syrian anti-aircraft batteries.
Israel and Russia have maintained close contact in order to prevent any clashes between their air forces in the skies over Syria. In the interview, Lieberman said Russia already has air-defence systems in Syria.
"For several years we've been constantly in coordination and able to avoid friction with the Russians," he told Ynet. "The only ones to act against us are the Syrians. When the Syrian systems acted against us, we destroyed them."
"One thing should be clear. If anyone's shooting at our planes, we'll destroy them," he said.
AP
Source: Read Full Article