London: Australia's longest serving foreign minister Alexander Downer has cautioned against treating China as though it is Russia, saying Moscow is lashing out and in decline while Beijing is a rising power focussed on domestic prosperity.
Speaking to Fairfax Media during his last hours as Australia's top diplomat in Britain, Mr Downer also played down revelations Beijing has frozen out his Liberal successor as foreign minister Julie Bishop and the prime minister.
He said the same thing had happened when he was the foreign minister, between 1996 and 2007.
When asked if this was a reflection of his own performance in that job, Mr Downer laughed and noted: "Well the Labor party said so."
Outgoing Australian High Commissioner in London Alexander Downer
"How can I answer that question?" He continued. "Of course it wasn't."
Labor's foreign spokeswoman Penny Wong has only blamed "the government" for it's "clumisness" in handling the China relationship, and has not directly linked it to her opponent's performance.
Mr Downer said it was wrong to assume that Australia was always in the wrong whenever it had a disagreement with another country.
"We stand up for the things we believe in and sometimes other countries don't like that and that is the French would say is just tant pis."
When asked about concerns of China and Russia advancing authoritarianism Mr Downer warned against likening the two.
"Russia is a declining power, desperate for international relevance and lashing out left, right and centre," he said.
"China is a rising power – it's completely different – China doesn't have territorial ambitions. China is much more focussed on securing its domestic economy and to secure its domestic economy it needs secure sources of supply, stable really, stable sources of supply. Of raw materials, food and so-on."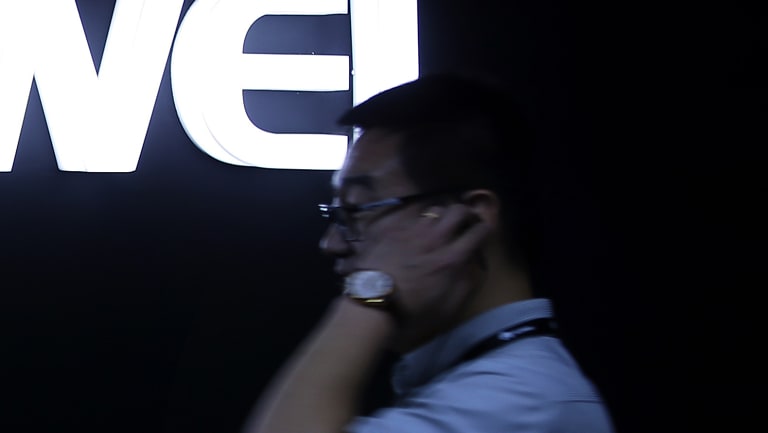 Alexander Downer once sat on the board of the Chinese telecom giant Huawei.
Mr Downer conceded that China had done itself no favours with its aggressive build up in the South China Sea, which it claims, despite international rulings otherwise.
"They haven't done themselves any favours by their behaviour in the South China Sea but I hope that they have learnt from the reaction to some of the things they have done in the South China Sea, from ASEAN countries, as well as Australia, New Zealand and of course the United States, Japan and so on," he said .
He noted that the United Nations Security Council China had abstained and not joined Russia in vetoing a resolution on the use of chemical weapons.
Mr Downer, who after leaving parliament became a lobbyist, sat on the board of the Chinese technology company Huawei, which Australia banned from building the national broadband network. He labelled the idea that Huawei would be used to engage in Chinese cyber-wars or hackings was "completely absurd."
The Turnbull government recently stepped in to fund broadband infrastructure in the Pacific, amid fears the Chinese would build it instead and possibly include backdoors which could tap into Australia's communications.
Prime Minister Malcolm Turnbull made the announcement at the recent Commonwealth Heads of Government Meeting (CHOGM) in London and after revelations by Fairfax Media that Beijing had sounded out Vanuatu about stationing Chinese military ships there.
Mr Downer said Britain was Australia's "best mate" and the relationship had become "very strong and very deep" during his tenure.
"I think our profile is much higher. I think the depth of our relationship with Britain is now much greater," he said.
He singled out Britain's pledge to reopen posts in the Pacific and divert some of its aid to the region as an example of how the relationship had bought Australia influence.
"We've been pushing for that and we've been pushing for that for some of their aid budget to be deployed to the Pacific [for] three years," he said.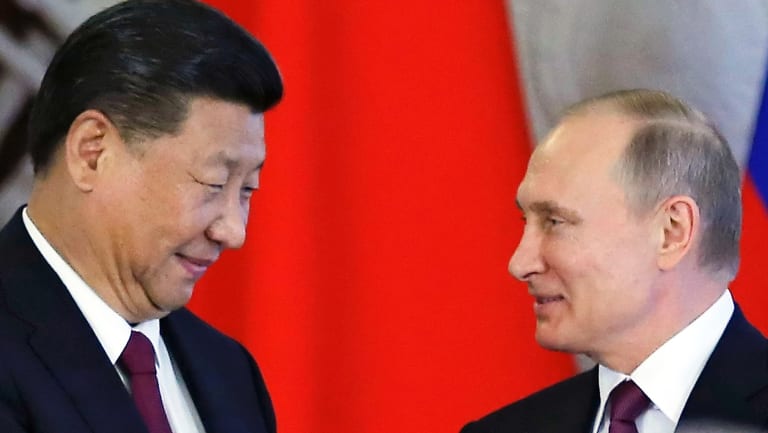 Not the same: Russian President Vladimir Putin, right, and Chinese President Xi Jinping.
"When I first came here, they certainly had no interest in opening posts in the Pacific, indeed I was hoping they would keep the few posts they do have.
"Now at the end of my term, I'm not claiming this for myself, I'm claiming this for the prime minister and for the foreign minister, but the British government is opening, not only opening these posts but putting more resources into their high commission in Fiji to use that as a hub for their operations in the Pacific," he said.
The then-Blair government closed two of those posts during Mr Downer's time as foreign minister.
Source: Read Full Article