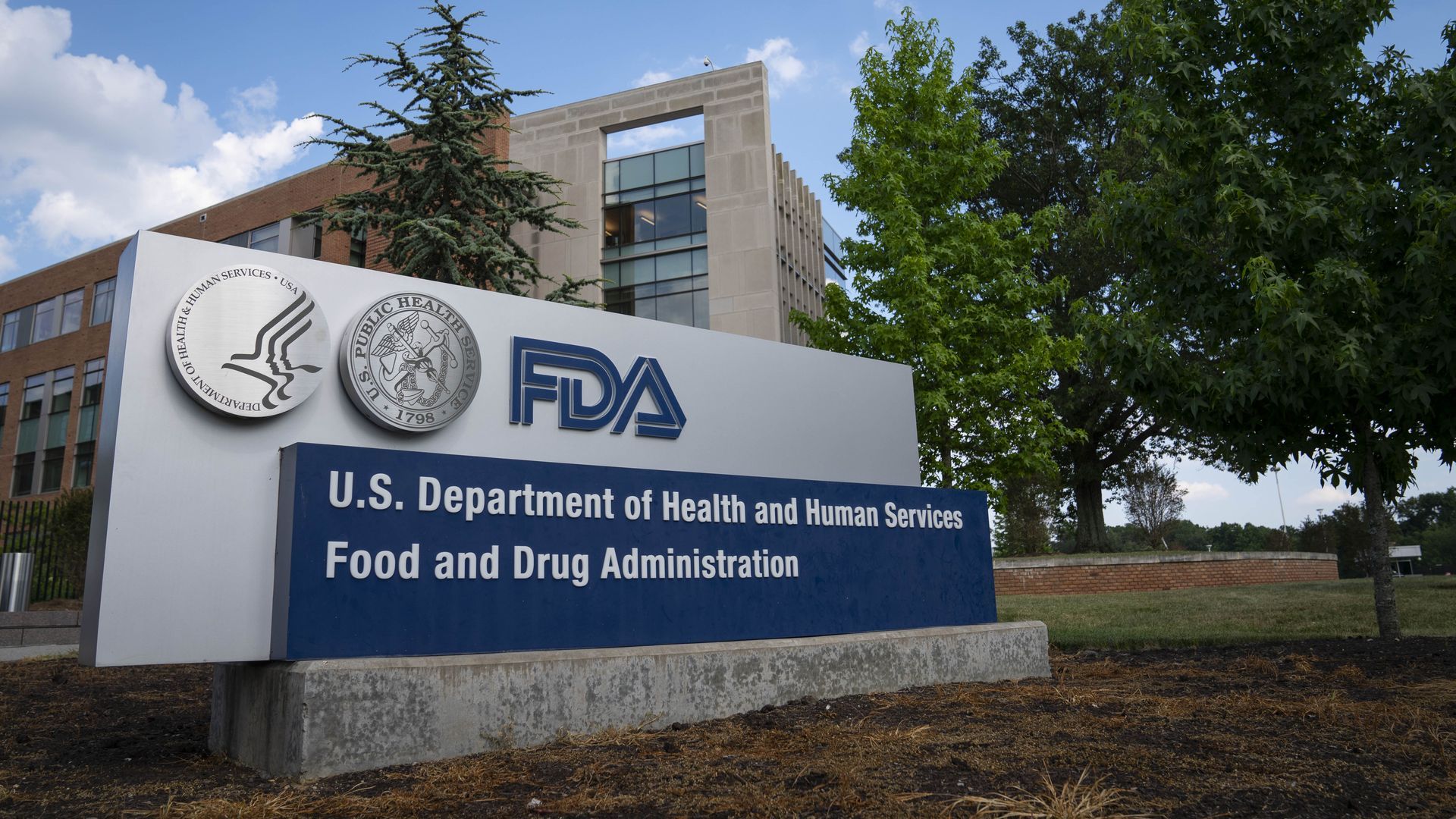 Select kinds of eye drops have been recalled. Photo: Sarah Silbiger/Getty Images
Select eye drops have been recalled over concerns the products may not be sterile, notices posted on the Food & Drug Administration website show.
Why it matters: The recall notices for select lots of Purely Soothing 15% MSM Drops and Brimonidine Tartrate Ophthalmic Solution did not list any illnesses or injuries from the products but "using contaminated artificial tears increases risk of eye infections that could result in blindness or death," the FDA said.
Affected lots of the recalled products shouldn't be used, the recall notices said.
Driving the news: The recalls follow a February eye drop recall that was linked to a multi-state outbreak of drug-resistant infections, according to the Centers for Disease Control and Prevention.
Global Pharma Healthcare announced in February it was voluntarily recalling lots of its Artificial Tears Lubricant Eye Drops, distributed by EzriCare, LLC- and Delsam Pharma for potential microbial contamination. It also recalled a lot of artificial eye ointment.
As of March 1, the CDC with state and local health departments identified 64 patients in 13 states with a rare strain of Pseudomonas aeruginosa.
Thirty-seven patients were linked to four healthcare facility clusters and there has been one death and eight reports of loss of vision, the CDC said on its outbreak page.
There's no indication the two latest recalls are related, the AP reports.
Details: Arizona-based Pharmedica USA LLC's Purely Soothing's recall is for two lots of over-the-counter drops that were sold "via online e-commerce and Trade shows (Ex. Amazon Marketplace, Etc.)."
Florida-based Apotex Corp. said its recall for six lots of Brimonidine Tartrate Ophthalmic Solution, 0.15% was "being initiated out of an abundance of caution due to cracks that have developed in some of the units caps," which "may impact sterility and if so, the possibility of adverse events."
More from Axios:
USDA proposes new rule for "Made in the USA" food labels
HelloFresh drops coconut milk from Thailand over monkey labor allegations
Sold out Girl Scout cookies selling for huge mark up on eBay
Source: Read Full Article