Talking points
Nabi Ayla, Lebanon:  The Lebanese Shiite group Hezbollah and its allies expect to emerge stronger from a parliamentary election on Sunday, a result that would affirm Iran's regional ascendancy from Tehran to Beirut.
The group, classified by the US as a terrorist organisation, is backing a former spymaster and friend of Syrian President Bashar al-Assad, who was once one of Lebanon's most powerful men, to suceed Prime Minister Saad al-Hariri.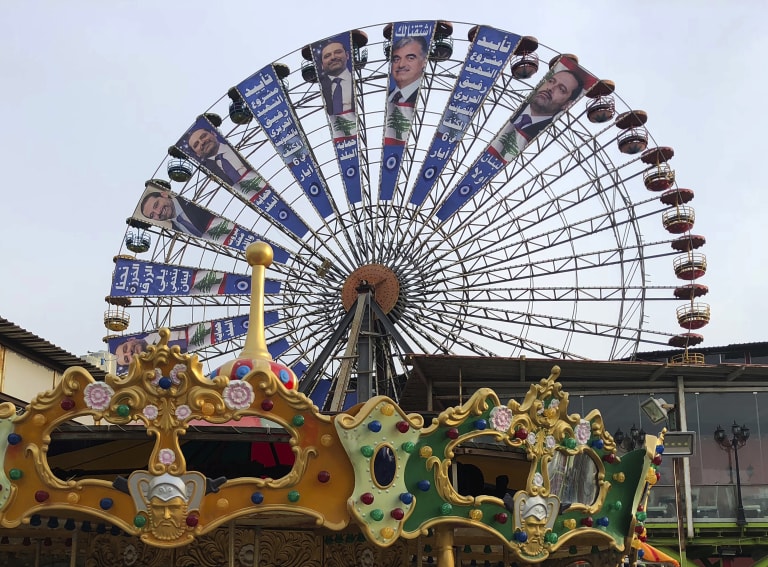 A Beirut Ferris wheel is used in the election campaign of Lebanese Prime Minister Saad Hariri , left.
Jamil al-Sayyed rose to become Lebanon's feared intelligence chief during Syria's 15-year domination of the country after its 1975-90 civil war. He quit in 2005, weeks after Hariri's father and former prime minister Rafik al-Hariri was assassinated. He spent the next four years in jail until he was released without charge over the killing.
Now 68, the retired general is running in the first parliamentary election since 2009.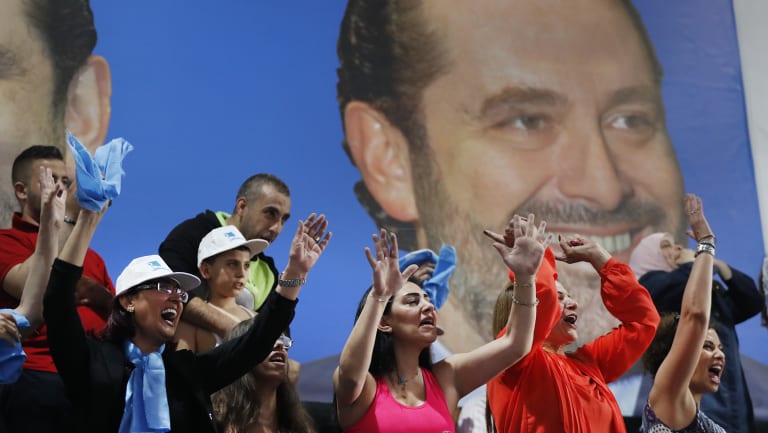 Supporters of Lebanese Prime Minister Saad Hariri cheer at a rally this week.
Hezbollah and its Shiite allies expect to emerge stronger from the vote, a result that would affirm Iran's regional ascendancy from Tehran to Beirut.
Hariri, a Sunni Muslim, is expected to survive the challenge although he is likely to lose some seats to rivals including candidates allied to Hezbollah.
But Hariri, who is backed by the West and leads a government that includes nearly all Lebanon's other main parties, has signalled his concern by indirectly identifying Sayyed as "Bashar al-Assad's candidate".
Hezbollah leader Sayyed Hassan Nasrallah delivers a broadcast speech during an election campaign in Beirut last month.
The Baalbek-Hermel constituency in eastern Lebanon, where Sayyed is running as an independent candidate, has become one of the most important battlegrounds in the election.
Sayyed says Hezbollah's opponents have chosen it "as a point of confrontation".
"I am an independent but not neutral," Sayyed said in his home village of Nabi Ayla in the fertile Bekaa Valley.
Making clear his allegiance is with Hezbollah, he said: "I have firm political convictions in support of the resistance."
Hariri, who was last year misteriously 'kidnapped' by Saudi Arabia, handed his resignation, but then returned to rule, is nevertheless expected to form the next government.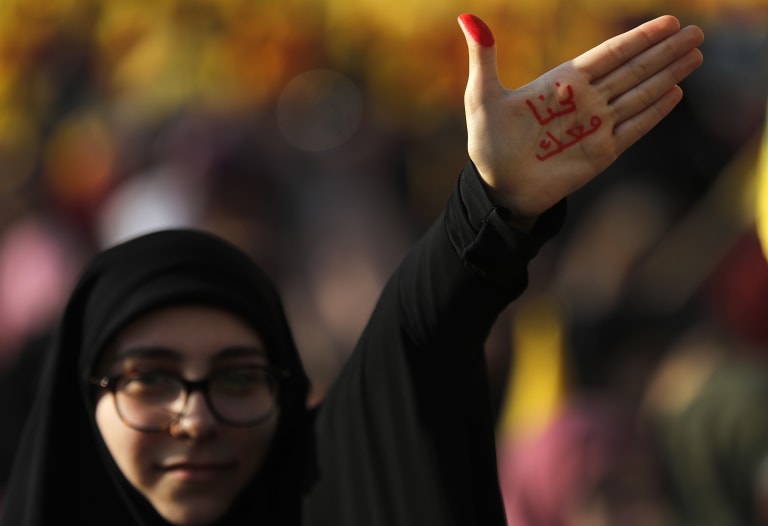 A Hezbollah supporter waves her hand with Arabic reading: "With you".
A majority for the Iran-backed Hezbollah and its allies would underline a balance of power already tilted in favour of the heavily armed Shiite group, and the diminished role of Saudi Arabia in a country where it once held big sway.
Classified as a terrorist group by the United States, Hezbollah is an arch foe of Israel which is deeply alarmed by Iran's growing influence in the region, including Syria where Hezbollah has been fighting alongside Assad forces since 2012.
The Lebanon vote is to be followed on May 12 by an Iraqi election that is also set to underline Iran's reach, with one of three pro-Tehran Shi'ite leaders set to become prime minister.
An anti-Hezbollah alliance led by Hariri and backed by Saudi Arabia won a majority in Parliament in 2009. But it has since disintegrated and Saudi Arabia has turned its focus to confronting Iran elsewhere.
The vote for the 128-seat Parliament is being held according to a complex new law that has redrawn constituencies and replaced a winner-takes-all system with a proportional one. The seats are divided according to a sectarian quota.
Analysts believe Hariri will still emerge with the biggest Sunni bloc. But his position as the dominant Sunni is being challenged like never before by both Hezbollah allies and wealthy businessmen running as independents.
One of the key Sunni battlegrounds is west Beirut, long a Hariri stronghold. In a speech on Thursday, Hariri said the eight rival lists challenging his Future Movement there amounted to a Hezbollah conspiracy.
The intense Sunni rivalry ignited street violence in west Beirut on Thursday, forcing the army to deploy.
Hezbollah has also been campaigning furiously, reflecting the uncertainties of the new law that has put once safe seats at risk. Its leader has urged a big turn out.
A parliament heavily tilted towards Hezbollah will cause concern in Western countries, notably the US which arms and trains the Lebanese army.
Analysts expect more than half the seats to be won by Hezbollah and allies who see its weapons as an asset to Lebanon. But they will not win the two-thirds majority that would allow them to pass big decisions such as changing the constitution.
Hariri inherited his political role after the assassination of his father, Rafik, in 2005. A UN-backed tribunal has charged five Hezbollah members over the killing. Hezbollah, now a government coalition partner, denies any role.
Reuters
Source: Read Full Article