Cairo: Syrian state news agency SANA said two Israeli missiles hit in the vicinity of Damascus international airport in the early hours of Tuesday morning, without giving further details.
The Syrian Observatory for Human Rights said Syrian air defence systems failed to intercept the missiles.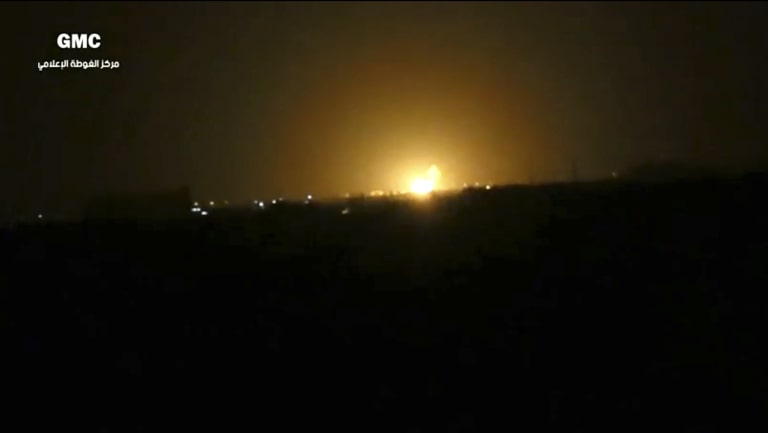 Flames rise after an explosion near an airport west of Damascus, Syria, last year.
The Britain-based war monitor said an explosion heard at 1am local time, near the airport was caused by missiles fired by Israeli planes from the direction of the Golan Heights.
"It targeted weapons depots and warehouses belonging to non-Syrian militias loyal to the [Syrian] regime," the Observatory said, adding it had no information about casualties or damage.
Iran is a key ally of Syrian President Bashar al-Assad and backs a number of militias, including Lebanon's Hezbollah, fighting in support of Assad.
Israel, concerned that Iran's growing presence in Syria is a threat to its safety, has struck dozens of Iranian and Iran-backed positions in Syria over the course of the seven-year conflict.
Asked about the report, an Israeli military spokesman said: "We do not comment on foreign reports."
Israel has been accused of firing missiles into areas close to Damascus from Golan Heights in the past.
Reuters
Source: Read Full Article