London: British police have confirmed the substance that left two people critically ill in Amesbury is the nerve agent Novichok.
Police Assistant Commission Neil Basu said the there is a possibility the poison came from the same batch as that which made ex-Russian spy Sergei Skripal and his daughter Yulia Skripal critically ill in March.
Police have indicated the poisoning was due to cross contamination and are telling people to be cautious, wash their clothes and take care around Sainsbury and Amesbury.
Anti-terror police earlier joined the investigation of the mystery poisoning in the English town os Amesbury not far from where ex-spy Sergei Skripal and his daughter were exposed to Novichok nerve agent earlier this year.
The British man and woman in their mid-40s, both locals, were found unconscious in their home in Amesbury, Wiltshire, on Saturday.
Replay
It was initially thought to be a case of drug overdose from heroin or crack cocaine, but the UK government's chemical weapons laboratory is now testing an "unknown substance" that police believe the pair may have been exposed to.
A witness told Sky News that one of the victims had appeared to be foaming at the mouth, "sweating loads, dribbling and… making funny noises".
"He was in another world – he was hallucinating."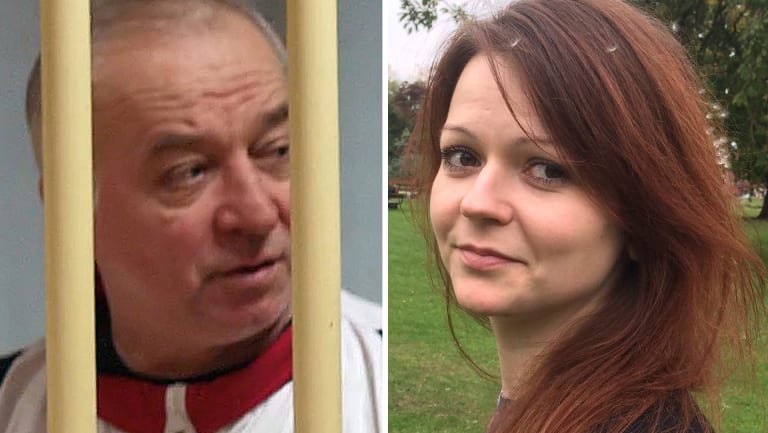 Poisoned: Russian ex-spy Sergei Skripal, 66, and his daughter Yulia Skripal, 33.
The town is 11 kilometres from Salisbury, where Skripal and his daughter Yulia were poisoned with the military nerve agent Novichok in March. The British government says Russia was behind the Skripal attack.
British police officers guard a cordon outside the Amesbury Baptist Centre on Wednesday.
Investigators are studying the possibility the Amesbury pair may have come into contact with residue from that attack, and counter terrorism officers were working with Wiltshire police "given the recent events in Salisbury", Scotland Yard said.
But Wiltshire police say they are keeping an open mind about the cause of the pair's collapse, and it is not yet clear if a crime has been committed.
Wiltshire Police and Crime Commissioner Angus Macpherson said there was "no reason to think it's connected with matters of last month".
Deputy Chief Constable Paul Mills said they had declared an "ongoing major incident" after the two people were hospitalised.
The Cobra national security committee, including senior government officials and Cabinet ministers, met on Wednesday to discuss the developing case, which was being "treated with the utmost seriousness".
They were due to meet again in the evening, when preliminary chemical analysis would likely be available on the substance.
Paramedics were called to the Amesbury home on Saturday morning after a woman collapsed, and returned later that day along with fire and rescue officers when a man also fell unwell.
They remain in a critical condition in hospital.
"It was initially believed that the two patients fell ill after possibly using drugs from a contaminated batch," DC Mills said. "However further testing is now ongoing to establish the substance which led to these patients becoming ill.
"It is not believed that there is a significant health risk to the public."
Police cordoned off five locations in Salisbury and Amesbury as a precaution. Locals told the BBC seven fire engines had attended the home.
Paramedics who took one of the victims away were wearing hazmat protective suits, according to video footage obtained by Sky.
Source: Read Full Article