New York: Maybe it was the FBI's fault for unnerving him. Or maybe the White House staff had left President Donald Trump ill-prepared before his stunning remarks in Helsinki on Monday, when he sided with Russia over his own intelligence agencies.
At a bar in central Pennsylvania, voters wondered if election meddling was really so terrible. At a mall in Arizona, they insisted that Trump had actually been quite tough on Russia until, well, whatever that was in Finland.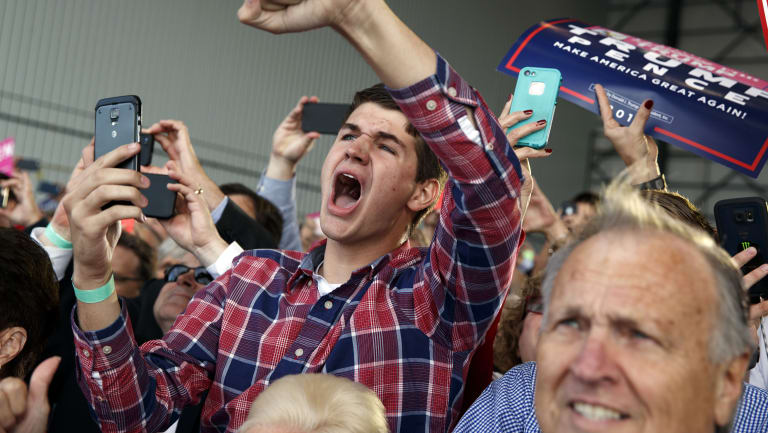 What will they be like in 2018? Supporters of Republican presidential candidate Donald Trump cheer as he arrives to a campaign rally in 2016.
In interviews with conservatives and Trump supporters across a half-dozen states, there were many theories about the president's performance — he was tougher in private; he is cutting a mega-deal; he has a plan — and more than a few questions about his news conference with President Vladimir Putin of Russia, which left congressional Republicans and at least some voters struggling to stand by their leader.
"You're essentially putting Russia first," said Chris Ford, 26, a Republican in Dallas, tweaking a president who already had only his "lukewarm" support, as of this week. "It's hard to see how that's putting America first."
It is by now the signal political cliché of the Trump age that his most dedicated admirers will probably never abandon him. The most telling aside of Trump's 2016 candidacy — that he could shoot somebody on Fifth Avenue and retain his support — has given way to a presidency that has broadly proved him right, through trade wars and porn stars, praise for foreign dictators and excuses for white supremacists.
But even by Trump's extraordinary standards, the summit has supplied a singular test case, compelling voters to reckon with the consequences — for Trump, for the midterm elections, for American democracy — when a president agrees with a foreign adversary over his own intelligence agencies on the grandest stage.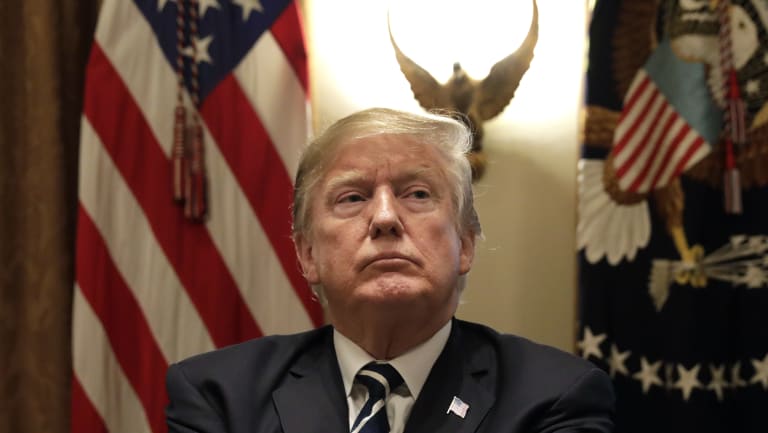 Back in Washington: US President Donald Trump listens during a meeting with members of Congress.
On Tuesday afternoon, amid a stream of criticism from lawmakers, Trump appeared to backtrack, saying that he supports America's intelligence agencies and believes their conclusions about Russia, and that his statements in Helsinki had been misunderstood because he used a "double negative."
Voters seemed to prefer Trump's revised version of events.
"We should stand our ground," said Jimmy Treece, a retired construction worker and Trump supporter waiting for a bus in Carlisle, Pennsylvania. "There is clearly something wrong here."
Russia, Treece said, was plainly "guilty of something." But he hastened to add this: He hopes whichever candidates win in November will stand by the president, as he plans to.
US President Donald Trump and Russian President Vladimir Putin
So it went in interviews with Republican voters across the country on Monday and Tuesday, most of them devoted to the president's policies generally. They quickly sorted themselves into two camps: those who winced at the episode, or at least questioned it, and those who continued to defend Trump without hesitation.
If history is a guide — and polling, too — the second group is significantly larger within the party. And for Trump's true loyalists, the Helsinki meeting and its aftermath have once more inspired a sense of fury and grievance on his behalf. It is not merely that they support the president despite his Russia stance, like Republican lawmakers who grimace at times but largely embrace his agenda. Increasingly, these voters have absorbed Trump's every viewpoint, his scapegoats, even his language tics as their own.
"It is strictly a witch hunt," said Carol Livingood, 74, of Danville, Indiana, who says she owns enough "Make America Great Again" hats and shirts to "wear Mr. Trump" every day of the week. "It makes Watergate look like playing in the sandbox." She blamed the media and the FBI for stoking tensions.
"They're just trying to make Trump's election look fraudulent," said Vernon Hastings Jr., 76, from Shreveport, Louisiana, calling reports of Russia's election interference overblown. "You think it ain't happening already? You think China's not fooling with it?"
Western Pennsylvania has gone all in for Trump.
Several people said that Trump was only hoping to ratchet down tensions with a nuclear power, as they believe he did with Kim Jong-un of North Korea. His defence of Russia, they suggested, was strategic, even winking — part of a long game that most could not yet understand.
"No one really thinks it's a true friendship," said Dan Coleman, a computer software salesman in Scottsdale, Arizona. "But if the alternative is heightened nuclear activity and potential war, I would take a soft-pedal friendship over that."
Yet for other Republicans, at all levels, the moment registered as at least somewhat distressing. Many lawmakers were eager to create distance, even as they often strained to give Trump the benefit of the doubt. Representative Ron DeSantis, who is running for governor of Florida with Trump's endorsement, allowed on Fox News that Russia must be confronted "from a position of strength" by making clear to Putin that "there'll be consequences if they continue to behave the way that they did."
Governor John R. Kasich of Ohio, a longtime critic of Trump and his policies within the Republican Party, was far blunter. "Simply put," he said, "President Trump is wrong."
Among voters, Trump's conduct seemed to reinforce a common theme of any midterm election, but perhaps especially this one: Americans tend to prefer constraints on the party in power. An NBC News/Wall Street Journal poll last month found that voters were more likely to support a congressional candidate who promises to serve as a check on Trump by a 25-point margin, 48 per cent to 23 per cent. They were less likely, 53 per cent to 31 per cent, to support a candidate who has shared Trump's position more than 90 per cent of the time.
Democrats cautioned that many congressional races would be decided on local issues, suggesting that there was a danger in overemphasising Russian interference, no matter how inexplicable the president's behaviour or how dismayed liberal voters had become.
"It may appeal to voters in Brooklyn, New York," said Steve Israel, a retired congressman from New York and the former leader of the Democratic Congressional Campaign Committee. "It's not likely to motivate voters in Brooklyn, Iowa, which happens to be in a competitive district this cycle."
But at least a handful of swing voters appeared to process Trump's comments with alarm.
Louis Ballard, of Bardstown, Kentucky, said he had grown disaffected with the Republican Party after decades of support. The summit, he said, was just "another layer of displeasure."
"He got a point-blank question about whether he supports US intelligence or Vladimir Putin, and he made the choice that he supports Putin," Ballard said. "I wasn't shocked, but I guess you could say I was disappointed once again."
In 2016, Ballard could not bring himself to support Trump or Hillary Clinton, choosing to write in Lamar Jackson, then the star quarterback for the University of Louisville.
This fall, he said, he has a different plan: "Straight Democrat."
New York Times
Source: Read Full Article