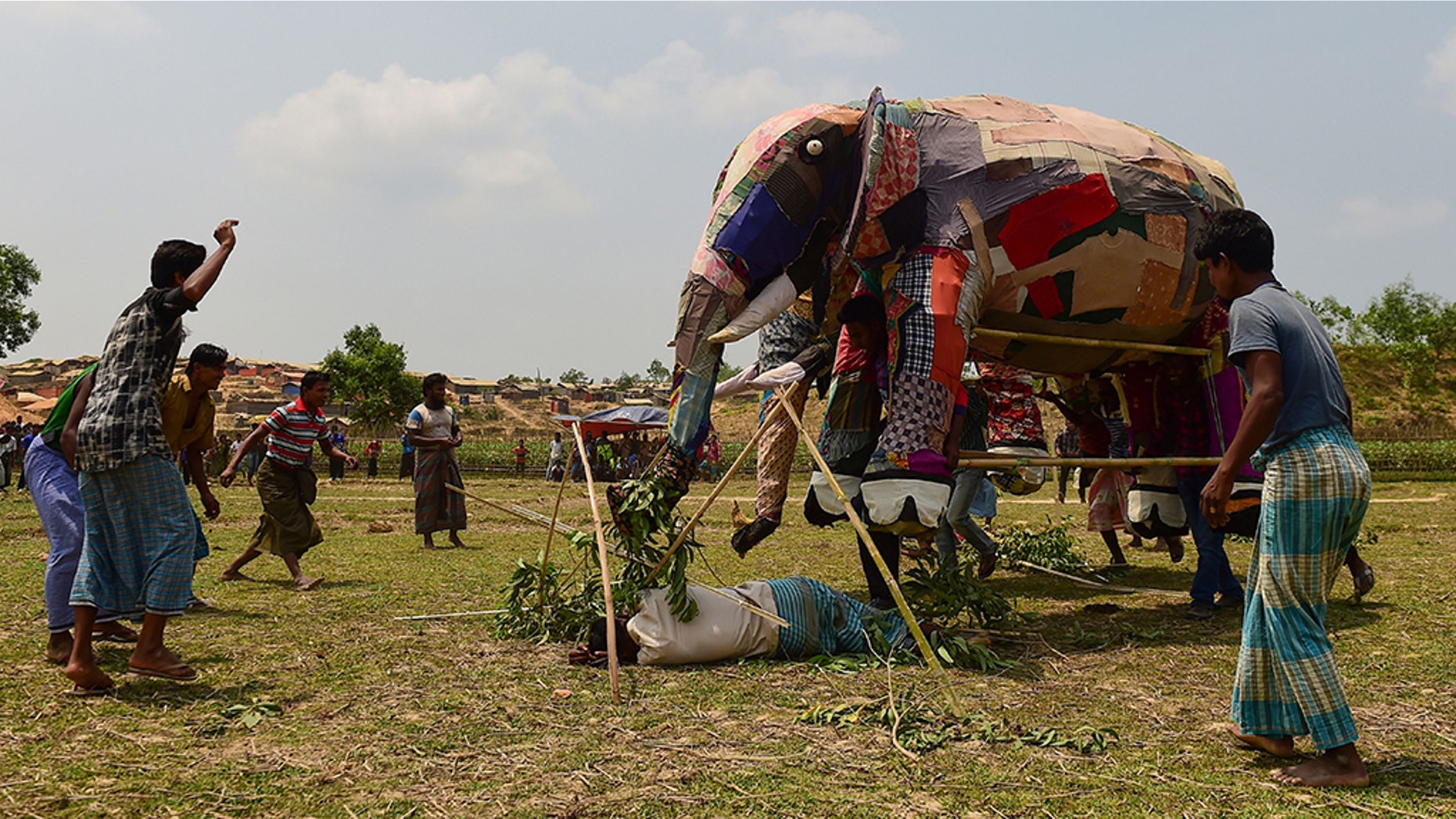 This photo taken on April 7, 2018 shows Rohingya refugee attending a demonstration of elephant resistance arranged by the UNHCR and IUCN at the Kutupalong refugee camp in Ukhia. The purpose of the training day is sobering – a dozen Rohingya have been killed by wild elephants whose habitat has been consumed by Kutupalong refugee camp. 
(AFP/Getty)
Long before hundreds of thousands of the heavily-persecuted Rohingya minority were forced to flee their homes in Burma – also known as Myanmar – and into neighboring Bangladesh, their campgrounds served as a passageway for elephants to migrate eastwards.
Given the sudden population swell, the elephant's migration path in Asia is proving deadly for the refugees whose tense are pitched smack in the middle. Elephants are known to have genetic memories.
BURMESE MILITARY STEPS UP OPERATIONS AGAINST CHRISTIAN MINORITY
Over the last 18 months, at least 14 Rohingya have been killed by the elephants and several more wounded, prompting the formation of a local "tusk force" trained by the UN's refugee agency UNHCR and the International Union for Conservation of Nature (IUCN) to aid both the Rohingya and the majestic animals.
Armed with torches and megaphones, the group takes turns manning watchtowers set up on the sprawling campgrounds to sound the alarm when necessary, along with educating community members – including children – on safety issues and what to do if an elephant does make its way into the camp.
Part of the process involves drills starring a large elephant puppet to familiarize all with the protocol.
34 ROHINGYA WOMEN, CHILDREN FOUND STRANDED ON MALAYSIA BEACH
Since the summer of 2017 amid a violent clampdown by Burmese forces, more than 700,000 of the Rohingya minority have been forced into overcrowded and dire displacement camps in neighboring Bangladesh, joining the already 300,000 who were hovering as refugees in the region.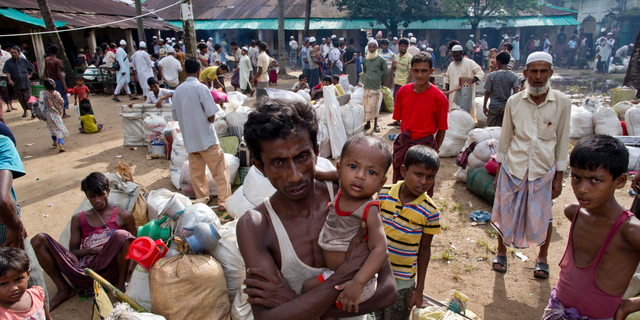 In this Monday, Oct. 2, 2017, file photo, newly arrived Rohingya Muslims from Myanmar prepare to leave a transit shelter in Shahparirdwip, Bangladesh. 
(AP)
The Elephants too have faced dire consequences as a result of the regional instability, often encountering landmines and barbed wiring on the border, with more than 14 also dying over the same time period.
GET THE FOX NEWS APP
However, the number of elephant casualties have sharply dropped over the past year – with the passionate "tusk force" volunteers optimistic that such a number will amount to zero on both sides of the spectrum.
Source: Read Full Article