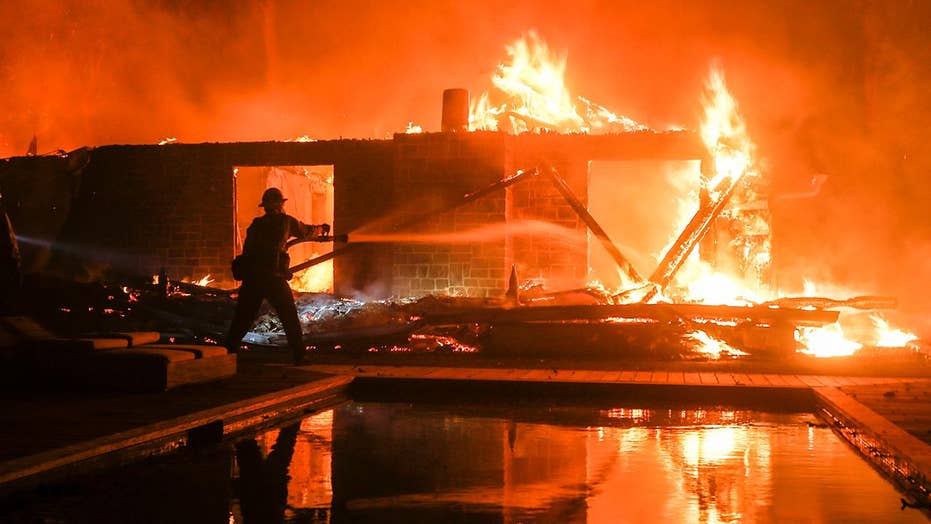 Woolsey fire explodes to at least 70,000 acres
Jeff Paul reports from Thousand Oaks, CA.
The explosive wildfire burning north of Los Angeles received a new round of fuel on Sunday as strong winds returned, threatening progress made by firefighters to gain some control over the destructive blaze.
The National Weather Service said that red flag warnings have been issued from Sunday morning through Tuesday, and that wind gusts up to 50 mph are expected along the coast and in valleys. As of Sunday morning, 30 mph gusts were reported in the Los Angeles County mountains and were expected to become more widespread as the day went on.
"Moderate-strong #SantaAnaWinds combined with single-digit humidities and very dry fuels will bring extremely critical fire weather conditions Sunday-Tuesday," the NWS Los Angeles office said. "Potential for very rapid fire spread, extreme fire behavior, and long-range spotting."
As of Sunday morning, the Woolsey Fire has burned more than 83,000 acres and is only 10 percent contained, according to Cal Fire. No growth has been reported, but the blaze has forced hundreds of thousands out of their homes. Flare-ups were being reported in burn areas as winds kicked up Sunday, sparking new fires.
"There's not going to be any relief in this firefight," Los Angeles County Fire Chief Daryl Osby said at a news conference, warning that it's likely that more homes will be lost as the winds return.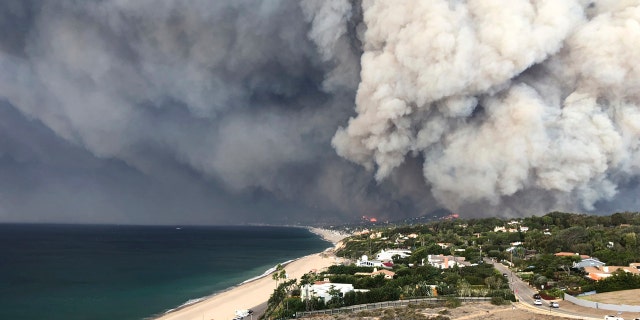 In this Friday, Nov. 9, 2018 photo, smoke from the wildires fills the air in Malibu, Calif.
(Courtesy of Ben Watkins via AP)
The bodies of two people were discovered in a stopped car in a long residential driveway in Malibu, where most of the surrounding structures had burned, the Los Angeles County Sheriff's Office said Saturday. It was too early to say if the deaths were fire-related, but the sheriff's office noted the bodies were "severely burned."
Osby told FOX11 that with a lull in the winds, firefighters worked to establish line perimeters as a means of controlling and knocking down the fire.
A home is spared after a wildfire swept through Saturday, Nov. 10, 2018, in Malibu, Calif.
(AP Photo/Marcio Jose Sanchez)
The blaze that started Thursday had destroyed at least 150 homes, from Malibu mansions to modest dwellings in inland canyon communities. Fire burned in famously ritzy coastal spots like Malibu, where Lady Gaga, Kim Kardashian West, Guillermo del Toro and Martin Sheen were among those forced out of their homes amid a citywide evacuation order.
"It was way too big a firestorm," Lani Netter, whose Malibu home was spared while her neighbor's burned, told the Associated Press. "We had tremendous, demonic winds is the only way I can put it."
'GLOBAL SUPERTANKER' DEPLOYED TO FIGHT CALIFORNIA FIRES
The flames also stretched into the suburb of Thousand Oaks, which was the location of a mass shooting at a country music bar that left 12 dead.
The wildfire raged on both sides of the city still in mourning, where about three-quarters of the population are under evacuation orders that officials urged them to heed.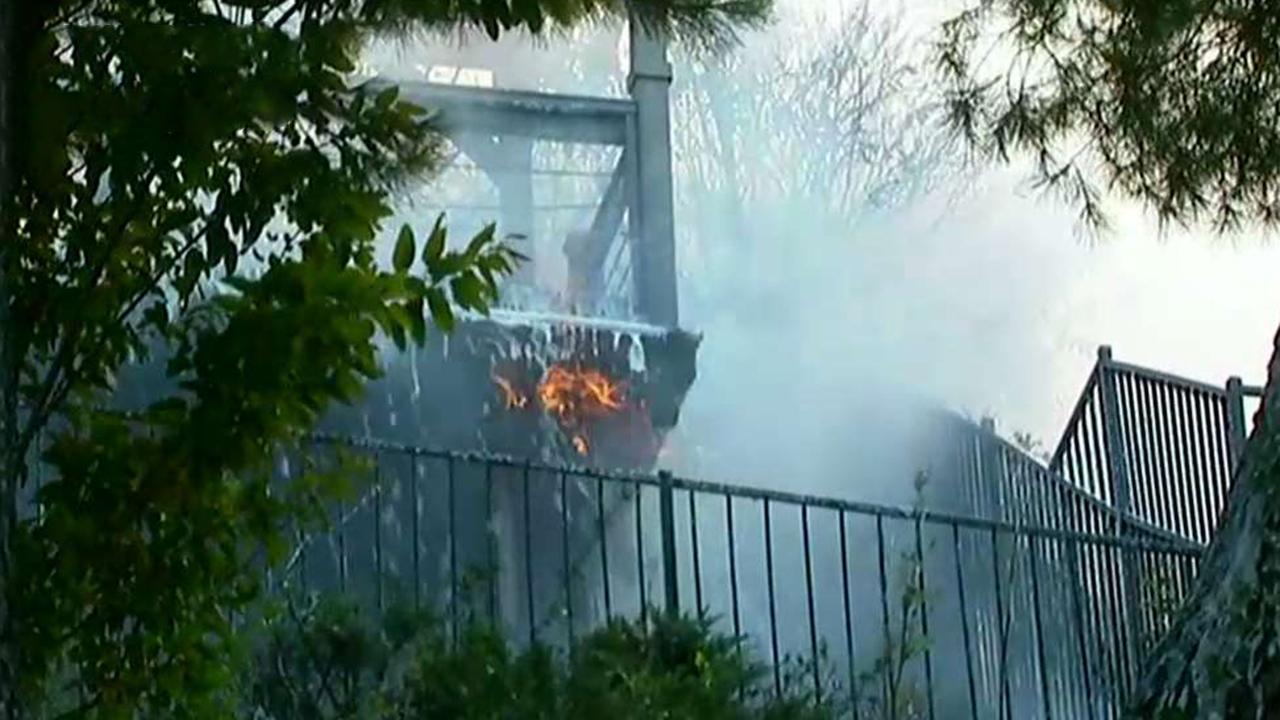 Homes burn near Los Angeles as Woolsey Fire explodes in size
Fire officials say structural losses from the Woolsey Fire burning west of Los Angeles are expected to be significant; Jeff Paul reports from Westlake Village, California.
"It happened so quickly," Bell Canyon resident Laurita Gallagher told the Los Angeles Times. "There were embers flying everywhere — our eyes were burning, and we couldn't keep them open. … The intensity of the heat on our faces and body was almost blistering."
At least 200 deputies will be in the five Los Angeles County cities affected by the fire — Westlake Village, Hidden Hills, Agoura Hills, Calabasas and Malibu — doing property evaluations and looking for any possible looters, Los Angeles County Sheriff's Department Chief John Benedict said Saturday
"There is zero tolerance for any looting," he said.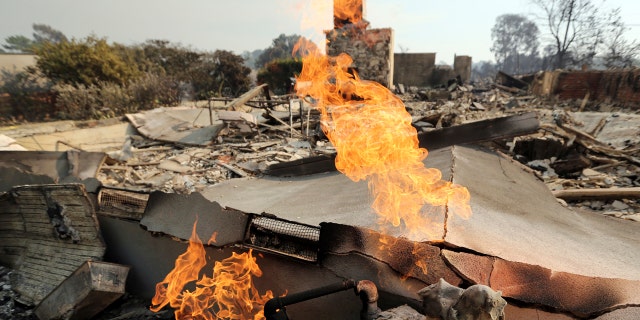 Flames from a broken gas line burn at one of at least 20 homes destroyed just on Windermere Drive in the Point Dume area of Malibu, Calif.
(AP Photo/Reed Saxon)
TRUMP TWEET ON CALIFORNIA WILDFIRES 'DEMEANING' AND 'ILL-INFORMED,' FIREFIGHTERS UNION BOSS SAYS
The blaze in the southern part of the state comes as firefighters battling the third-deadliest wildfire in California record fended off strong winds overnight and increased their handle on the blaze.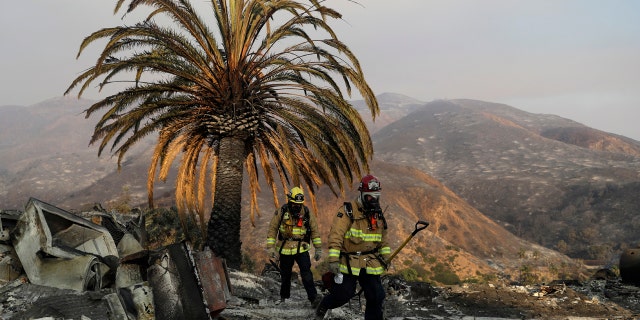 Firefighters Jason Toole, right, and Brent McGill with the Santa Barbara Fire Dept. walk among the ashes of a wildfire-ravaged home after turning off an open gas line on the property Saturday, Nov. 10, 2018, in Malibu, Calif.
(AP Photo/Marcio Jose Sanchez)
California fire spokesman David Clark said Sunday that the Camp Fire grew slightly to 170 square miles, from 164 square miles on Saturday night. It is now 25 percent contained, up from 20 percent Saturday.
Crews are at a "pivotal point" against the fire, and high winds and dry conditions similar to when the fire started Thursday are expected for the next 24 hours, according to Clark.
The fire has destroyed more than 6,700 buildings, nearly all of them homes, and killed 23 people.
The Associated Press contributed to this report.
Source: Read Full Article